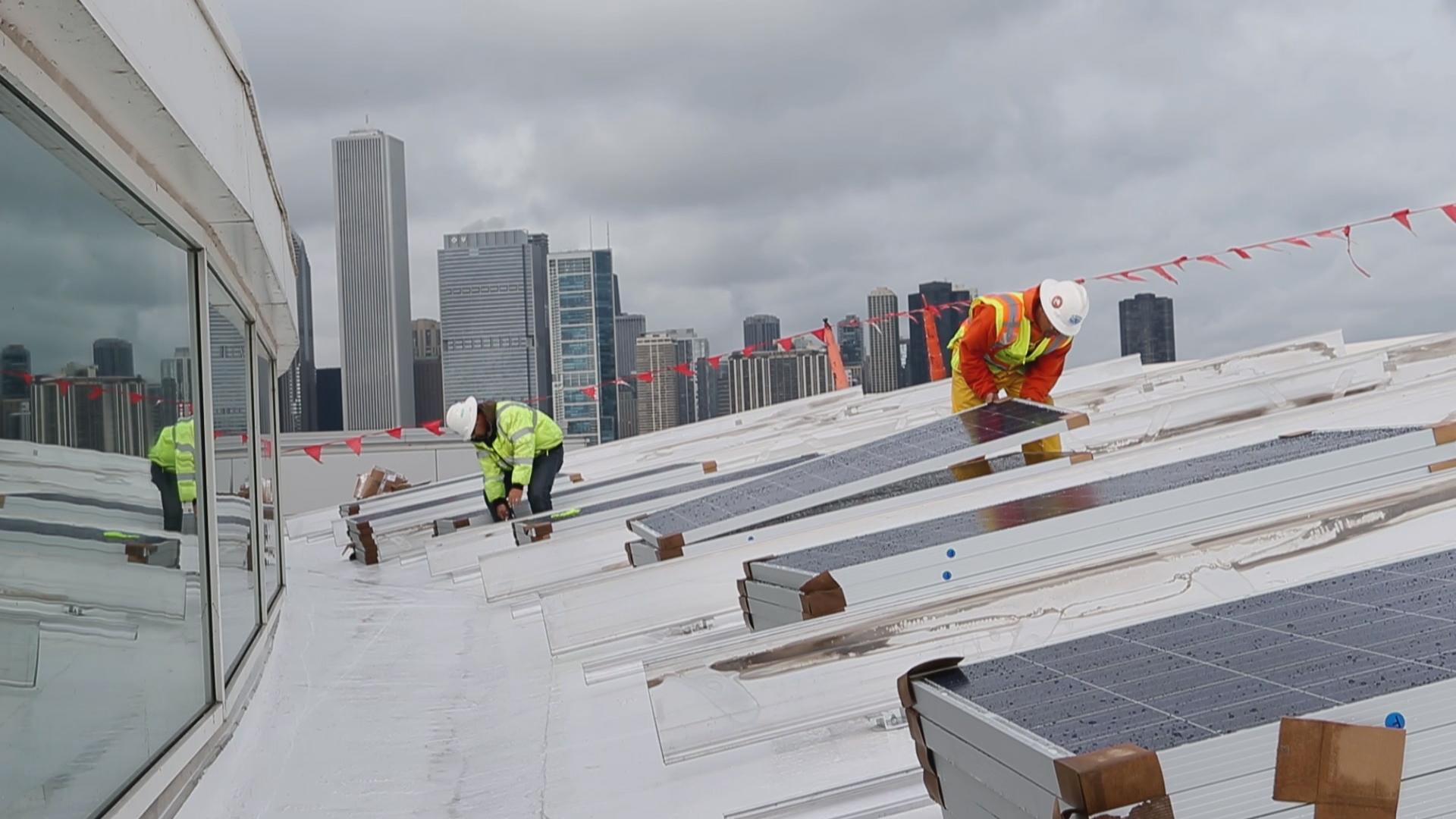 The Chicago City Council voted Wednesday to approve a non-binding resolution that sets a goal of transitioning the city to 100 percent clean energy over the next 16 years.
The resolution, which passed unanimously, calls for the city's buildings to be powered exclusively by renewable sources by 2035. It also sets a goal of converting all Chicago Transit Authority buses to electric energy by 2040.
Although the measure is largely symbolic, given its non-binding status, environmental advocates celebrated the move, noting that Chicago is now the largest U.S. city to announce a timeline for obtaining all of its energy from renewable sources.
"Joining 118 other cities, Chicago stands in support of developing an energy system that seeks to fortify our city's infrastructure, reduce disproportionate exposure to pollution and environmental toxins, and enable access to clean power for all residents," said Kyra Woods, a Chicago organizer with the environmental advocacy group Sierra Club, in a statement.
In February, outgoing Mayor Rahm Emanuel unveiled a similar plan to transition the city to 100 percent clean energy. Although it drew praise from some environmental advocates, the plan sparked backlash from a coalition of community-based groups, which said it failed to address neighborhoods in which residents suffer from disproportionate levels of pollution.
Details of that plan came almost two years after Emanuel committed to transitioning the city's municipal buildings and operations to 100 percent renewable energy by 2025.
In the resolution approved Wednesday, the City Council calls for the city to develop a transition plan by December 2020 for achieving the 100-percent clean energy goal.
The resolution outlines a handful of goals or points of emphasis, such as using the city's purchasing power to hire companies that employ historically disadvantaged workers and displaced fossil fuel workers, soliciting community feedback and responding to the outsized impact of public health threats experienced by low-income and minority neighborhoods.
Contact Alex Ruppenthal: @arupp | [email protected] | (773) 509-5623
---
Related stories:
Transportation, Jobs at Center of Ambitious Illinois Clean Energy Bill
Activists Denounce Mayor Emanuel's Renewable Energy Plan
Illinois Defies National Trend by Adding 1,300 Solar Jobs in 2018
State Rep's Bill Aims to Expand Illinois' Renewable Energy Portfolio
Gov. Pritzker Signs Pact Committing Illinois to Paris Climate Goals