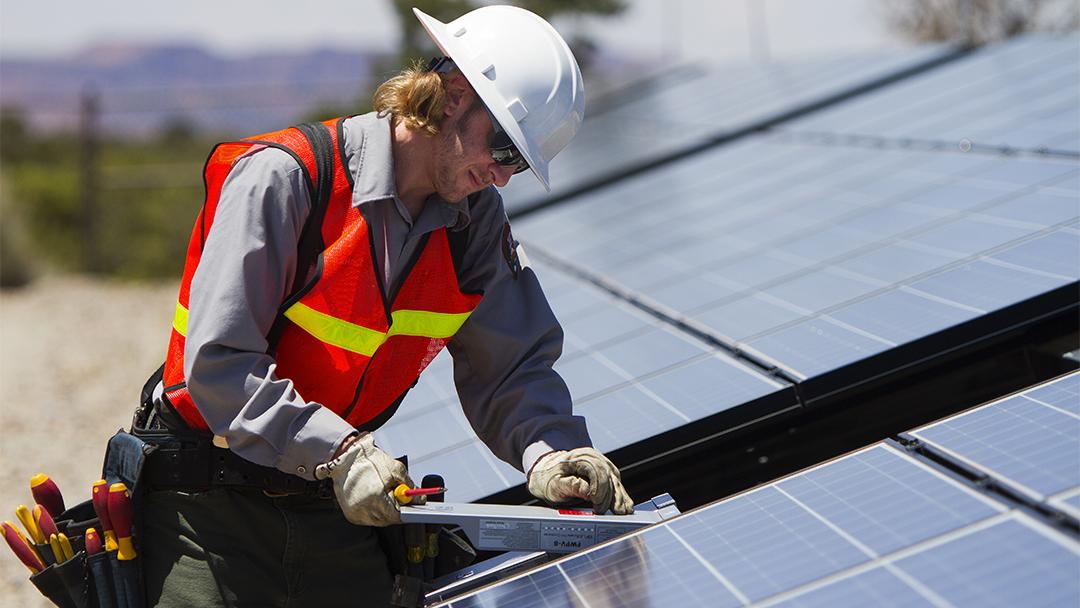 (Andrew Kuhn / Flickr)
A new, highly ambitious clean energy bill aims to move Illinois to 100 percent renewable energy by mid-century while modernizing the state's transportation sector and creating thousands of new jobs.
Currently, just 8 percent of energy generated in Illinois is renewable, according to the Natural Resources Defense Council. That's despite a requirement set out in the state's Renewable Portfolio Standard for it to reach 16 percent renewables by 2020.
The Clean Energy Jobs Act establishes loftier targets – 45 percent renewable sources by 2030 and 100 percent renewables by 2050 – and, advocates say, outlines a way for the state to get there.
The bill, introduced by State Sen. Cristina Castro, D-Elgin, would create a network of training centers aimed at preparing workers for clean energy jobs, with a focus on low-income and minority communities.
Through changes to state utility and power laws, business incubator programs and a variety of other measures, advocates say the legislation would facilitate enough new wind and solar projects to power more than 5 million homes by 2031 while capturing more than $30 billion in private investment.
The bill would also remove the equivalent of one million gas and diesel-powered vehicles from the road by incentivizing electric vehicles, public transit and other alternatives, according to the Illinois Clean Jobs Coalition, a set of environmental and energy groups behind the legislation. New electric vehicle programs would target communities where vehicle ownership is either unaffordable or otherwise unfeasible.
Another component of the legislation would establish a "carbon-free last mile" of commutes, with programs for electric shuttles, shared electric vehicles, bicycles and scooters and other alternatives to help workers on the final leg of their commutes.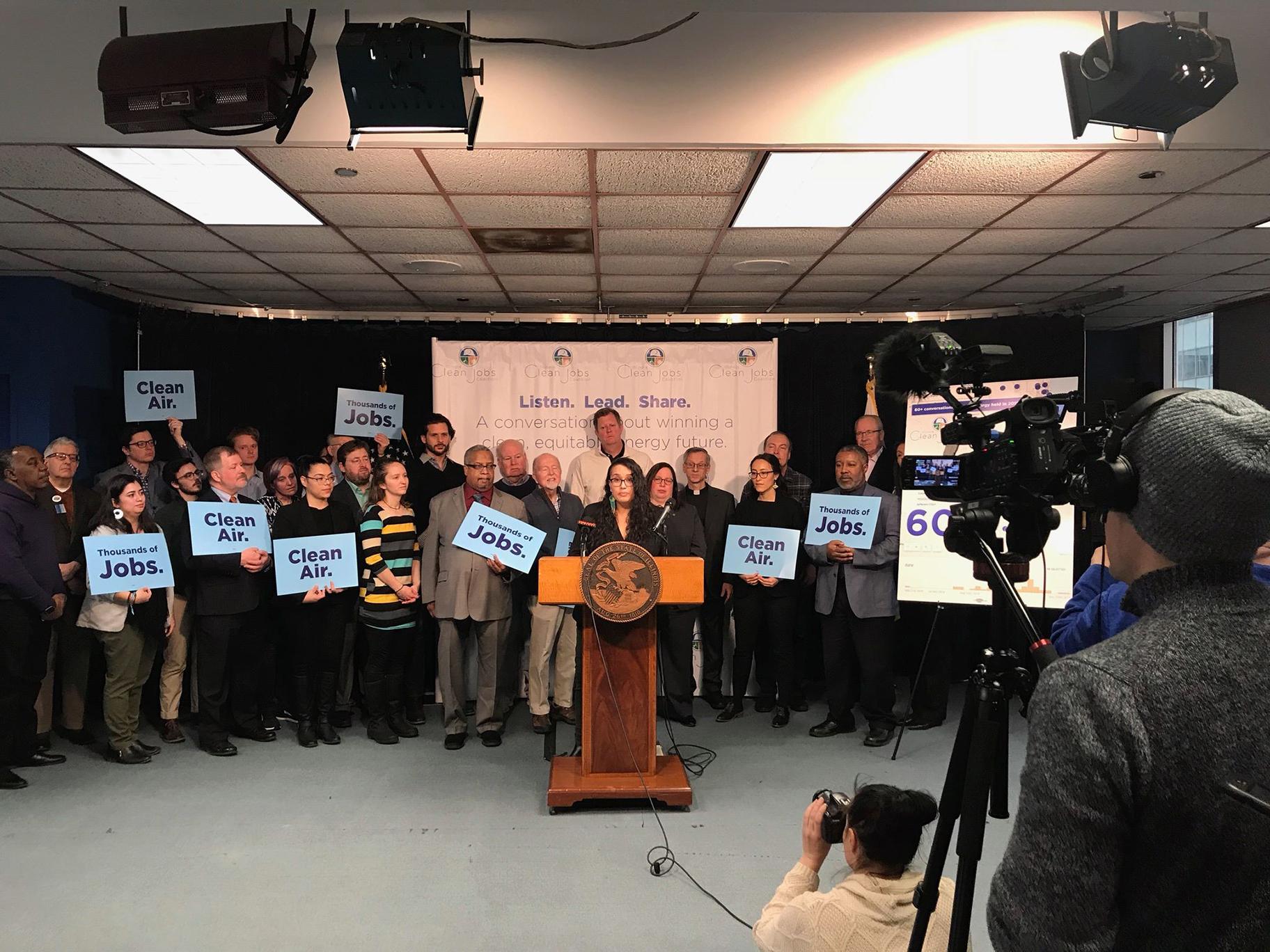 Supporters of a new clean energy bill at a press conference on Feb. 28, 2019 in Chicago (Courtesy Illinois Clean Jobs Coalition)
Advocates say the bill, crafted with input gathered during 67 meetings throughout the state, emphasizes equal distribution of jobs and opportunities, with a focus on economically struggling communities and towns that have lost jobs from the closure of coal plants.
"We need the benefits of clean energy to reach all 102 counties of Illinois, and every part of the state," Castro said Thursday during a press conference to unveil the bill, "espesially those communities that have too often been left behind, in particular communities of color."
The new bill looks to build upon the landmark 2016 Future Energy Jobs Act, which at the time was hailed as one of the most significant pieces of state energy legislation passed in the U.S. in decades.
The new Clean Energy Jobs Act (House Bill 3624 / Senate Bill 2132) would provide funding to local governments to create plans for dealing with the impacts of climate change, which could include updates to building codes, expanding public transit and reducing pollutants.
It remains to be seen exactly how the goals set out in the new legislation would be enforced, or whether they would act merely as targets.
New Gov. J.B. Pritzker campaigned on clean energy issues and has supported a goal of 100 percent renewables by 2050 for the state. 
There are currently 120,000 clean energy jobs in Illinois, according to the Illinois Clean Jobs Coalition. But clean energy advocates say there is plenty of room for growth.
According to the U.S. Bureau of Labor Statistics, the first and second fastest growing jobs in the country are solar energy installer and wind energy technician, respectively. Neither of the jobs requires a college degree.
In addition to energy and environmental advocates, the new legislation has received support from labor unions, including the powerful Service Employees International Union Local 1, which represents tens of thousands of security officers, food service workers and janitors.
"Working people are the most likely to live in communities with higher rates of pollution, putting the health of them and their families at risk," said Tom Balanoff, president of SEIU Local 1, during a press conference Thursday. "Because the effects of climate change will hit working people the hardest – as we saw in 2017 when Hurricane Maria devastated Puerto Rico – bold action is needed to connect these two fights."
Contact Alex Ruppenthal: @arupp | [email protected] | (773) 509-5623
---
Related stories:
Illinois Defies National Trend by Adding 1,300 Solar Jobs in 2018
State Rep's Bill Aims to Expand Illinois' Renewable Energy Portfolio
Gov. Pritzker Signs Pact Committing Illinois to Paris Climate Goals
Illinois Positioned to Withstand Trump's Solar Tariff, Experts Say
---