(Andrew Kuhn / Flickr)
The U.S. solar energy industry lost nearly 8,000 jobs last year, due in part to the Trump administration's new tariffs on imported solar panels and cells. But Illinois was one of a few states that actually saw a significant increase in solar jobs despite the nationwide trend.
Illinois added 1,308 solar jobs in 2018, a 37-percent increase from the prior year, according to The Solar Foundation's annual National Solar Jobs Census, which came out this week. The state now has nearly 5,000 full-time solar jobs, giving it the 13th-largest solar workforce in the U.S.
Illinois was one of just eight states with growth of more than 20 percent in solar jobs last year compared to 2017. Others in that group include Alabama, Arkansas, Florida, Kansas, Montana, North Dakota and Wyoming.
"The solar jobs growth we saw in 2018 is just the beginning," said Lesley McCain, executive director of the Illinois Solar Energy Association, in a statement. "The industry is ready to create tens of thousands of new clean energy jobs in the coming years."
The growth of Illinois' solar sector came during a year when solar jobs fell by 3.2 percent in the U.S. overall. Solar companies delayed many utility-scale projects in late 2017 as the Trump administration considered and then implemented a 30-percent tariff on imported solar components, resulting in fewer jobs during the first three quarters of 2018, according to the new report.
The new tariffs were projected to increase the price of solar panels by 10-13 cents per watt.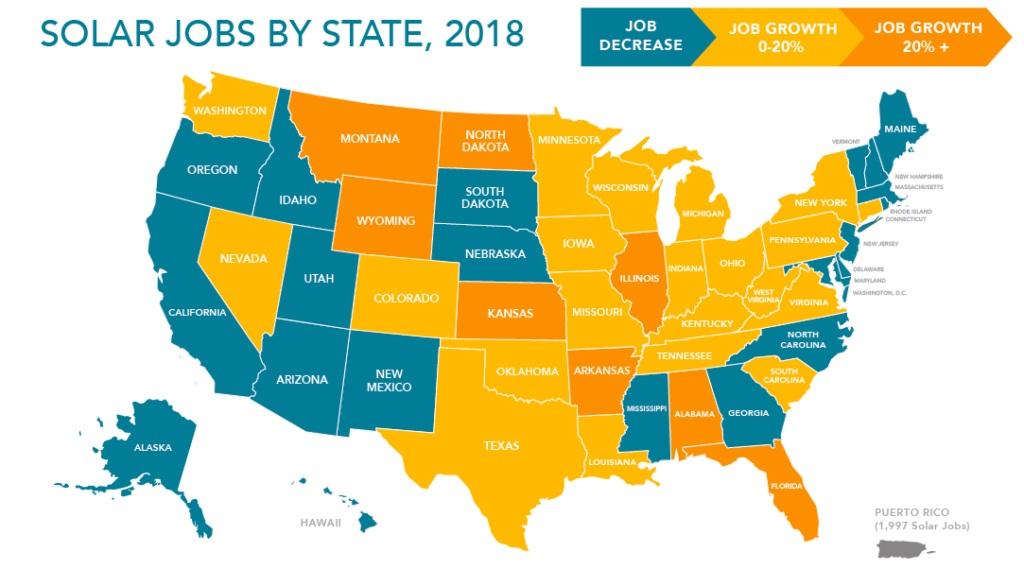 Illinois was one of eight states with growth of more than 20 percent in solar jobs in 2018. (The Solar Foundation)
The U.S. solar industry employs about 242,000 workers, marking the second year in a row that solar jobs have declined following seven years of steady growth.
Experts predict the industry will rebound this year, however: Respondents to The Solar Foundation's survey projected that solar jobs would increase 7 percent in 2019, giving the U.S. a total of nearly 260,000 solar jobs.
The industry's forecasted growth could come as a result of a backlog of large-scale utility projects and new solar-friendly policy initiatives in several states, according to the report. One example is a recently proposed bill in Illinois that aims to help the state expand its capacity of wind and solar energy, with an eventual goal of procuring 100 percent of the state's energy from renewable sources.
The Path to 100 Act, introduced by State Rep. Will Davis, D-Hazel Crest, would allow Illinois to procure an estimated 6,000 megawatts of new utility-scale solar energy and 7,500 megawatts of new residential, commercial and community-scale solar power.
Much of Illinois' solar growth has been attributed to previous legislation – the 2016 Future Energy Jobs Act – which received nationwide praise and set ambitious targets for Illinois to bolster its solar capacity.
"Illinois is poised to be one of the fastest-growing solar markets in the nation, and the Path to 100 Act will be a key to its success," said Sean Gallagher, vice president of state affairs for the national Solar Energy Industries Association, in a statement. "As evidenced by these new jobs numbers, markets follow smart policy. The opportunity is ripe here in Illinois to build on the foundation established by the Future Energy Jobs Act and cement the state as a national clean energy leader."
To read the full National Solar Jobs Census report, visit The Solar Foundation's website.
Contact Alex Ruppenthal: @arupp | [email protected] | (773) 509-5623
---
Related stories:
Walmart to Install Solar Panels at 21 Sites in Illinois
City Solicits Solar Energy Developers for Vacant South, West Side Lots