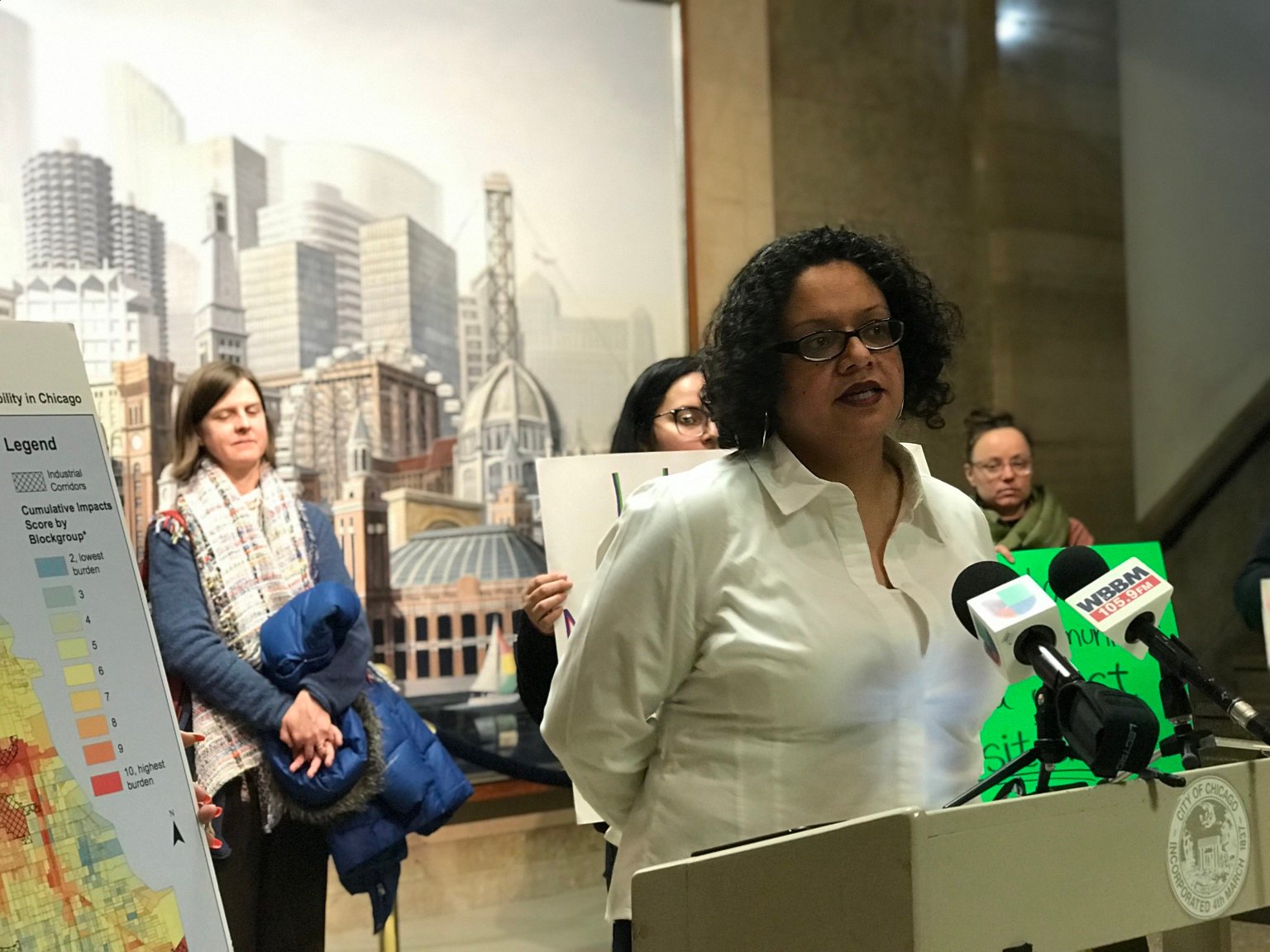 Kimberly Wasserman, executive director of the Little Village Environmental Justice Organization, speaks during a press conference Thursday in response to a new renewable energy plan unveiled by Mayor Rahm Emanuel. (Courtesy Little Village Environmental Justice Organization)
Mayor Rahm Emanuel on Thursday unveiled a plan to transition buildings across the city to 100 percent renewable energy by 2035, and transition to an electric CTA bus fleet by 2040. 
Although the announcement received praise from a number of environmental advocacy organizations, a separate coalition of community-based groups denounced the plan, which they said fails to address neighborhoods where residents have for years suffered from disproportionate levels of pollution.
The groups – including the Little Village Environmental Justice Organization, the Southeast Environmental Task Force and the Southeast Side Coalition to Ban Petcoke – are based on the city's South and West Sides. A recent analysis by the Better Government Association illustrated how those neighborhoods, comprised largely of minority residents, face far greater exposure to air pollution and other environmental hazards than neighborhoods made up of mostly white residents.
"These same communities are impacted first and worst by the consequences of climate change," the groups said in responding to Emanuel's new renewable energy plan. "Our communities have time and time again seen the city of Chicago use high-level resolutions as a tactic to avoid addressing equity, public health and environmental impacts in Chicago's neighborhoods, and the announcement follows this pattern."
Emanuel's new plan makes Chicago the largest city to join the Sierra Club's nationwide "Ready for 100" campaign, which encourages cities to take steps toward achieving 100 percent renewable energy.
As part of the plan, Emanuel said he would introduce a resolution to the City Council next month that establishes a December 2020 deadline for developing a more detailed plan to meet the 100 percent renewable energy goal.
The goal is part of a broader strategy revealed by Emanuel on Thursday called "Resilient Chicago," which outlines 50 actionable initiatives aimed at reducing disparities among Chicago neighborhoods, addressing the root causes of crime and violence and promoting engaged communities, according to the city.
By joining #Readyfor100, Chicago embraces a future of healthier communities that are powered by 100% clean energy! We're officially the largest city in the U.S. to join the campaign as we focus on clean energy in buildings by 2035 and electrifying the @CTA bus fleet by 2040! pic.twitter.com/Dilw0FHnvm

— Mayor Rahm Emanuel (@ChicagosMayor) February 14, 2019
---
The announcement comes almost two years after Emanuel committed to transitioning the city's municipal buildings and operations to 100 percent renewable energy by 2025.
"Now, more than ever, it is up to local leaders to develop plans for a sustainable and resilient future, and 'Resilient Chicago' creates a framework for us to build urban resilience into Chicago's DNA," Emanuel said in a press release. Chicago's transition to renewable energy will be grounded in values of "equity and justice," the release states.
But community-based groups said they want more specific commitments from the city, including working with residents to develop metrics for measuring the impact of a renewable energy transition on low-income, minority communities.
Kimberly Wasserman, executive director of the Little Village Environmental Justice Organization, said the groups "strongly oppose a premature commitment to a renewable energy goal for Chicago without an equal commitment to" addressing the current environmental and public health threats on the city's South and West Sides.
"A transition to renewables in service of building resiliency or mitigating climate change impacts without a commitment to those already affected most by environmental degradation and poor air quality is not a just transition and is not what Chicago communities desired," she said during the groups' press conference.
Contact Alex Ruppenthal: @arupp | [email protected] | (773) 509-5623
---
Related stories:
MWRD Says It's On Pace to Cut Greenhouse Gas Emissions by 50 Percent
State Rep's Bill Aims to Expand Illinois' Renewable Energy Portfolio
Gov. Pritzker Signs Pact Committing Illinois to Paris Climate Goals
Chicago Commits to Renewable Energy for 900-Plus Government Buildings