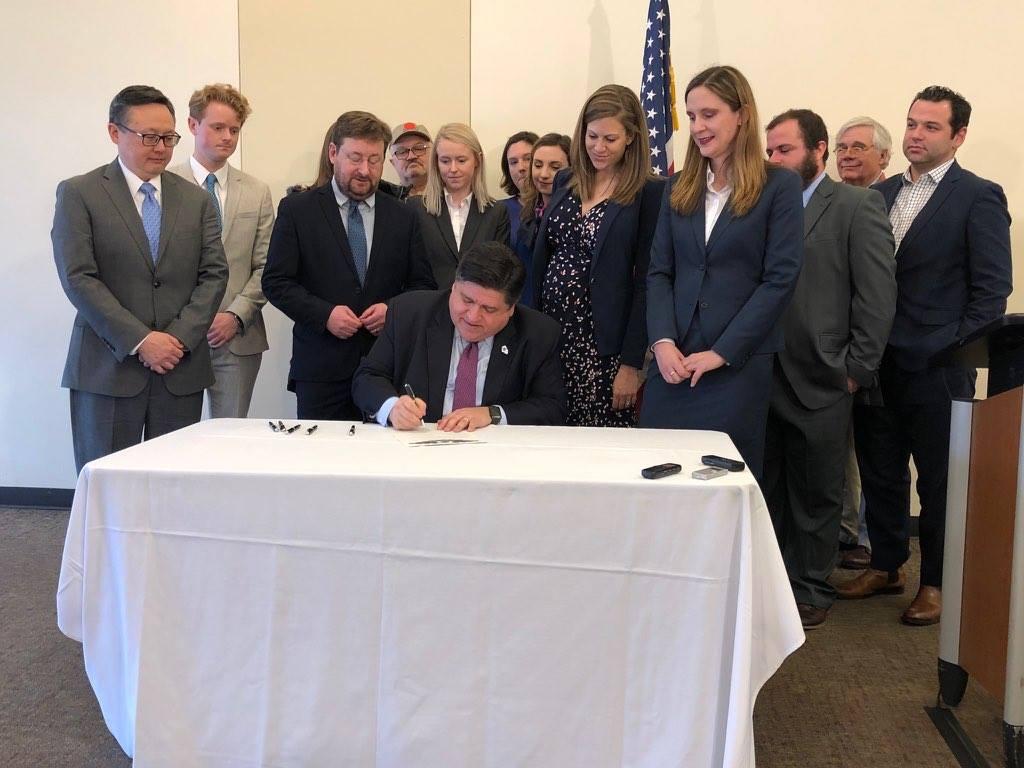 Gov. J.B. Pritzker signs Illinois onto the U.S. Climate Alliance on Jan. 23, 2019. (Courtesy Illinois Environmental Council)
Gov. J.B. Pritzker signed an executive order Wednesday adding Illinois to a list of states that say they're committed to reducing greenhouse gas emissions consistent with targets set in the landmark 2015 Paris climate agreement.
Pritzker's move to sign Illinois onto the U.S. Climate Alliance marks a sharp departure from his predecessor, former Gov. Bruce Rauner, who made little to no mention of the state's role in curbing carbon emissions that most scientists agree contribute to global warming.
Rauner was silent in June when the state's General Assembly passed a resolution urging him to sign the state onto the Climate Alliance, a group that now includes 18 states with the addition of Illinois.
Hundreds of U.S. cities, including Chicago, have also pledged to uphold the terms of the Paris agreement since President Donald Trump withdrew the U.S. from the deal in 2017. Altogether, the coalition of states, cities and counties committed to meeting the Paris targets represents more than 40 percent of the U.S. population, according to the U.S. Climate Alliance. 
"I ran on a bold agenda to protect our environment, help our workers thrive and build the 21st century economy our state deserves, and now I'm taking action to join the U.S. Climate Alliance and stand on the side of science and reason," Pritzker said in a statement. "While the president is intent on taking us backwards, I will work hard every day to move our state forward. We know that climate change is real. We know it's a threat. And we know we must act."
As part of the Paris agreement, adopted in 2015 under former President Barack Obama, the U.S. set a target of reducing emissions by 26 percent to 28 percent by 2025 based on levels from 2005. The U.S. is now the only country on the planet not part of the agreement, which aims to keep global average temperatures from rising more than 1.5 degrees Celsius compared to pre-industrial levels.
In the executive order signed Wednesday, Pritzker said Illinois is already on path to receive 25 percent of its energy from renewable sources by 2025, adding that the state "has the opportunity to be on a path toward 100 percent clean and renewable energy."
Pritzker's executive order also directs the Illinois EPA to "monitor the Trump administration's environmental proposals and identify opportunities to protect Illinoisans from environmental harm."
The order comes in the wake of an alarming new report from leading climate scientists warning that the world has just 12 years to cut carbon emissions nearly in half in order to maintain a livable planet.
"Climate change is real and Illinoisans are already experiencing its harmful effects," said state Sen. Melinda Bush, D-Grayslake, who chairs the Energy and Environment committee, in a statement. "I'm proud to stand with Gov. Pritzker in acknowledging science and taking action to preserve and protect our planet. We must make every effort to secure Illinois' place as a leader in the green economy."
Sierra Club Illinois Director Jack Darin said Pritzker's decision to sign Illinois onto the climate pact as one of his first actions demonstrates his commitment to tackling issues related to climate change.
"Governor Pritzker is showing the world that, even though Donald Trump wants out of the clean energy economy, Illinois is all in," Darin said in a statement. "We can and must reach these climate goals, and we know we need to do so in a way that puts our workers and disadvantaged communities first."
Contact Alex Ruppenthal: @arupp | [email protected] | (773) 509-5623
---
Related stories:
Rauner Silent on Committing Illinois to Paris Climate Goals
Obama, Mayors Resist Trump on Climate Change at Chicago Summit