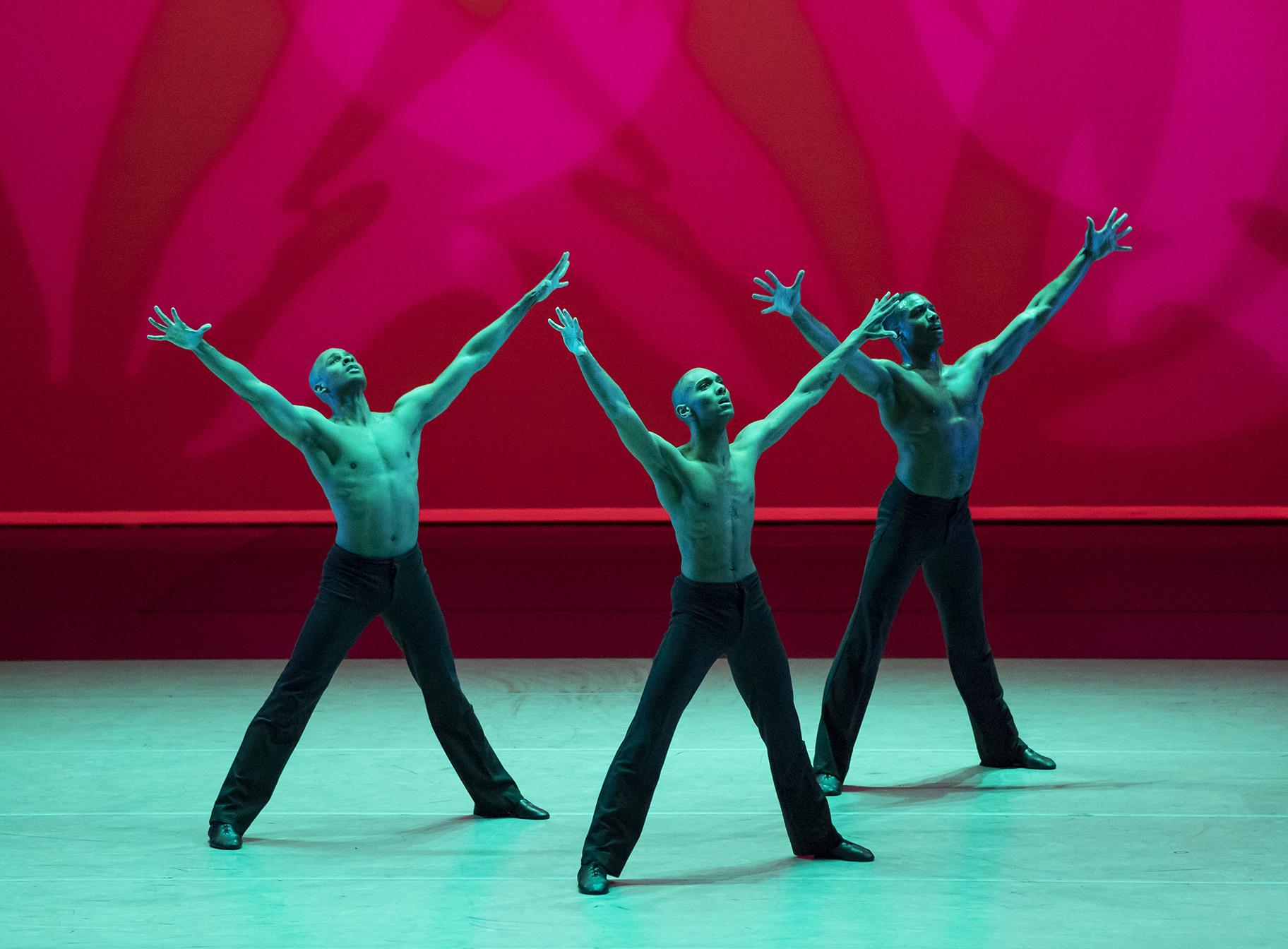 Alvin Ailey American Dance Theater's Yannick Lebrun, Sean Aaron Carmon and Michael Jackson Jr. in "Revelations." (Photo by Paul Kolnik)
Late in the summer of 1962, my ever-adventurous mother, an inveterate dance fan, arrived home after a long subway ride from Manhattan to Queens and began raving about a performance she had just seen at the outdoor Delacorte Theatre in Central Park. The company, still in its infancy, was the Alvin Ailey American Dance Theater, and she said she had never seen anything quite like it. I caught up with the company a few years later and have been watching it ever since.
Now celebrating its 60th anniversary, this long-lived institution, which dramatically changed the nature of African-American concert dance, and quickly became one of this country's foremost international cultural ambassadors, arrived at the Auditorium Theatre on Thursday night for its annual visit to Chicago. And for its opening program – one of three different lineups to be performed through Sunday – it captured its illustrious history with an absolutely fascinating, generation-shifting juxtaposition of two pieces.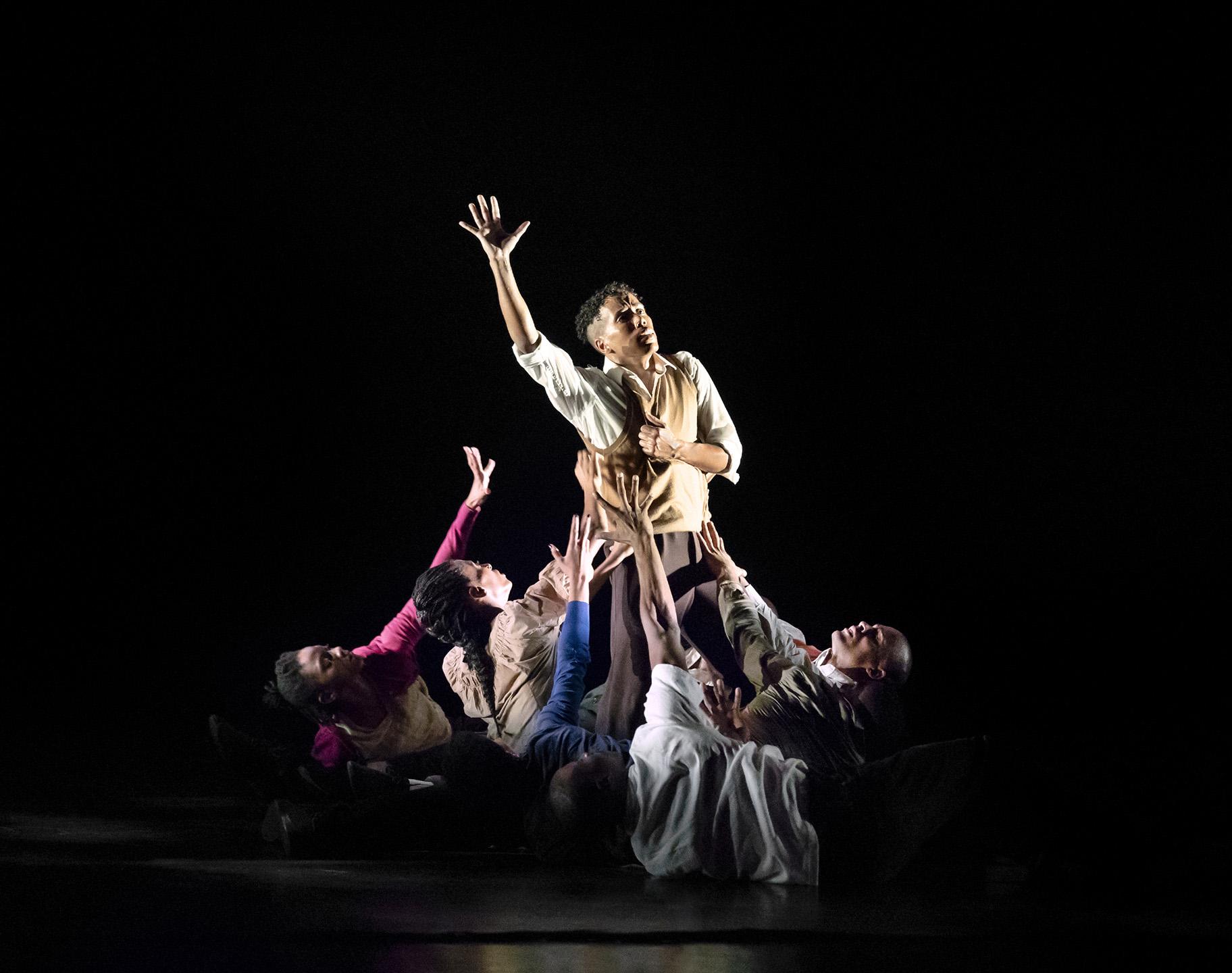 Alvin Ailey American Dance Theater in "Lazarus." (Photo by Paul Kolnik)
First came Rennie Harris' "Lazarus," the two-act epic that had its world premiere this past December. It is at once an anguished, intensely personal evocation of Ailey's external world and inner psyche, and a contemporary celebration of liberation infused with the virtuosic hip-hop vibe for which the Philadelphia-based Harris is renowned.
Then came Ailey's defining 1960 masterpiece, "Revelations," which is the final work on every Ailey program, and is so deeply ingrained in the DNA of the company's audiences that they begin applauding at the very sound of its opening notes from the spiritual "I Been 'Buked."
Here is the intriguing takeaway from the program: The company dances "Lazarus" with more conviction and nuance than they do "Revelations." The dancers for whom Harris has created his work are a couple of generations removed from those that captured Ailey's world in 1960, and their references, though still imbued with a history of slavery and discrimination are different in tone and attitude. They are at a distance from their grandparents' knowingly mischievous gestures and inflections. They have their own language now – one in which Ailey wasn't really fluent.
"Lazarus," which takes its title from the Gospel of John, and the story of how Jesus raised his much-loved follower from the dead, begins with the death of an Ailey-like figure breathing his last. (The choreographer died of AIDS in 1989, at the age of 58, and because the disease still held such a stigma for him it was not named in his obituary.)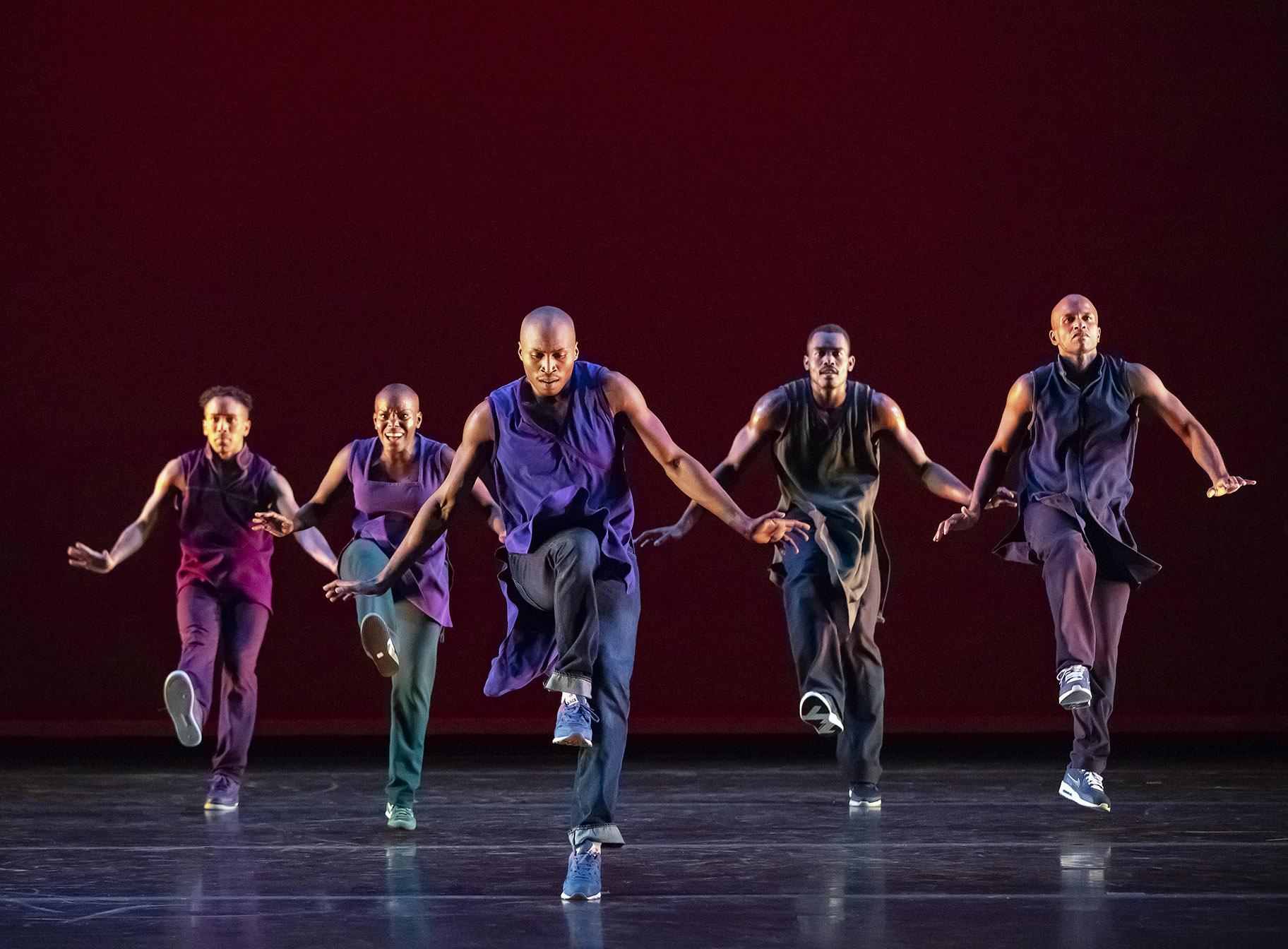 Alvin Ailey American Dance Theater in "Lazarus." (Photo by Paul Kolnik)
But along with Ailey's "exhumation" (the mood is beautifully enhanced throughout by James Clotfelter's sepulchral lighting) comes an evocation of the history of black oppression from slavery on through the Jim Crow era (when Ailey grew up in Depression-era Texas in an impoverished single-parent family). And there is the pervasive sense, too, that he could never fully shed the feeling of being an outsider. Daniel Harder, physically smaller than many of the other men in the company, but emotionally riveting, gives a remarkable performance as the work's anxious and anguished central character whose entire nervous system is revealed in his movement. There also was brilliant dancing by Jeroboam Bozeman, Jacqueline Green and Samantha Figgins.
Capturing the nature of the world around him is a vividly expressive ensemble that variously suggests bondage, field work, prayer and more. The lyrics of "Black Man in a White World" – one of the songs in music and sound designer Darrin Ross' deftly collaged score – have plenty to add to the mix, as do those sung by Nina Simone, Odetta and Terence Trent D'Arby. (Several brief spoken-word segments would benefit from greater audio clarity.)
The work's second act begins with the admonition to "Lift Every Voice and Sing," and the message that freedom has come. The dancers are in jeans and tunics now. The beat is strong and pulsing, and groups of men and women create an explosive house dance, hip-hop atmosphere with eye-popping, tour de force, faster-than-the-speed-of-light footwork and a thrilling sense of competition between the sexes. The Ailey vision is catapulted into the 21st century in a most theatrical manner.
By comparison, "Revelations" has an enchanting vintage nostalgia about it now, with its score of traditional spirituals, its rituals of prayer and baptism, its Sunday go-to-meeting whimsy, and its on-the-run sinners (fiercely danced by Harder, Riccardo Battaglia and Chalvar Monteiro), all capturing the things that assured African-American survival.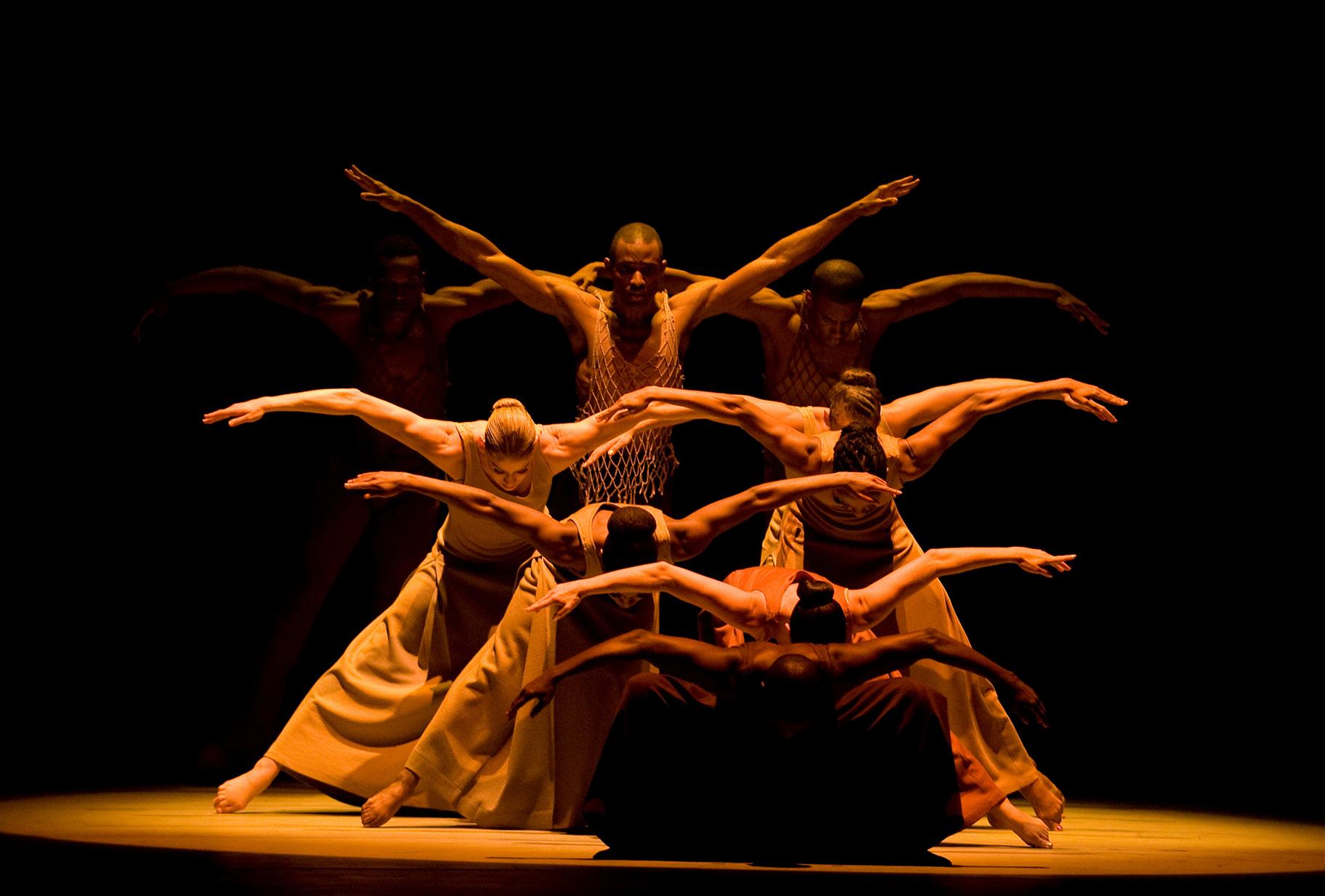 Alvin Ailey American Dance Theater in "Revelations." (Photo by Nan Melville)
The work remains Ailey's most idyllic vision and suggests that along with the pain in his life there also was a deep sense of joy and reverence. What has gone missing from performances of this work in recent seasons are those little but all-important signifiers that brought so much character to each section of the piece. But perhaps that change is inevitable and cannot be "taught." And no doubt the original dancers from Ailey's company look at "Lazarus" and realize that the torch has been passed to a new generation, and a whole new dance world has risen. Of course it wouldn't exist without Ailey's genius.
The Alvin Ailey American Dance Theater runs through March 10 at the Auditorium Theatre, 50 E. Ida B. Wells Drive. For tickets ($34-$130) call (312) 341-2300 or visit auditoriumtheatre.org.
Note: This Program A will be repeated March 9 at 8 p.m. and March 10 at 3 p.m. Program B (featuring Wayne McGregor's "Kairos," Jessica Lang's "EN") will be performed March 7 at 7:30 p.m. and March 9 at 2 p.m. Program C ("Timeless Ailey," featuring excerpts from 13 of his works) will be performed March 8 at 7:30 p.m. Ailey's "Revelations" concludes every program.
Follow Hedy Weiss on Twitter: @HedyWeissCritic
---
Chicago's Hubbard Street Meets Cuba's Malpaso for Ingenious Mashup
Director Batters the Baroque in Lyric Opera Production of Handel's 'Ariodante'
Akram Khan's Transformational 'Giselle' Casts Hypnotic Spell
Chicago Flamenco Festival Kicks Off Season Full of Dance
---