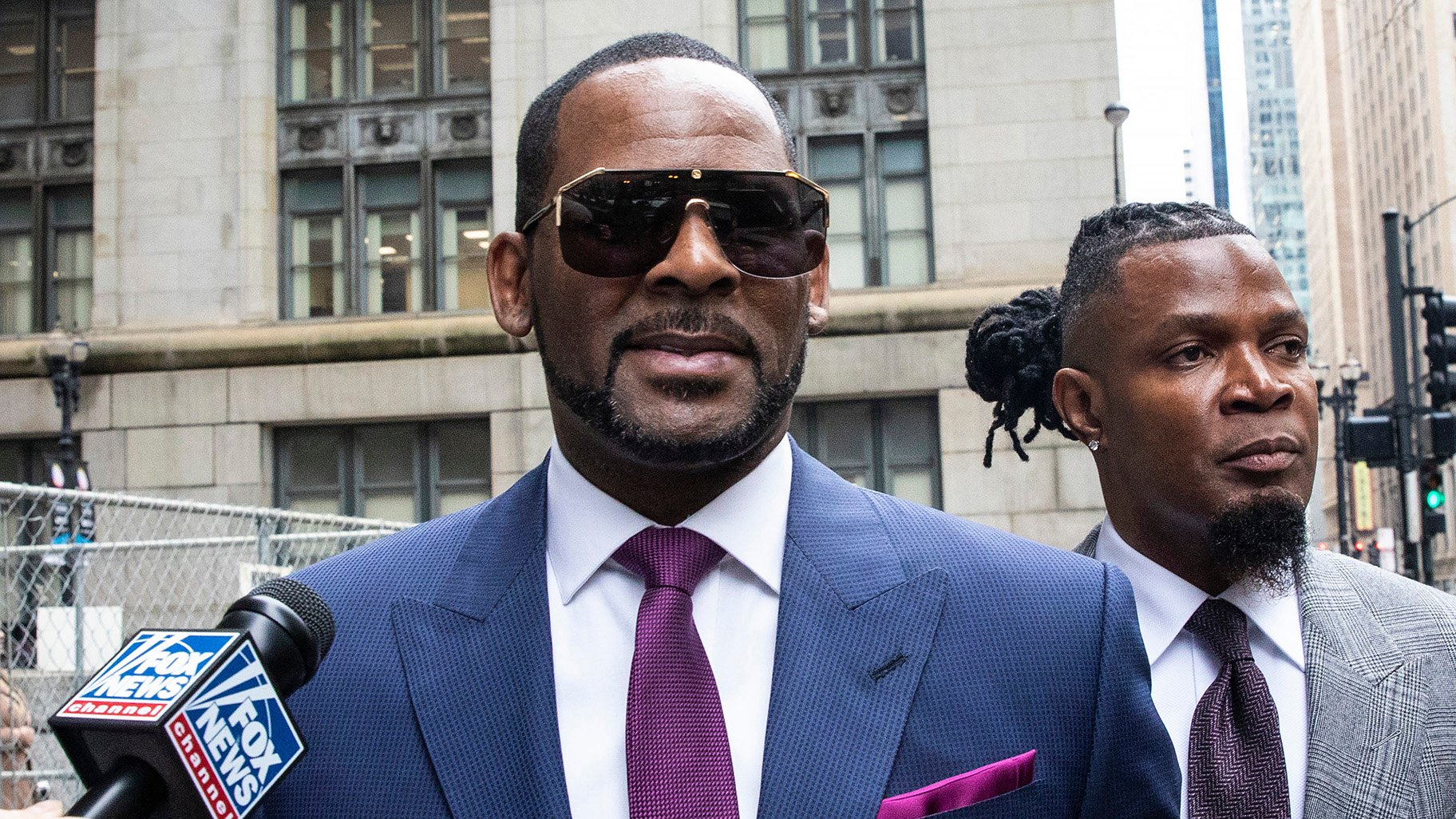 R. Kelly and his publicist Darryll Johnson, right, leave The Daley Center after an appearance in court for Kelly's child support case on Wednesday, March 13, 2019. (Ashlee Rezin / Chicago Sun-Times via AP)
The criminal defense attorney for R. Kelly believes Cook County State's Attorney Kim Foxx was "bullied" or "manipulated" into filing sexual abuse charges against the R&B singer after meeting with a celebrity attorney who is now facing his own criminal charges.
Defense attorney Steven Greenberg contends Foxx was "influenced" by attorney Michael Avenatti into filing 10 counts of aggravated sexual abuse against Kelly. Greenberg now wants to get his hands on any communications those two may have had leading up to those charges.
In a seven-page motion filed Monday morning, Greenberg asked a judge to order Cook County prosecutors to preserve all communications with witnesses, attorneys and Chicago police in the case against his client.
"There are serious questions whether Kim Foxx was bullied or just simply manipulated by Avenatti and others," Greenberg wrote in the motion. "The communications are key to uncovering the answers."
Cook County Judge Lawrence Flood did not rule on the motion during a brief hearing Monday morning. Kelly was not present in court, as he was feeling under the weather, according to Greenberg.
The request comes as Foxx deals with blowback from her office's stunning decision last week to drop felony disorderly conduct charges against "Empire" actor Jussie Smollett in another high-profile case. Greenberg actually references the Smollett situation in his motion, saying Foxx "is able to be influenced and wowed" as evidenced by her recusal and the subsequent dismissal of charges in that case.
Foxx asked Chicago Police Superintendent Eddie Johnson to turn that investigation over to the FBI after speaking with a representative of Smollett's family. Once Smollett went from being seen as the victim to a possible suspect, Foxx recused herself and turned the case over to her top assistant. She has faced continued criticism for her office's handling of that case.
Avenatti is dealing with legal troubles of his own after he was charged last month in federal court with attempting to extort more than $20 million from Nike.
Avenatti says he turned over a video to Foxx's office earlier this year that purportedly shows Kelly engaging in sexual conduct with a 14-year-old girl. He also represents multiple women who have accused the R&B superstar of sexual assault.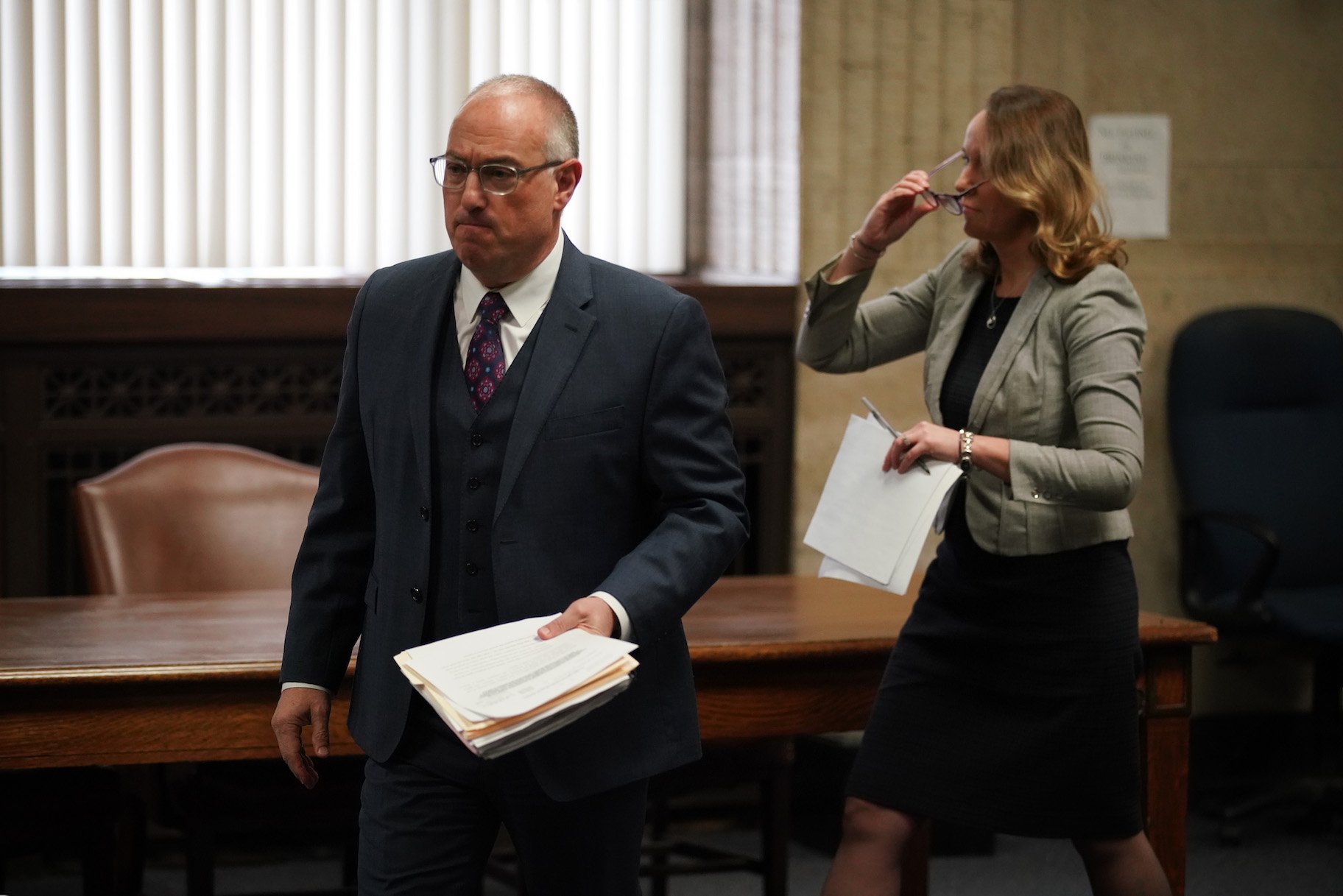 Steve Greenberg, attorney for R. Kelly, files a motion before Judge Lawrence Flood requesting law enforcement officials preserve all communications between prosecutors and attorney Michael Avenatti, at Leighton Criminal Court Building, Monday, April 1, 2019. (E. Jason Wambsgans/Chicago Tribune/Pool)
Foxx's office declined to comment Monday on Greenberg's claims. But in a response to his motion also filed Monday, Foxx and Assistant State's Attorney Jennifer Gonzalez say Greenberg's claims are "lacking in factual support." They also say their office is already required to preserve communications as part of the Freedom of Information Act and "intends to comply with its statutory obligations."
Greenberg believes that tape is the same one from his client's 2008 trial in which he was acquitted on child pornography charges. He says prosecutors have no new evidence that wasn't available when Kelly was previously charged in that case back in 2002.
"There's no new tape," Greenberg told media following Monday's hearing. "Avenatti's full of it when he said there was a new tape, there are old cases that were rejected … in 33 years of doing this I've never seen a case where it's rejected after a full investigation and then 15-plus years later, without any reinvestigation, just because the sort of public perception has turned, that it's charged."
As Monday's hearing was getting underway in Cook County, Avenatti published a tweet saying Greenberg was "trying to distract attention away from the clear guilt of his client" by raising what he called "bogus arguments" about his relationship with Foxx.
"The evidence is the evidence," wrote Avenatti, who was due in a California court Monday for a hearing in his own case. "Multiple witnesses/tapes, plus DNA. R Kelly will be convicted for his sexual abuse of girls."
Greenberg on Monday also withdrew a separate motion asking Flood to grant Kelly permission to travel to Dubai for a series of upcoming concerts. The singer is currently not allowed to travel outside Illinois under the conditions of his bond.
Questions have arisen about whether Kelly actually had any agreement in place to perform at those shows, and Greenberg noted that the likelihood of the motion being approved was "pretty slim." He plans to re-file the motion in the event other travel plans come up.
Kelly has maintained his innocence and his attorney has claimed the accusers are all lying. He is due back in court for a hearing May 7.
Contact Matt Masterson: @ByMattMasterson | [email protected] | (773) 509-5431
---
Related stories:
No Decision on R. Kelly's Dubai Travel Request
R. Kelly Defense Emerges, Including Saying Accusers are Lying
R. Kelly Seeking Permission to Travel to Dubai for Concert Performances
R. Kelly Case Poses Challenge: Separating Artist from Anthem
Judge Allows Courtroom Cameras for Trial of R. Kelly
R. Kelly Appears in Chicago Court in Child Support Case
Attorney: Tape Appears to Show R. Kelly Sexually Abusing Girls
R. Kelly: 'We're Going to Straighten All This Stuff Out'
After Making Millions, R. Kelly Could be Left with Nothing
R. Kelly Says Ex-Wife Destroyed His Name, Others Stole Money
R. Kelly Detained After Child Support Hearing
R. Kelly Cries, Calls Accusers 'Liars' in Sex Abuse Case
---