On April 2, mayoral contenders Lori Lightfoot and Toni Preckwinkle will square off in Chicago's runoff election. The two emerged from a 14-candidate field in the first round of balloting on Feb. 26.
In "The Choice for Mayor," WTTW News takes an in-depth look at the two women vying to be Chicago's next mayor – their personalities, what shaped their worldviews, and their strikingly similar backgrounds.
In this episode, we focus on Preckwinkle. Go here to watch "The Choice for Mayor: Lori Lightfoot."
"(Toni) spent most of elementary school acting as a protector for the rest of the family," said her brother Jan Reed. Preckwinkle – born Toni Lynn Reed on March 17, 1947 – grew up the eldest of four siblings in the North End neighborhood of St. Paul, Minnesota.
"We lived in a predominantly white area and there were just a couple black families, including mine," Preckwinkle recalled. "The bullies would wait for us and beat the stuffing out of us."
Jan Reed said during one such attack, Preckwinkle broke free and ran home to get their mother, who spanked one of the bullies. That night, the police paid a visit to the Reed home and threatened to arrest Beatrice Reed if she ever intervened again.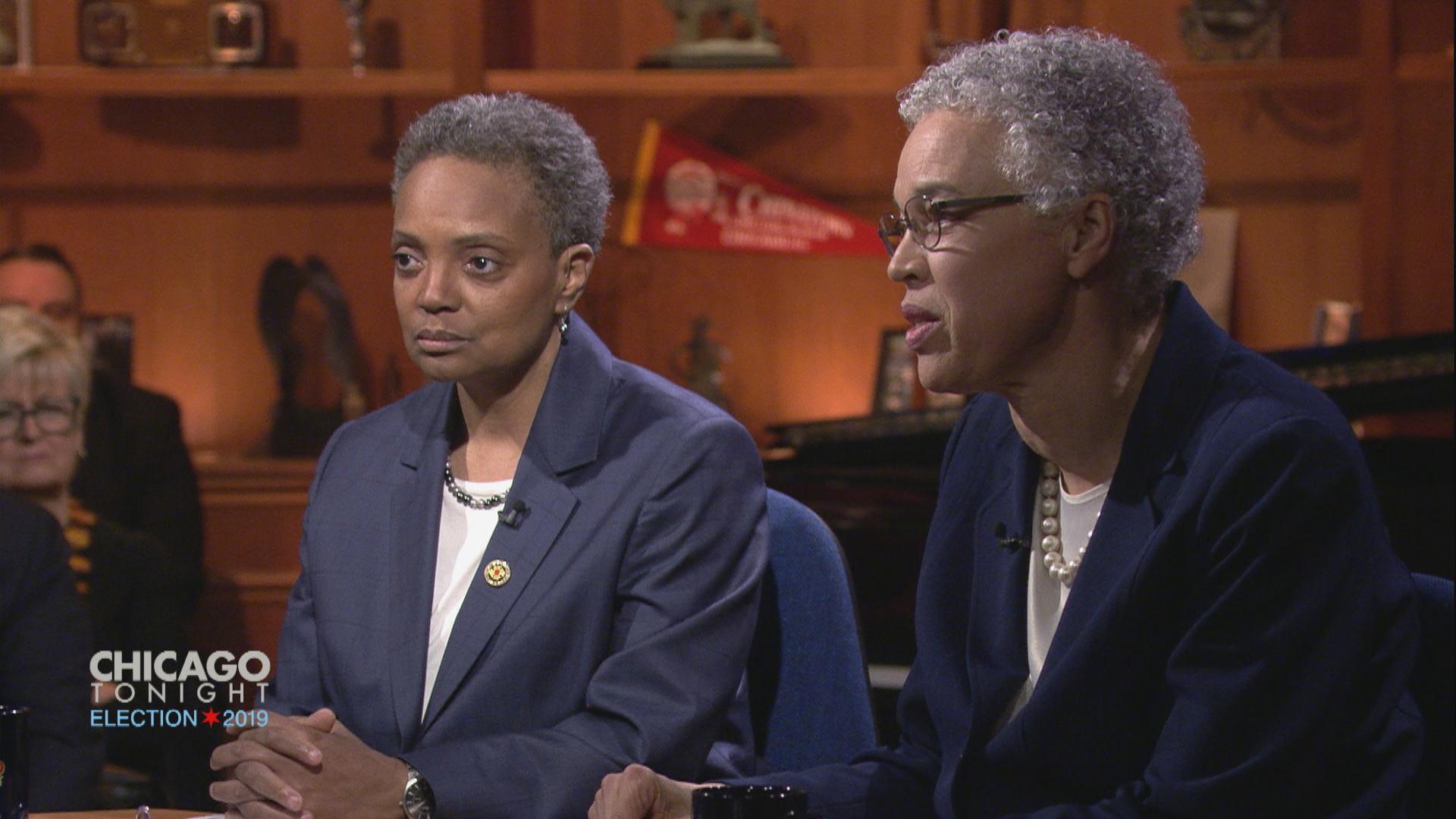 Mayoral candidates Lori Lightfoot, left, and Toni Preckwinkle appear on "Chicago Tonight" on March 21, 2019.
Racism was a defining part of Preckwinkle's young life, but in school she found a place where she could excel. Naturally athletic, she played basketball, softball and volleyball, and was a high jumper on the track team. Naturally intelligent, she garnered academic awards and scholarships – though looking back, Preckwinkle says she "got through high school pretty much without doing much work."
She was forced to improve her study habits when she arrived at the University of Chicago in 1965. U of C is also where she met her future husband, Zeus. The couple had their son Kyle in 1981 and daughter Jennifer in 1990. Preckwinkle filed for divorce in 2013.
After leaving college, Preckwinkle taught high school history for a decade, mostly at Visitation High School in Englewood and Aquinas Domincan High School in South Shore. She's still in touch with some of her former students, who recall her mere presence in the school as meaningful.
"Out of the 500 girls there, there were probably 60 blacks in that school. The Hispanic rate might have been 40 or 50," said former student Jennifer Layne. "For a black teacher to be in a school where everybody is white – that was huge."
Chicago Voters' Guide: Lori Lightfoot | Toni Preckwinkle
---
After leaving teaching, Preckwinkle went to work in nonprofits, and in 1985 she joined the Harold Washington administration's Department of Economic Development. She challenged then-4th Ward Ald. Timothy Evans in 1983 and 1987 before finally beating him in 1991 by a mere 109 votes.
"Toni was not a go-along, get-along gal. Toni worked and Toni worked hard," said former colleague Leslie Hairston, alderman of the neighboring 5th Ward.
After more than 19 years in the City Council, Preckwinkle became president of the Cook County Board in 2010. She won early accolades for rolling back a much-loathed tax hike and making strides to clean up county government. She also developed a reputation among critics as being difficult – even vindictive.
"Independence was not welcomed," said former Cook County Commissioner Richard Boykin, who clashed with Preckwinkle over a quickly repealed tax on sugary drinks. "President Preckwinkle demanded loyalty, if you will, and sort of ruled the place with an iron fist."
But supporters say she's used her power to take appropriate action, and to advocate for causes important to her like affordable housing and criminal justice reform. That power increased significantly in April 2018 when she became chair of the Cook County Democratic Party. If elected, Preckwinkle will be the first mayor since Richard J. Daley to lead the county party and the city simultaneously.
Despite her long political career, Preckwinkle maintains her first job shaped her the most: "Once a teacher, always a teacher."
---
Related stories:
Chicago Voters' Guide: April 2 Runoff Election
Chicago's Runoff Election: Early Voting Locations, Dates
Lightfoot, Preckwinkle Clash on Campaign Cash
Mayoral Candidate Forum: Lightfoot vs. Preckwinkle
The Week in Review: Mayoral Candidates Rack Up Endorsements
Mayoral Candidates Preckwinkle, Lightfoot Square off on Aldermanic Prerogative
---