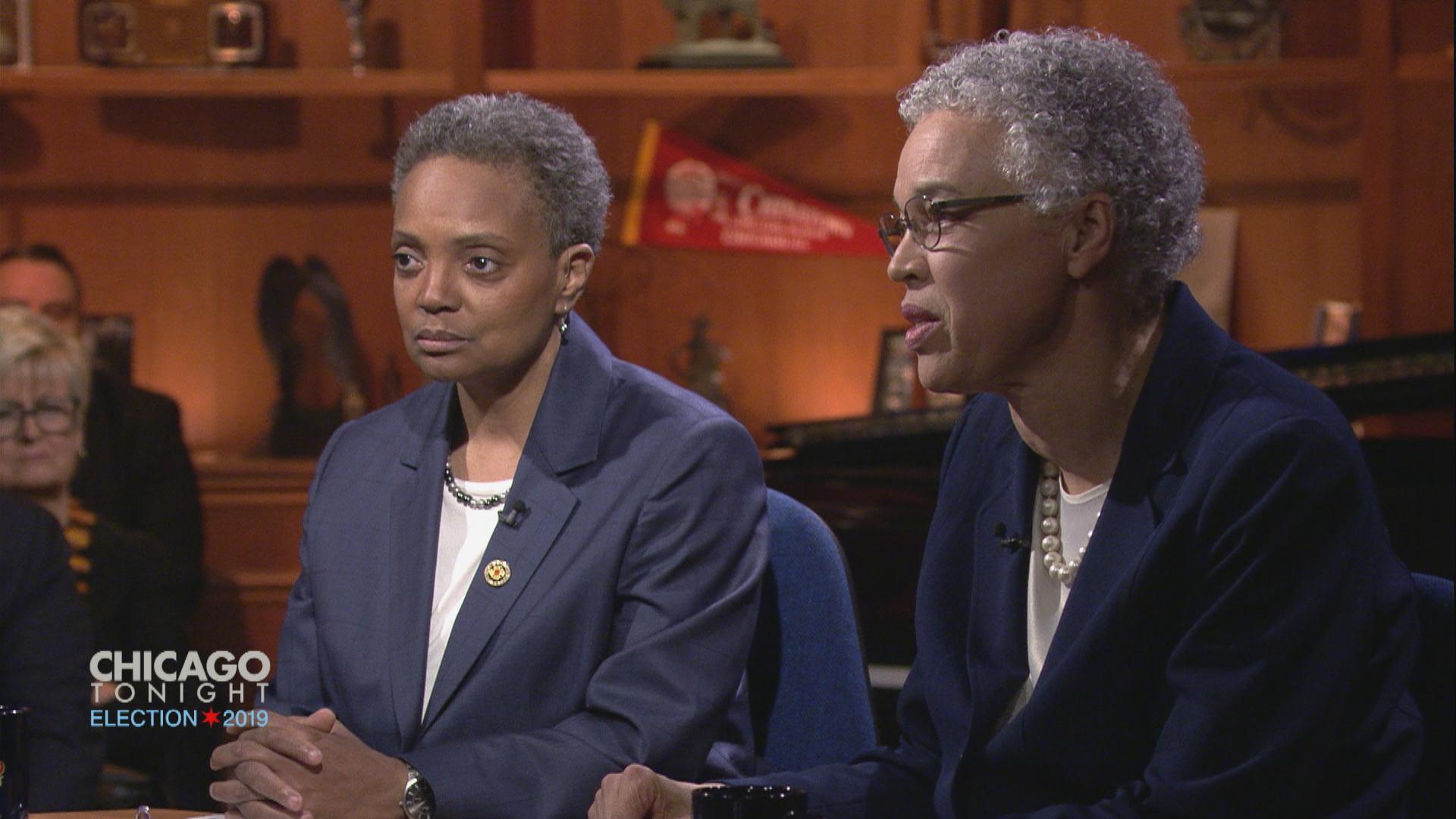 Mayoral candidates Lori Lightfoot, left, and Toni Preckwinkle appear on "Chicago Tonight" on March 21, 2019.
Mayoral candidate Toni Preckwinkle has received thousands of political donations over the years from many people – including, surprisingly, her opponent in the race for Chicago mayor. Candidate Lori Lightfoot on Thursday revealed that she gave $1,000 to Preckwinkle last year as Preckwinkle was running for a second term as Cook County Board president.
"You've taken $19,000 from my partners, $1,000 from me," Lightfoot said during the hourlong candidate forum on "Chicago Tonight." "(Preckwinkle) called me up and asked me for a donation, and I wrote her a $1,000 check. If (she's) so offended by that, give the money back."
Video: Watch the full forum online.
Lightfoot was responding to Preckwinkle's criticism of her role as partner at the powerful law firm of Mayer Brown, where she has defended banks against racial discrimination and Republicans who were taking on Democratic gerrymandering of maps.
"She was an owner in that firm, and she personally benefitted from it," Preckwinkle said.
Later, when asked to expand on Lightfoot's donation, Preckwinkle said: "I'm grateful she had confidence in me as a public official and was willing to support me."
Lightfoot was also on the defense after Preckwinkle brought up $40,000 in so-called dark money the Lightfoot campaign received from a PAC called Change Chicago. Because of election laws, the group does not have to disclose its donors. Lightfoot dismissed the line of attack as a "red herring," later adding that she didn't know the source of the cash, and that she "wasn't going to be lectured by someone who had taken money from a fundraiser organized by (Ald.) Ed Burke and failed to give all of the donations back."
The back-and-forth was the latest in a series of contentious public appearances between the two runoff candidates, though the tone Thursday was more civil. Both candidates agreed on many policy points, including a push to create a civilian police oversight agency that would have the power to hire and fire the police superintendent. Both said they support a version of the Grassroots Alliance for Police Accountability (GAPA) ordinance that would create such a commission.
The two differed slightly on the issue of rent control as a way to help slow the displacement of residents from gentrifying neighborhoods. Preckwinkle says she supports a lift on the statewide ban on rent control so that the city of Chicago can "talk about it." Lightfoot said she didn't believe it was the way to go in dealing with the issue. Both favored stronger requirements to build affordable housing throughout the city.
---
The two also differed on the idea of redrawing political boundaries, like ward maps, as is required after the census every 10 years. Lightfoot, echoing her work as an attorney, says she supports independent commissions redrawing political maps. Preckwinkle said the job is best left to political parties, and contended that every other political jurisdiction in the country does it that way. (In reality, there are a handful of states, including California, that use independent commissions in redrawing both state and congressional districts.)
Both Lightfoot and Preckwinkle were vague on solutions to Chicago's pension funding crisis, with Preckwinkle alluding to her support of a progressive income tax at the state level that should benefit Chicago with a piece of the extra revenue the state takes in. Lightfoot said emphatically that she would oppose a city soda takes, calling it "offensive" that Preckwinkle had passed such a tax at the county level (it was swiftly repealed). Lightfoot also said that she would not talk about increasing large pots of city revenue until she had successfully made the case that there was no other alternative. Chicago faces the daunting task of finding $1 billion more to put into its four beleaguered pension systems in the coming years to prevent them from going insolvent.
Preckwinkle opened the forum by touting the endorsement she received this afternoon from Chicago-based musician Chance the Rapper, and defended her campaign's move to pull out of any television advertising.
"TV ads aren't all there are to campaigns," Preckwinkle said. "Connecting with voters at their doors and in their homes is going to be critically important. This election is going to be low turnout."
Follow Paris Schutz on Twitter: @paschutz
---
Related stories:
Mayoral Candidate Forum: Lightfoot vs. Preckwinkle
Chicago Voters' Guide: April 2 Runoff Election
Chicago's Runoff Election: Early Voting Locations, Dates
Mayoral Candidates Preckwinkle, Lightfoot Square off on Aldermanic Prerogative
Lightfoot vs. Preckwinkle in Chicago Mayoral Runoff
---