With corruption scandals roiling Chicago politics, both of the candidates for mayor say cleaning up City Hall is near the top of their agendas. But it's also where they differ, particularly when it comes to aldermanic prerogative – the longstanding Chicago practice that gives City Council members wide latitude over what does, and doesn't, happen in their wards.
Lori Lightfoot isn't a newcomer to city politics (she was appointed by Mayor Rahm Emanuel as president of the police board) but she's never served in an elected position. In contrast, Toni Preckwinkle was an alderman for 19 years before winning office as Cook County Board president.
Lightfoot wants to strip aldermanic prerogative; Preckwinkle says wards are small enough that residents know their alderman, and that this type of constituent service is a Chicago aldermanic hallmark.
"There's no doubt in my mind, that in the coming days, weeks at the most, we're going to see a serious of indictments that come down from my former colleagues at the U.S. attorney's office. And it is going to center around this issue of aldermanic prerogative," Lightfoot said. "No alderman should have that kind of power where people feel like the only way that they can get basic city services and get business done in a ward is to kiss the ring of the alderman. That's fundamentally the problem."
"I served as alderman for 19 years. I actually have experience doing the job. And that's not true," Preckwinkle said in response. "I mean, the overwhelming majority of the work that you do is pretty mundane. It's connecting people to city services, it's intervening in ways that I just described. And frankly, it's a derogatory characterization of alderman and the work that they do."
Both candidates favor banning aldermen from earning outside income while they serve on the City Council. (There is no such ban for Cook County commissioners, many of whom hold second jobs. Preckwinkle says outside employment has never been an issue at the county board as it has been for the City Council.)
Regardless, it's unlikely that City Council would pass an ordinance inhibiting their members' own employment prospects, regardless of who becomes mayor.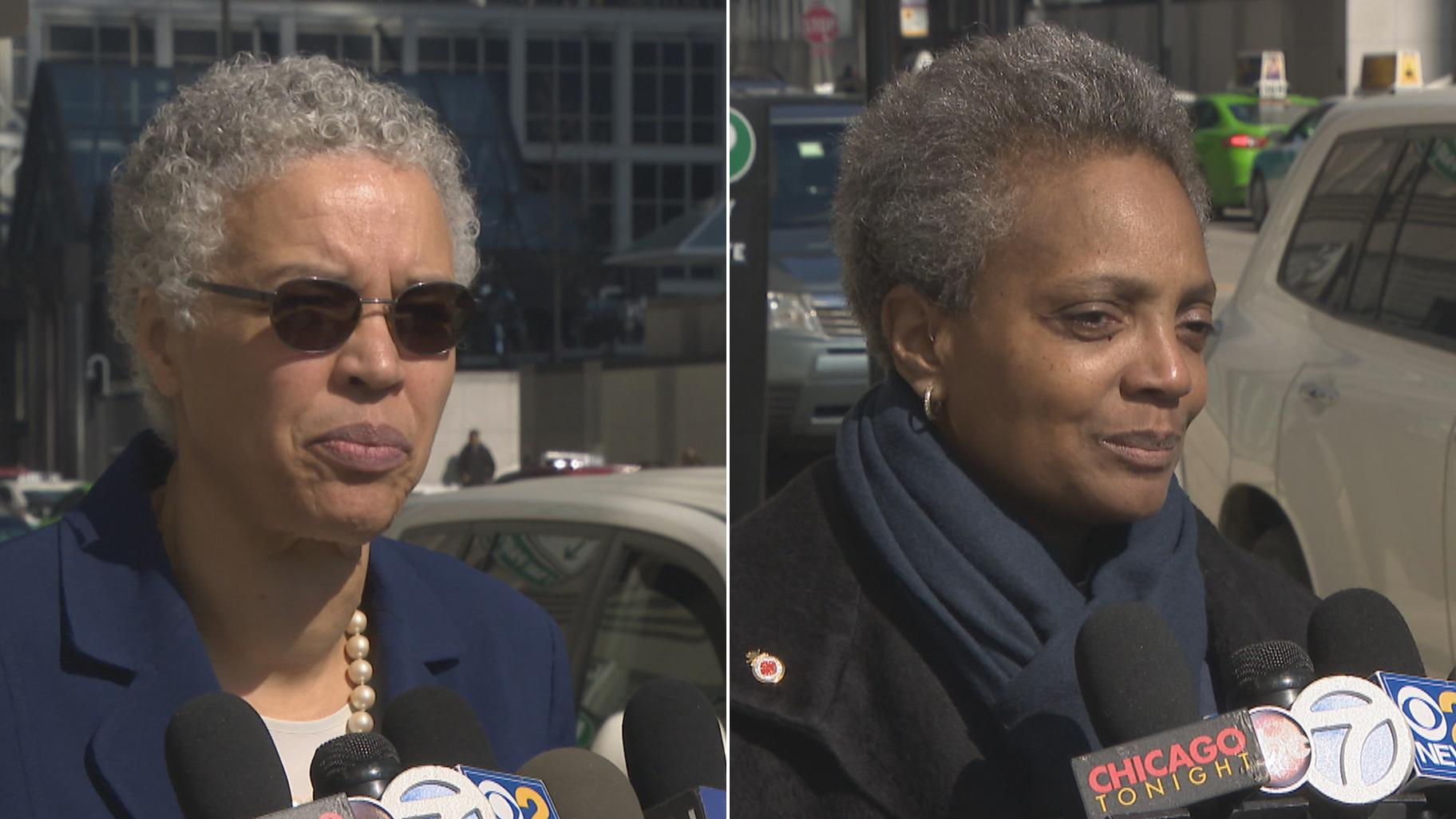 Mayoral candidates Toni Preckwinkle, left, and Lori Lightfoot speak to the media following their meeting with the Chicago Tribune editorial board Tuesday, March 12, 2019. The two will face off in a runoff election on April 2.
Preckwinkle and Lightfoot both largely avoided talk of a specific, major revenue source that would make a dent in the city's structural deficit and spiking pension payments; a new report out Tuesday from the Civic Federation highlights the city's looming fiscal challenges and the need for them to be buttressed with new revenue.
Preckwinkle emphasized trying to get more money from the state through the Local Government Distributive Fund, even though Illinois is plagued with its own financial challenges and Gov. J.B. Pritkzer's proposed budget does not increase the share of funding going to municipalities. She also advocated for Pritzker's graduated income tax plan. Beyond that, she called for reining in TIFs, saying money misued as those tax subsidies could instead bulk up the general fund.
"We've closed budget gaps of $2.1 billion and we've made $850 million in cuts, we've reduced our workforce by 13 percent and our indebtedness by 11 percent," Preckwinkle said. "So I've worked hard to be the good steward of the taxpayers of the County of Cook and that experience as executive of the second largest county in the country I think puts me in a unique position to the city of Chicago faces."
Lightfoot likewise refused to propose a specific, major revenue stream. She said she would steer clear of any revenue that's not progressive in nature, or which would hurt the city's economic vitality for businesses – an employee "head" tax, commuter tax and so-called LaSalle Street tax on financial transactions are all non-starters. She also said she won't back a tax on sugary drinks, nor a property tax increase, at least under the city's broken property tax assessment system.
But Lightfoot said she takes the urgent need to address Chicago's financial needs seriously, and there must be a "conversation" about revenue.
"Look, I think the conversation is about demonstrating to taxpayers that we are going to make city government run much more efficiently," she said. "That we are going to respect their hard-earned tax dollars. We can't say that now. Once we do that – and we'll be announcing, again, if I'm fortunate enough to become the mayor, some very specific bold measures that are going to result in immediate savings to city taxpayers – and then and only then can we have the conversation about revenue. Which is going to be tough," Lightfoot said.
Tuesday's substance-based, informal debate before the Chicago Tribune editorial board was a far cry from last Thursday's televised forum, which practically turned into a shouting match.
This time, the tone was more civil.
The editorial board previously picked Bill Daley as its top choice for mayor, so its endorsement is up for grabs.
There's no good way to gauge just how much an endorsement like this matters. But the Chicago Sun-Times' front-page endorsement of Lightfoot is perceived as having helped catapult her campaign.
A reminder: Reporters do not endorse candidates; they write stories independently of newspaper editorial boards and opinion writers who make endorsements.
Follow Amanda Vinicky on Twitter: @AmandaVinicky
---
Related stories:
Chicago's Runoff Election: Early Voting Locations, Dates
Chicago Voters' Guide: April 2 Runoff Election
The Week in Review: Mayoral Runoff Election Heats Up
---