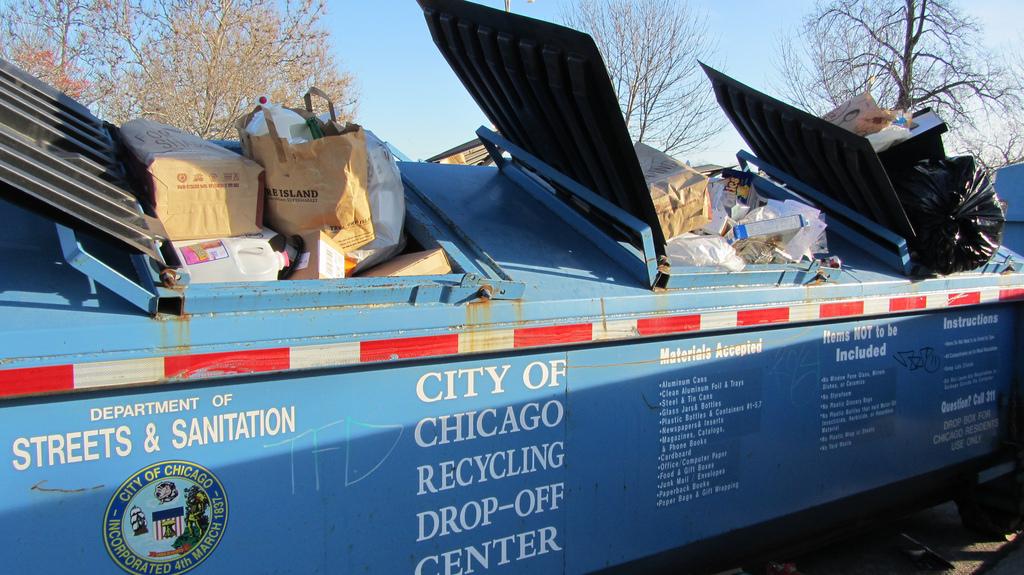 (Brian Johnson and Dane Kantner / Flickr)
Chicago's recycling woes have been well-documented, but a new report shows that at least five other cities in Illinois are failing to meet average U.S. recycling rates.
According to a new study by the Illinois chapter of the U.S. Public Interest Research Group, at least six of the state's largest 11 cities have recycling rates below the national average of about 35 percent.
As part of its study, "The State of Recycling in Illinois," the nonprofit collected and examined recycling data from the past three years for some of Illinois' most populous cities. Chicago's recycling rate of 9 percent in 2017 (the most recent data available) was the worst, but none of the other cities had rates above 30 percent.
Recycling rates by year for each city included in the study:
Naperville, 30 percent (2017)
Rockford, 28 percent (2018)
Waukegan, 22 percent (2017)
Champaign, 13 percent (2018)
Springfield, 12 percent (2016)
Chicago, 9 percent (2017)
Because of a lack of required reporting for cities and other jurisdictions, Illinois does not publish an overall statewide recycling rate, according to Illinois PIRG.
The study's release on Nov. 15 coincided with America Recycles Day, an initiative of the nonprofit Keep America Beautiful that aims to promote and celebrate recycling throughout the U.S.
"It's America Recycles Day but unfortunately, Illinois is pretty trashy," said Abe Scarr, director of the Illinois PIRG Education Fund, in a statement last week. "Chicago's recycling rate of 9 percent is abysmal, and even the best cities are below average. We need to make serious improvements."
Recent changes in international trade – namely, China's refusal to continue importing plastic waste – presents Illinois and other states an opportunity to expand their recycling economies by investing in better collection, sorting and reprocessing systems, such as those once provided by China, according to Illinois PIRG.
In its report, the organization recommends that cities adopt so-called "SMART" collection systems (Save Money And Reduce Trash) that charge waste-disposal fees based on a household's volume of recyclables, which provides incentives to reduce and reuse materials.
The group also advocates for expanded curbside compost collection and increased recycling access for multiunit apartments and businesses.
"Fixing Illinois' waste system is going to require investment, bold policies and better waste education," said Alex Truelove, zero waste director with the U.S. PIRG Education Fund, in a statement. "The good news is, we know people want to recycle, and we know how to improve recycling infrastructure. Now, we need just need to make the commitment to do better."
Contact Alex Ruppenthal: @arupp | [email protected] | (773) 509-5623
---
Related stories:
New Campaign Aims to Boost Chicago's Dismal Recycling Rate
Chicago Recycling, Garbage Pickup Schedules Now Available Online