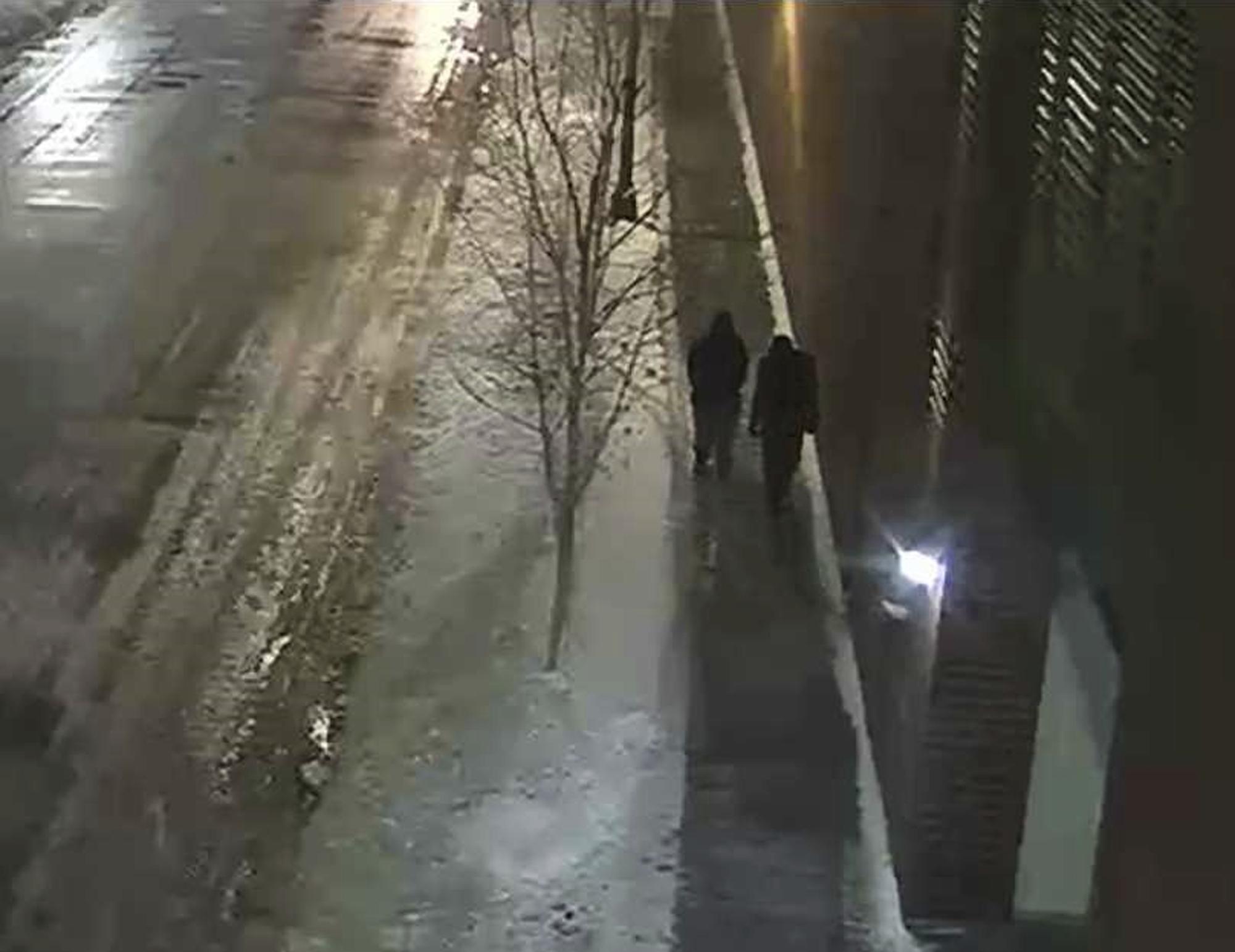 Chicago police this week released surveillance images of persons of interest sought in the alleged Tuesday morning attack on "Empire" actor Jussie Smollett. (Courtesy of Chicago Police Department via AP)
Chicago police are asking for help identifying two persons of interest captured in surveillance images in the area of the Tuesday morning attack of actor Jussie Smollett.
No suspects have yet been identified in the alleged hate crime, but police say they are hoping to locate two subjects who were in the area around the same time as Smollett, who stars in the Fox series "Empire."
The images, released Wednesday night, show two subjects walking along New Street near Illinois Street between 1:30 a.m. and 1:45 a.m. Police have not identified them as suspects, but instead hope to identify and interview the people to determine if they witnessed or participated in the alleged attack.
Smollett, 36, was walking along the 300 block of East Lower Water Street in the Streeterville neighborhood around 2 a.m. Tuesday when he was approached by two attackers who allegedly yelled racial and homophobic slurs toward him, according to police.
They then allegedly began to hit the victim in his face, poured a chemical substance on him and wrapped a rope around his neck before fleeing the area. Smollett took himself to Northwestern Memorial Hospital, where he was listed in good condition.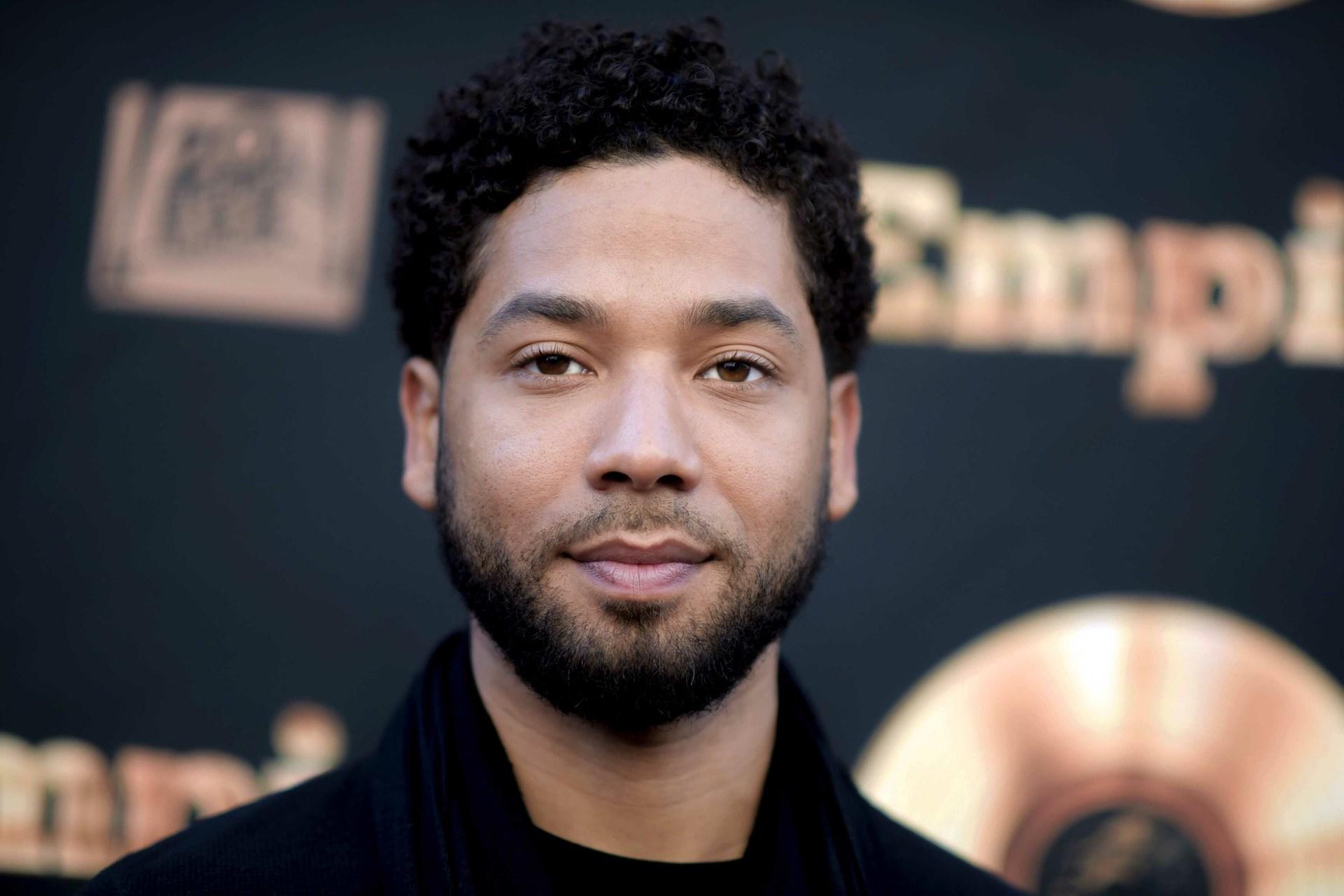 Jussie Smollett, who alleges he was the victim of a brutal racial and homophobic attack, is a former child star who grew up to become a champion of LGBT rights and one of the few actors to play a black gay character on prime-time TV. (Richard Shotwell / Invision / AP, File)
Police spokesman Anthony Guglielmi said detectives, who are investigating the allegations as a possible hate crime, have looked at hundreds of hours of surveillance video from businesses and hotels in the heavily monitored area. But he said they still need to collect and view more. He said they are expanding the search to include footage from public buses and buildings beyond the scene's immediate vicinity in the hopes of spotting the men who match Smollett's description of the suspects.
"We haven't seen anybody, at this point, matching the description he gave. Nobody looks menacing, and we didn't find a container anywhere," Guglielmi said, referring to a container for the liquid that the actor said was thrown at him.
Photos of people of interest who were in area of the alleged assault & battery of Empire cast member. While video does not capture an encounter, detectives are taking this development seriously & wish to question individuals as more cameras are being reviewed pic.twitter.com/xJDDygtocr

— Anthony Guglielmi (@AJGuglielmi) January 31, 2019
---
The incident has garnered national attention, with Hollywood actors sending Smollett their condolences and politicians demanding action in the investigation. Some of the outrage stems from Smollett's account to detectives that his attackers yelled that he was in "MAGA country," an apparent reference to the Trump campaign's "Make America Great Again" slogan.
Illinois Sen. Dick Durbin on Thursday called reports of the alleged hate crime "horrific" and said the nation must address the "significant, ongoing threat of violence motivated by racism, homophobia, and other forms of bigotry and hate."
That message comes a day after U.S. Rep. Bobby Rush penned a letter to FBI Director Christopher Wray calling for a federal civil rights investigation.
"As you are aware, crimes of this nature strike fear at the very core of a community and have a long-lasting impact on its members," Rush wrote. "They are, therefore, rightfully characterized as hate crimes. That the perpetrators in this attack are reported to have wrapped a rope around the victim's neck is jarring, to say the least, and a surprise to many people who believe that lynching has been relegated to the annals of our history."
Chicago has one of the nation's most sophisticated and extensive video surveillance systems, including thousands of cameras on street poles, skyscrapers, buses and in train tunnels.
Police say the cameras have helped them make thousands of arrests. In one of the best-known examples of the department's use of the cameras, investigators in 2009 were able to recreate a school board president's 20-minute drive through the city, singling out his car on a succession of surveillance cameras to help them determine that he committed suicide and had not been followed and killed by someone else, as his friends speculated.
Anyone with information regarding these subjects is asked to contact Area Central Detectives at 312-747-8380.
The Associated Press contributed to this report.
Contact Matt Masterson: @ByMattMasterson | [email protected] | (773) 509-5431
---
Related stories:
Police: 'Empire' Star Attacked in Possible Racist, Homophobic Hate Crime
Police: Homicides in Chicago Down by Nearly 100 in 2018
Police: Robberies Down Citywide Nearly 20 Percent in 2018
Chicago Crime Drops for 13th Straight Month
CPS Says Crime Down by One-Third Along Safe Passage Routes
---