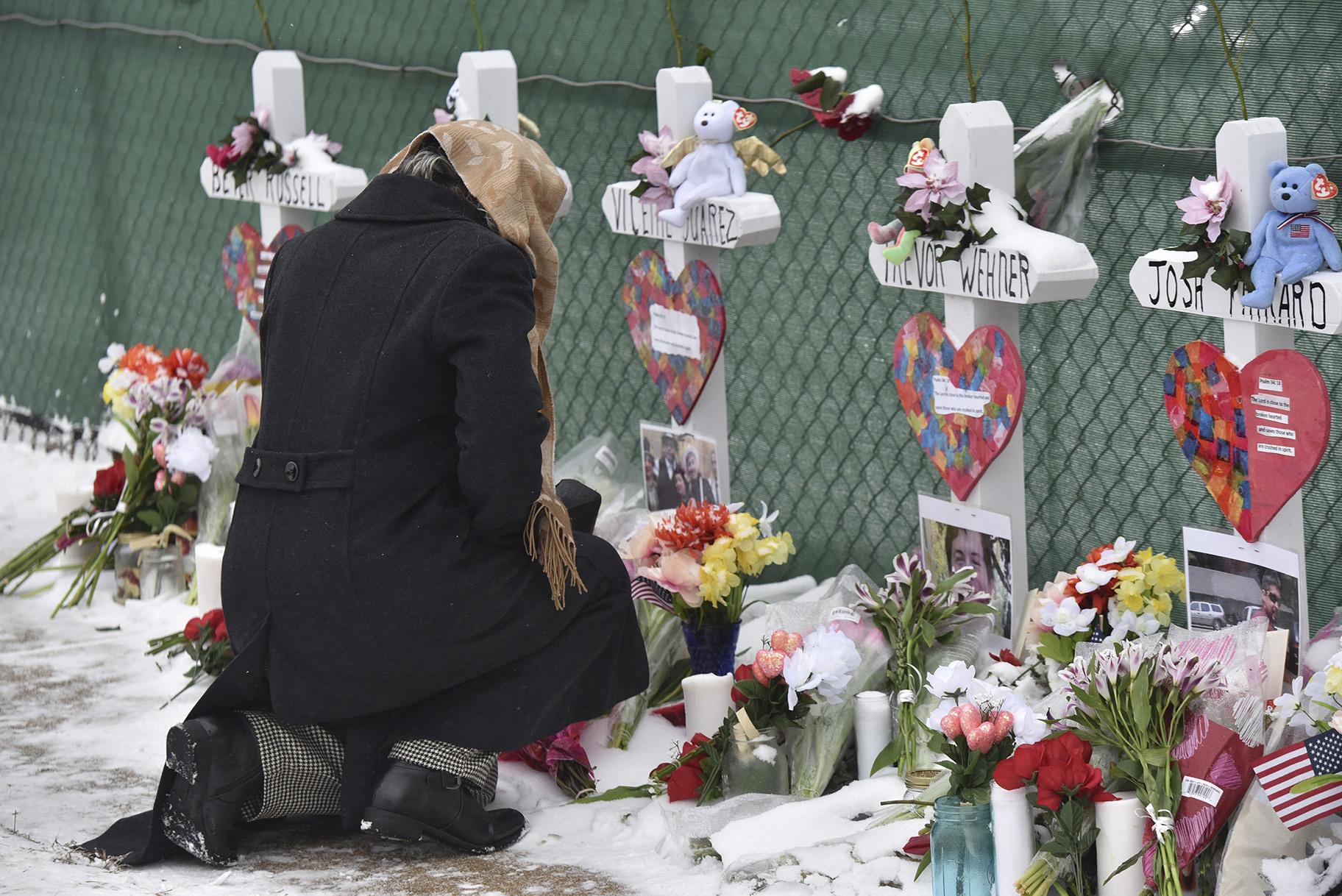 Mourners place flowers at the crosses outside of the Henry Pratt Co. in Aurora, Illinois, on Sunday, Feb. 17, 2019, in memory of the five employees killed on Friday. (Jeff Knox / Daily Herald via AP)
A fundraiser started by City of Aurora officials, the Aurora Police Department, Aurora Fire Department and other public safety officials has raised tens of thousands of dollars for the families of those who lost their lives in a shooting last week at a local manufacturing plant.
"We know we can never replace a loved one and no amount of money donated can take away that pain, but our hope is to ease the burden a little in this campaign," said Clayton Muhammad, the city's chief of communications.
As of Monday afternoon, a GoFundMe campaign has raised more than $72,000 to support the families of five individuals who were killed Friday at Henry Pratt Co. A portion of the proceeds will also benefit a sixth Henry Pratt Co. employee who was injured during the shooting, according to Muhammad.
The #AuroraStrong Community Fund is administered by the city to relieve the "extreme financial burdens families are experiencing during this difficult time," according to the campaign.
Muhammad says the initial goal of raising $50,000 was surpassed a day after the GoFundMe launched. "That says we are #AuroraStrong and a community that cares," he said. Rather than change the goal, organizers are keeping it at $50,000 to show how the community "goes above and beyond" to support one another. "This is one Aurora coming together for a cause – a tragic one – to turn pain into promise and peace," he said.
Authorities say 45-year-old Gary Martin pulled out a gun and began shooting Friday after he learned he was being fired from his job of 15 years at the company for various workplace violations. The company has not provided details on what those violations were.
Killed in the shooting were Henry Pratt Co. human resources manager Clayton Parks of Elgin; plant manager Josh Pinkard of Oswego; mold operator Russell Beyer of Yorkville; stock room attendant and forklift operator Vicente Juarez of Oswego; and Trevor Wehner, a new intern and Northern Illinois University student who lived in DeKalb and grew up in Sheridan.
Martin was also killed Friday in a shootout with police. Five police officers and a sixth plant worker were injured in the shooting and are expected to survive.
Martin's state gun license permit was revoked in 2014, after a background check revealed he had a felony conviction in Mississippi. He was ordered to turn over his firearm to police but Martin never gave up the .40 Smith & Wesson handgun he used in the attack.
More than 1,500 people attended a prayer vigil Sunday for the five slain co-workers. The Rev. Dan Haas told those who gathered outside Henry Pratt that the killings left the victims' families brokenhearted and in mourning.
"All of these were relatively young people — many of them were very young people. We will never know their gifts and talents. Their lives were snuffed out way too short," he said.
The Associated Press contributed. 
Contact Kristen Thometz: @kristenthometz | [email protected] | (773) 509-5452
---
Related stories:
Aurora Shooter's Permit Was Revoked But Gun Wasn't Seized
Officials: 5 Dead, 5 Police Wounded in Aurora Shooting
Chicago Police Officer Among 4 Killed in Mercy Hospital Shooting
---