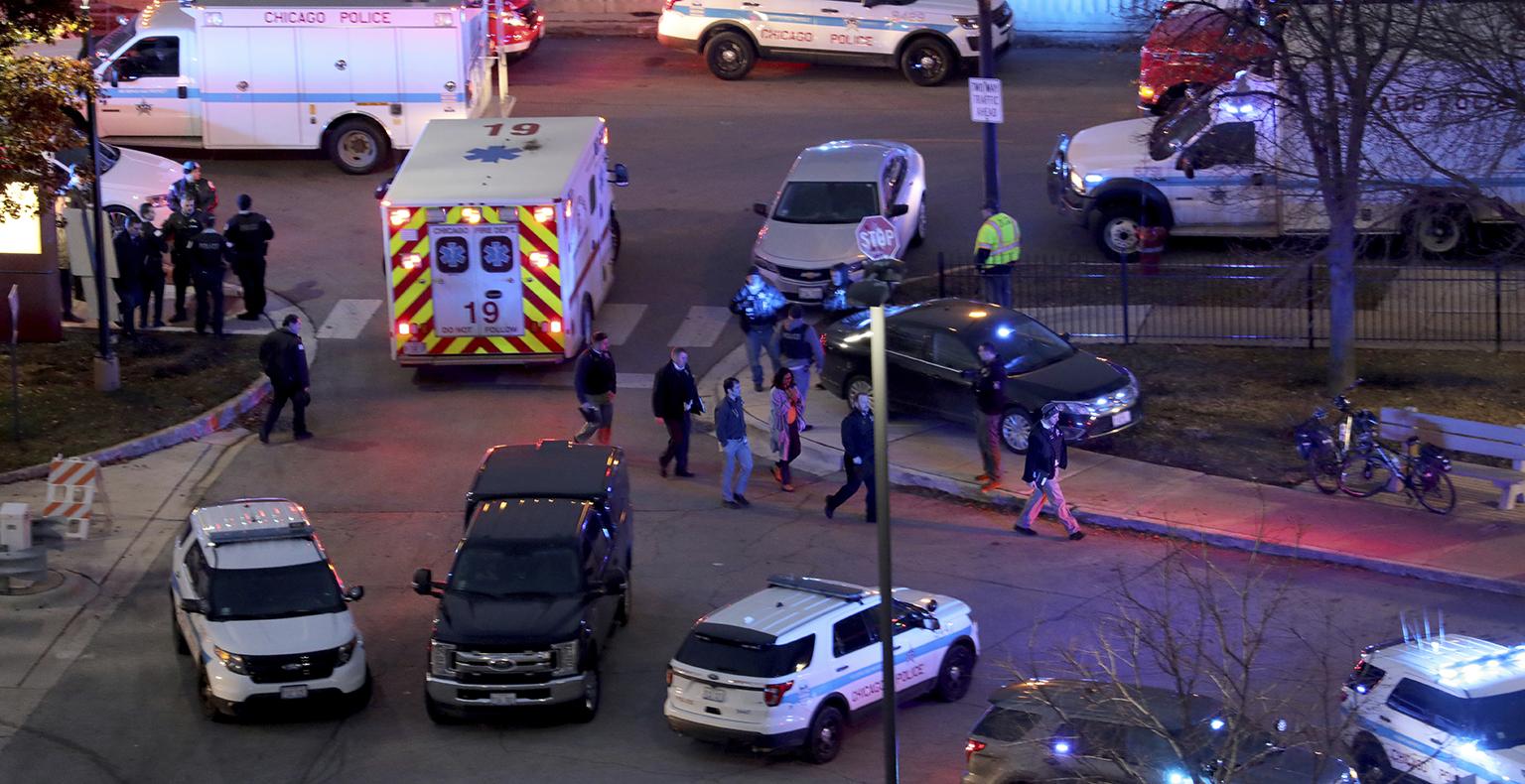 Law enforcement officials work near Mercy Hospital in Chicago's Bronzeville neighborhood on Monday, Nov. 19, 2018. (Zbigniew Bzdak / Chicago Tribune via AP)
A Chicago police officer, two female medical professionals and the suspected gunman are dead following a shooting rampage Monday afternoon at Mercy Hospital on the city's Near South Side.
"I would ask that you all keep all the victims of today's horrific incident in your thoughts and prayers," police superintendent Eddie Johnson said at a press briefing Monday night. "Those officers that responded today saved a lot of lives because this guy was just shooting … They saved a lot of lives because we just don't know how much damage he was prepared to do."
More: City Mourns Officer, Staff Killed in Mercy Hospital Shooting
The 28-year-old police officer, Samuel Jimenez, was a married father who had only recently become a full-fledged member of the force following the standard 1.5-year probation.
Neither the police nor the Cook County Medical Examiner's office immediately released the names of the other victims.
"The city of Chicago lost a doctor, pharmaceutical assistant and a police officer. All going about their day. All doing what they love," Chicago Mayor Rahm Emanuel said during Monday's press briefing.
Johnson said the gunman, who police did not identify, got into a verbal altercation around 3:30 p.m. outside the hospital with a woman – a Mercy hospital doctor – with whom he was in a domestic relationship. After a friend tried to intervene, the man lifted up his shirt to reveal a handgun. After the friend ran inside, the gunman shot and killed the doctor.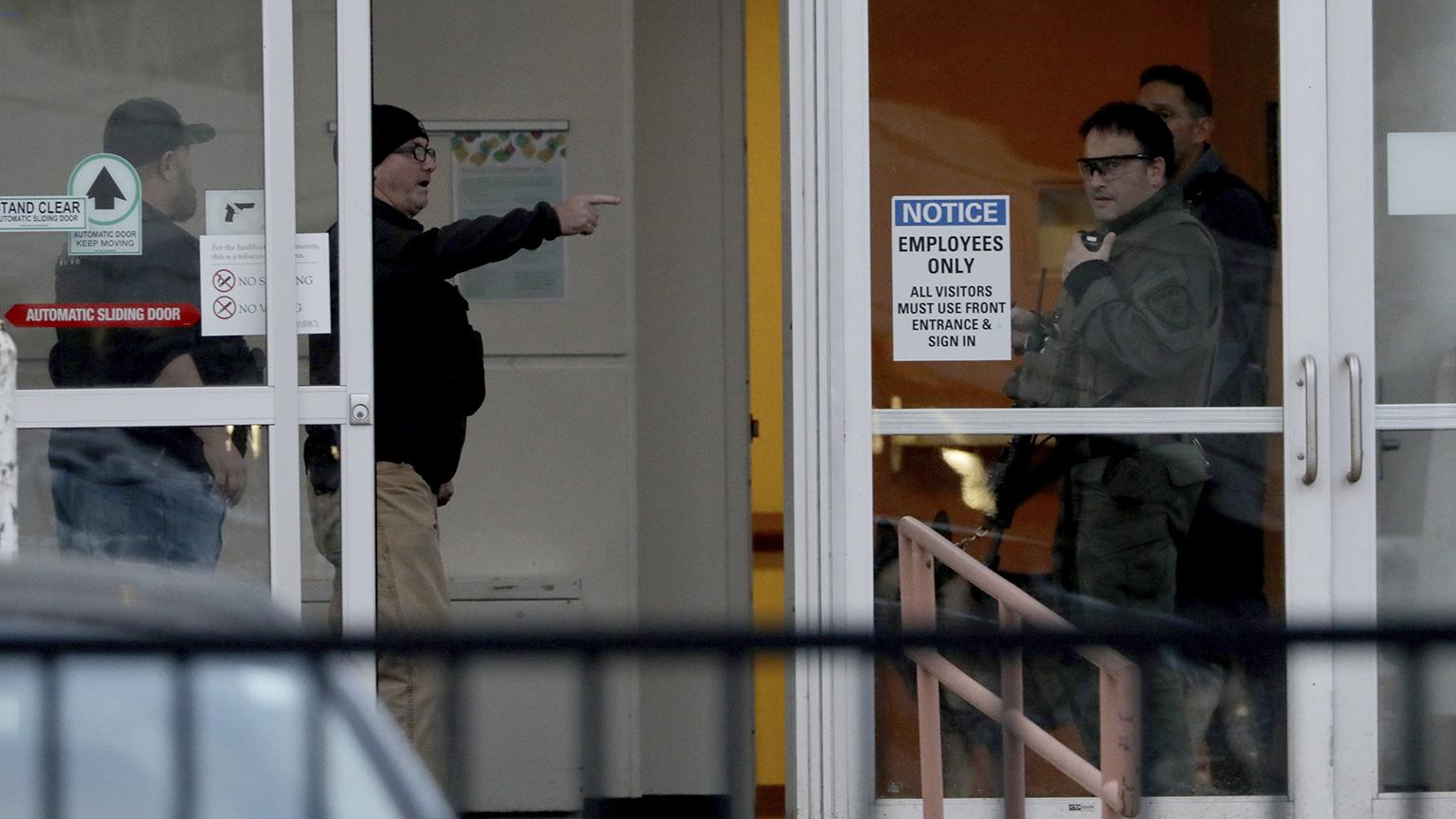 Law enforcement officers including Chicago SWAT work an entrance at Mercy Hospital on Monday, Nov. 19, 2018, in Chicago. (Zbigniew Bzdak / Chicago Tribune via AP)
According to media reports, he shot her several times before standing over her body and shooting some more.
Police rushed to the scene, and the gunman shot at their squad cars before rushing inside the hospital where a shoot-out continued as medical staff, patients and visitors took cover and tried their best to hide, Johnson said.
(Additional units responded after a radio call that an officer needed assistance; one officer at the scene was shot in the holster but suffered no bodily injury.)
The gunman fired his gun indiscriminately, Johnson said, shooting and killing a physician's assistant who'd just gotten off an elevator. She "had nothing to do with nothing," Johnson said.
Sometime in that timeframe, the gunman also shot and killed Jimenez.
"He and his partner were actually doing something else, responding to the 'officer who needs assistance' call … (they) did what heroic officers always do … ran towards that gunfire," Johnson said. "They weren't assigned … because that's what we do."
It's not clear whether the suspected gunman shot himself or was killed by police.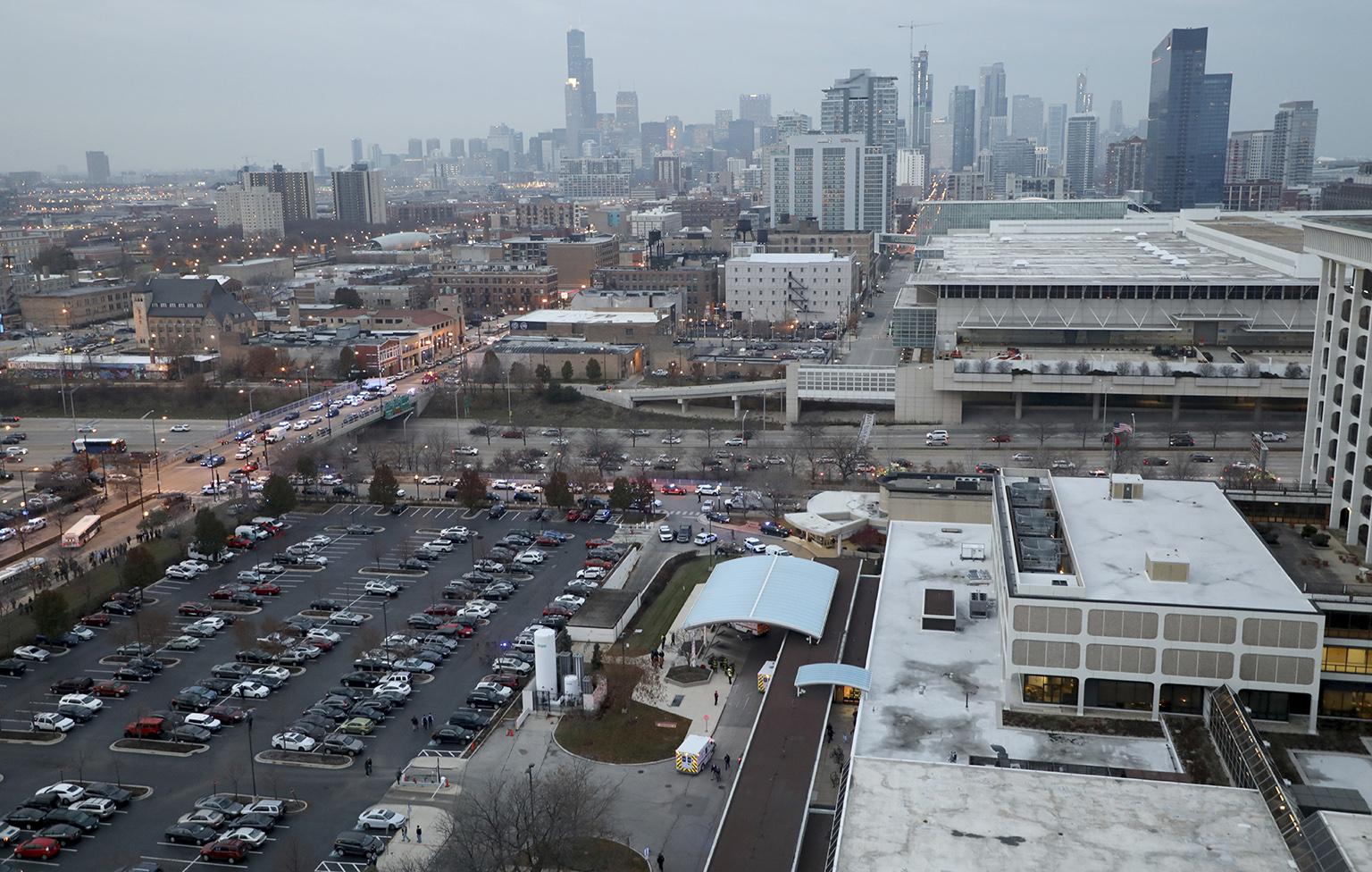 Shots were fired Monday, Nov. 19, 2018, at Mercy Hospital on the city's South Side, and officers were searching the facility. (Zbigniew Bzdak / Chicago Tribune via AP)
A witness described watching events unfold from an emergency room window, beginning with the incident outside the hospital.
"See this guy out there military-style, shooting at the police – pow, pow – like he knew what he was doing, alright. So then we looked and see either a woman or a man laying down on the ground, by the main entrance. He turned around and shot her or him again – pow, pow," Steven White said. "Then he took off, ran up inside the main entrance. Then once he run inside the main entrance, the sarge ran through the emergency room with his gun out telling us to 'get on the floor, get on the floor.' We heard a shot – bang, bang, bang, bang bang."                              
The hospital was kept on lockdown during and immediately following the incident, as police carried out a "methodical" search.
At about 4:40 p.m., Mercy Hospital sent word via Twitter that the police department had "secured the hospital and patients are safe."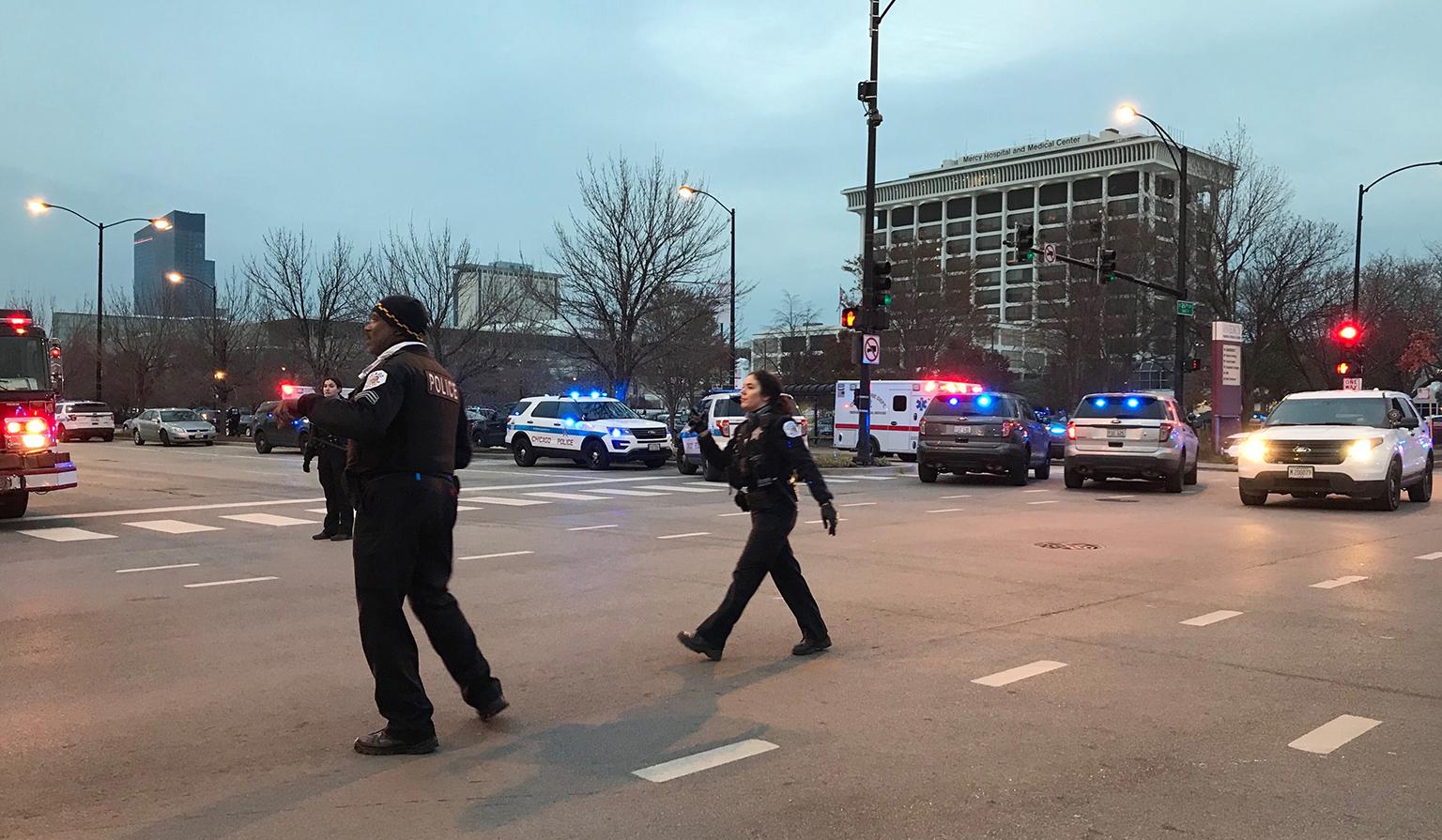 Chicago police officers walk outside Mercy Hospital on the city's Near South Side where authorities say a shooting at the hospital has wounded multiple people, including a suspect and a police officer on Monday, Nov. 19, 2018. (AP Photo / Amanda Seitz)
Jimenez was taken to the University of Chicago trauma center. At 7:30 p.m., CPD spokesman Anthony Guglielmi tweeted word of Jimenez's death.
Fraternal Order of Police President Kevin Graham called Jimenez "a courageous police officer who got up this morning, went to work and wanted to protect the city of Chicago. He did just that but he did so with his life. He will be missed … we will do whatever we can to help his family."
Johnson, Graham and Emanuel spent time with Jimenez's wife, mother and mother-in-law before speaking with the press.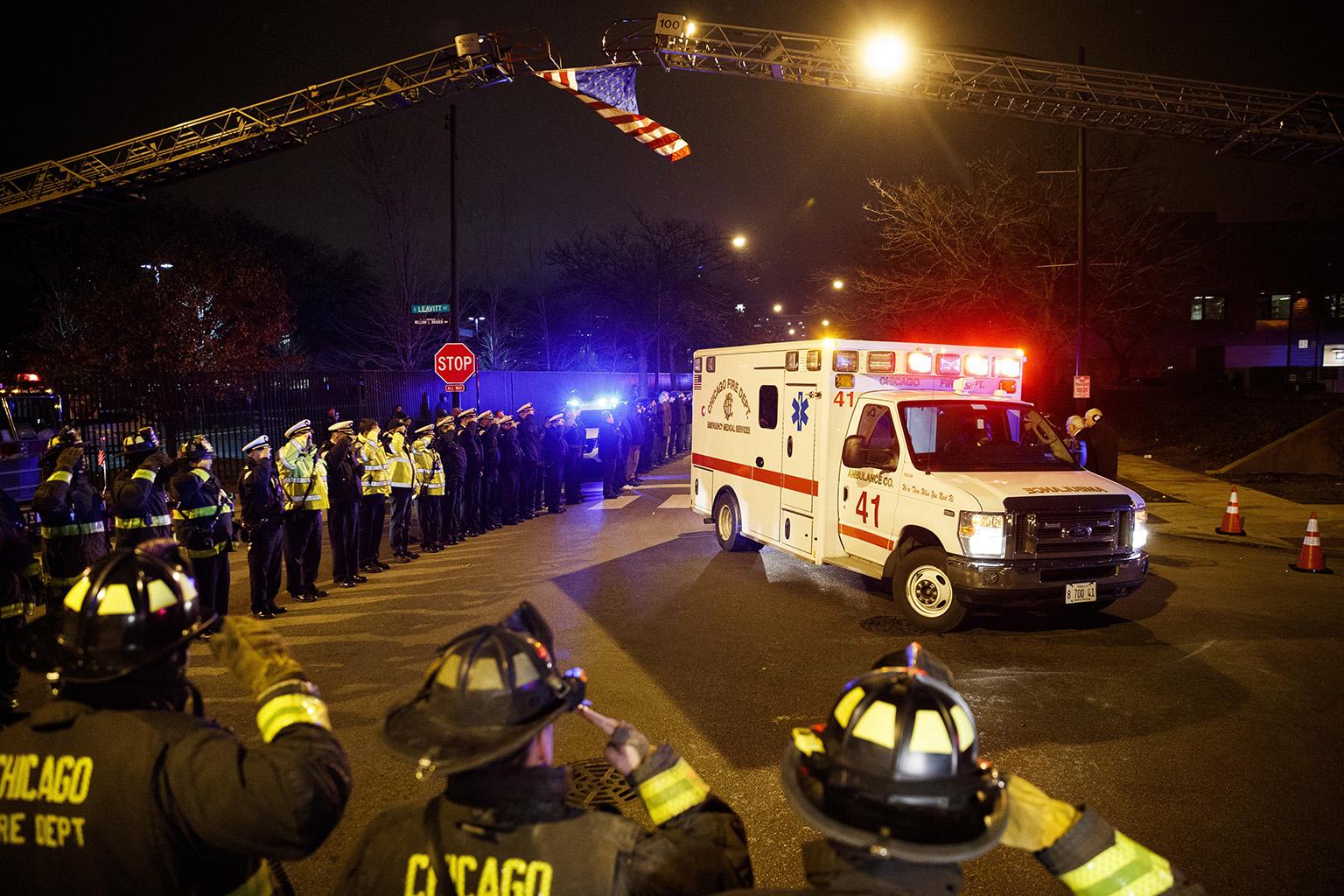 Police and firefighters salute as an ambulance arrives at the medical examiner's office carrying the body of Chicago Police Department Officer Samuel Jimenez, who was killed during a shooting at Mercy Hospital earlier in the day, Monday, Nov. 19, 2018. (Armando L. Sanchez / Chicago Tribune via AP)
"This tears at the soul of our city. It is the face and the consequence of evil," Emanuel said. "Every one of us will celebrate in a few days' time with our family in the holiday. We have members of the Chicago family who in both this holiday and other milestones in their family will not be there … I ask each of us to hold our children, our loved ones, all that closer. Remember what is important in life. And that there are others who are part of our larger family. Who will have a tear and a hole that will never really heal, that will always have a scar."
Emanuel said it was a day of highs and lows for the CPD. Monday morning he and Johnson had congratulated 363 officers who had just joined the force or received promotions.  
After the briefing, a police procession followed an ambulance taking Jimenez's body to the medical examiner's office.
Follow us on Twitter: @ByMattMasterson / @AmandaVinicky / @wttw
---
Related stories:
City Mourns Officer, Staff Killed in Mercy Hospital Shooting
Chicago Police Officer Killed in Shooting Near Thompson Center
Man Charged With Hate Crime For Allegedly Drawing Swastikas on Buena Park Homes
Chicago Police Union Severs Ties With Van Dyke Defense Attorney
Johnson Calls for Firing of Rialmo for Fatal LeGrier, Jones Shooting
---