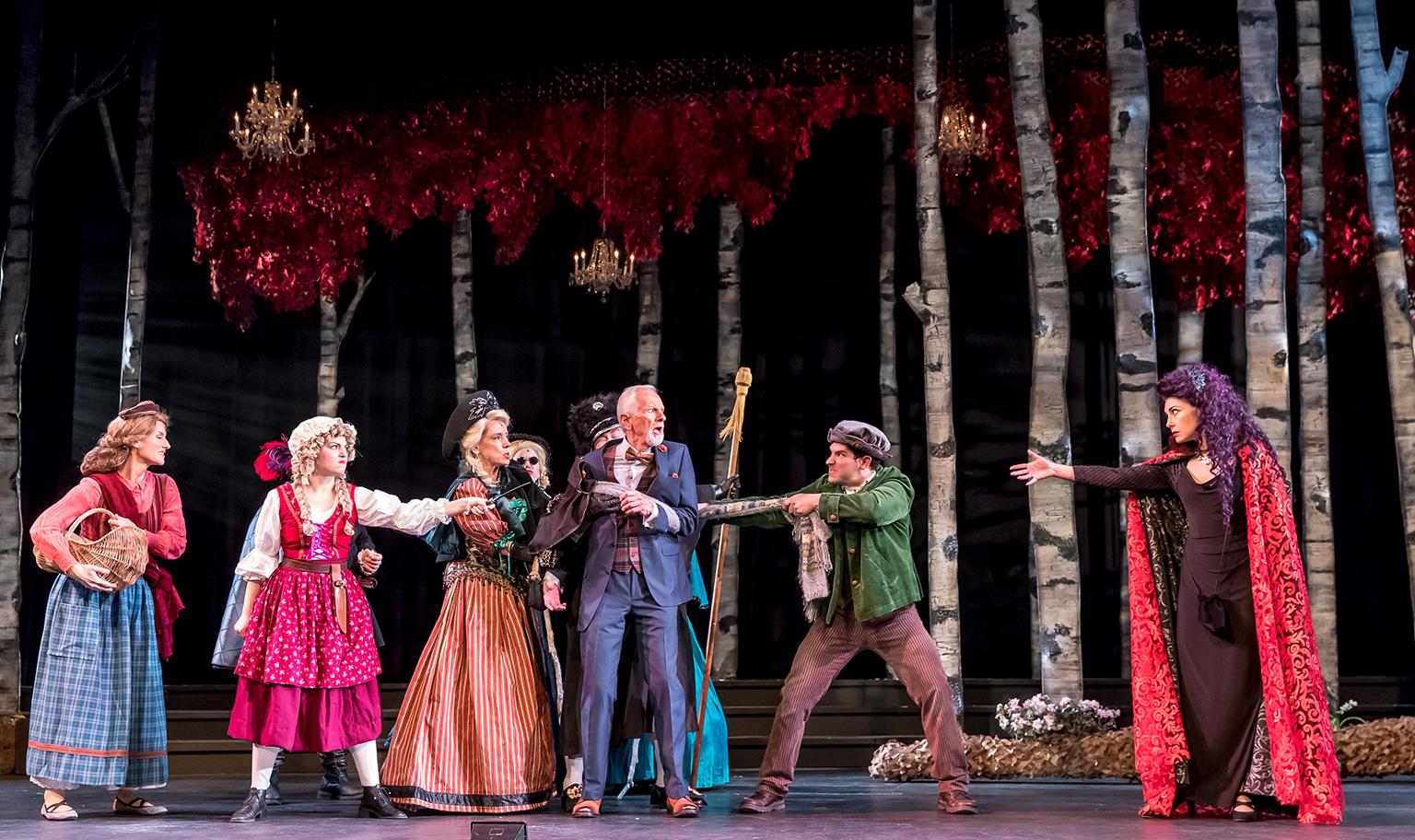 Cast of Music Theater Works' "Into the Woods" at Cahn Auditorium in Evanston. (Photo credit: Brett Beiner)
With its lushly beautiful, ideally performed production of "Into the Woods," the Stephen Sondheim-James Lapine musical that cleverly interweaves the plots and characters of a slew of classic fairy tales, Music Theater Works has an instant hit on its hands. But you had better move fast if you want to catch it. For while this production could easily enjoy a long run, this is the company that stages grand-scale productions at Evanston's Cahn Auditorium for only painfully short runs. And the magic spell it is now casting will sadly come to an end with its New Year's Eve performance.
I've seen several starry versions of this show, from the 1987 Broadway original that starred Bernadette Peters as the Witch, to the 2014 film version in which Meryl Streep played that role. But the clarity of storytelling here, as well as the precision-tooled diction of every member of the cast in this production that has been directed with just the right mix of humor and heart by Rudy Hogenmiller, and is richly enhanced by the invaluable music direction of conductor Roger L. Bingaman and an 18-piece orchestra, is exceptional. (A special note of praise for sound designer Aaron Quick, who has created the sort of perfect balance between voices and orchestra often sadly missing from downtown Broadway tours.)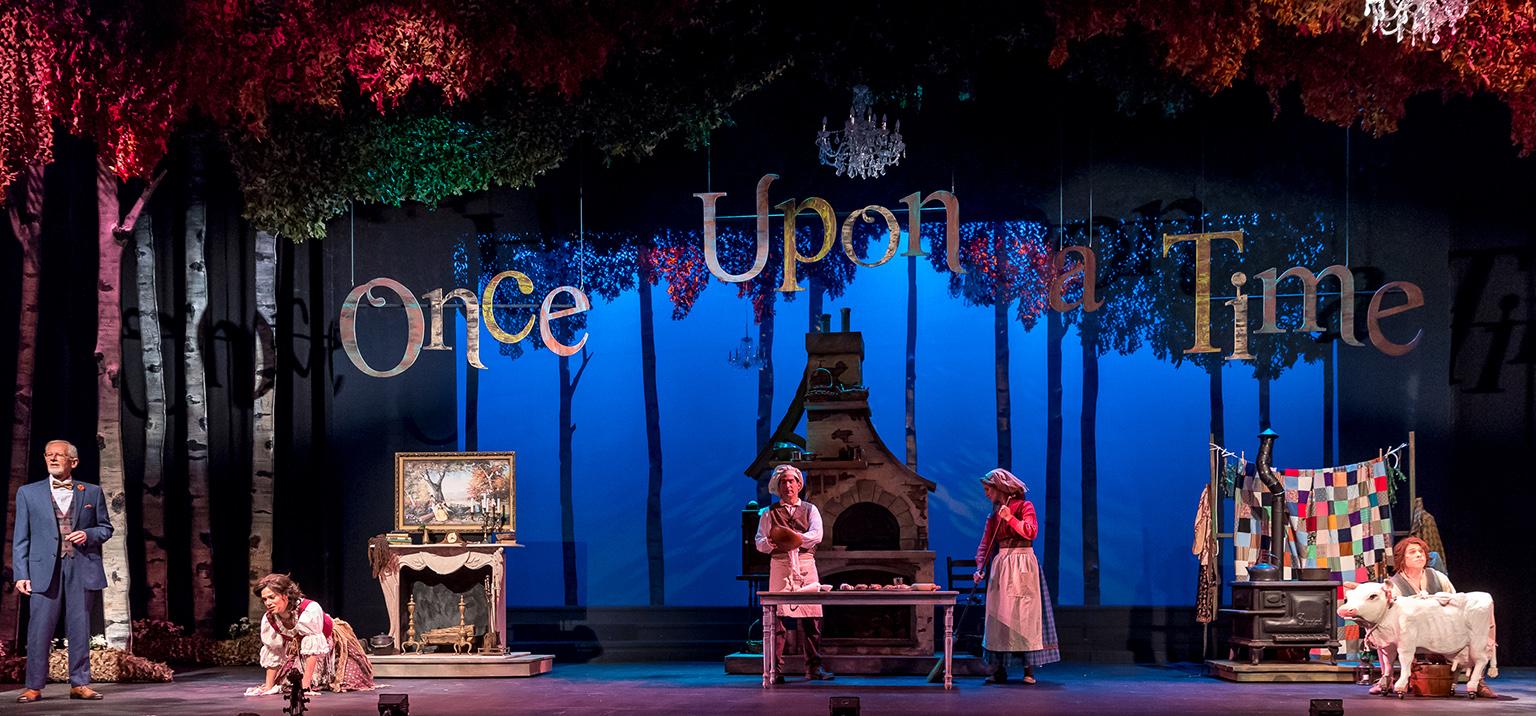 Cast of Music Theater Works' "Into the Woods." (Photo credit: Brett Beiner)
The characters (in fabulous costumes by Jesus Perez and Jane DeBondt) are familiar even if their overlapping paths into the woods have been ingeniously woven together. And while it all begins with a "once upon a time" and arrives at a seemingly "happy ever after" by the end of the first act, the show's second act unspools with a reality check that suggests happiness can be lively but fleeting – a brief "moment in the woods."
Setting all the stories in motion with his ever-impeccable timing and wit is James Harms, who serves as both the Narrator and the "Mysterious Man" about whom nothing more should be revealed here. And Christopher Rhoton's exquisite, color-infused set design (with its autumnal woods, and more, beautifully lit by Andrew H. Meyers), does the rest with clever backdrops for three major story lines. They include: the often quarrelsome marriage between the Baker (the rich-voiced Daniel Tatar), and his Wife (expertly played by Alexis Armstrong), who desperately want a child; the simple but loving fellow (of Beanstalk fame), Jack (a most endearing Christopher Ratliff), whose bossy Mother (deft work by Anne Marie Lewis), wants him to sell his beloved cow; and Cinderella (in an ideally non-Disneylike portrayal by Kelly Britt), who yearns to go to a royal festival, but is thwarted by her miserable Stepmother (Katherine Condit) and step-sisters (Caitlyn Glennon and Evelyn Finne).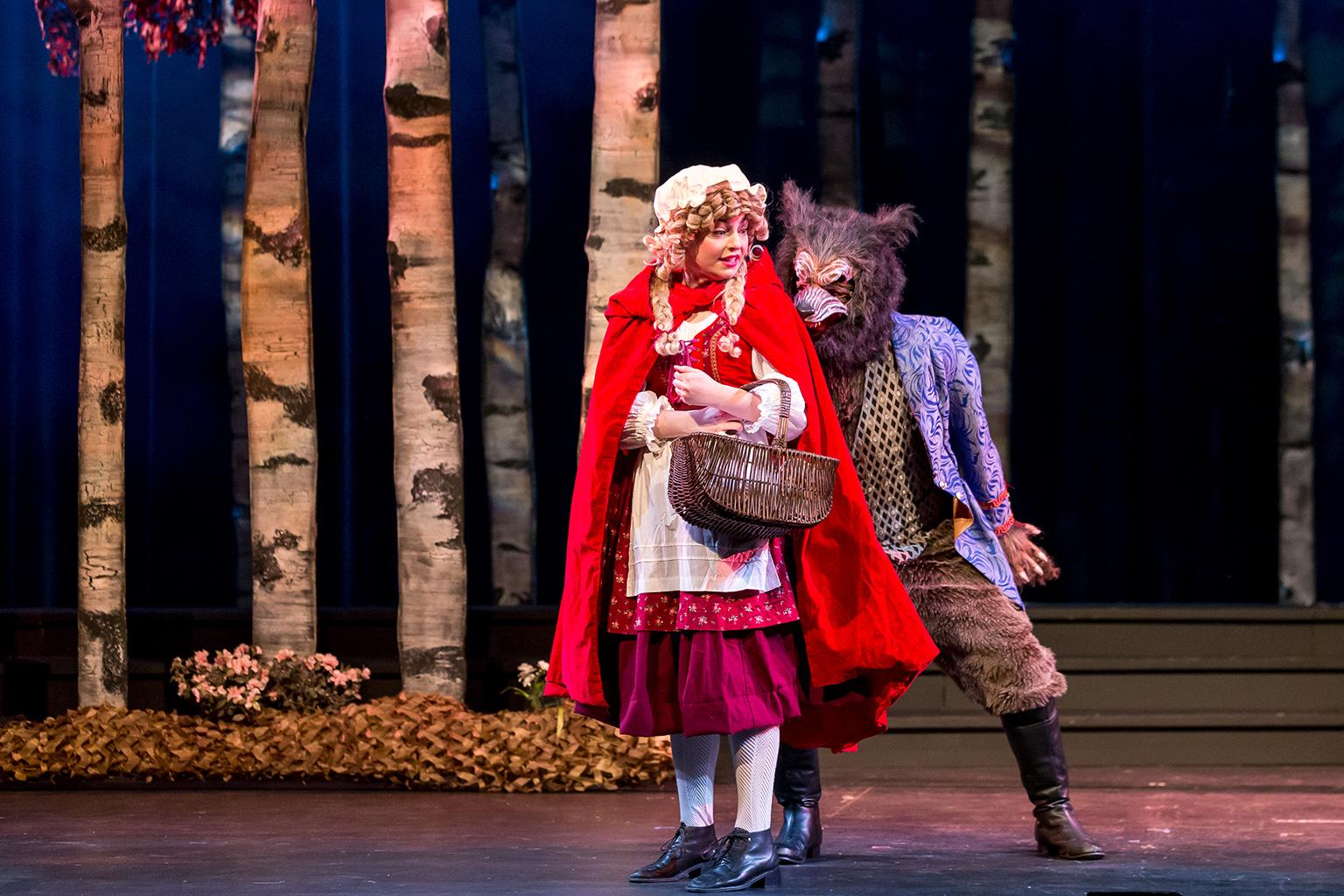 Cecelia Iole and Benjamin Sprunger in "Into the Woods." (Photo credit: Brett Beiner)
Paying a visit to the Baker and his Wife (and unceremoniously packing her basket full of sweets) is the sassy Little Red Ridinghood (a mischievous Cecilia Iole), who will very soon have an innocence-altering encounter with a big, bad, lusty Wolf (Benjamin Sprunger) at her Grandmother's house.
Most crucially there is the arrival of the Witch (a power turn by the clarion-voiced Michelle Jasso), who vows to lift the spell she put on the Baker. She also reveals the reason she has kept Rapunzel (a most winning Sarah Wasserman), the girl with the long, golden tresses, locked up in a tower where she is now being pursued by a frustrated Prince (Maxwell J DeTogne), who goes on to commiserate with Cinderella's Prince (Sprunger), in the comical song, "Agony."
Last but not least there is the havoc-wreaking Giant (a strong turn by Rebekah Rawhouser).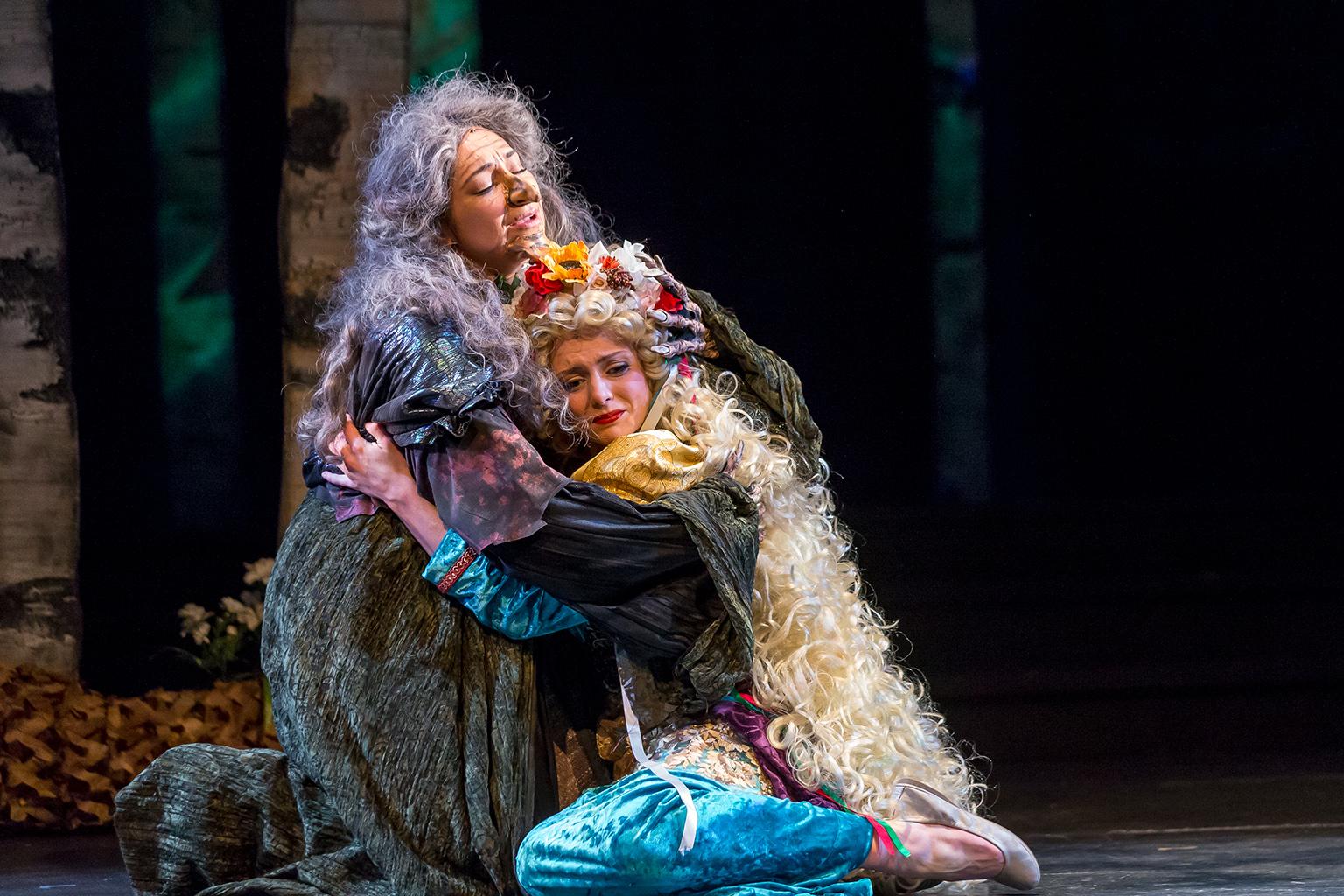 Michelle Jasso, left, and Sarah Wasserman in "Into the Woods." (Photo credit: Brett Beiner)
The task that drives much of the action is the Witch's challenge to the Baker. If he can gather four items – "a cow as white as milk, a cape as red as blood, hair as yellow as corn and slippers as pure as gold" – she will break the spell of infertility that was cast on him at birth.
Of course driving it all is Sondheim's brilliant score with its rapid-fire, endlessly clever lyrics (every one of which is crystal clear here – something he would enthusiastically applaud), that can shift from ideally snarky to profoundly heartfelt as quickly as wish-fulfillment can devolve into disappointment.
And there is this essential warning (from the powerful Witch's "Lament"): "Careful the things you say, Children will listen; Careful the things you do, Children will see." If you had any misconceptions about this musical being for children, those lines alone are proof enough that it was meant, above all, for adults.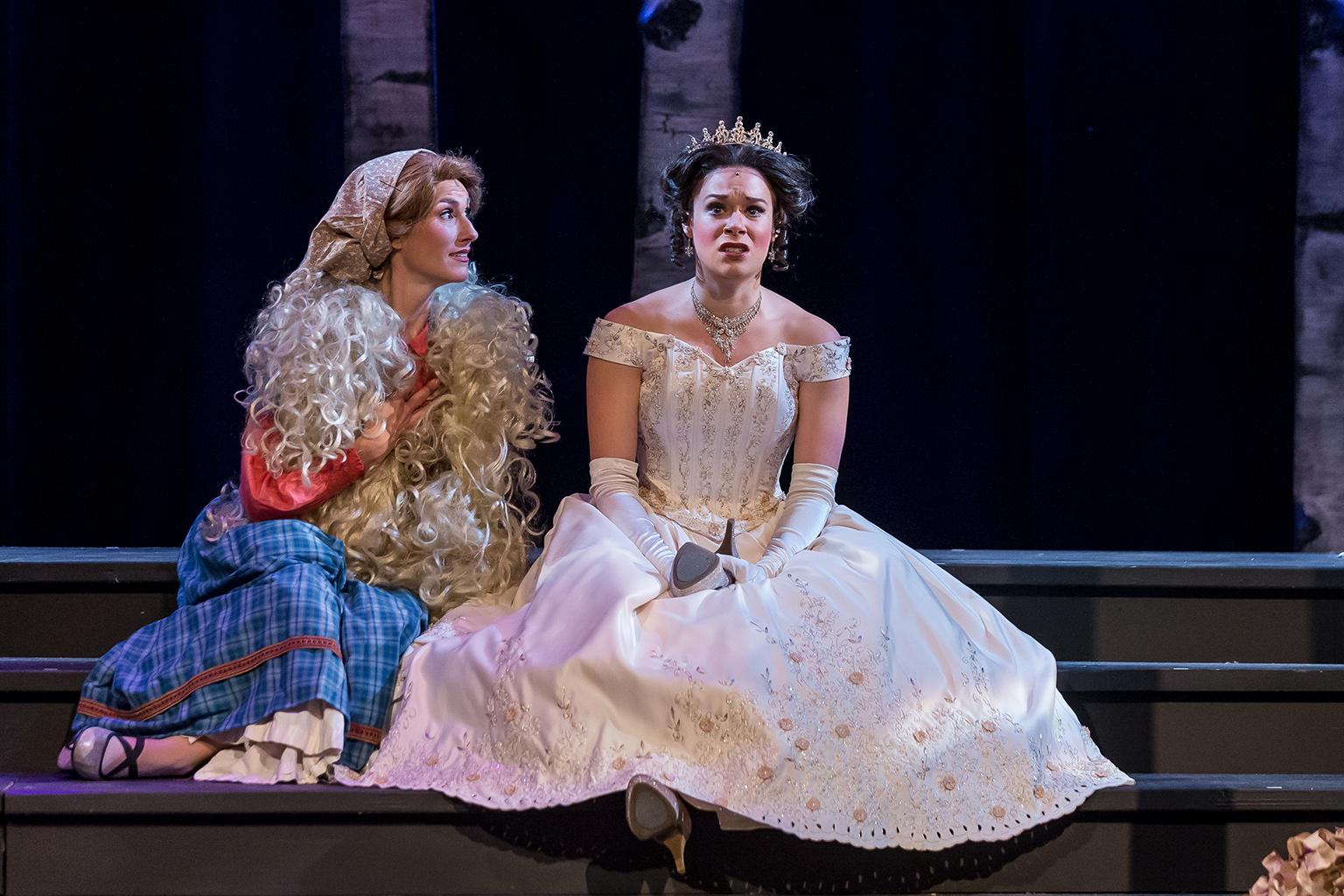 Alexis Armstrong, left, and Kelly Britt in Music Theater Works' "Into the Woods." (Photo credit: Brett Beiner)
"Into the Woods" runs through Dec. 31 at the Cahn Auditorium, 600 Emerson St., Evanston. For tickets ($34-$96), call (847) 920-5360 or visit www.musictheaterworks.com. Running time is 2 hours and 40 minutes with one intermission.
Note: Music Theater Works also just announced its 2019 season. It will include: "How to Succeed in Business Without Really Trying" (June 8-16); "The Hunchback of Notre Dame" (Aug. 17-25); "Lerner and Loewe's Greatest Hits" (Oct. 4-13); and "Joseph and the Amazing Technicolor Dreamcoat" (Dec. 21-31).
Follow Hedy Weiss on Twitter: @HedyWeissCritic
---
In 'La Ruta,' the Plague of Unavenged Murders of Poor Mexican Women
An Uneven 'Fiddler' Revival Arrives at an Ideal Moment
Chicago Shakespeare's Flashy 'Midsummer Night's Dream' Tries Too Hard to Be Hip
---