It's a defining moment in the civil rights movement: In 1957, nine young African-Americans were escorted into Little Rock Central High School by federal troops. Their presence broke the color barrier at a previously "whites only" school.
A new initiative aims to help Chicago Public Schools not only teach students about the Little Rock Nine, but use their story to inspire action – and the program is getting a boost from one of the pioneering group's members.
On a recent weekday morning in Chicago, a group of social science teachers gathered for two days of professional development. It's part of a three-year partnership between CPS and the nonprofit Facing History and Ourselves, which works with teachers on issues of prejudice, racism and anti-Semitism.
Their plan is to train all of Chicago's eighth-, ninth- and 10th-grade social science and history teachers on new curricula about Reconstruction, the Holocaust and the Little Rock Nine. The lesson plans are designed to first help students examine their identities.
"(We) have them begin to explore what racism means and looks like in their lived world," said Maureen Loughnane, Chicago executive director of Facing History and Ourselves. "After that, after really going deep with the kids on those issues, only then do we begin to go into the content and the history of what happened in Little Rock, Arkansas, in 1957."
To complete the unit, teachers help students think about changes they'd like to push for in their own communities. Sophia Logothetis, who teaches seventh and eighth graders at Clinton Elementary School, says Facing History has changed her classroom style and her way of thinking about the civil rights era.
"What stuck in my head is the impact that one person can have on history, and how I can bring that into my classroom and teach my students that you are one person but you can also make a difference, just like the people in the past (who) have made a difference as well," Logothetis said.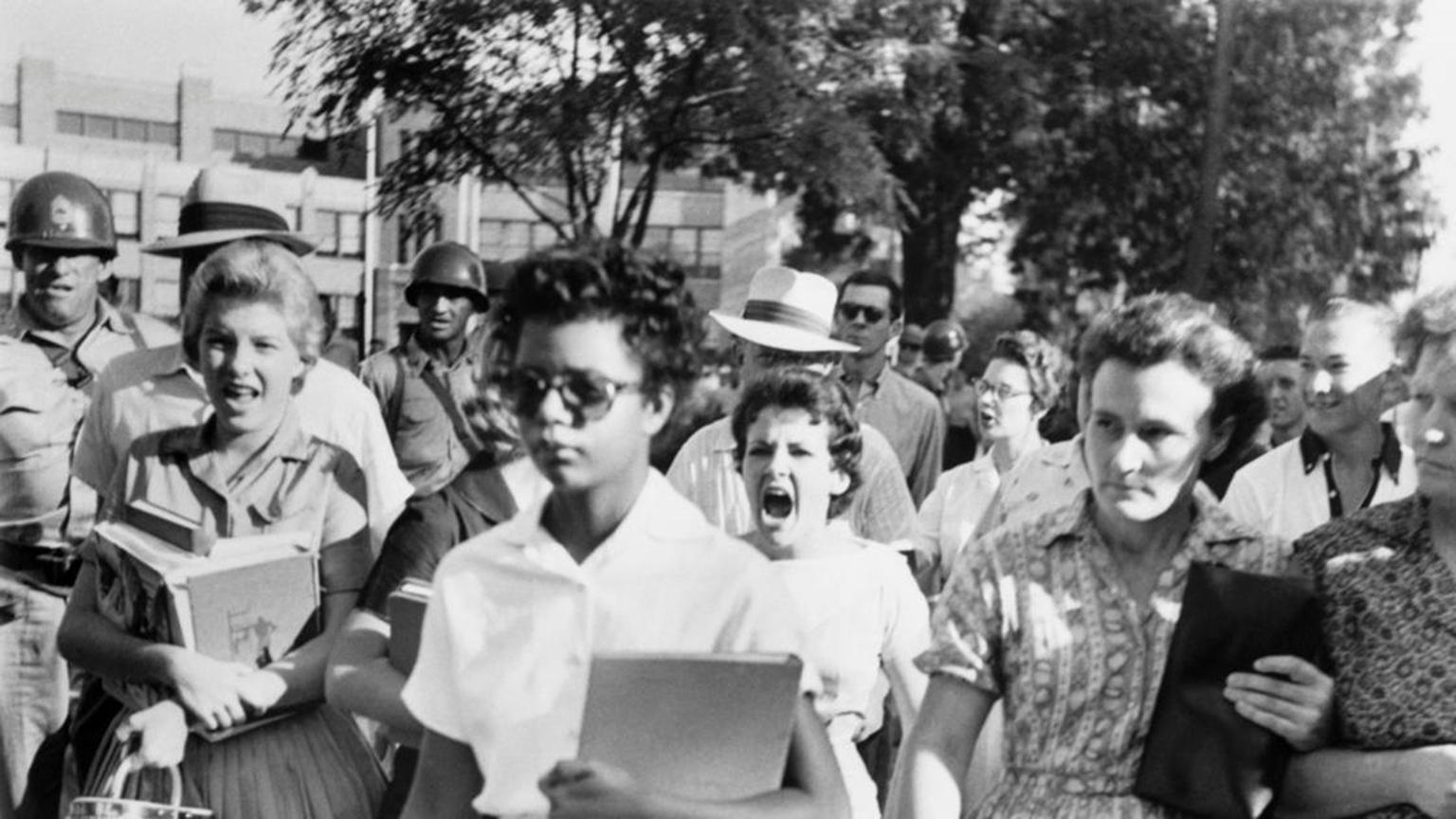 Elizabeth Eckford walks to Central High School in Little Rock, Arkansas.
"(Students) have a tremendous curiosity about what happened during that period," said Terrence Roberts, one of the surviving members of the Little Rock Nine. "It's actually a treat for me to be with them because I can tell the story, and remind myself of what we went through. I find that useful not only for them, but for me as well."
Roberts is in Chicago this week to speak with students and teachers about the history he lived. It's part of Facing History's Little Rock Nine curriculum.
"I think what Facing History is attempting to do is to bring truth to light," he said. "A lot of what kids are learning in schools about history is based on mythological constructs. They get versions of our story – that is, our national story – that simply aren't accurate. By getting a clearer understanding of what has gone on, that better prepares them to be citizens of the present and of the future."
In addition to sharing his history integrating Little Rock Central High School, Roberts also runs a management consulting firm, specializing in diversity and human relationships. He says prejudice still defines too much of how Americans relate to one another.
"As a country, we've never really confronted the issue of racism," he said. "We've played games with it. We have deflected. We have tried to get around it. We believe in something that a lot of people call the progress narrative – that is, over time we're moving steadily, but we're moving upward. I take issue with that."
---
Related stories:
The Little Rock Nine: Remembering Extraordinary Courage 60 Years Later
'The Problem We All Live With': Ruby Bridges on Racism in America Today
Michael Eric Dyson on 'Our Unfinished Conversation About Race'
---