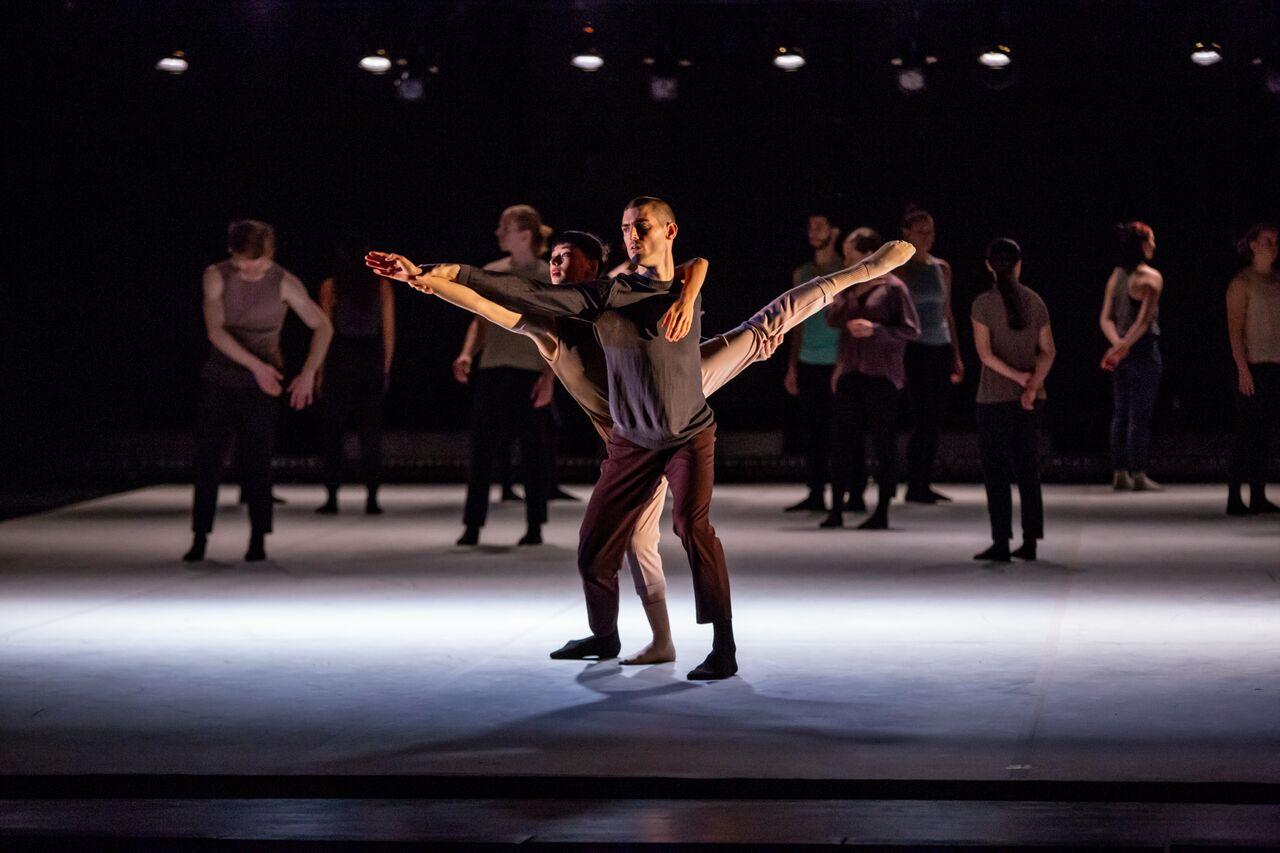 Hubbard Street Dancers Michael Gross and Adrienne Lipson in "Das Feld" by Florian Lochner. (Photo by Cheryl Mann)
If you are in search of fresh choreographic talent why not turn to the dancers and other artists who are right under foot in your own studio?
Of course not every dancer possesses a major choreographic talent, but opening up opportunities for those who do makes perfect sense. It has become an increasingly popular practice among both ballet and contemporary dance companies, with Hubbard Street Dance Chicago an early practitioner of the policy. And over the years a number of distinctive artists (Alejandro Cerrudo, Lucas Crandall, Robyn Mineko Williams, Penny Saunders and others) have emerged from its ranks.
But as revealed in this past weekend's program, under the umbrella title of "dance(e)volve New Works Festival," there can be drawbacks to this effort, too, because at any given time many companies have perfected a distinctive movement language, and a certain sameness can creep into the work, along with the choice of sound and music (largely electronic, synth-pop and ambient).
Hubbard Street Dancers in "Das Feld" by Florian Lochner. (Photo by Cheryl Mann)
While any one of the three major offerings on the program at the Harris Theater for Music and Dance might easily have been captivating as part of a more widely varied program mixed with a couple of "classics" from the rep, seeing them all together (at least in this case) had a diminishing effect. And this was the case despite what is always the superb level of dancing, plus some exceptionally fine lighting design that took full advantage of the use of the wide open, bare-to-the-wings Harris stage.
In one form or another the overriding theme of the program (which also incorporated 34 dancers from the 2018 and 2019 Hubbard Street Professional Program into the mix) was the current universal obsession with identity. Woven into this theme was the tension and angst between the group and "the loner," as well as the love-hate, push-pull impulses of couples. There was a very millennial vibe to all of it.
First up was Florian Lochner's "Das Feld (The Field)," which began with semi-audible recorded snips of interviews with the dancers who arrive  in bland rehearsal-like clothes. As the talk moved from thoughts about the most important person in their life, to mortality, legacy and other such things, Kaili Story's dramatic lighting sculpted the space with rising and descending structures of lights and the use of a giant lamp.
Lochner is a master of ensemble patterning and flow, and he created notably powerful duets for Michael Gross and Adrienne Lipson, and Jacqueline Burnett and David Schultz, with deft work by company veterans Alicia Delgadillo, Kellie Epperheimer, Elliot Hammans, Alysia Johnson and Kevin J. Shannon, plus 13 of the HS Pro dancers.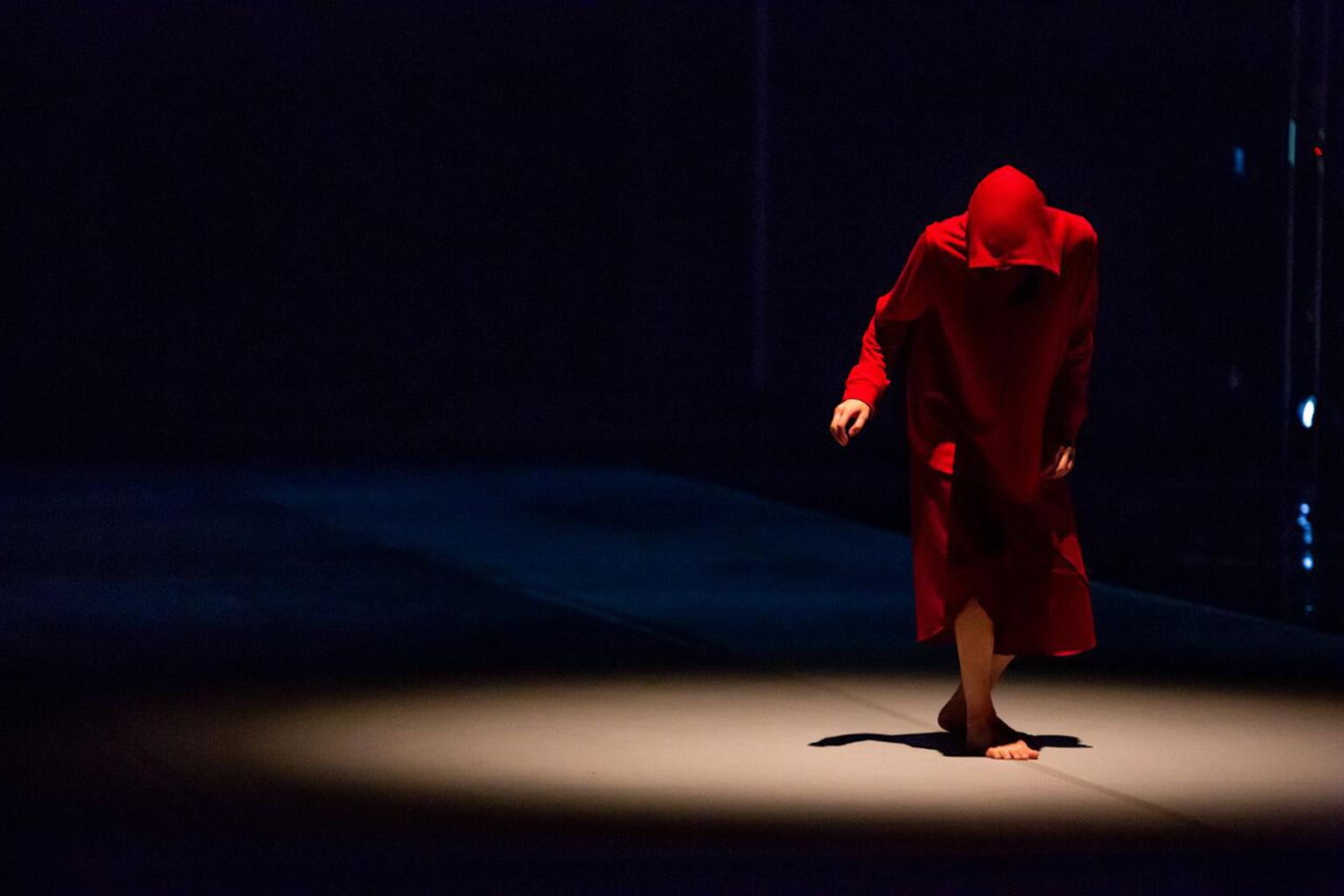 Hubbard Street Dancer Andrew Murdock in "Fold Me" by Alice Klock. (Photo by Cheryl Mann)
Choreographer and sound designer Alice Klock's aptly titled "Fold Me" explored what she described in her program note as "multiple versions of the self that could exist refracted over time." Jenni Schwaner Ladd's red costumes, with stretchable tops that could be pulled over faces or used to yoke two heads together), went a long way toward realizing the theme, with supremely powerful dancing by Connie Shiau, along with the uniformly excellent Myles Lavallee, Andrew Murdock, Gross and Lipson.
For the second half of the program, Rena Butler and Lochner collaborated on "Common Thread," a brief piece for the HS Pro dancers that looked like outtakes from the rest of the work on the program. And then Butler, with input from the company dancers (sadly not including her, as she is a charismatic stage presence), plus apprentices and a group of HS Pro dancers, gave us "Third," the final piece in her trilogy about gender, race and culture.
"Third" is set in motion as two dancers move down the aisles and onto the stage, with each of them (one from Taiwan and one with Latin roots) talking about feeling like outsiders. Again, the words spoken were only intermittently fully audible.
Hubbard Street Dance Chicago in "III. Third" by Rena Butler. (Photo by Cheryl Mann)
The music – an original composition by Darryl J. Hoffman (with rap sampling by way of Frank Ocean and Lil Wayne) – was full of energy. And everyone on stage had a chance to vent, with David Schultz as a notably ranting (blonde) redneck type amidst the mostly joyful crowd.
By the end, the identity of everyone on stage was clear. Above all else, these are dancers, and their defining language is movement.
On March 2 and 3, 2019, Hubbard Street will perform at the Auditorium Theatre in a first-time collaboration with Cuba's intriguing Malpaso Dance Company. The troupe left a strong imprint when I saw them at the Dance Center of Columbia College not long ago. Mark your calendar.
Follow Hedy Weiss on Twitter: @HedyWeissCritic
---
The Splendor, Invention in Joffrey's 'Nutcracker' Grows Stronger Each Year
Visceral Dance Soars in a Dramatic New Industrial Space
Hubbard Street's Percussion-Driven Experiment Probes Heaven and Hell on Earth
---