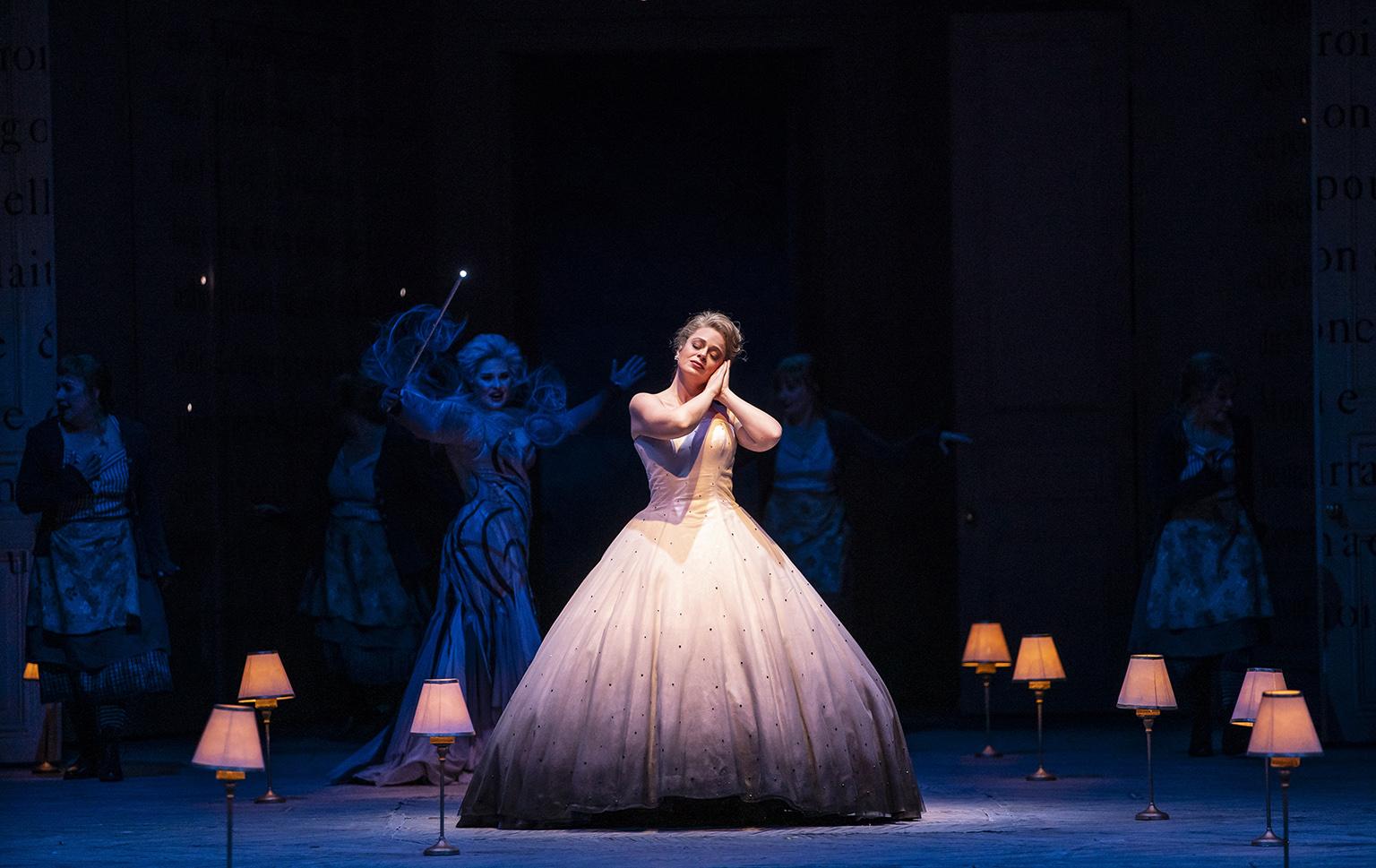 Siobhan Stagg in "Cendrillon." (Credit: Todd Rosenberg)
Forget about the Grimm Brothers' creepy version of the Cinderella story with its gruesome foot mutilation. Dispense with the wide-eyed blondie in Disney's animated film classic. And maybe even give a thought to sending Stephen Sondheim's quirky girl in search of a Prince Charming right back "into the woods."
Instead, let the French take full control by way of Jules Massenet's alternately farcical and romantic 1899 opera, "Cendrillon," which has arrived on the Lyric Opera stage for the very first time in an altogether enchanting production.
Based on the 1689 fairy tale by Charles Perrault, this very French rendering of the Cinderella story, with a zesty libretto by Henri Cain, has been "modernized" with ingenious, high-styled direction by Laurent Pelly in a production that was first performed at the Santa Fe Opera in 2006 and has subsequently been staged throughout Europe. At once zany and enchanting in its alternately playful and heartfelt storytelling, it is brought to life with stunning, highly original sets by Barbara de Limburg, and couturier-quality costumes by Pelly that are, in their way, full-blown characters in themselves.
From left: Kayleigh Decker, Elizabeth Bishop and Emily Pogorelc in "Cendrillon." (Credit: Todd Rosenberg)
Best of all, the opera is being performed by an exceptional cast of singers who also possess a grand (and all too rare) flair for acting and movement, and who know precisely how to finesse both the ridiculous and the heartbreaking elements at work in the opera.
Maybe it just took a Frenchman to compose a work about the warm-hearted girl who is so cruelly treated when she becomes part of a badly "blended family," and to capture the impotence and regret of her father, a gentle widower from the countryside who misguidedly marries a social-climbing harridan with two dimwitted daughters, all of whom treat his own daughter worse than a servant.
The opera (in French, with English supertitles), unfolds in a room that takes the form of a giant open book with the walls bearing the text of the story, and many doors, painted a brilliant red, suggesting the inner realm of an unhappy household.
The cast of "Cendrillon." (Credit: Todd Rosenberg)
Making a formidable American debut in the role of Cendrillon is Siobhan Stagg, a young Australian soprano with a wonderfully warm and expressive voice, and an easy grace and naturalness about everything she does. On stage in almost every scene, and often delivering arias in the form of inner monologues to which she brings a fine sense of intimacy, Stagg effortlessly captures her character's stoicism, loneliness and resignation, as well as her capacity for love and forbearance. And her scenes with her father, Pandolfe (Derek Welton, the Australian bass-baritone, making his American operatic debut), are deeply touching, with Welton bluntly caustic when singing about his wife, and full of love and guilt when singing about his daughter.
Although I wish Massenet had written Cinderella's Prince Charming for a tenor rather than as a pants role, the English mezzo-soprano Alice Coote gives a stirring performance as the young son of a King (Alan Higgs) – a depressed fellow who has no interest in the great parade of vulgar, empty, status-seeking women who wish to capture his attention and "marry up," but is instantly beguiled by Cinderella's gentle beauty and modesty.
As Cinderella's Fairy Godmother, Marie-Eve Munger, the French-Canadian coloratura soprano, brings an eccentric but sophisticated magic to everything she sings and does. And she, too, moves like a dream.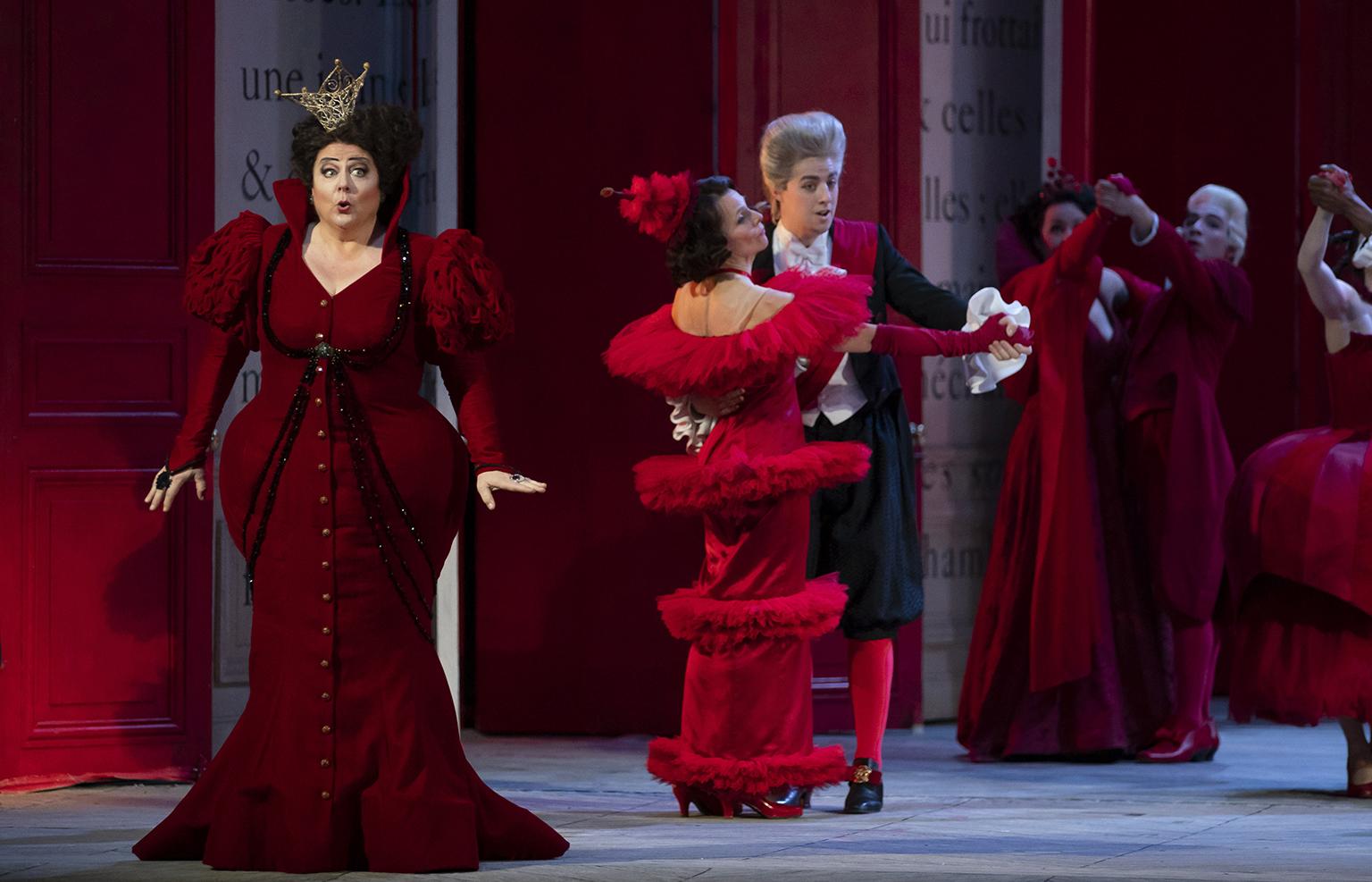 Elizabeth Bishop in "Cendrillon." (Credit: Todd Rosenberg)
The American mezzo Elizabeth Bishop clearly delights in her bustle-wagging role as Mme. de la Haltiere, Cinderella's grotesque stepmother, who emasculates her husband and tries desperately to turn her two empty-brained daughters (soprano Emily Pogorelc and mezzo Kayleigh Decker) into bait for the Prince. There also is a terrifically stylish turn by baritone Christopher Kennedy who serves as Master of Ceremonies at the great royal ball, and who has perfected a high-stepping, winningly comic way of dancing around all the nonsense.
The chorus of maids and butlers, who discreetly but hilariously display a perfectly mocking attitude toward Mme. Haltiere, are ideal. Applause for them all, and for chorus master Michael Black, as well as for choreographer Laura Scozzi and her stylish dancers.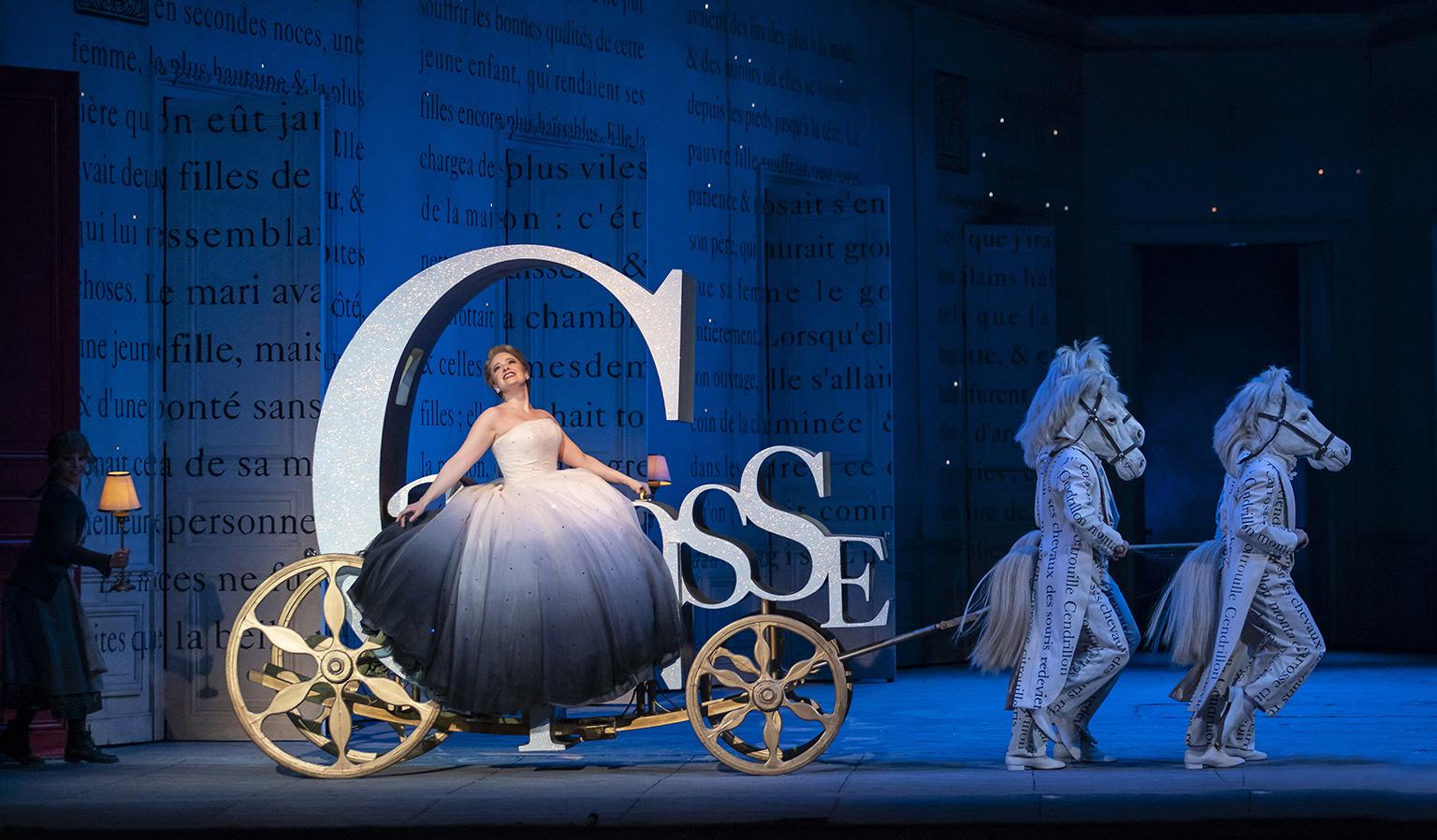 Siobhan Stagg in "Cendrillon." (Credit: Todd Rosenberg)
And a few more notes about Limburg's set, which includes a unique carriage, complete with masked white horses, that is in the shape of the French word for such a vehicle ("Carrosse"), and for a lovely rooftop setting where the love match between Cinderella and the Prince is confirmed in a touchingly sung duet of great tenderness and honesty.
As for Pelly's ravishing and often intentionally outrageous costumes, they are sculpted into bizarre hourglass shapes in a storm of Valentino-meets-Diana Vreeland-like shades of red, with a light and luminous white gown for Cinderella and a sparkly silver sheath for her Fairy Godmother.
Last but by no means least, cheers for the Lyric Opera Orchestra, impeccably conducted by Sir Andrew Davis. From the moment that the orchestra's brief strike was settled this fall, the audience at Lyric seems to have embraced the musicians with unusual fervor. Of course without them everyone else is lost.
---
"Cendrillon" performances are Dec. 5 and 8, and Jan. 11, 17 and 20 at the Lyric Opera House, 20 N. Wacker Drive. For tickets ($49-$279) call (312) 827-5600 or visit www.lyricopera.org/Cendrillon. Running time is 2 hours and 45 minutes with one intermission.
Follow Hedy Weiss on Twitter: @HedyWeissCritic
---
The Splendor, Invention in Joffrey's 'Nutcracker' Grows Stronger Each Year
Wedding Rehearsal Exposes Cross-Cultural Chaos in Danai Gurira's 'Familiar'
Tradition and Hi-Tech Blend Seamlessly in Broadway-Ready 'Wizard of Oz'
---