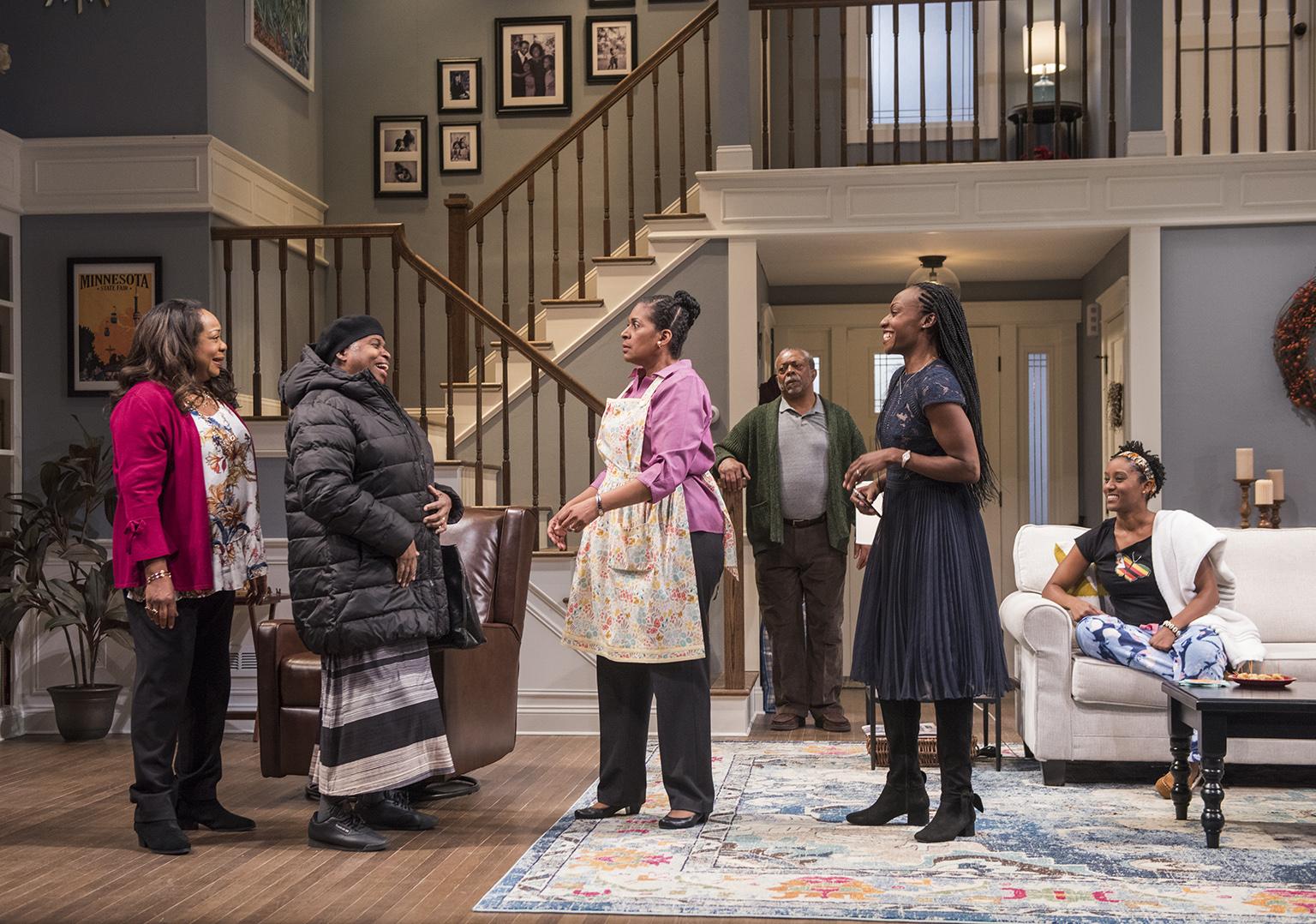 From left: Jacqueline Williams, Cheryl Lynn Bruce, Ora Jones, Cedric Young, Lanise Antoine Shelley and Celeste M. Cooper in Steppenwolf's Chicago premiere production of "Familiar" by Danai Gurira. (Photo by Michael Brosilow)
Familiarity breeds contempt, but also affection. And it is a truth universally acknowledged that few events can expose these emotional extremes in families like weddings, funerals or big holiday gatherings.
In her exuberantly boisterous play, "Familiar," now receiving its Chicago premiere at Steppenwolf Theatre, Danai Gurira plants her explosive human devices in the large, handsomely appointed living room of the Chinyaramwira family home in a suburb of Minneapolis where a wedding rehearsal is about to get underway on a wintry day in 2011.
But Gurira, the Zimbabwean-American playwright and actress (best known these days for her role as superheroine warrior General Okoye in the hit film "Black Panther," although her plays, "In the Continuum" and "Eclipsed," with their devastating looks at the lives of African and African-American women, also have garnered attention), has bigger issues on her mind. And with great bursts of raucous humor, as well as zany rom-com moments and deep anguish, she infuses "Familar" with issues of family contention that go well beyond the usual disputes as she explores matters of tradition, culture clash, biological heritage, politics, religion, interracial marriage and identity.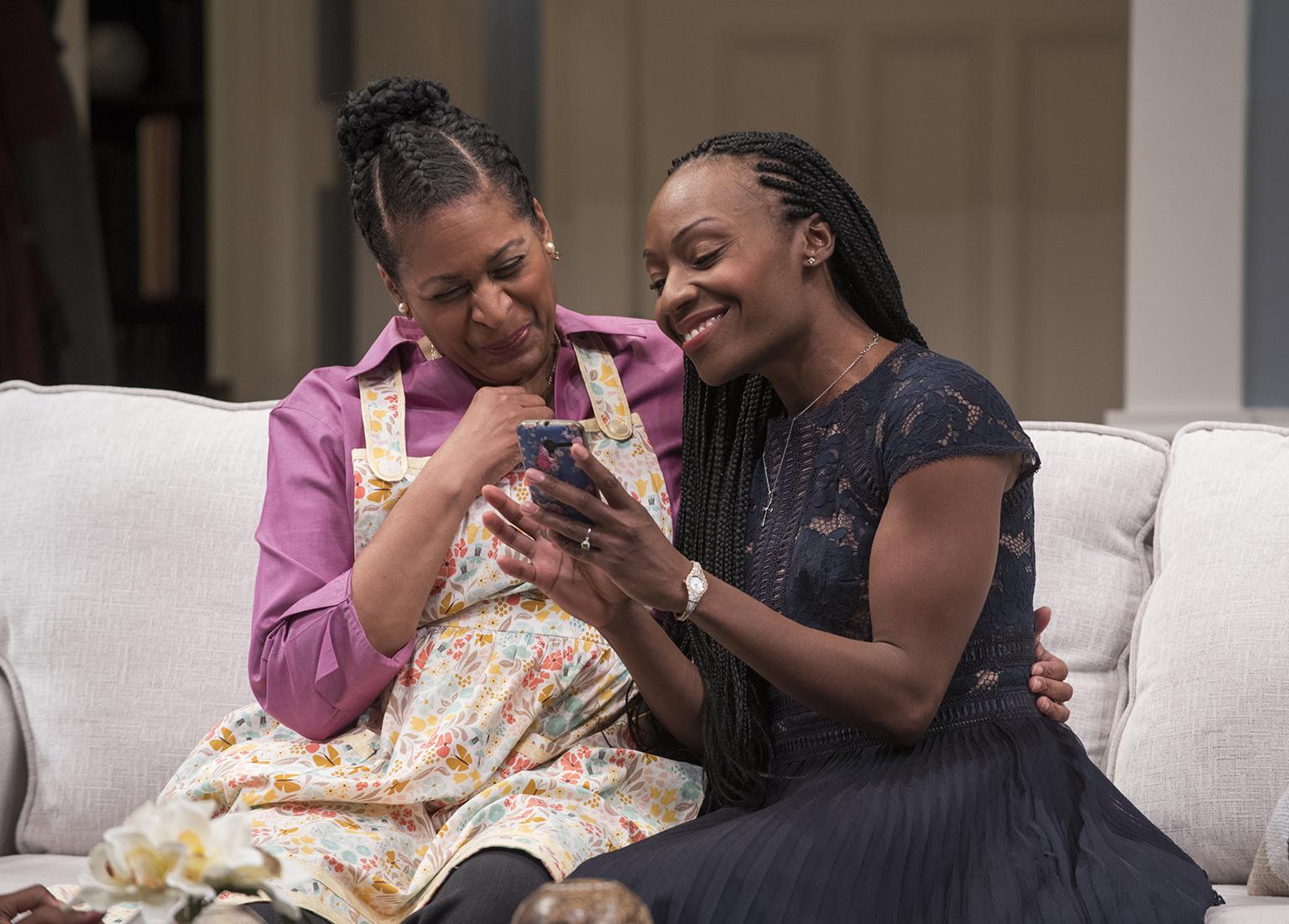 Ora Jones, left, and Lanise Antoine Shelley. (Photo by Michael Brosilow)
Born in Iowa, the daughter of Zimbabwean academics, Gurira and her family moved to the newly independent Zimbabwe in 1983 (where Robert Mugabe reigned for more than 30 years), but returned to the U.S. for her university years. And there clearly are quasi-autobiographical elements at work in "Familiar," no matter how theatrically "enhanced" they might be.
Ruling the roost in the Chinyaramwira household (or at least trying to) is the commanding and controlling Marvelous (a perfectly high-wired Ora Jones). A successful research biologist who emigrated from Zimbabwe decades earlier and earned a degree from MIT, her desire to be assimilated comes with a vengeance, and, as James Baldwin noted, the "price of the ticket" for assimilation is a steep one, and full of complexities.
Marvelous' husband, Donald (Cedric Young, in a wily but mellow and wonderfully understated turn), clearly loves his family, but is a master of tuning out dissension. In a running joke, his single act of rebellion is his repeated replacement of the large seasonal wreath that hangs on the wall with a framed map of his homeland, Zimbabwe.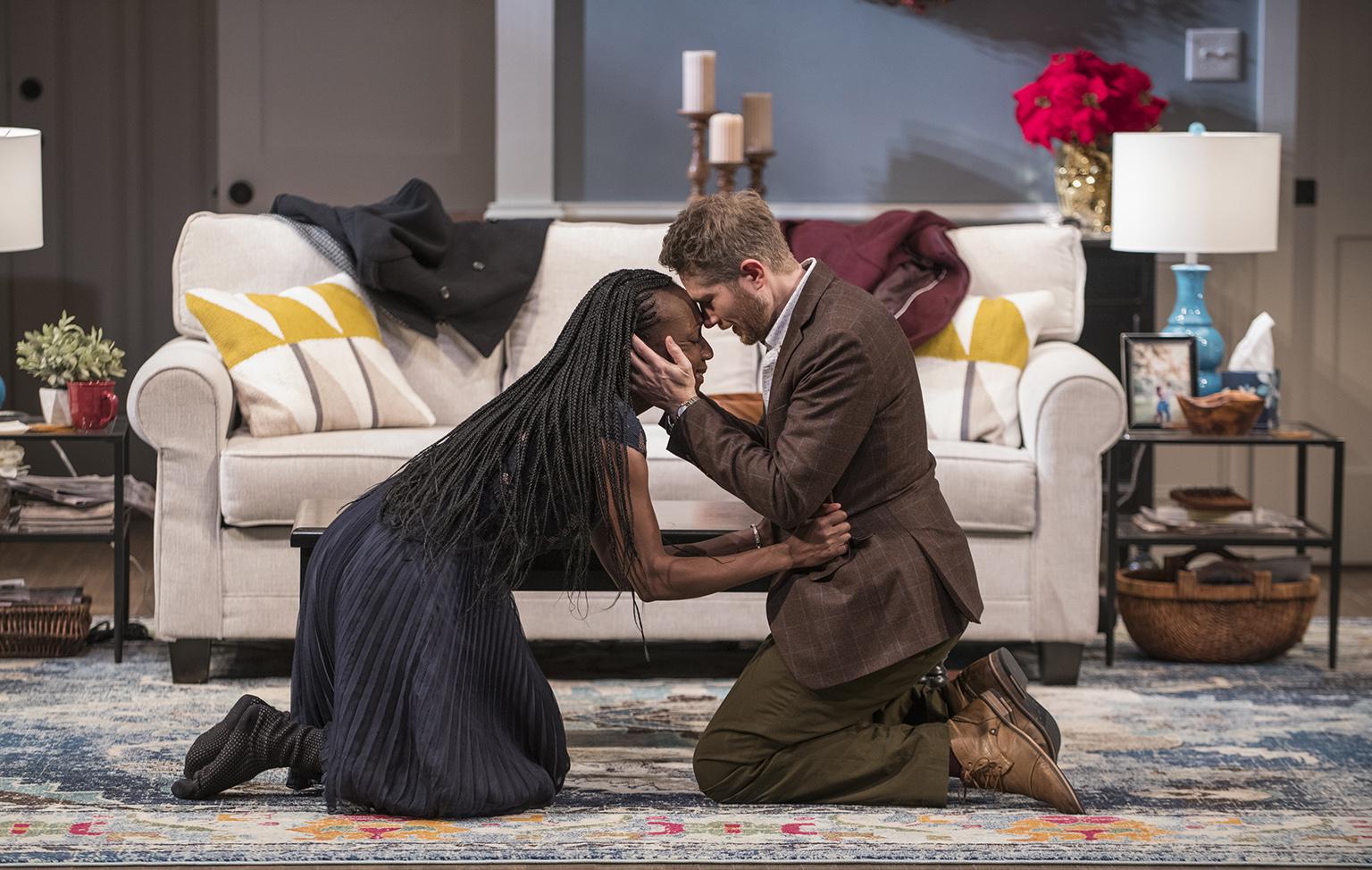 Lanise Antoine Shelley and Erik Hellman. (Photo by Michael Brosilow)
The bride-to-be is the couple's 34-year-old daughter, Tendikayi (Lanise Antoine Shelley, deftly haughty and insecure). A stylish, status-conscious beauty and a successful lawyer, she also is a devout Christian who has sworn off sex until marriage. Her husband-to-be, Chris (the always spot-on Erik Hellman), is an even more devout evangelical Christian. A white Midwesterner, he has spent time in South Asia and Africa working for nonprofit organizations, something Tendikayi has never done, although her younger sister, Nyasha (Celeste M. Cooper, as brilliant here as she was in "The Doppelgänger"), the hip, feisty, financially challenged artist in the family, has just returned from a trip to Africa, and gleefully scoffs at her sister's "happy-clappy" religious verve. Nyasha also is hard-pressed to get even the slightest nod of approval from her mother.
Marvelous is hardly more approving of Nyasha's aunt, Margaret Munyewa-Mai Tongai (the take-charge Jacqueline Williams), even though, like her, she has never fully exposed her children to their African roots.
Enter two characters who disrupt the already tense proceedings.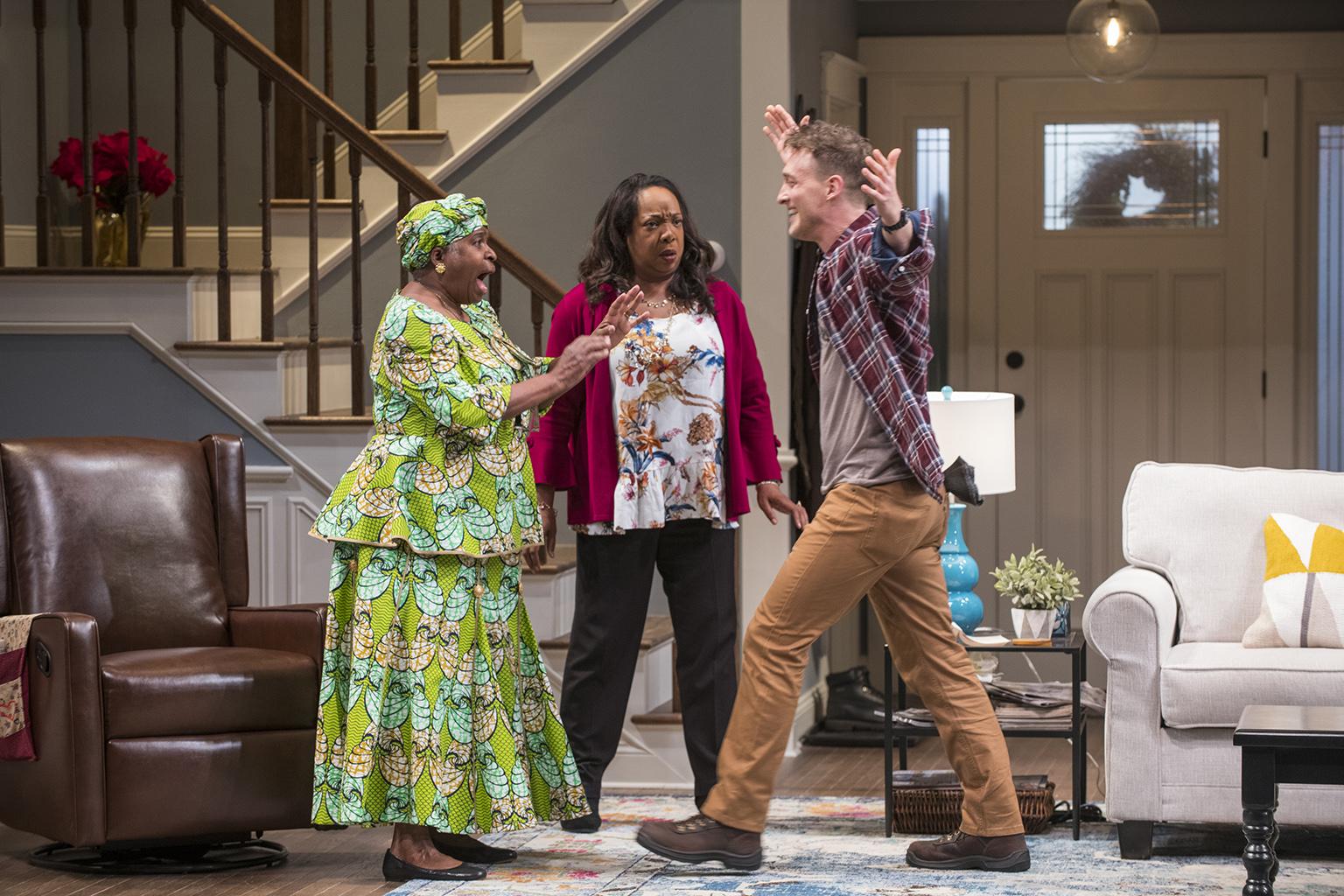 From left: Cheryl Lynn Bruce, Jacqueline Williams and Luigi Sottile. (Photo by Michael Brosilow)
Arriving from Zimbabwe is Marvelous' older sister, Anne-Mai Carol (Cheryl Lynn Bruce, who is meant to steal the show, and does so). Anne has spent her life in Zimbabwe, is steeped in its traditions and the Shona language, and wants the wedding to follow African practices. She also wants to share in what she expects will be a sizable dowry from the groom. Of course Chris is more or less penniless.
Arriving to help Chris out is his brother, Brad (the altogether irresistible Luigi Sottile), a free-spirit hipster and a bit of a screw-up who briefly joined the military out of necessity. And in one of the play's more hilarious (if emasculating) scenes, Anne sees to it that the brothers pay their respect to her. (Spoiler alert: Another fabulously comic moment, and the play's sexiest scene, has Brad and Nyasha discovering each other in a decidedly offbeat but literally temperature-raising way.)
Cedric Young and Jacqueline Williams (Photo by Michael Brosilow)
Of course before it is all over, some deep, dark family secrets are revealed, and quickly shaking the foundations. But they will not be disclosed here.
Director Danya Taymor (who also staged "Pass Over" at Steppenwolf), has cast "Familar" ideally. And while a little more subtlety might have been a plus overall, the actors light up the stage, and their impressive accents and forays into the Shona language are a credit to both them and their dialect coach, Michelle Lopez-Rios.
Set designer Kristen Robinson's grand two-floor house (lit by Marcus Doshi), suggests a million-dollar investment. Ntokozo Fuzunina Kunene's costumes – from traditional African to American slacker – are perfection. And the work of composer Somi and sound designer Justin Ellington hits the spot.
Of course along with the cross-cultural comedy in Gurira's play, and the fierce ambivalence about national and personal birthrights, there is an instantaneous, universal recognition about the ties that bind (and suffocate) families. As her title so aptly suggests, it is all winningly "Familiar."
"Familiar" runs through Jan. 13 at Steppenwolf Theatre, 1650 N. Halsted. For tickets ($20-$108) call (312) 335-1650 or visit www.steppenwolf.org. Running time is 2 hours and 15 minutes with one intermission.
Note: Danai Gurira will be honored at the 10th annual Steppenwolf Women in the Arts fundraising luncheon on Dec. 10. For tickets to the event, to be held at Chicago's Radisson Blu Aqua Hotel, call (312) 654-5632 or visit Steppenwolf's website.
Follow Hedy Weiss on Twitter: @HedyWeissCritic
---
Tradition and Hi-Tech Blend Seamlessly in Broadway-Ready 'Wizard of Oz'
New 'Miss Saigon' Tour Turns Up the Heat But Loses the Heart
Mary Zimmerman Puts English Panto Twist on Heartbreaking Tale
---