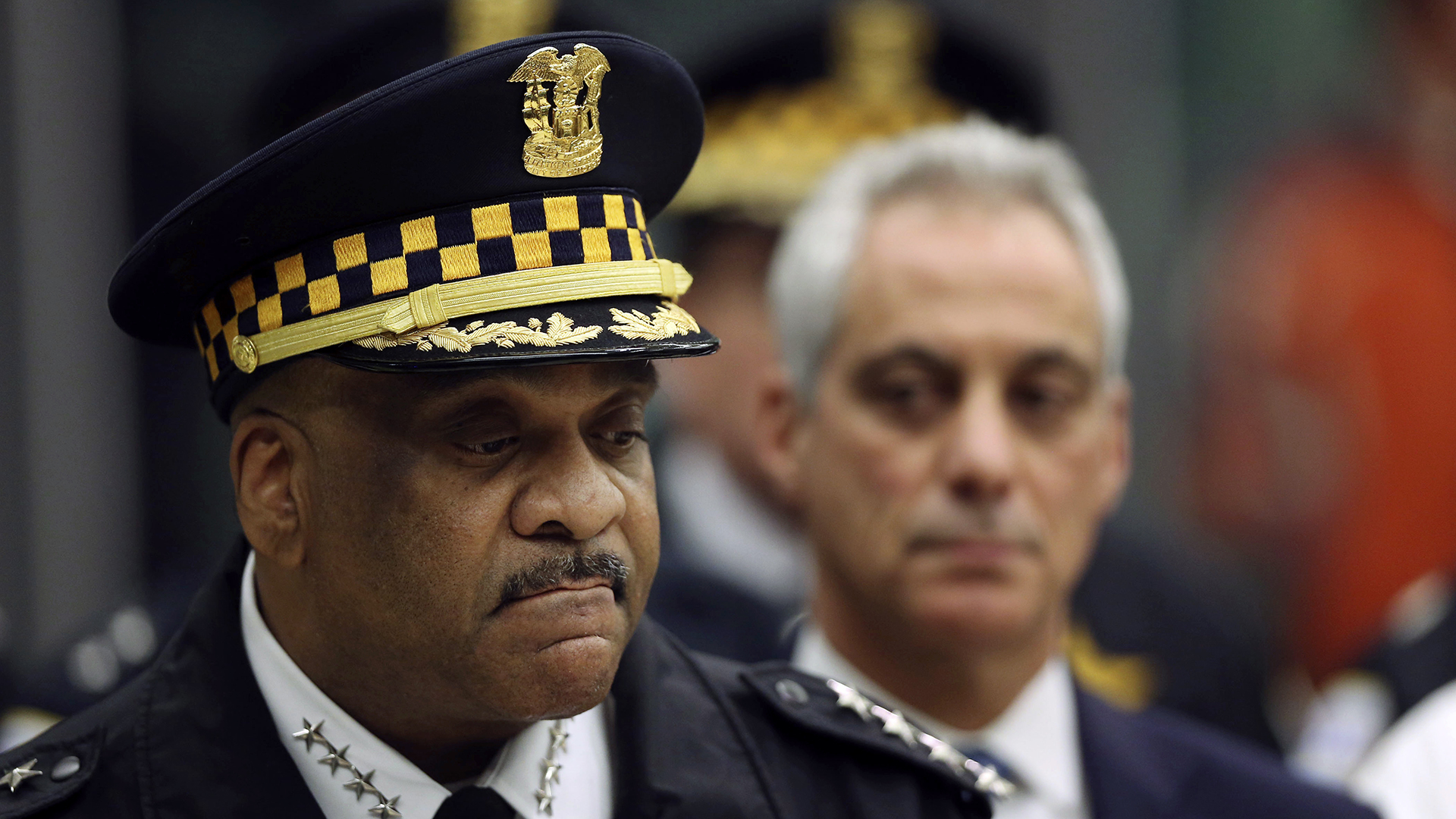 Chicago Police Superintendent Eddie Johnson, left, and Mayor Rahm Emanuel speak Monday, Nov. 19, 2018, during a news conference at the University of Chicago Medical Center after a gunman opened fire at Mercy Hospital. (Chris Walker / Chicago Tribune via AP)
The gunman who fatally shot his ex-fiancee outside a Chicago hospital before killing two people inside the building was once kicked out of the city's firefighting academy after threatening a female cadet, officials said Tuesday.
Juan Lopez, who died following the shooting Monday at Mercy Hospital on the Near South Side, was also the subject of a protection order request filed four years ago, and he legally purchased several guns in recent years, police said.
Related: City Mourns Officer, Staff Killed in Mercy Hospital Shooting
Four years ago, fire department officials learned of the threats to the cadet and told Lopez that he would be disciplined. He was dismissed after he went AWOL, fire department spokesman Larry Merritt said.
"He was in the fire academy and he was fired for harassing individuals in there," Chicago Police Superintendent Eddie Johnson said Tuesday afternoon, adding that he could not confirm any previous "threats of violence" Lopez could have made.
Merritt also did not have any details of the past threats. But they were made the same year a woman sought an order of protection against Lopez because he was incessantly texting her. Police said they have not determined if the woman was granted an order of protection. Lopez was not criminally charged.
On Monday, Lopez's first victim was Dr. Tamara O'Neal, 38, to whom he had been engaged. O'Neal had recently called off their engagement, and Lopez confronted her about returning the engagement ring, police said.
Related: Domestic Disputes Can Lead to Workplace Violence Against Women
She called police to notify them that Lopez was armed with a gun just before he shot and killed her with a 9mm handgun. He then entered Mercy and shot at two female employees stepping off an elevator, killing 25-year-old pharmaceutical resident Dayna Less, before exiting the hospital.
Lopez began shooting at arriving squad cars before rushing back inside the hospital where a shoot-out with police continued as medical staff, patients and visitors took cover and tried their best to hide, according to Johnson. It was there that he shot and killed 28-year-old Chicago police Officer Samuel Jimenez.
Lopez also died Monday. Autopsy reports show Lopez sustained a gunshot wound in his abdomen and a self-inflicted gunshot wound to his head, according to the Cook County Medical Examiner's office. Jimenez died from a gunshot wound to the neck, while both Less and O'Neal suffered multiple gunshot wounds. 
Lopez had a concealed carry permit and an FOID card, and had purchased four weapons in the last five years, according to police.
Speaking after another CPD officer was shot and injured in a separate incident Tuesday, Johnson renewed his calls for common sense gun legislation, including universal background checks and gun dealer certification.
"What's wrong with local and state jurisdictions being able to make sure our gun dealers, our gun shops are doing the things they should do to protect the citizens of this country from people with mental health issues from legally obtaining a weapon?" he said. "What's wrong with that?"
Contact Matt Masterson: @ByMattMasterson | [email protected] | (773) 509-5431
---
Related stories:
City Mourns Officer, Staff Killed in Mercy Hospital Shooting
Chicago Police Officer Among 4 Killed in Mercy Hospital Shooting
Chicago Police Officer Killed in Shooting Near Thompson Center
Johnson Calls for Firing of Rialmo for Fatal LeGrier, Jones Shooting
---