Dr. Tamara O'Neal was shot and killed Monday afternoon after her ex-fiance confronted her in the parking lot of Mercy Hospital on the city's Near South Side.
When it comes to workplace violence against women, O'Neal's story is not uncommon. According to the Bureau of Labor Statistics, 40 percent of women killed at work in 2016 were slain by a relative or domestic partner, compared to just 2 percent of men.
"It's almost epidemic proportions," says Matthew Doherty, a senior vice president at the Chicago-based Security Firm Hillard Heintze. 
Doherty says that domestic violence has to be a part of any workplace violence prevention program, and that warning signs, if left unchecked, could lead to violence. He says that organizations should foster an environment where women are comfortable coming forward about their abuser.
"If you are a victim of domestic abuse or have a restraining order or protective order, you should voluntarily provide that to human resources," he says, noting that a front desk attendant should always have a picture of the alleged perpetrator at hand and refuse entry to them, especially if a victim can't get a restraining order extended to their place of work.
But he acknowledges that's easier said than done, and that companies have a history of discriminating against women or men who are victims of domestic abuse because they may not want to deal with the baggage.
"It is against state and federal law to discriminate against anybody, to fail to hire or promote them, simply because they are a victim of domestic abuse, and companies need to make those policies clear in their handbooks," he said.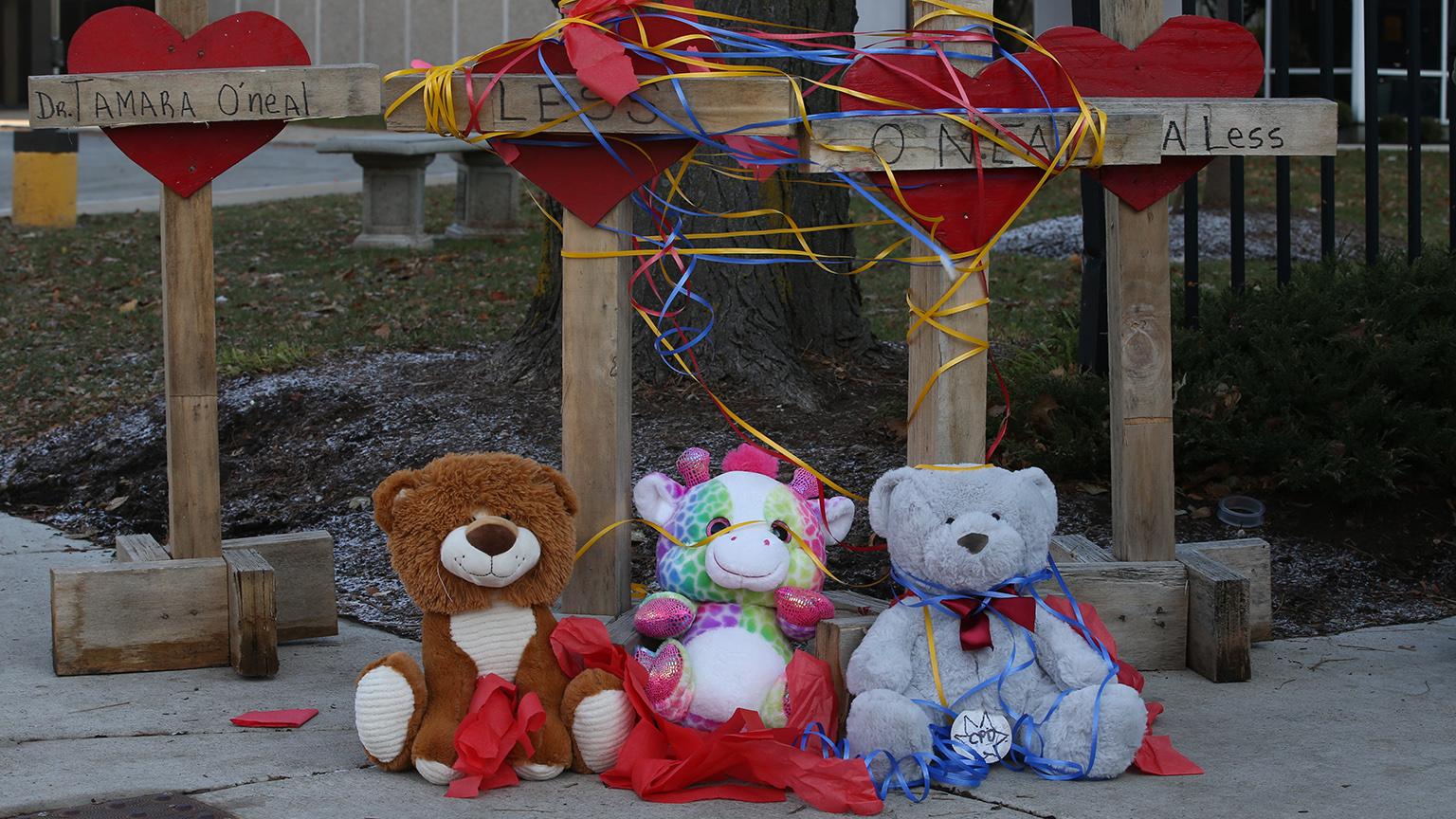 A memorial at Mercy Hospital on Tuesday, Nov. 20, 2018, the day after a shooting at the Near South Side hospital. (Antonio Perez / Chicago Tribune via AP)
Doherty says that, as in the case of the Mercy Hospital shooting, there are casualties beyond the domestic abuse victim.
"Oftentimes, the institution or company can be perceived by the perpetrator as providing support to the victim," he says. "That it is helping and enabling the woman to be independent and not relying on the abuser. And oftentimes, the abuser wrongly perceives that there could be an affair going on with a co-worker."
The suspected gunman, 32-year-old Juan Lopez, had a valid FOID card and a conceal carry permit, despite a history of domestic problems. Police say that he had purchased four firearms in the last five years, and an ex-wife who had filed for a protective order says that he slept with a gun.
According to the Occupational Safety and Health Administration, hospitals are the most dangerous places to work when it comes to the threat of an unwanted intruder who commits an act of violence.
Follow Paris Schutz on Twitter: @paschutz
---
Related stories:
City Mourns Officer, Staff Killed in Mercy Hospital Shooting
Mercy Hospital Gunman Was Kicked Out of Chicago Firefighting Academy
How to Predict Mass Shootings? Look For Domestic Violence, Says Professor