Daniel Barenboim speaks at a Chicago Symphony Orchestra press event on Monday, Oct. 29, 2018. (Credit: Todd Rosenberg)
It has been 12 years since conductor Daniel Barenboim last stepped onto the podium at Symphony Center to lead the Chicago Symphony Orchestra. And the orchestra's mighty massing of stellar musicians has shifted considerably since he served as its music director from 1991 to 2006. But on Monday, at an intimate press conference celebrating his return visit to the city, Barenboim expressed his delight at what will be a two-part homecoming.
First, he will stand in front of the CSO again for three performances (Nov. 1, 2 and 3) of "Ma Vlast" ("My Homeland"), a collection of six symphonic poems by the 19th century Czech composer Bedrich Smetana that evoke the history, legends and landscape of Bohemia.
"I chose that work for three reasons," said Barenboim, who will be celebrating his 75th birthday on Nov. 15. "First, I love it. Second, I grew up listening to a CSO recording of it from the early 1950s, which was conducted by Rafael Kubelik [music director of the CSO from 1950 to 1953], and I even found a video of him conducting part of the work on YouTube. Finally, I wanted to conduct a work I had never done in all my 36-year-long association with the CSO, and that was not easy to do."
"'Ma Vlast' is an unashamedly nationalistic work, and I found it interesting to look into it that way," said Barenboim, who was named "conductor for life" of the Staatskapelle Berlin in 2002. "It was very moving to bring the work to the Prague International Music Festival, too, but a funny thing happened. I was told I had to conduct the Czech national anthem before the concert began and I had never heard it. So I got the score, and all went well when we played the first part, but then, only too late, did I learn that the more complex second part was Slovak, and of course the countries had split in 1992."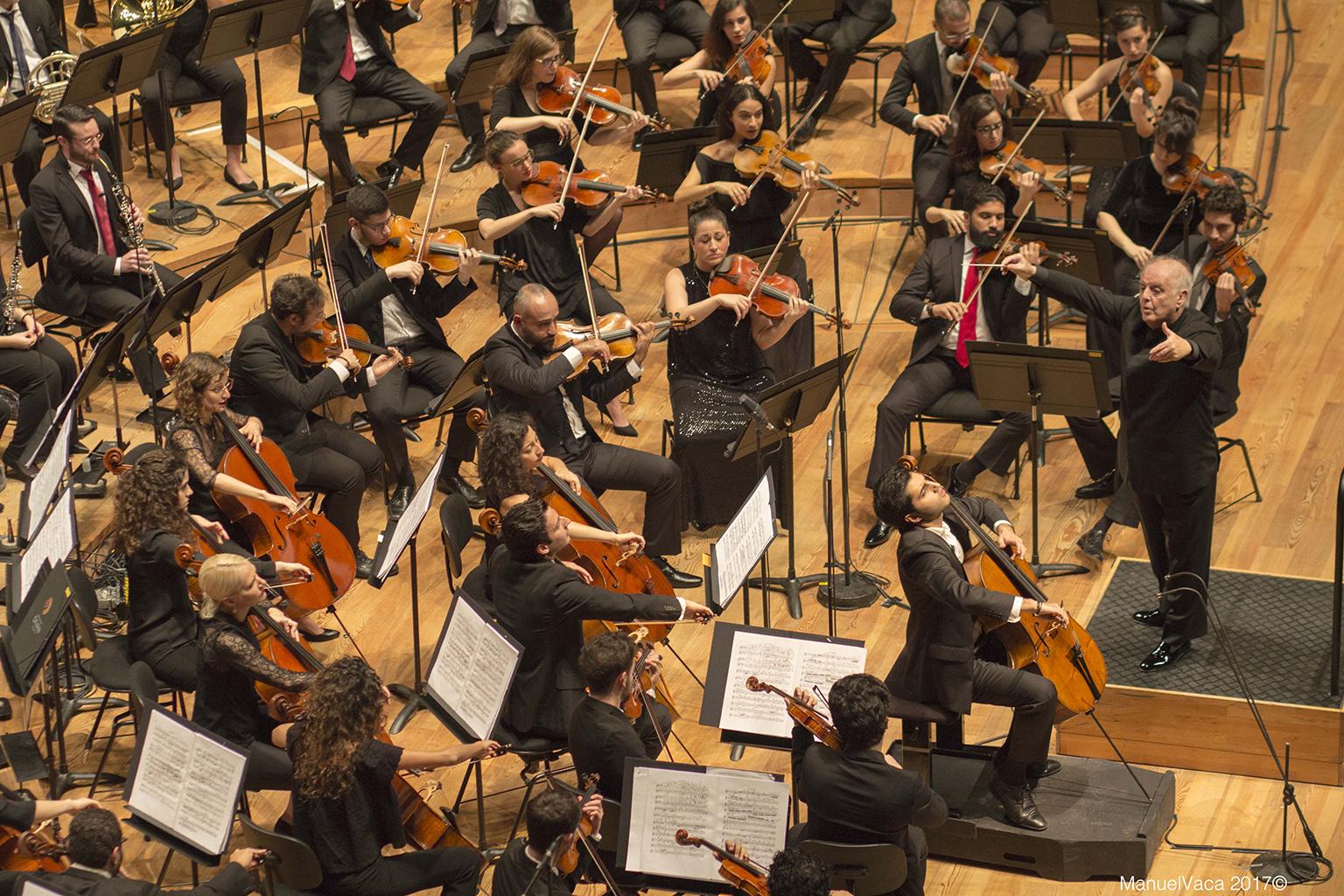 The West-Eastern Divan Orchestra (© Manuel Vaca)
Adding to Barenboim's enthusiasm about his Chicago visit is the fact that on Nov. 5 he will lead a performance by his West-Eastern Divan Orchestra, the ensemble of Israeli and Arab musicians he initially brought together in 1999 (along with the late Palestinian scholar Edward Said). Originally a workshop for young musicians from Israel, Palestine and several other Arab countries that was designed to promote intercultural dialogue, it has since evolved into a large, full-fledged orchestra with an education program. The Chicago concert, which will include two familiar works – Richard Strauss' "Don Quixote" and Tchaikovsky's Symphony No. 5 – will feature Israeli violist Miriam Manasherov and Iranian cellist Kian Soltani. It also will mark the first stop in a multi-city tour of the U.S. that will take the Divan (whose name is derived from the term for a legislative body in the Ottoman Empire) to the Kennedy Center in Washington, D.C., New York's Carnegie Hall and the Walt Disney Hall in Los Angeles.
"I was 15 years old when, in 1958, I made my Chicago debut in a piano recital at [what was then called] Orchestra Hall," Barenboim recalled. He would go on to debut as a piano soloist with the CSO in 1969, and to conduct the orchestra for the first time in 1970.
"I had very little conducting experience at that time, and it was a momentous thing to be standing in front of the CSO," Barenboim admitted. "And a conductor can't practice at home the way a musician can. Even today, after 68 years on stage, when I prepare for a piano concert I try things out in many different ways at home. But you can't 'experiment' in front of an orchestra. You have to tell the musicians exactly what you want. And that is why, during your formative years as a conductor, it is best to be in contact with as many different orchestras as possible – and mostly not the very first class ones, because there you learn less."
"Over time you develop your own musical vocabulary that you share with your orchestra," Barenboim said. "I learned so much during my years with the CSO. But the idea of using 'psychology' with an orchestra is total nonsense. If you stop during a rehearsal you must be very clear about what you want and then stay at it until you get it. The CSO was always very special because the musicians had extraordinary musical ethics; they had to execute things perfectly."
"American orchestras also have one advantage," said Barenboim. "Unlike those in Europe, they don't have a 'national' sound that is rooted in a very specific language. When I got to the Staatskapelle [which also is the resident orchestra of the Berlin State Opera] I found a wonderful sound, but it was like a beautiful piece of antique furniture – of first quality but showing cracks. It took 10 years to broaden the repertoire, and to get beyond Brahms and Wagner to French music and contemporary works by Pierre Boulez and Elliot Carter. In a sense the orchestra had been closed from 1935 to 1989."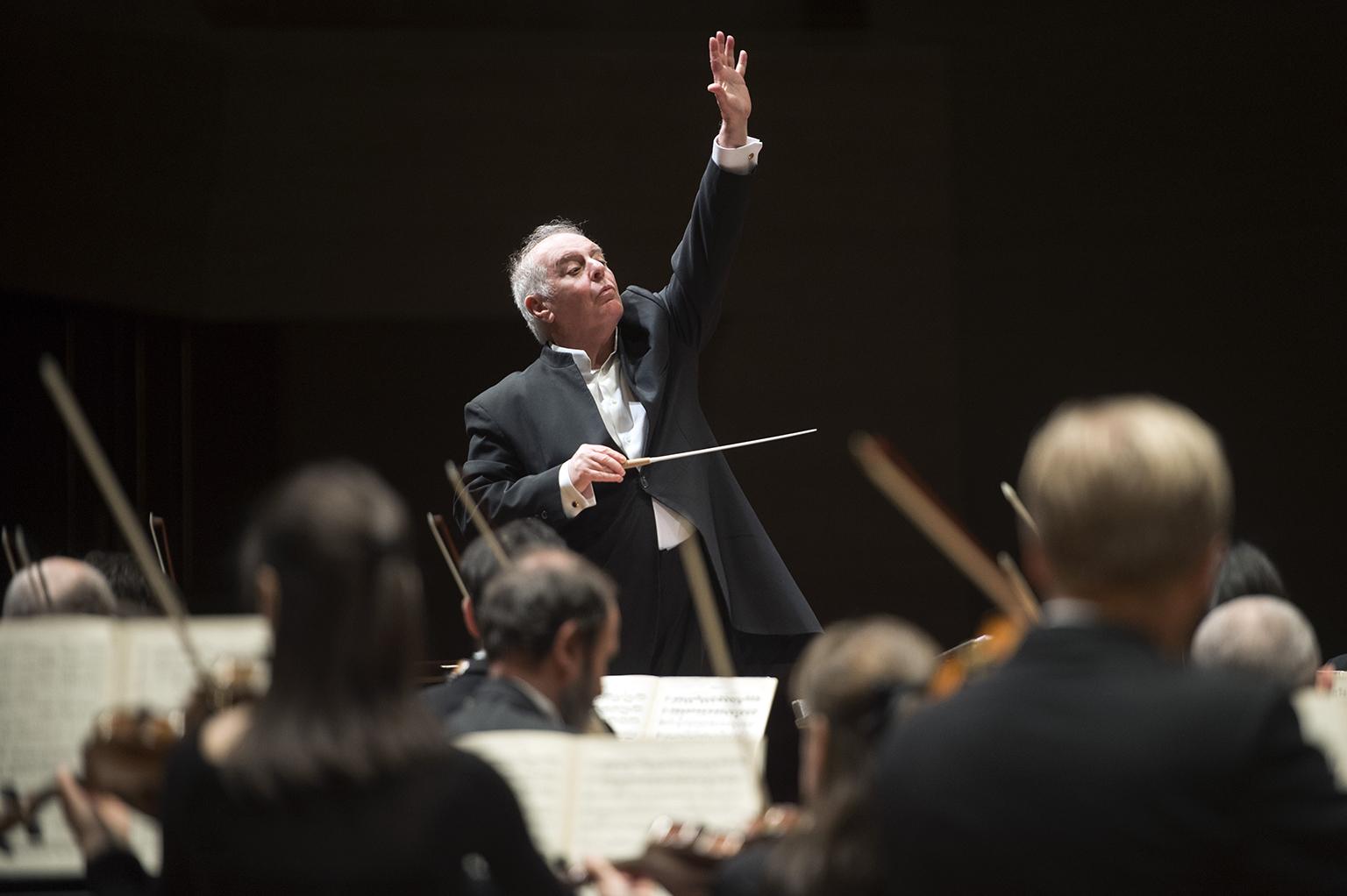 Daniel Barenboim (© Monika Rittershaus)
About the Divan Orchestra, Barenboim said: "When the project started I wasn't sure we could even find Arab musicians, but we got 200 applicants from Cairo, Damascus, Beirut and Aman, and I was surprised by the quantity and the quality, though some had never heard a live orchestra. We had a three-week workshop, and one of the first things we did was to visit the Buchenwald concentration camp near Weimar, Germany. It was a shattering experience, and I still remember one Syrian musician who thanked me."
Barenboim confessed that he tries to keep music and politics separate when working with the Divan, and only a couple of musicians have left the orchestra. But he is under no illusion about it bringing peace to the Middle East.
"However, if you spend six hours rehearsing together, tune your instruments together, agree on how to play Beethoven, and then have dinner together, you awaken a certain curiosity about the other and a respect for the other's narrative, even if you don't agree with it."
Barenboim grew notably despairing only when asked how he thought orchestras could engage younger audiences in classical music.
"There is only one way, and it is not being done," he said. "You must have music education in the schools from early on. In the last 40 to 50 years, classical music has been divorced from the rest of culture. But you cannot be cultured without knowing that music."
All performances are at Symphony Center, 220 S. Michigan Ave. The CSO concerts ($39-$268) are Nov. 1 and Nov. 3 at 8 p.m. and Nov. 2 at 1:30 p.m. Running time is 77 minutes with no intermission. The West-Eastern Divan Orchestra concert ($40-$130) is Nov. 5 at 7:30 p.m. For tickets call (312) 294-3000 or visit www.cso.org.
Follow Hedy Weiss on Twitter: @HedyWeissCritic
---
At the CSO, a Pianist Shakes the Musical Universe With a Prokofiev Concerto
2 CSO Concerts Showcase a Pianist's Fluid Interpretation of Beethoven, Mozart
CSO Opens Season with Music of Liberty and Memories of Repression
On Eve of CSO Season Opener, a Conversation with Riccardo Muti
Fall Theater Recommendations from Hedy Weiss
---