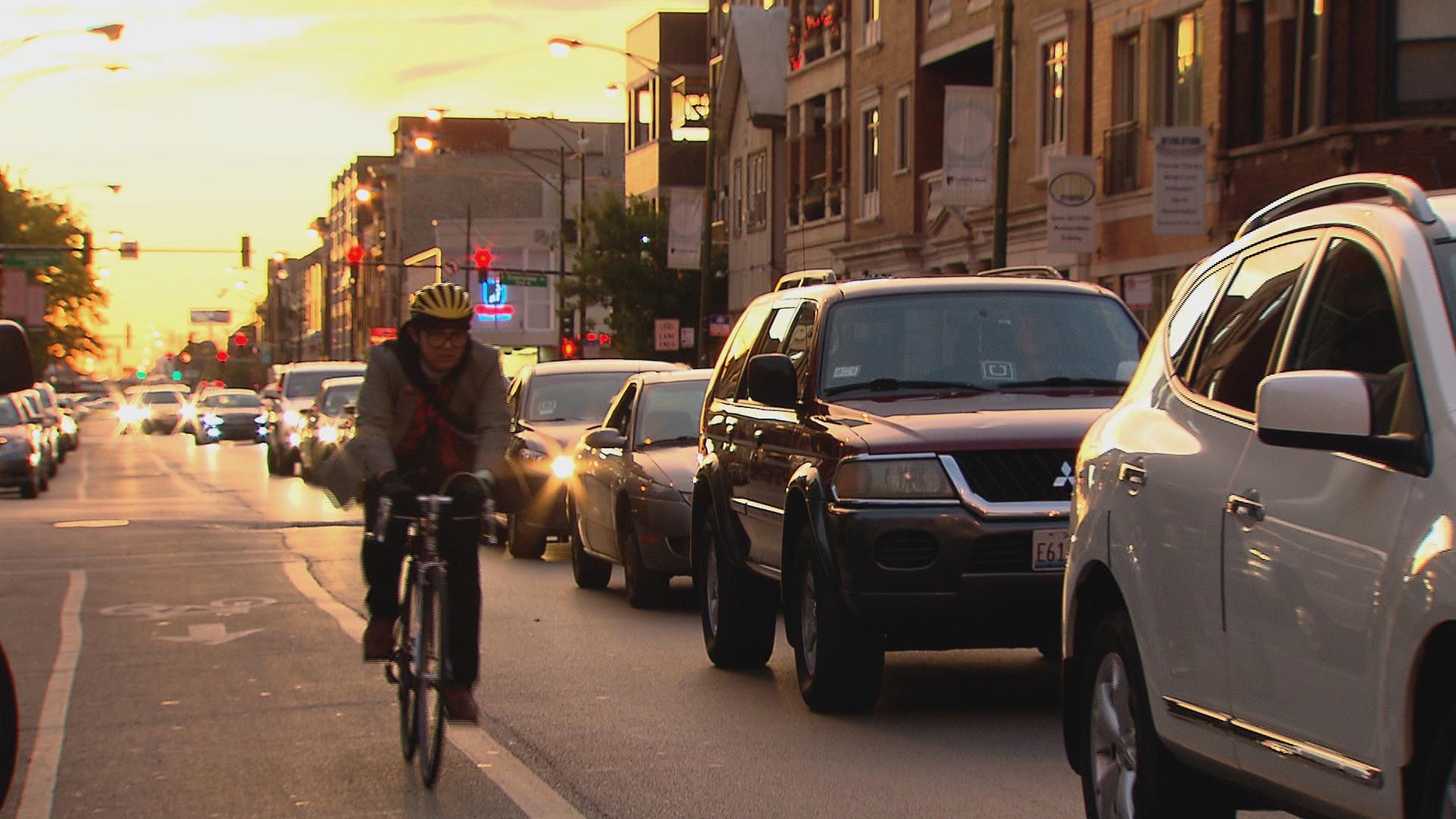 Chicago plans to use part of a new $2.5 million award for addressing climate change to expand bike-share programs to all parts of the city, Mayor Rahm Emanuel's office said Monday.
Chicago was one of 20 cities selected by former New York Mayor Michael Bloomberg's philanthropic foundation for a two-year program designed to accelerate efforts to reduce greenhouse gas emissions that fuel global warming.
With its share of the funding from Bloomberg Philanthropies' American Cities Climate Challenge, Chicago aims to expand bike-share programs "to reach 100 percent of the city," Emanuel's office said. Chicago could also incorporate electric bikes into the programs, according to the nonprofit Natural Resources Defense Council, which will aid cities as part of the Bloomberg program.
Divvy, the largest bike-sharing program operating in Chicago, has faced challenges in reaching all parts of the city even with expansions into additional South and West Side neighborhoods in recent years. According to Divvy's website, the bike-sharing program currently has 6,000 bikes available at more than 570 stations in Chicago and Evanston.
It is unclear how Chicago plans to grow bike-sharing in the city, whether through Divvy or another program. 
"With cities generating the majority of the fossil fuel pollution driving climate change, and bearing the brunt of its impacts, fighting climate change begins in City Hall," said Rhea Suh, NRDC's president, in a statement. "These mayors are committed to delivering a brighter, more hopeful tomorrow for future generations."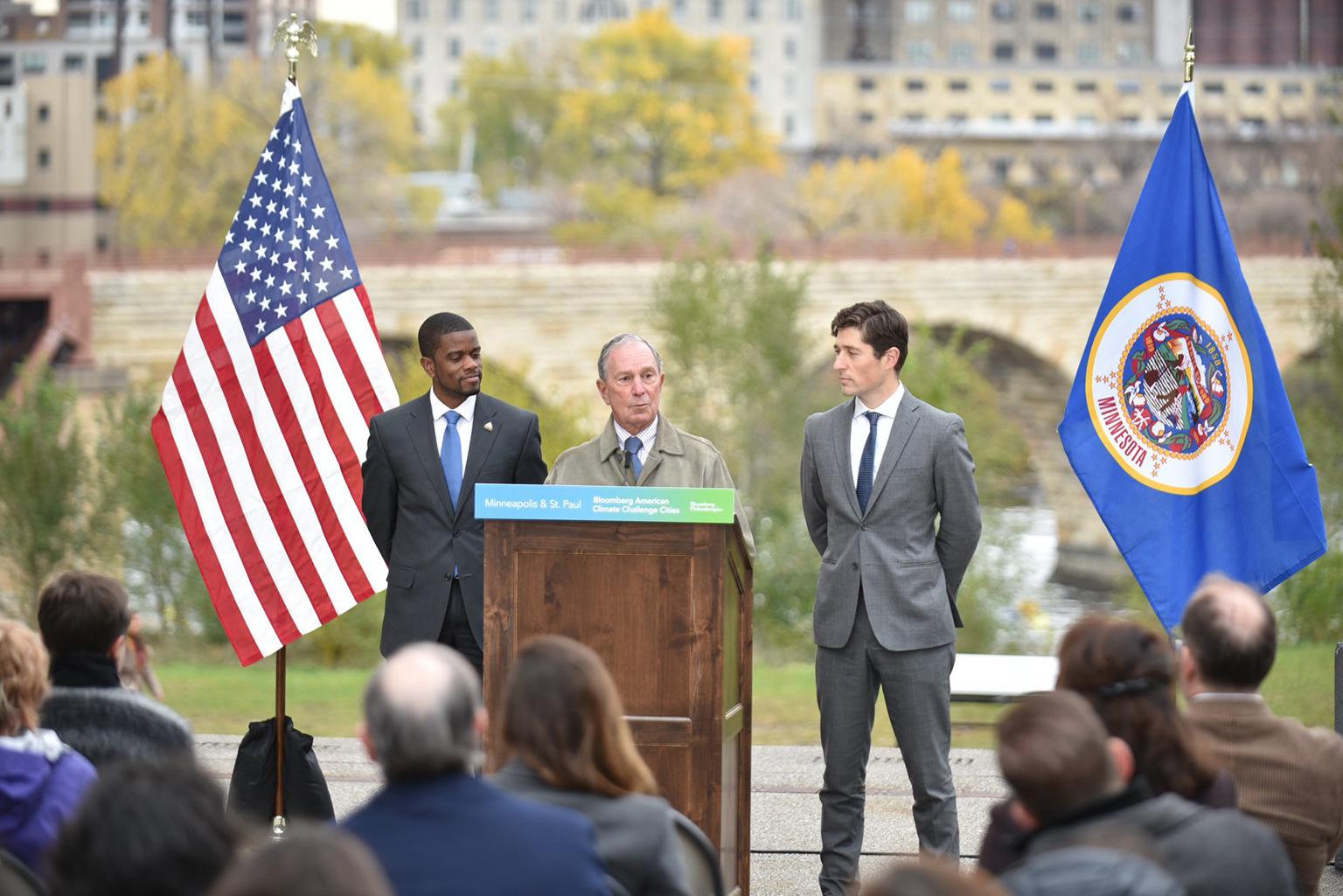 Former New York Mayor Michael Bloomberg speaks alongside the mayors of Minneapolis and St. Paul on Monday, Oct. 29, while announcing the Midwest winners of the American Cities Climate Challenge. (Courtesy Bloomberg Philanthropies)
As part of the program, Chicago has pledged to develop policies that support car-sharing and public transit while reducing the number of vehicles owned by residents. The city also plans to step up enforcement of energy efficiency requirements, expand efforts to procure renewable energy and develop a framework to support electric vehicles and solar power.
Launched in June, the American Cities Climate Challenge is a $70 million program to provide cities with support to help them meet or beat carbon-reduction goals, including through Bloomberg-funded staff to develop clean energy policies and training for city leadership to help implement climate plans.
Last year, Emanuel announced a commitment to transition the city's municipal buildings and operations to 100 percent clean and renewable energy by 2025.
"With Washington asleep at the wheel, cities are more important than ever in the fight against climate change," Bloomberg said in a statement announcing the Midwest winners of the program. "In response to our Climate Challenge, cities all across the country – red and blue, big and small – put forward thoughtful and innovative proposals. But Minneapolis, Saint Paul, Chicago, Cincinnati, Columbus, Indianapolis and St. Louis broke out from the pack."
Other cities selected for the program are Atlanta, Boston, Los Angeles, Philadelphia, Pittsburgh, Portland, San Diego, San Jose, Seattle and Washington, D.C. The final three cities have yet to be announced. 
Contact Alex Ruppenthal: @arupp | [email protected] | (773) 509-5623
---
Related stories:
Divvy Bike Thefts a Vicious Cycle in Chicago
Dockless Bikes Roll Out on Chicago's South Side