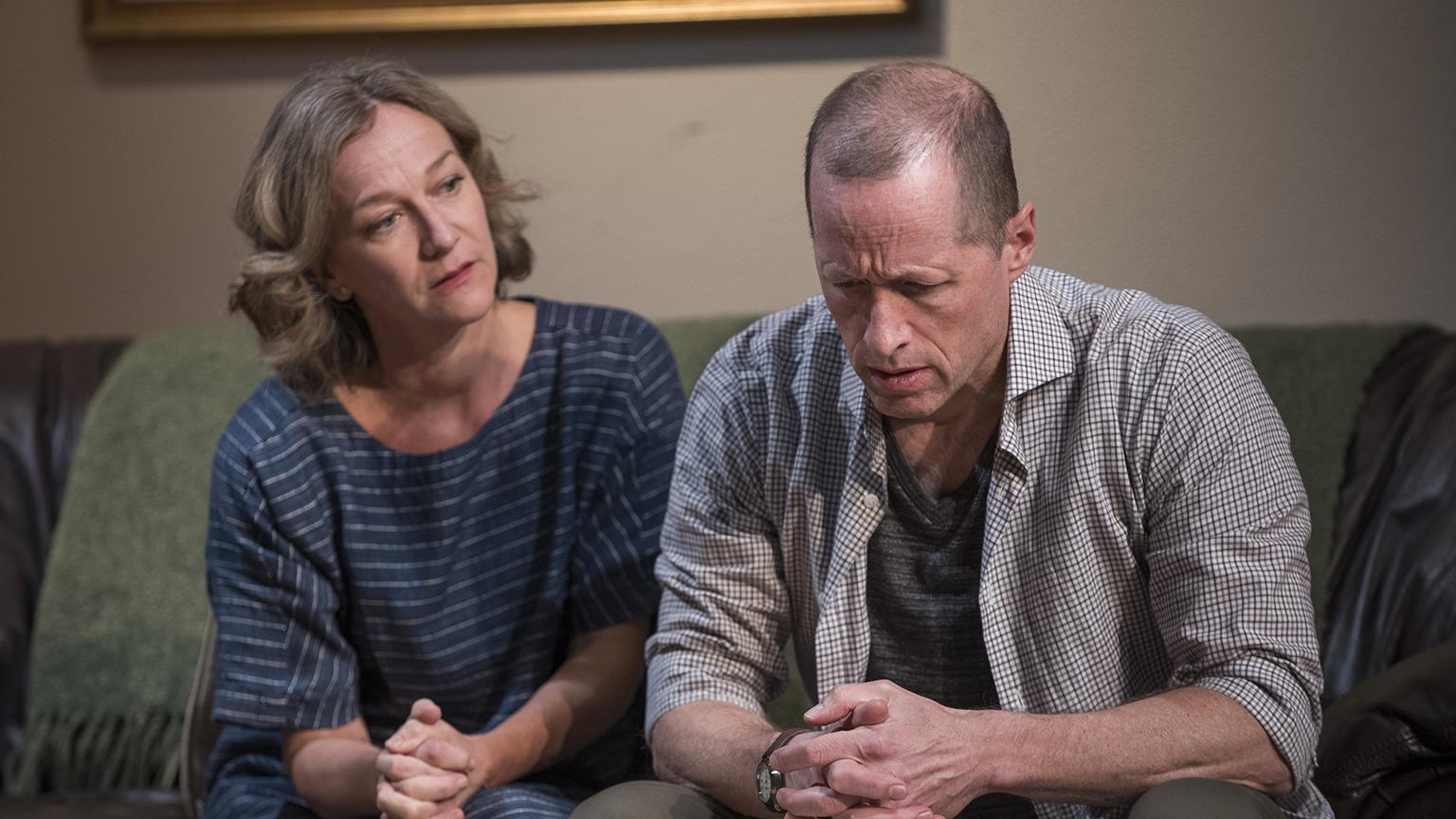 Matilda Ziegler (Em) and ensemble member Tim Hopper (Andy) in Steppenwolf's world premiere production of "Downstate." (Photo by Michael Brosilow)
Not in my backyard or within a strictly drawn perimeter. Not near a school or bus stops in close proximity to that school, or to a grocery store where kids hang out after school. Not near a park. Not in the children's section of the public library. And no, you cannot have a mobile phone. And there can't be internet at home, either, although your name, address and criminal record will be easily accessible to others by way of a sex offender registry on the internet.
And good luck finding a place to live. You might get lucky and be placed in a group home operated, say, by a Lutheran social services agency, where you will share a surprisingly nice apartment with three other men of varying ages and persuasions.
Yes, you might even be able to find a low-level job (despite the fact that you're wearing a GPS monitor around your ankle). And you will probably be able to apply for food stamps. But be sure to be home each week when your parole officer checks in because she is watching your every move, and can request that you take a lie detector test.
And one more thing: Stay away from the windows in your apartment because no one wants you as a neighbor, and they will let you know this by hurling rocks and other objects through the glass.
So, is your heart bleeding yet? Or do you think this is a notably humane alternative to prison, and the only relatively safe way to protect your children and/or yourself from any form of attack?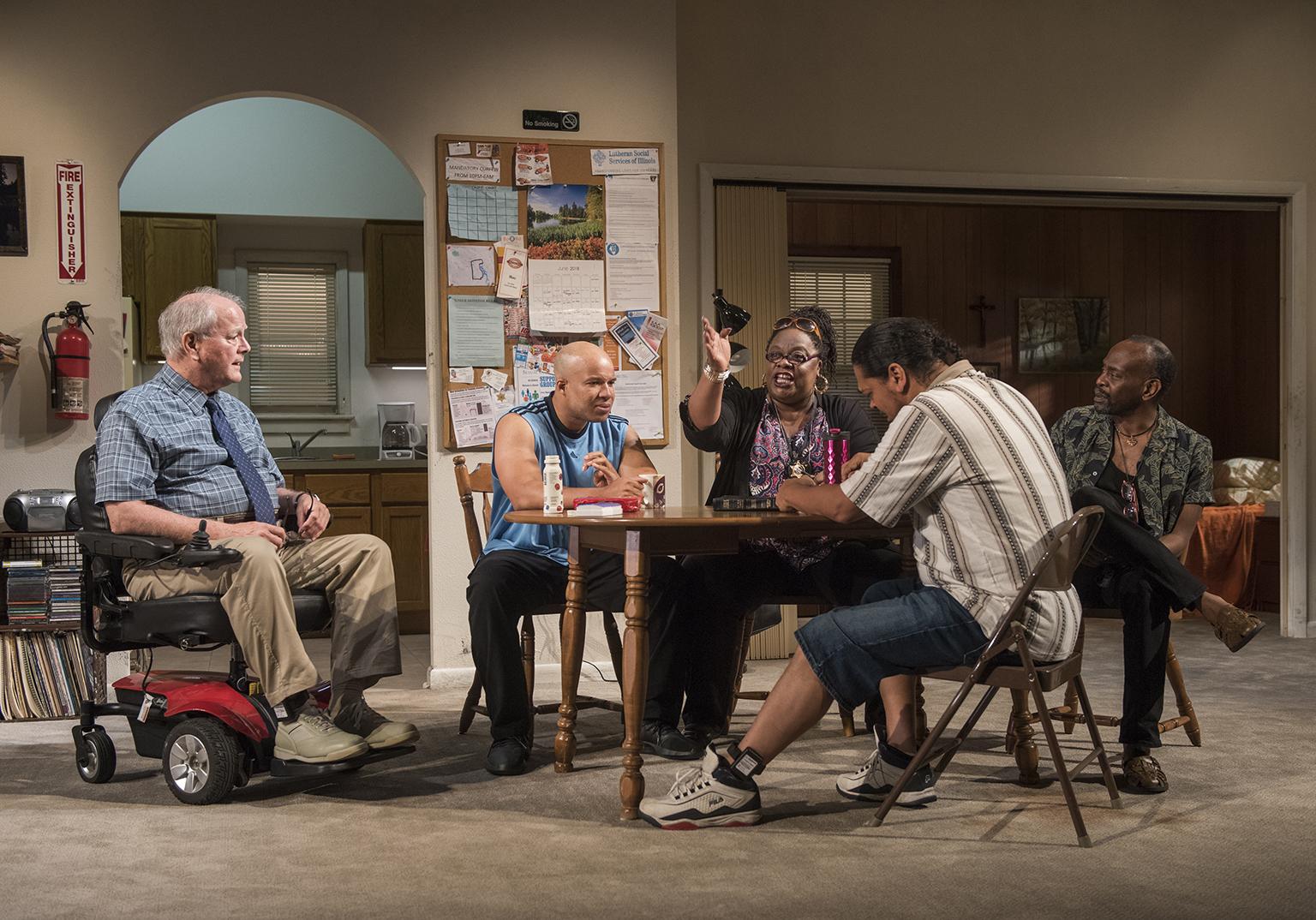 Left to right: Ensemble member Francis Guinan (Fred), ensemble member Glenn Davis (Gio), Cecilia Noble (Ivy), Eddie Torres (Felix) and ensemble member K. Todd Freeman (Dee) in Steppenwolf's world premiere production of "Downstate." (Photo by Michael Brosilow)
To be sure, all this has very likely captured your attention by now, and triggered a slew of additional questions. And that is precisely what Bruce Norris has set out to do in his pitch black, profoundly provocative, immensely compelling play, "Downstate." Now in a scorchingly acted world premiere at Steppenwolf Theatre, director Pam MacKinnon (who won a Tony Award for her 2013 revival of Edward Albee's "Who's Afraid of Virginia Woolf?") has ideally etched its complex emotional twists.
"Downstate," which is far and away the best of Norris' many plays (including his 2010 Pulitzer Prize-winning "Clybourne Park"), will either make you question your opinions on the subject or confirm them. But it will certainly inspire a gut reaction as it brings to mind the priests, teachers, athletic coaches, gymnastics team doctor, siblings, parents, "boyfriends" and others who are initially perceived as figures of trust, but turn out to be sexual predators. And it will call to mind the total strangers who can rape a solo jogger some morning, or attack a woman alone as she turns the key to her door one night.
Norris' play also raises the question that is so often in the forefront of our consciousness these days: Aside from any "formal" punishment, what price can or should the victim exact from the predator to ease the psychic wounds they've inflicted? And Norris tosses this question into the mix: Is the sexual predator a criminal, mentally ill, or just acting out "anthropologically necessary rites" of passage that have been deemed illegal in certain modern societies?
Let the debates begin.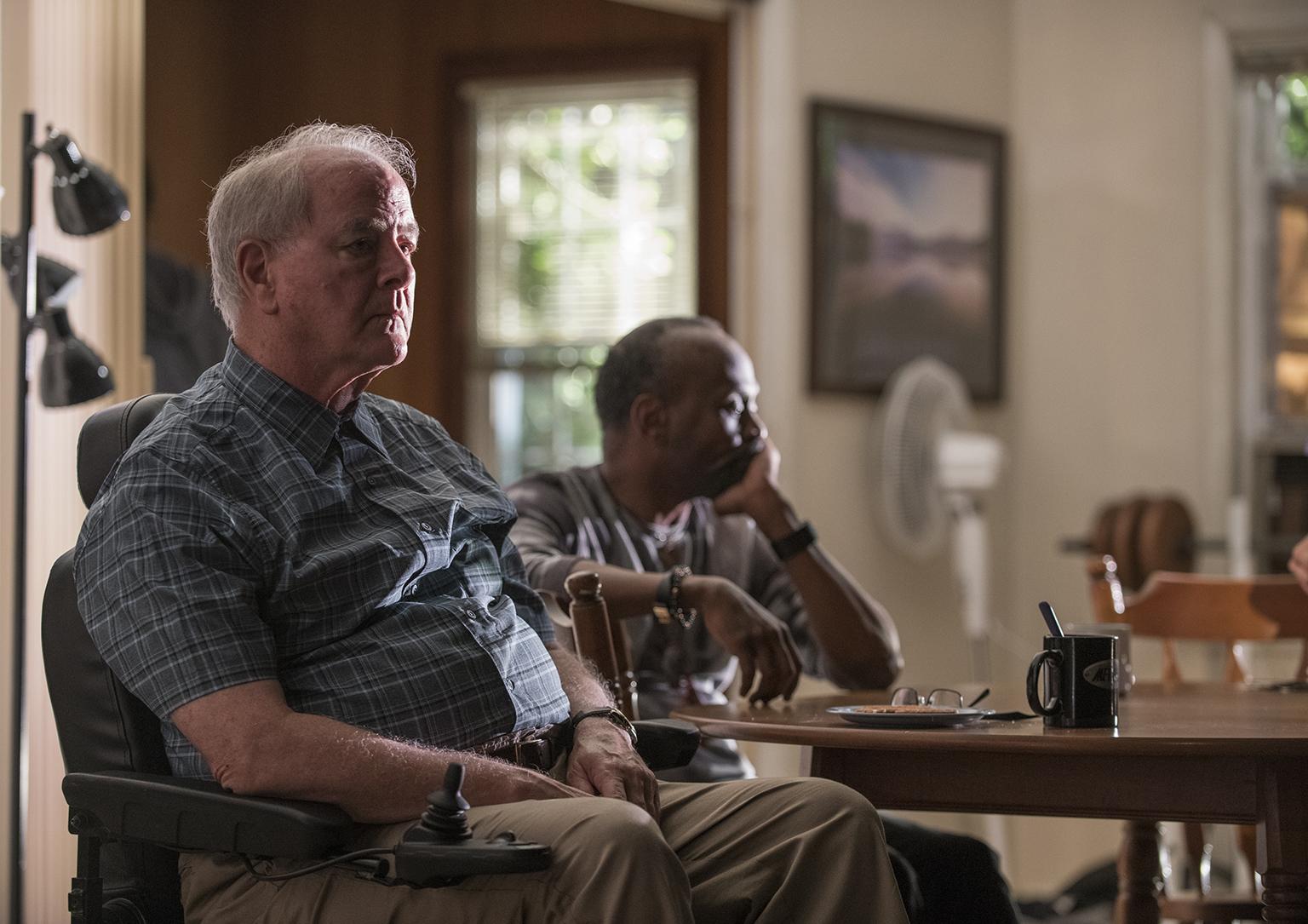 Ensemble members Francis Guinan (Fred) and K. Todd Freeman (Dee) in Steppenwolf's world premiere production of "Downstate." (Photo by Michael Brosilow)
Set in a group home in southern Illinois, "Downstate" brings together four roommates.
There is Fred (Francis Guinan), the oldest of them, a seemingly mild-mannered man who plays Chopin on an electric keyboard and has been confined to a wheelchair for a number of years. He is carefully tended by Dee (K. Todd Freeman), a gay, African-American man with a passion for Billie Holiday, a biting sense of humor, a sharp legal mind and plenty of opinions. Both of these actors, who have worked together for years, give exceptionally sensitive performances that clearly thrive on their mutual trust.
There also is Gio (in a high-styled performance by Glenn Davis), the macho, fast-talking, wannabe entrepreneur who might soon be taken off the registry, but who has a crazed girlfriend, Effie (Aimee Lou Wood), who could easily get him into trouble. And finally there is Felix (in a crushing turn by Eddie Torres), a lonely man who works at a garage, holds fast to a Bible, and breaks the rules of his release out of a terrible desperation and loneliness -- and perhaps something else. The scene in which he is interviewed by his tough but not heartless probation officer, Ivy (a blistering turn by Cecilia Noble, a British actress who easily fooled me into thinking she was born and bred on the mean streets of Chicago), is breathtakingly good, with Torres and Noble working in bravura counterpoint.
The catalyst in all this is Andy (an eerily tortured Tim Hopper), who has finally come to confront his abuser, Fred, who did some unspeakable things 30 years earlier when Andy was a boy of 12 taking piano lessons with him. Now married (Matilda Ziegler plays his wife) and a father, Andy has a good job as financial manager in Chicago. But he is clearly a psychological wreck. After much therapy he has come to confront Fred and have him read and sign a "reconciliation contract" that requires a full confession of his crime and demands he take responsibility for it.
All the arguments and nuances of the sexual predator issue are brought to the fore here, as is the notion of empathy and compassion, and the matter of how lesser punishments are sometimes meted out to murderers. Yet the question remains: What would you do if it had happened to you, and more crucially, if your own children had been the deeply wounded prey?
"Downstate" runs through Nov. 11 at Steppenwolf Theatre, 1650 N. Halsted St. For tickets ($20-$99), call (312) 335-1650 or visit www.steppenwolf.org. Running time: 2 hours and 30 minutes with one intermission.
A co-production with the National Theatre of Great Britain, "Downstate" (with a fine set design by Todd Rosenthal) will be remounted in London in the spring of 2019 and will feature the same creative team and mix of American and British actors.
Follow Hedy Weiss on Twitter: @HedyWeissCritic
---
Themes of Freedom, Faith and Money Fuse With Brilliant Score in 'Caroline, or Change'
New Musical 'Tootsie' Eyes Gender Roles, But Its Heart Belongs to Show Business
David Cale Turns a Family Nightmare into a Dreamy Tour de Force of Survival
---