Alex Ross is the legendary comic book artist who draws, paints and sculpts legends – superheroes, heroines and villains from the dual galaxies of DC Comics and Marvel Comics.
It's been a lifelong passion. "I've known since I was 3 or 4 years old, as soon as I discovered Spider-Man, that that's what I wanted to do," he told Chicago Tonight.
Ross grew up in Lubbock, Texas, but came to Chicago at age 17 to study where his mother, a successful illustrator, had studied: the American Academy of Art.
He has deep roots in the area. "For me, it's home by lifelong connection, since both my parents are from here, we'd regularly come from wherever else we lived – first I was living in Portland, Oregon, then I was living in Texas – and we'd travel every summer to Chicago to visit my grandmothers. And that was every year for me until leaving high school to go to school in Chicago. And my first job coming out of school was working for the Leo Burnett ad agency."
Ross is best known for his incredibly detailed, hand-painted cover art and for reimagining and updating classic heroes.
His major works include the series "Kingdom Come" (1996) – a futuristic view of the DC Universe that imagines Superman's return from retirement – and "Mythology" (2003) his homage to the entire DC Universe, from Batman, Wonder Woman and the entirety of Justice League heroes and villains.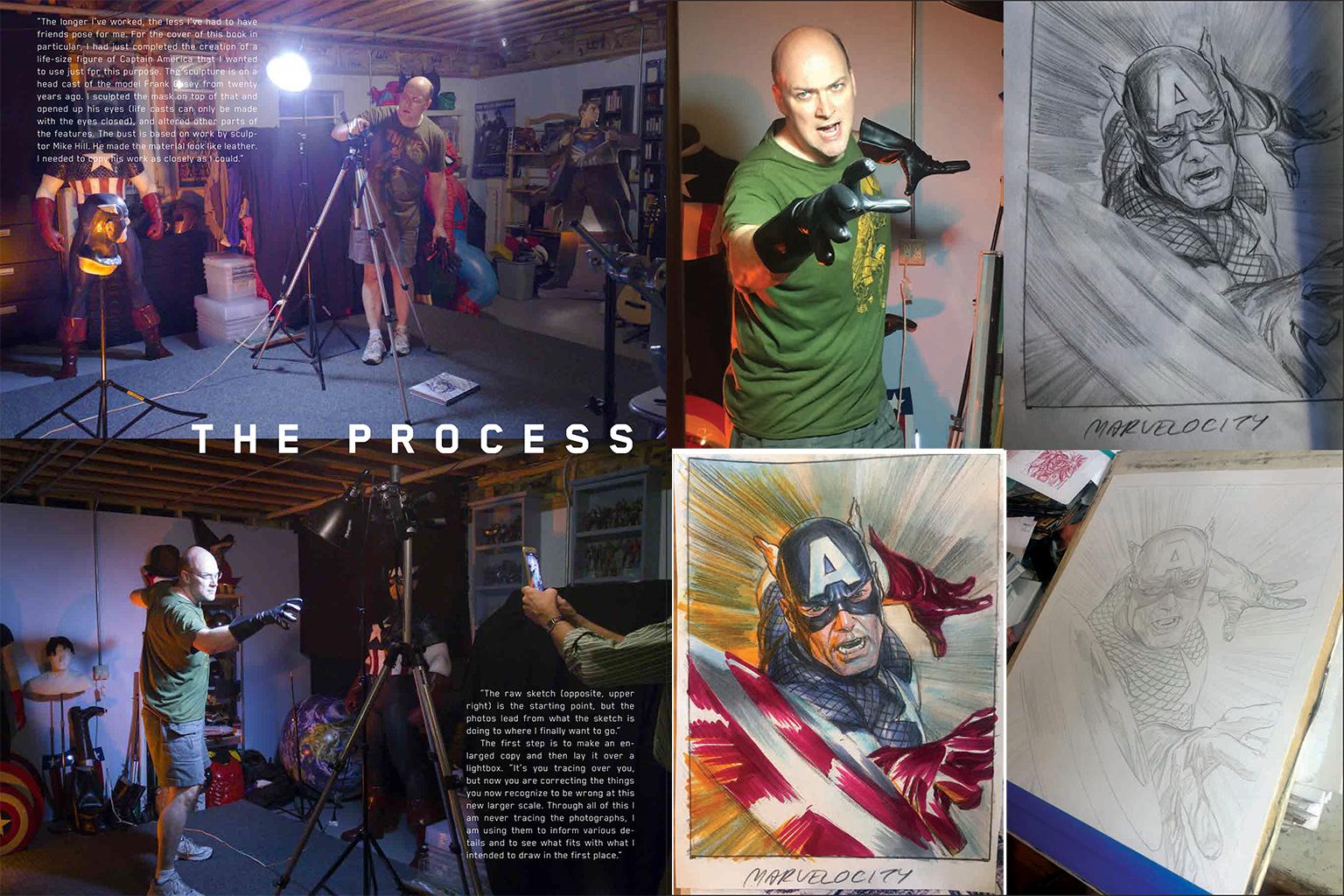 Click image to enlarge and read text. (Courtesy Alex Ross)
Ross creates his masterworks the old-fashioned way – with pencils and paints. He's not likely to use computer graphics anytime soon. "I've never learned how to use a computer, and I don't even type," he said. "Any emails people get related to me are from my wife writing them out for me. I'm a hard-core Luddite – I've got a card and everything."
His number one superhero? "I've had my favorites over time, and Captain America is definitely very high on that list. He'd probably be my current favorite, but I've migrated from loving Superman to drawing Captain America with a lot of the same enthusiasm – and for me it's also the exact same friend of mine that posed for both of them," he said.
And when we asked what he thinks of the glut of superhero movies in recent years?
"You used the word 'glut,'" he laughed.
"The reason you're getting so much of it is that so much of that stuff had been held back for so long, because Hollywood felt that they were either incapable of doing it right – adapting that kind of physicality and the special effects or whatever – but a lot of it was that Hollywood didn't believe there was an audience for it," he said. "And they didn't want that stuff to take over, so 40 years ago when Christopher Reeves played Superman for the first time, they should've had a Batman movie around the corner. They should've been able to go right into all of the characters we're getting now, and it's taken this long for Hollywood to allow that to happen. They only allowed it to happen in stage because of their lack of faith."
Click image to enlarge and read text. (Courtesy Alex Ross)
Ross' new book "Marvelocity" features his extravagant artwork for the Marvel Comics universe. Spider-Man, Black Panther, Guardians of the Galaxy, the Fantastic Four and many more are brought to life in eye-opening detail. He also features lesser-known characters such as Spider-Woman and the reimagined heroes who populate Universe X. Ross first tackled the world of Marvel in "Marvels," a series from 1994.
Currently he's also creating cover art for a new series of Captain America comics written by Ta-Nehisi Coates. The author and journalist wrote earlier this year about his artistic collaborator with Ross in The Atlantic, calling the artist a legend. "Even if you don't consider yourself a comics-head, you should check out [his] work to see what the best of the form has to offer."
Upcoming event
Alex Ross and "Marvelocity" co-author Chip Kidd participate in a discussion in Chicago on Saturday, Oct. 27 as part of the Chicago Humanities Festival. Find more details about the event here.
---
Related stories:
New Book Shares Stories of 'Rad Girls' to Inspire Youth
130 Artists Unite to Complete Chicagoan's Graphic Novel
'Black Panther' Breaks Box Office Records, Racial Barriers
---