Vibrant, charismatic, optimistic and welcoming are how Ed Siemienkowicz's friends and loved ones describe him.
"He was so engaging and creative, and also he was just so warm and welcoming to everyone," said Vanessa Walilko, who dated Siemienkowicz. "He made everyone feel like they mattered and that they should be a part of whatever was happening."
Siemienkowicz, a member of the Chicago comic art community, hosted and participated in a number of comics and figure-drawing groups. A fan of cosplay, he led a Chicago karaoke group in which he encouraged all – regardless of skill – to participate and dress up according to the theme of the night, which he would choose.
"He was always about getting people together and making memories," said Albany Park resident Darick Maasen, who first met Siemienkowicz at his own surprise 31st birthday party.
"I get there and there he is in a fake beard and glasses – I'm bearded and have glasses. I never met him in person before. It was really funny. Nobody else dressed up. He'd always enrich a moment."
In 2014, Siemienkowicz turned 40 and had what he called "the worst year of his life." He lost his job, had to move and had several failed relationships. He was also diagnosed with pancreatic cancer, said Maasen.
During his time in remission in 2015, Siemienkowicz began working on a graphic novel about the year he turned 40, which he called "F*cking Forty." In 2016, Siemienkowicz met and fell in love with Walilko.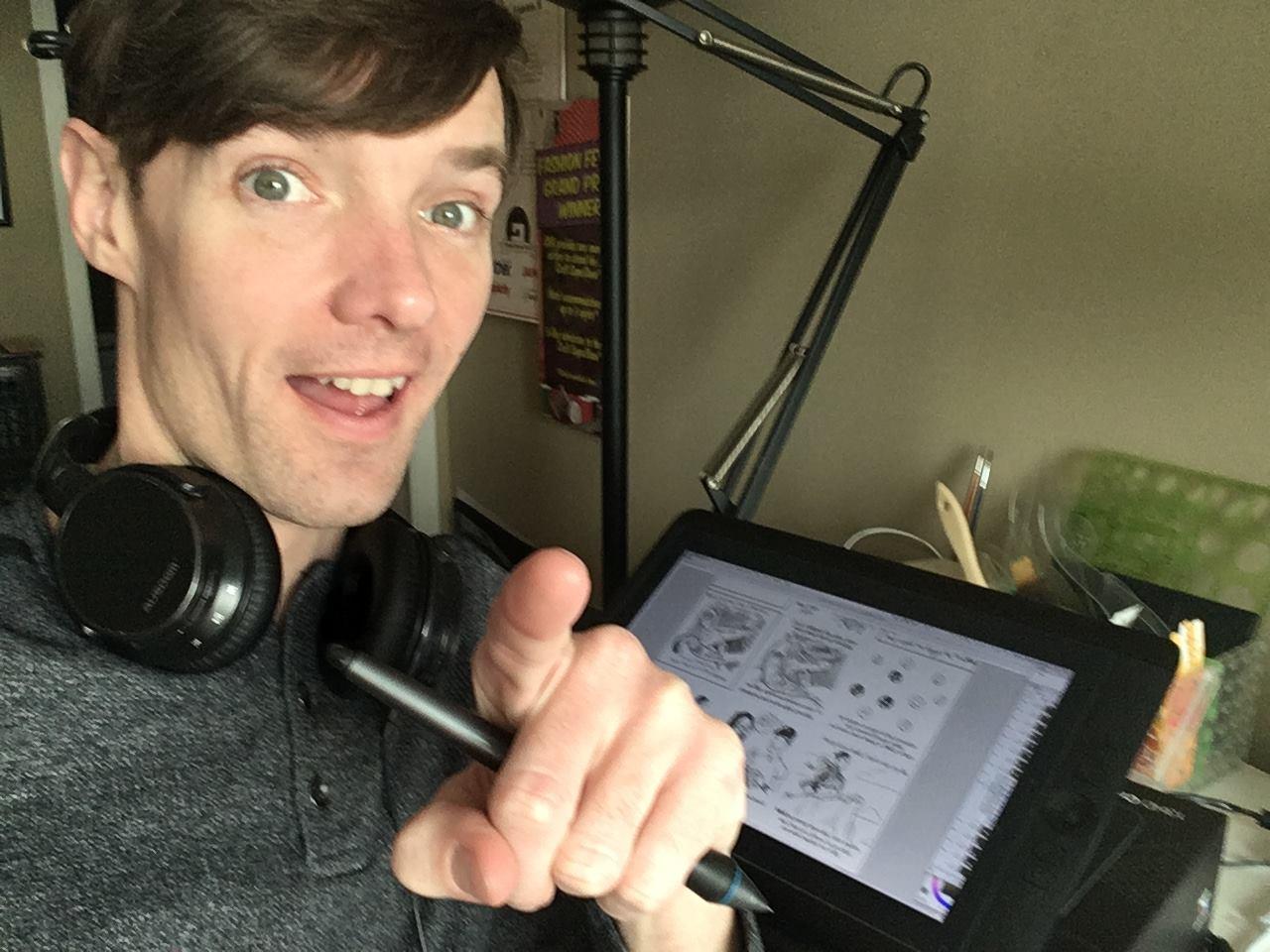 Ed Siemienkowicz (Courtesy of F*cking Forty)
In early 2017, the cancer returned aggressively. Siemienkowicz died on July 30, 2017. He was 43. It wasn't discovered until after his death that Siemienkowicz had completed a 246-page manuscript for the graphic novel and inked the very first page.
Now, more than 150 people have come together to complete the work, including Eisner Award-winning comic book writer and artist Jill Thompson and comic book writer and artist Jonathan Hickman.
"Ed saw the best in people and after working on this book, it's hard not for me to see that too. It's been really moving," said Walilko, who promised Siemienkowicz she would get the book published.
"He felt that 'F*cking Forty' was his life's work – not only to get him recognized but also to be the thing that helps people, so that anybody who's going through a hell of a year knows someone else has been in the trenches like this. You're not alone."
Initially, Walilko thought it would take years to get the graphic novel published. After Siemienkowicz's death, Maasen took to Facebook, where he posted a call for artists to help complete the work. The response was "staggering," with nearly 130 artists volunteering to donate their time and skills to the project, Maasen said.
"We got amateurs and people that loved Ed and put their heart and soul into their drawings. We got industry professionals who knew about Ed because he'd show up at comic creator meetups and they always loved his art," he added.
Walilko says the project has been an outlet for Siemienkowicz's friends to process their grief. "That's what all of Ed's friends are doing now—working on these assignments and doing what they can with the book," she said. "(Ed's) still helping people. It's amazing."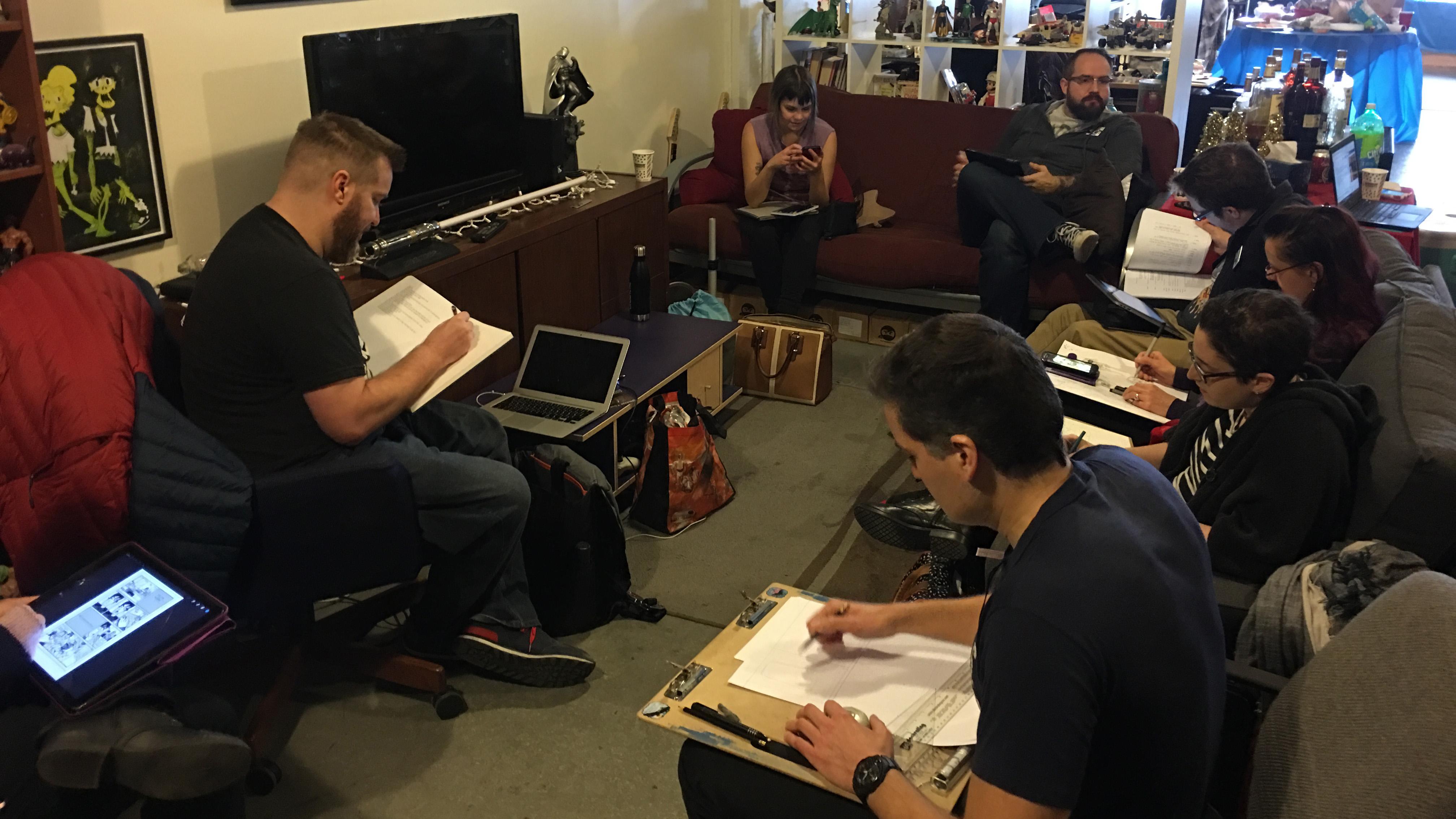 (Courtesy of F*cking Forty)
To illustrate the collaborative effort, artists were allowed to create their assigned scenes in their own style, with one caveat: "Ed had a very specific way of drawing himself (with) dot-eyes and a cleft chin. ... We wanted Ed to be drawn as he drew himself because he was the one that was supposed to draw the book and we wanted to make sure he did," Maasen said. "We wanted to make sure he was present on every page."
While styles may change from page to page, "Ed is consistent," he added. "It's magical. It's like Ed is creating this whole book through the hands of all the artists."
Another unique aspect of the graphic novel is many of the artists who worked on it were able to recreate conversations and experiences they shared with Siemienkowicz, like artist Ali Cantarella.
Amid Siemienkowicz's "worst year of his life," he met Cantarella and attempted to pursue a romantic relationship with her. One of the scenes in "F*cking Forty," details a date in which they cook dinner together and Cantarella has to abruptly leave. The graphic novel also illustrates the disappointment Siemienkowicz experienced when Cantarella left.
"Drawing the date was difficult," Cantarella said, adding she never knew about Siemienkowicz's emotional reaction to her leaving. "It was difficult but at the same time cathartic to get to see another part of this person who I had known for a while."
Although the relationship didn't work out, Cantarella and Siemienkowicz remained friends. "I feel extremely lucky because Ed was an adult, level-headed person and he saw the value in people," Cantarella said. "I got to be friends with an incredible person for the next four years, and that will always be very important to me."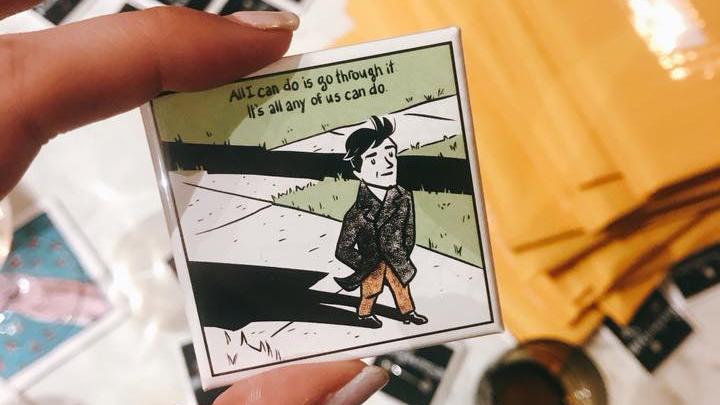 An example of how Ed Siemienkowicz drew himself in various self-published comics. (Courtesy of F*cking Forty)
While "F*cking Forty" is nearly complete, it's only part of Siemienkowicz's story. He had planned on creating a sequel about how cancer saved his life, detailing how his friends and the comic community came together to pay for his medical bills and how he met the love of his life, according to Walilko. "He just became aware of how much he meant to people, how much people cared about him, and it kind of renewed his sense of life and wonder and marveling at the world," she said.
Walilko brings that story to life in "F*cking Forty's," afterword. "Even through a cancer diagnosis and even through being given a death sentence, he's the most positive person I ever met in my life," she said. "Ed lived until he died."
A Kickstarter was launched April 5 to raise $25,000 to pay for the production, publishing and promotion of the book.
Note: This story was first published on March 26, 2018.
Contact Kristen Thometz: @kristenthometz | [email protected] | (773) 509-5452
---
Related stories: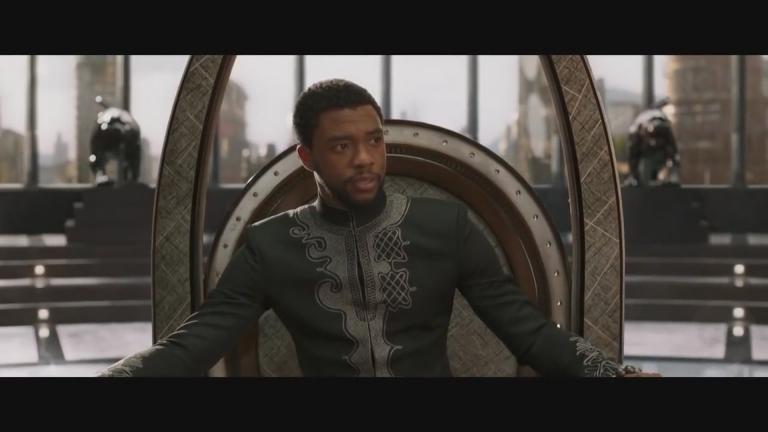 'Black Panther' Breaks Box Office Records, Racial Barriers
Feb. 20: The superhero film received critical praise and smashed box office records, but for some, the most notable impact is the emergence of an African-American superhero and lead characters.
---
Chicago Teens Ponder Big Questions in Graphic Novel 'No Small Plans'
April 27, 2017: In a new graphic novel from the Chicago Architecture Foundation, teens – past, present and future – traipse through Chicago neighborhoods to ponder some big questions, such as: What makes a community?
---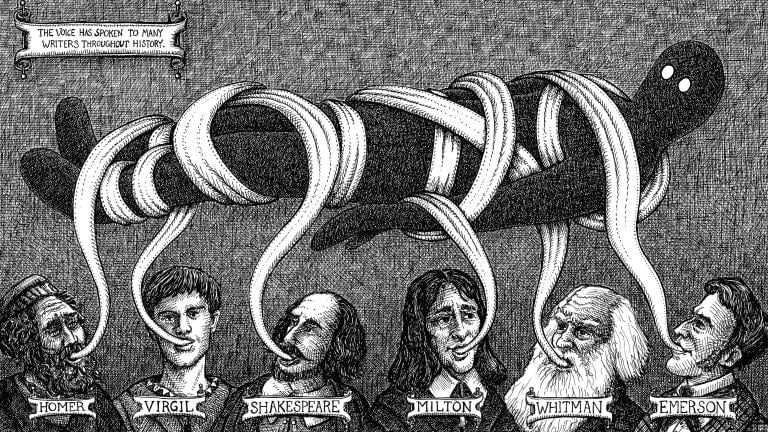 Family Secret Inspires Graphic Novel 'The Hunting Accident'
Nov. 16, 2017: Imagine learning your father was prison pals with notorious murderer Nathan Leopold. That's the true story told in a new graphic novel.
---