Alex Ross is a hero to fans of comic book art and graphic novels. His superpower is creating almost photo-realistic depictions of classic superheroes.
For 30 years from his home near Chicago, Ross has been the go-to artist for revitalizing beloved characters — from Spider-Man and Superman to Iron Man and the Fantastic Four.
His work is featured in "Marvelocity: The Art of Alex Ross," a new show at the Elmhurst Art Museum. The show focuses on the heroes, sheroes and villains of the Marvel Comics mythology — where the good guys often have flaws and so-called "feet of clay."
"In a way, the 'feet of clay' idea for Marvel characters is their selling point, their relatability, where you see an aspect of yourself, your own flawed humanity, reflected back at you through them," Ross said. "There's a unique aspect of Marvel stories that much of the character's actions are about redemption for having lived sort of a flawed or a very self-important life before they have an epiphany of how they can better use their abilities to benefit others and see beyond themselves."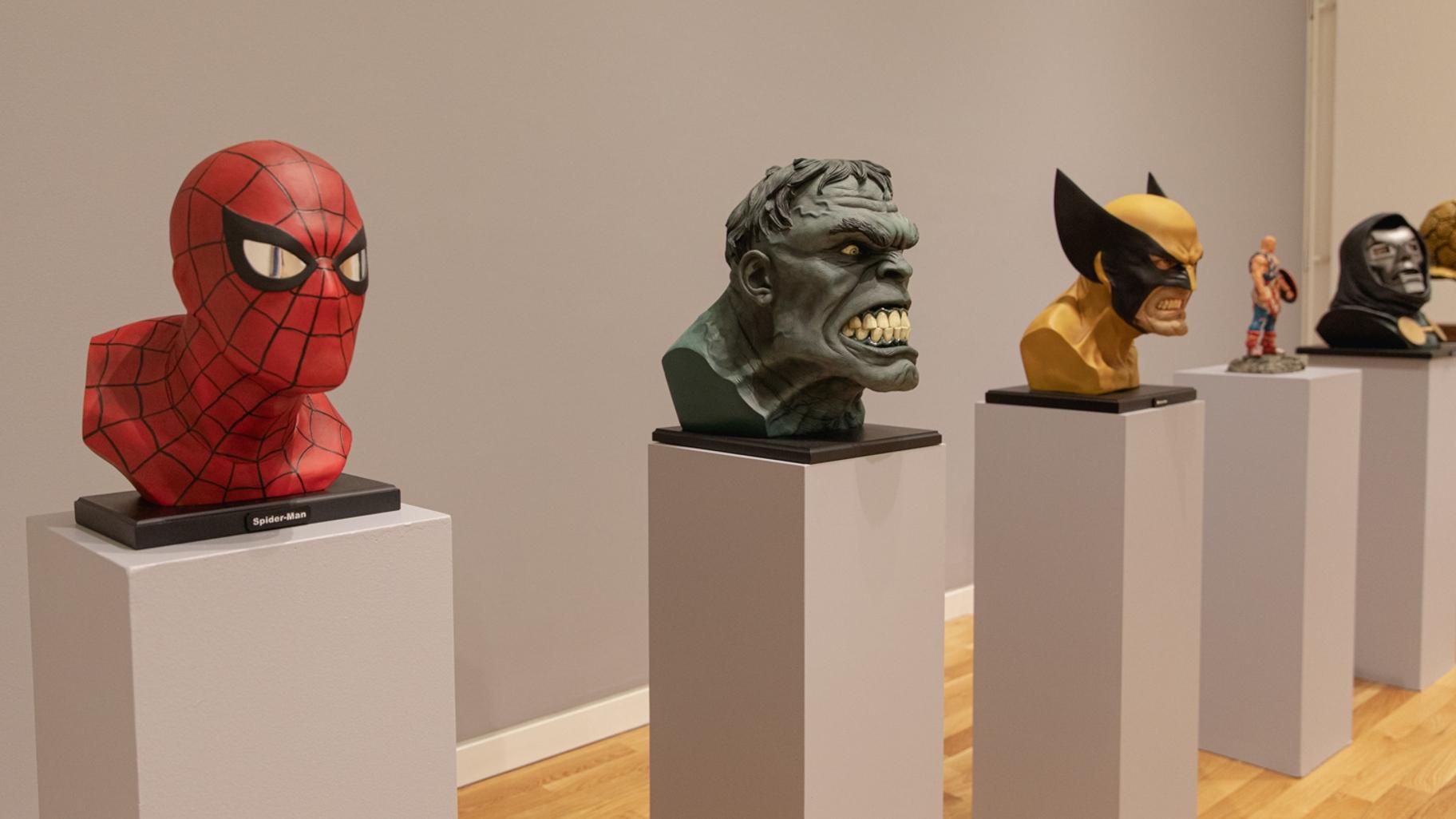 "Marvelocity: The Art of Alex Ross" runs through Aug. 20, 2023, at the Elmhurst Art Museum. (Michael Izquierdo / WTTW News)
Ross' origin story began when, as a child, he first saw Spider-Man depicted on "The Electric Company" on PBS. Ross grew up in Texas and moved to Chicago to study at the American Academy of Art. That's where he learned to draw from live models.
"From my first week in the school, drawing from a live model was just an eye-opening thing," Ross said. "I had certainly drawn from live models in smaller classes before, but this was now a hardcore intensive session of focusing on it and realizing just what my capacity was to be able to translate what was in front of me to the page."
"I've been either cursed or blessed with a sense of self-confidence of thinking that I had whatever it took my whole life, so I kind of came into the business with a sense of 'OK, I've got to just deliver this thing that I've got in me,'" Ross continued. "Plus, I had the confidence coming from the American Academy of thinking: I've got a world of illustration history channeling through me. I've just got to find the ability to get the jobs that will show off what I've been trained to do."
The show at the Elmhurst Art Museum includes sketches, a collection of 3D busts and stunning artwork that Ross paints with gouache, a kind of opaque watercolor.
"When I'm planning any composition, a cover or storytelling pages, I'm always thinking about the graphic impact," Ross said. "That includes things like lighting, and since you're sketching something out and you're not thinking of color yet, it's really about how heavy your shadow is, where your light source is going to be informing the subject because that will create mood and a sense of place and time, and that's got to be front of mind for me because that's the reason it's paintings as opposed to pen and ink."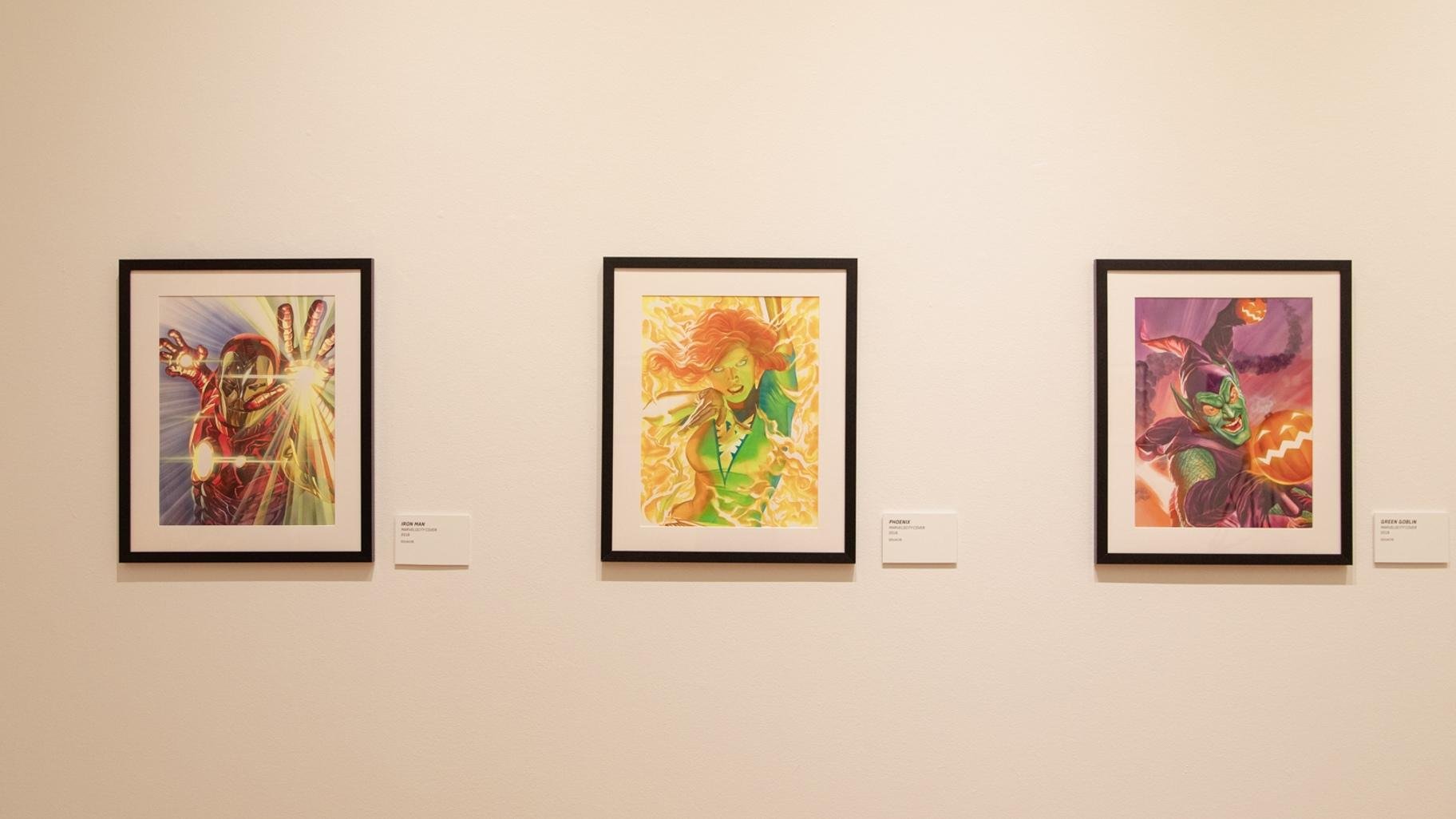 "Marvelocity: The Art of Alex Ross" runs through Aug. 20, 2023, at the Elmhurst Art Museum. (Michael Izquierdo / WTTW News)
One thing Ross does not use to create his work is a computer.
"I am a Luddite. As that term goes, I do not use a computer whatsoever," Ross said. "I can open an email on an iPad to read it, but I do not type so I have to then dictate what my response is for my wife to send. I want to make it to my grave without learning a single thing about contemporary technology."
Ross has been depicted as somewhat reclusive, but he disagrees.
"I am not elusive!" he said with a laugh. "I get called out for this apparently in news media. It's like, 'Oh, he doesn't want you to know where he is, or he's not available to people.' Like, I make work all the time — what else am I supposed to do?"
"I think the only important thing I ever wanted from the skilled people I followed my whole life was just for them to make more," he continued. "I loved what they did and I wanted to always follow them with whatever they could make, so that's what I wanted to aspire to as a professional."
"Marvelocity: The Art of Alex Ross" runs through Aug. 20.
---