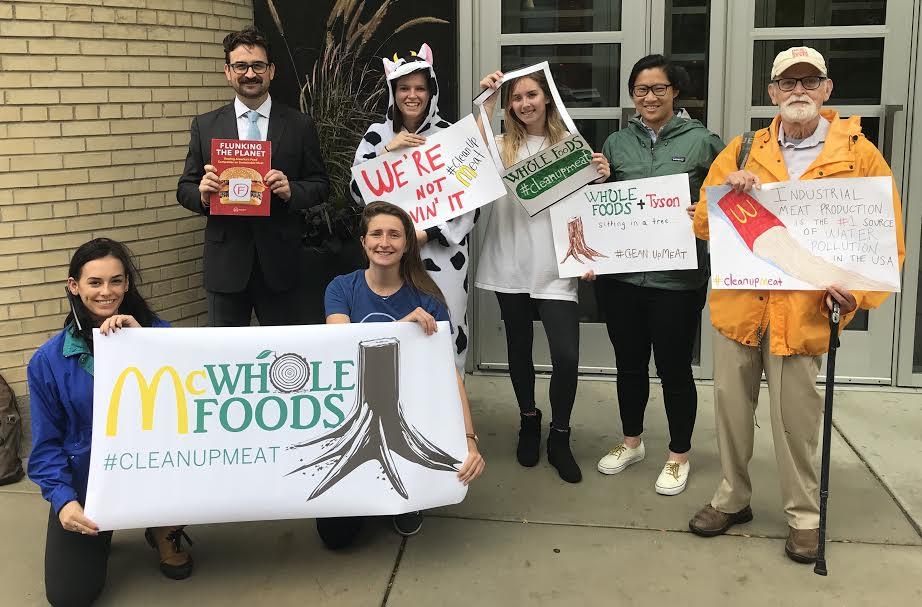 Environmental activists pose for a photo during Wednesday's protest in downtown Chicago. (Courtesy Mighty Earth)
Environmental activists held a protest Wednesday in downtown Chicago to highlight a new report that links McDonald's and Whole Foods to some of the worst-polluting companies in the world.
The report, conducted by the environmental nonprofit Mighty Earth, found that both Chicago-based McDonald's and the eco-friendly branded Whole Foods sell meat from agribusiness companies responsible for mass deforestation and pollution.
In response, activists are calling on the two companies to establish environmental standards to clean up their meat supply chains.
Protesters rallied Wednesday outside the West Loop office of meat company Tyson Foods, one of the suppliers identified in the Mighty Earth report. According to a separate report published in July, the world's five biggest meat companies, including Tyson and U.S.-based Cargill Meat Solutions, emit more greenhouse gases combined than any of the major oil companies.
Large-scale meat suppliers are also destroying native ecosystems as industrial agriculture expands into rainforests and prairies around the world, according to Mighty Earth.
"As two of the biggest meat buyers in the country, McDonald's and Whole Foods are in a unique position to push for change within the industry," said Abe Scarr, director of the Illinois chapter of the U.S. Public Interest Research Group, in a statement. "We call on them to use their market influence to require suppliers like Tyson and Cargill to adopt environmentally sustainable farming practices that protect waters, forests and our climate."
The new report, "Flunking the Planet: Scoring America's Food Companies on Sustainable Meat," examined 23 major brands representing the largest fast food, grocery and food service companies in the U.S. The report found that none of the companies have policies in place requiring even minimal environmental protections from meat suppliers.
Even "green" brands like Whole Foods have failed to require environmentally responsible farming practices that protect drinking water, prevent habitat destruction and reduce emissions of harmful pollutants, the report found.
In the report, Mighty Earth calls on companies to limit fertilizer use, replant degraded areas and take other steps to mitigate their impacts on the environment.
"Many small farmers are already taking these common-sense steps towards protecting our planet," said Victoria Higgins, a field organizer for Mighty Earth in Chicago, in a statement. "It is past time for the industrial meat industry to follow suit."
A McDonald's spokesperson said the company's greenhouse gas emission targets include a 31-percent reduction in "emissions intensity," or emissions per metric ton of food and packaging, across its entire supply chain by 2030 compared to 2015 levels.
"At McDonald's, we are committed to using our scale for good to create a food system in which people, animals and the planet thrive – and sourcing our food responsibly and sustainably is a critical piece of that commitment," the spokesperson said via email. "McDonald's sustainable sourcing initiatives include conserving forests, beef sustainability and achieving our verified greenhouse gas (GHG) reduction target, which includes our beef, chicken and dairy supply chains. We are consistently engaging with our suppliers to communicate our expectations, as well as collaborating to accomplish these goals."
A spokesperson for Tyson Foods issued the following statement in response to Mighty Earth's report:
"We're committed to leading industry efforts to collaborate with farmers on environmentally responsible crop production. Earlier this year we committed to support improved environmental practices on 2 million acres of by the end of 2020. This is the largest-ever land stewardship commitment by a U.S. protein company and represents enough corn to feed all of Tyson Foods' annual broiler chicken production in the U.S., as well as some of the pigs and cattle the company buys from independent farmers and ranchers.
"We're making progress. This past summer we sponsored a summit that included more than 30 leaders of the corn supply chain, including professors from three major universities, representatives of the grain and animal agriculture commodity groups, seed and fertilizer dealers, the Environmental Protection Agency, the United States Department of Agriculture, the Environmental Defense Fund, and the Nature Conservancy.
"These leaders, along with our internal subject matter experts, will be instrumental in helping us design a program to encourage corn farmers to adopt enhanced on-farm conservation through more efficient fertilizer use and additional measures to reduce soil loss."
Of the 23 companies examined for the report, only Walmart received a non-failing grade, which Mighty Earth attributed to the company's goal to reduce greenhouse gas emissions across its supply chain and ongoing efforts to improve farming practices for corn, soy and manure management.
A representatives from Whole Foods was not immediately available for comment.
Editor's Note: This story has been updated with statements from McDonald's and Tyson Foods. 
Contact Alex Ruppenthal: @arupp | [email protected] | (773) 509-5623
---
Related stories:
Chicago Advocates Call Out McDonald's for Treatment of Chickens
---