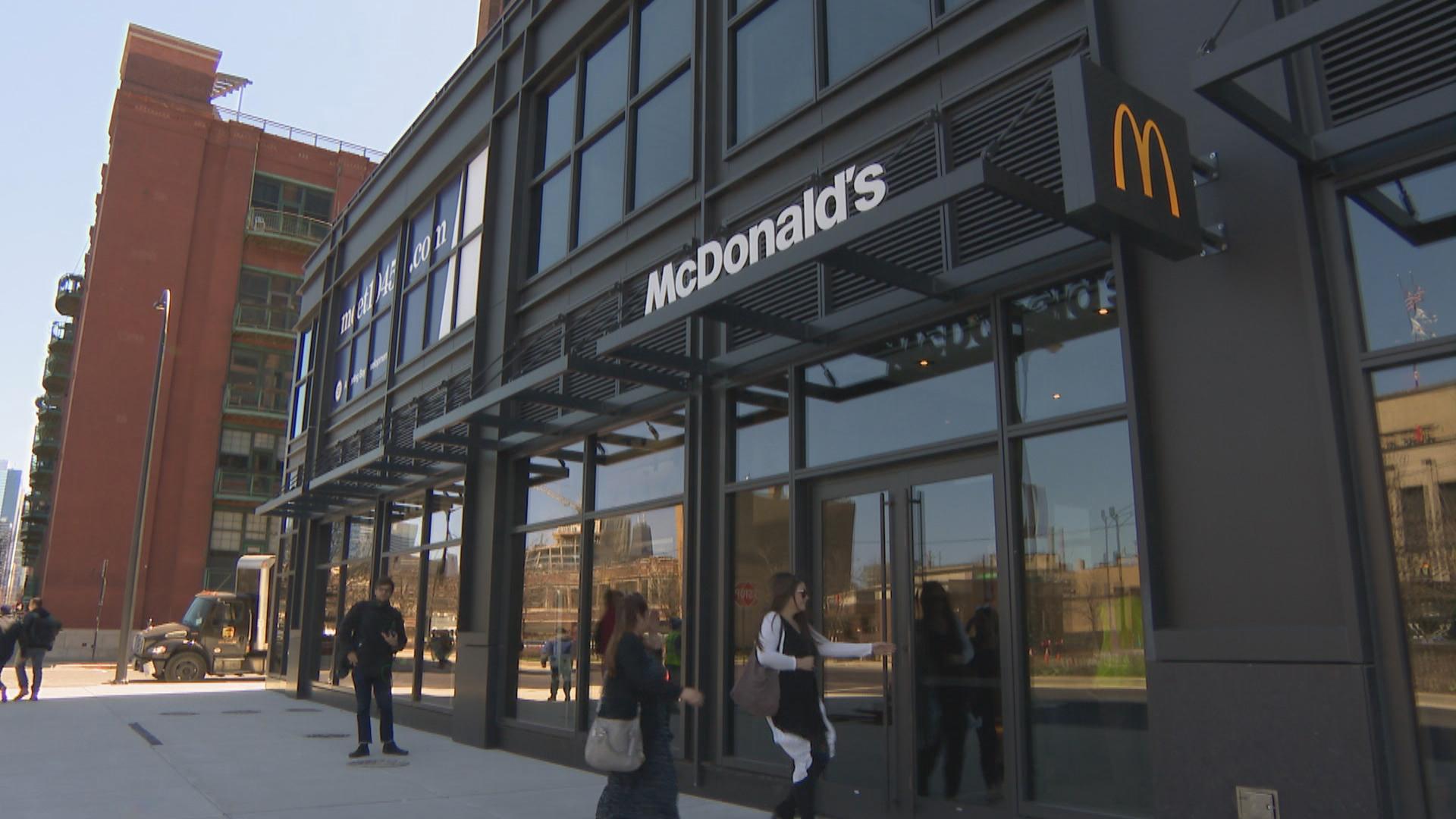 Opening day on April 25, 2018, of the McDonald's restaurant inside the company's new West Loop headquarters.
Animal welfare advocates are planning a protest next week outside McDonald's new headquarters in the West Loop, where they say they will deliver a petition with more than 200,000 signatures calling on the company to improve conditions for the hundreds of millions of chickens in its supply chain.
Chicago resident ShaRhonda Dawson created the petition earlier this year via the site Change.org. Dawson said that as a busy mom, she often turns to McDonald's for a fast and convenient meal for her two kids, who enjoy the restaurant chain's chicken nuggets.
But she was shocked, she said, to learn that McDonald's has resisted pleas to improve conditions for its chickens, and that the company still sources from factory farms where chickens are "bred to suffer."
"These smart and social birds spend their entire lives in crowded, dimly-lit sheds without even a perch to rest on," Dawson wrote.
On July 24, representatives from four groups – The Humane League, Mercy For Animals, Compassion in World Farming and Animal Equality – will join volunteers for a protest starting at 12:30 p.m. outside McDonald's headquarters at 1045 W. Randolph St.
The organizations will then join Dawson in handing over her petition to the company.
According to the animal welfare groups, McDonald's is lagging behind about 90 other U.S. restaurant and food companies that have committed to specific reforms addressing concerns about the treatment of animals in their supply chains, including chickens. Those companies include Burger King, Subway, Dunkin' Donuts and Jack in the Box, according to the groups.
Earlier this year, a larger collection of animal welfare organizations purchased an ad in the New York Times demanding change from McDonald's.
"Chickens are intelligent, complex animals capable of suffering," they wrote in the ad, which they characterized as an "open letter" to McDonald's. "Yet, you allow your suppliers to keep them crammed in warehouses for their entire lives, unable to behave naturally. They are bred to grow extremely large and extremely fast. Many of these birds cannot even support the enormous weight of their own bodies, and often suffer from leg pain and heart attacks. If a human baby grew in the same way, they'd be 660 pounds at just two months old."
In response to questions from Chicago Tonight about the petition and next week's planed protest, McDonald's issued the following statement:
"We're committed to sourcing our food and packaging sustainably, including the welfare of the animals in our global supply chain. We believe that our outcome-based approach provides the most comprehensive way forward to measurably improve chicken welfare. We recently announced a Global Chicken Sustainability Advisory Council, a multi-stakeholder group including leading academics and animal health and welfare experts, global suppliers, and NGOs. This group will provide deep expertise, diverse perspectives, and recommendations for evolving our chicken welfare and sustainability strategy."
Contact Alex Ruppenthal: @arupp | [email protected] | (773) 509-5623
---
Related stories:
Group Calls on McDonald's to Honor Vow for Antibiotic-Free Beef, Pork