Jury selection began Monday in the high-profile murder case of Chicago police officer Jason Van Dyke, nearly four years after he shot Laquan McDonald 16 times following a police call on a Southwest Side road.
Five jurors – three women and two men – have thus far been chosen.
The male jurors include a younger Asian-American financial analyst who went to Indiana University, and a white 60-something who identified as gay and said he believes he'll be able to judge this case on its merits.
"I think this case is this case," the older man said. "I don't think it's a referendum on the state of the country or the state of my friends."
RELATED: Defense Asks Judge to Toss Jury Pool Because of Protests
Earlier on Monday, a white, middle-aged woman was selected despite a defense request to excuse her because of her ties to the Illinois Department of Children and Family Services, where her significant other works.
Given that connection to DCFS, Van Dyke's defense attorney Daniel Herbert asked the woman whether she and her partner would be sympathetic to victims of violence, to which she replied that she was. As a ward of the state, McDonald was temporarily held under protective custody by that department.
Herbert then asked Cook County Judge Vincent Gaughan to excuse the woman, saying it would be difficult for her to set those thoughts aside. But Gaughan refused, saying the question was too broad.
The woman also wrote on her jury questionnaire that she would want to "see some evidence" before coming to an opinion on the case and believes in "innocent until proven guilty." She also wrote that she supports police and law enforcement personnel.
The case's first juror, a Latina stay-at-home mother of three young children, told attorneys she's aware of the case, but believes she can give Van Dyke a fair trial. The fifth juror is a middle-aged white woman who was selected later in the afternoon.
Potential jurors dismissed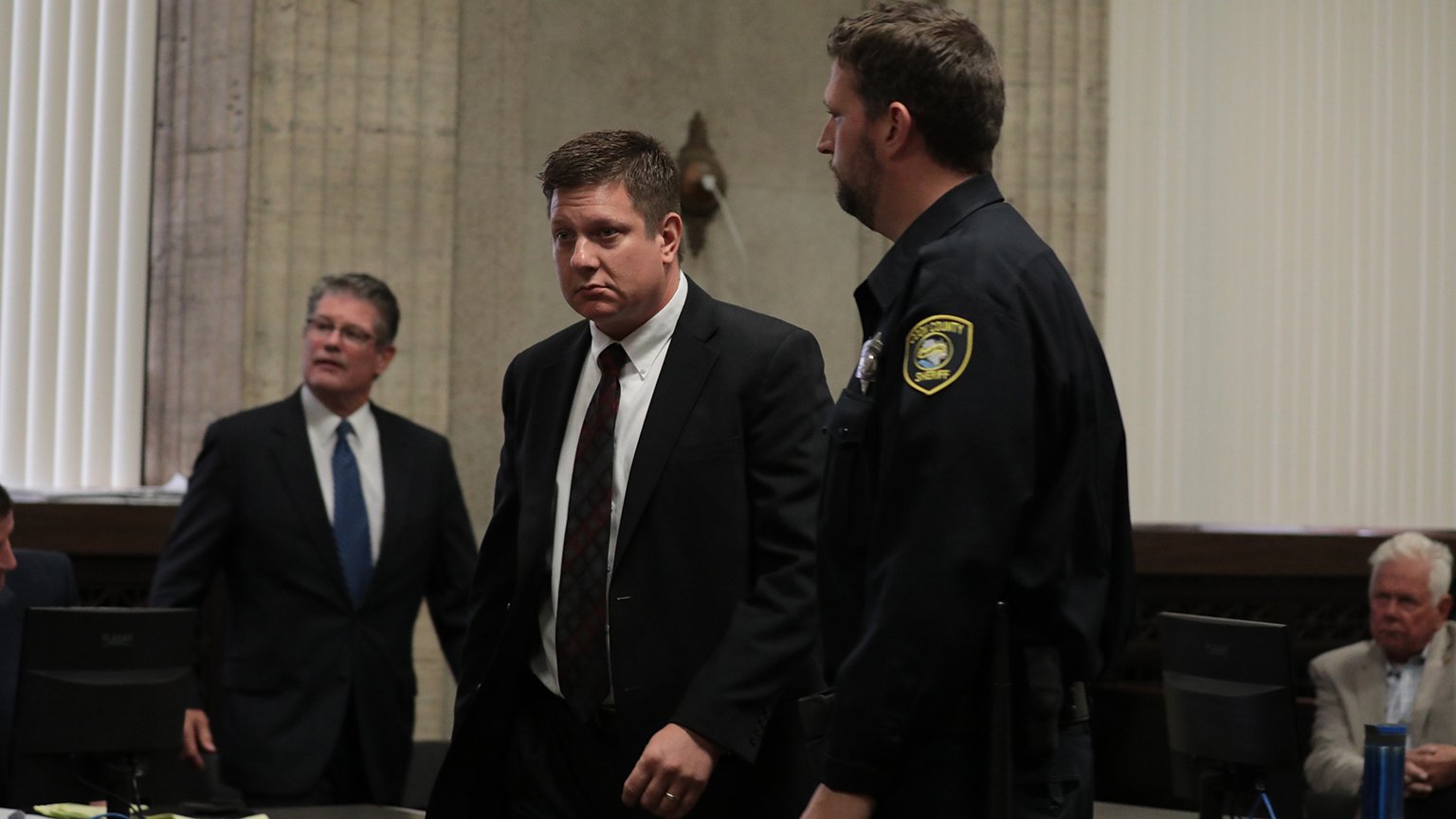 Sheriff's deputies escort Chicago police Officer Jason Van Dyke from the courtroom Thursday, Sept. 6, 2018, after Judge Vincent Gaughan's ruling that ordered Van Dyke's bail be raised only slightly for giving an interview to the Chicago Tribune and a local TV station just days before jury selection was set to begin in his murder trial. (Antonio Perez / Chicago Tribune / Pool)
One of the first Cook County residents brought in said Monday he had a recent "traumatic incident" that he believed could interfere with his ability to weigh the case.
He was then asked to look directly at Van Dyke and asked if he could hear the case fairly.
The man looked over at the officer and responded: "No." He was immediately excused from the case. Van Dyke stared down at his table, never making eye contact with the man.
Other jurors who were dismissed Monday: a white male bartender who wrote on a court questionnaire that it "seems like shooting 16 times is excessive," and a white female teacher who wrote, "once you've seen the video, it's hard to deny McDonald was murdered."
The murder trial officially began last Wednesday after a pool of 200 potential jurors arrived at the Leighton Criminal Court building to pick up a 27-page questionnaire designed to help determine their ability to hear the case fairly.
Like many aspects of this yearslong case, public access to the jury selection process has been restricted by Gaughan.
Small groups of jurors have been seated inside the courtroom before being called one-by-one into the judge's chambers for individual voir dire – the selection process by which attorneys in the case choose jurors. The judge has handled the majority of the questioning, but has also allowed attorneys on both sides to ask their own questions. 
Some potential jurors were excused in as little as two minutes.
A rotating handful of reporters and members of the public have been allowed into the chambers to document this process, but cameras are not allowed. Gaughan has been extremely cautious not to reveal the identities of potential jurors, to the point where he threatened attorneys with escalating monetary fines and possible jail time if they slip up and reveal any names on the record.
Van Dyke never spoke to jurors Monday, often keeping his head down or leaning over to speak with his attorneys. Gaughan, who often chastises attorneys inside his courtroom, has maintained a soft demeanor with the possible jurors, repeatedly telling them to relax during their interviews.
But this entire process could be all for naught, as Van Dyke's attorneys may still opt for a bench trial, which would put the officer's fate in the hands of Gaughan.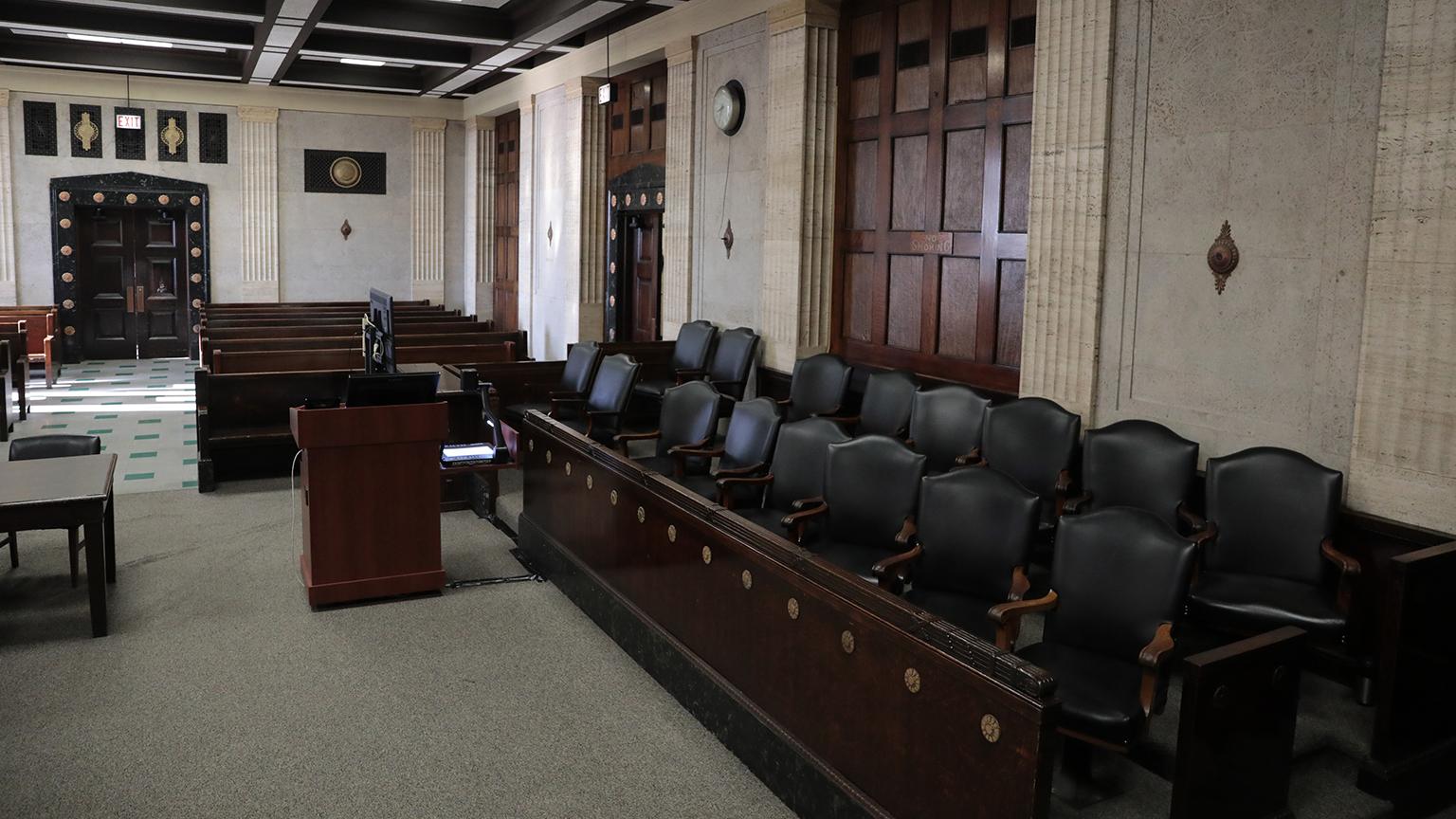 Empty jury box area readied for members of the jury in the courtroom of Judge Vincent Gaughan at the Leighton Criminal Court Building on Tuesday, Sept. 4, 2018. (Antonio Perez / Pool / Chicago Tribune)
The defense team has also sought to move the case outside of Cook County, arguing a fair trial is impossible due to widespread media attention on the case, which they believe has largely portrayed Van Dyke in a negative light.
Dashcam footage showing McDonald walking away from Van Dyke during the shooting was released in 2015. It sparked widespread protests and led to the initial charges filed against the veteran officer.
A defense-proffered survey found that among Cook County residents who are aware of the case, 75 percent believe Van Dyke is guilty of murder. More than two-thirds of the Cook County respondents had also viewed the dashcam footage and 79 percent of those believed Van Dyke was not in danger of losing his life or suffering a serious injury, according to that same survey.
Gaughan delayed his ruling on the venue change request until after jury selection began. If a jury is impaneled, it's possible they could be sequestered for the duration of the trial, which could last for several weeks.
Van Dyke is charged with six counts of first-degree murder, one count of official misconduct, and 16 counts of "aggravated battery with a firearm" – one count for each of the 16 times he shot McDonald.
Jury selection is expected to last a week or more.
Below, a timeline of events surrounding the October 2014 shooting.
Contact Matt Masterson: @ByMattMasterson | [email protected] | (773) 509-5431
---
Related stories:
Van Dyke Case: Protesters Call for Justice as Murder Trial Begins
Van Dyke Case: Judge Won't Rule on Bond Violation Until Next Week
Van Dyke Case: 'The More You Dig Into This, The Less Open-And-Shut It Is'
Van Dyke Case: Prosecutors Want Bail Revoked After Officer Speaks Out
A Timeline of the Laquan McDonald Shooting
---