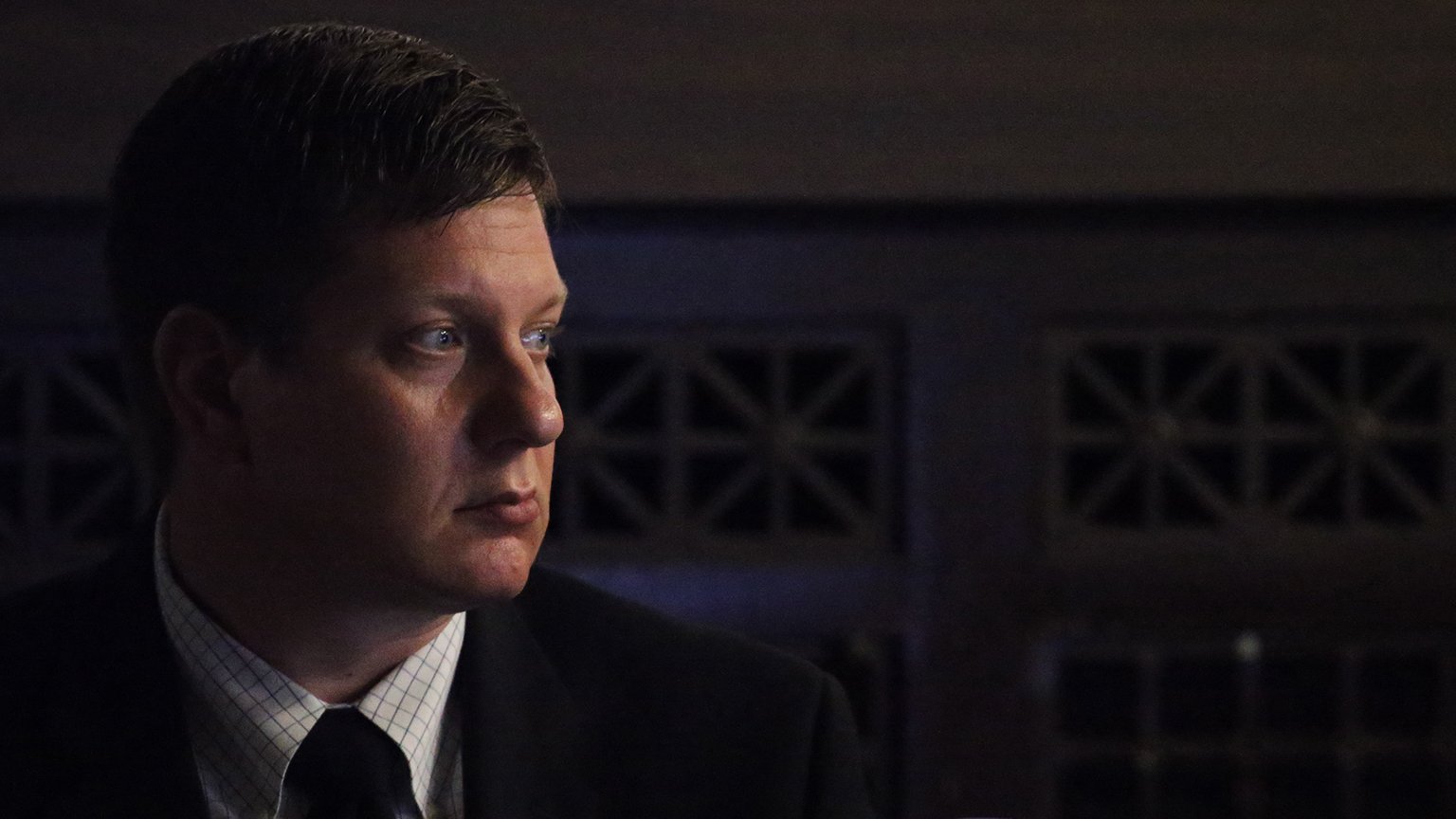 Chicago police Officer Jason Van Dyke listens to court proceedings on Monday, Sept. 17, 2018 as lights are turned off for a video clip. (Antonio Perez / Chicago Tribune / Pool)
Jurors in the murder trial of Jason Van Dyke were repeatedly shown video evidence this week of the suspended Chicago police officer shooting and killing 17-year-old Laquan McDonald.
Throughout the first four days of trial, special prosecutors relied heavily on the notorious dashcam footage – their most important piece of evidence – which shows McDonald walking down South Pulaski Road, knife in hand, before he's shot 16 times by Van Dyke on Oct. 20, 2014.
It was presented to jurors each day to hammer home the main argument of their case: that it was necessary for police to arrest McDonald that night, but it was not necessary to kill him.
That was among the main takeaways from week one of the high-profile trial, which picks up Monday when the defense will begin presenting its case. Here are five other important points to note from week one.
Prosecutors Wrap Up Case Quickly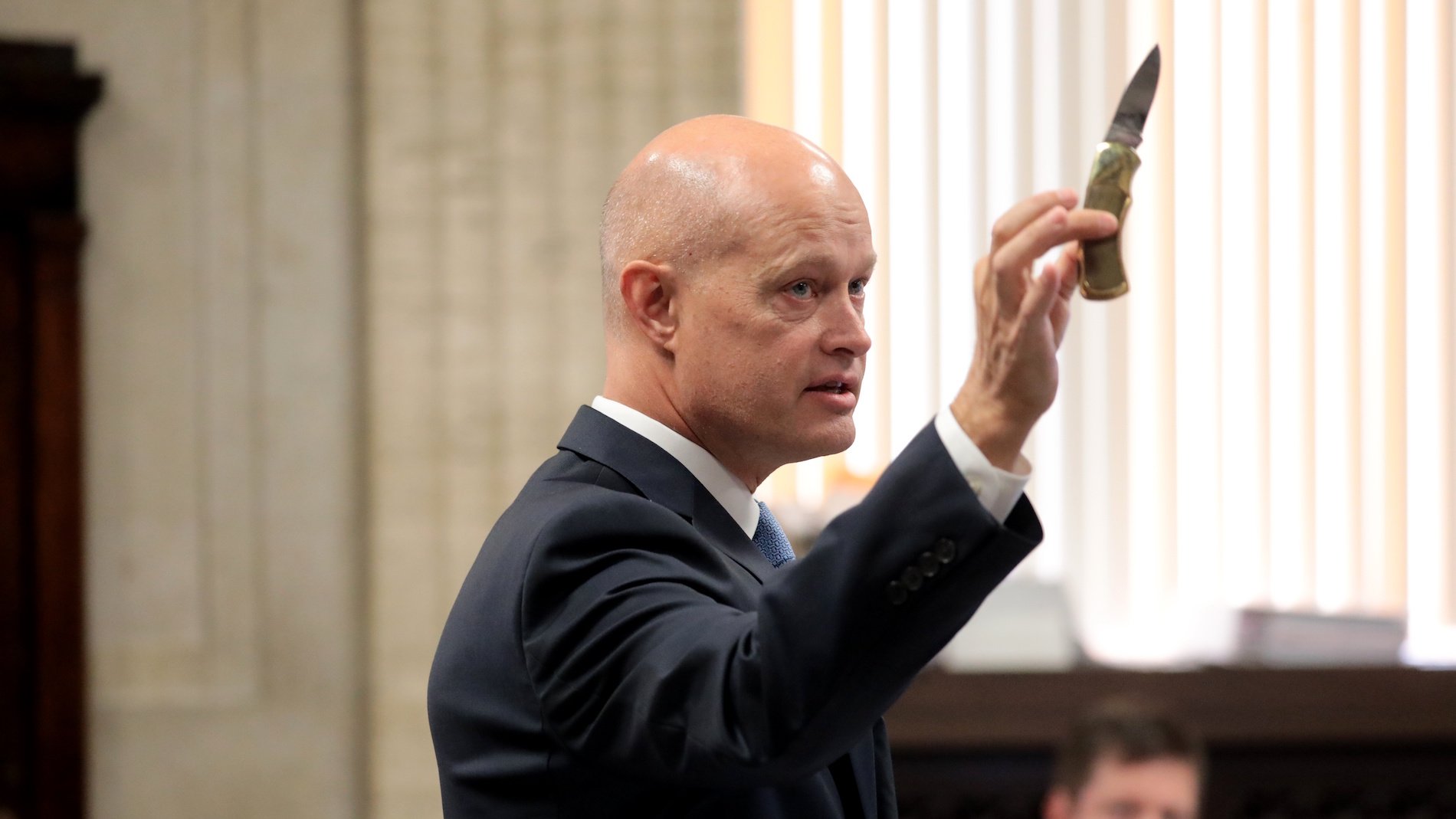 During opening statements on Monday, Sept. 17, 2018, special prosecutor Joseph McMahon holds the 3-inch blade Laquan McDonald carried the night we was killed. (Antonio Perez / Chicago Tribune / Pool)
More than 2.5 years have passed since murder charges against Van Dyke were filed, but special prosecutors were able to get through the entirety of their case in less than one week.
Testimony went more quickly than anticipated, as prosecutors got through 24 witnesses – including one who testified twice – in just four days.
Some sat on the witness stand for only minutes, including McDonald's great-aunt, who was asked only to identify her nephew in pictures, and a Dunkin' Donuts employee who testified briefly about security footage from his shop. Then there was Cook County Chief Medical Examiner Ponni Arunkumar, who testified for hours Wednesday about McDonald's autopsy.
Although the state rested its case Thursday, prosecutors will likely recall some of their witnesses later in the trial to rebut testimony from defense witnesses.
---
Medical Examiner Says McDonald Was Alive for Every Shot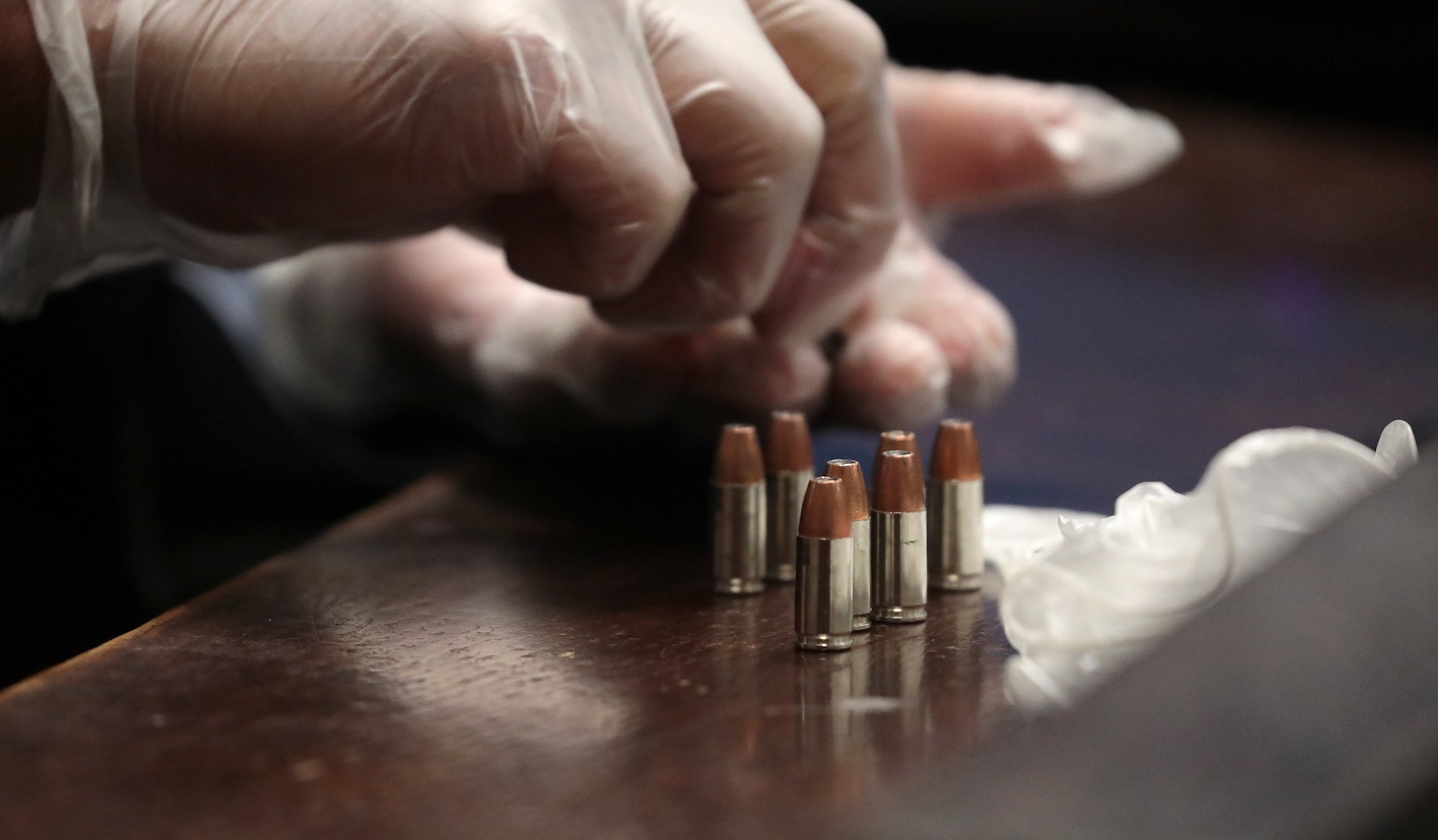 Police Detective Roberto Garcia examines bullets belonging to Chicago police Officer Jason Van Dyke on Tuesday, Sept. 18, 2018. (Antonio Perez / Chicago Tribune / Pool)
During Arunkumar's hourslong testimony, she said each of the 16 bullets that struck McDonald's body contributed to his death.
Arunkumar wasn't Cook County's chief medical examiner when McDonald's autopsy was conducted in 2014, nor did she conduct that autopsy, but she reviewed the full autopsy report before taking the witness stand Wednesday.
During her testimony, jurors were shown dozens of graphic autopsy photos showing gunshot wounds across McDonald's body. One particularly gruesome photo showed the teen's face as a pathologist showed how metal fragments had been recovered from his mouth.
Despite Arunkumar's assessment that McDonald was alive for each shot, defense attorney Daniel Herbert focused in on two particular gunshot wounds – one to McDonald's chest and another to his neck – that he argued had caused the teen's death.
It was unclear how that determination would boost Van Dyke's case, but Herbert said a defense expert will testify that those two shots in particular were more "rapidly fatal" than others.
---
Van Dyke's Partner Testifies Action Was 'Necessary'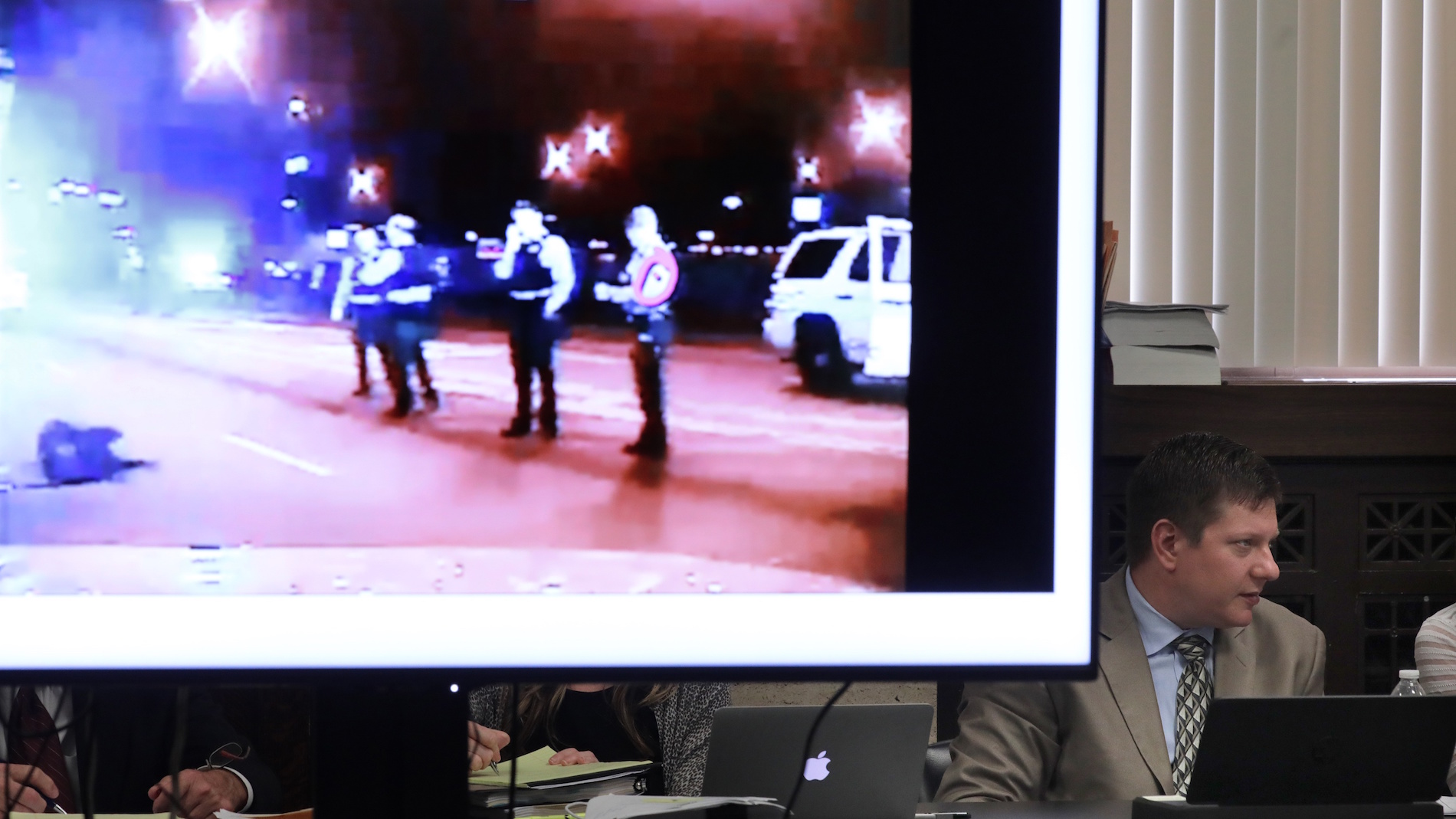 Chicago police Officer Jason Van Dyke listens to court proceedings on Tuesday, Sept. 18, 2018 as an image of Laquan McDonald's body lying on the street is displayed. (Antonio Perez / Chicago Tribune / Pool)
Though he testified Tuesday as a prosecution witness, former Chicago police Officer Joseph Walsh said he believed Van Dyke took "necessary action" in shooting and killing McDonald.
Walsh was Van Dyke's partner the night of the shooting and stood only a few feet beside him outside their squad vehicle when Van Dyke started firing.
Walsh can be seen flinching on dashcam video when Van Dyke fires his first shot. He admitted he was "startled" by it. But he also testified McDonald had raised the knife to shoulder level and stared at officers.
This wasn't seen on the infamous dashcam video, but Walsh attempted to explain that away by saying the video didn't show things from his perspective. He claimed McDonald remained a threat even while he lay on the ground because he still clutched a knife in his hand.
Walsh testified under a grant of use immunity, meaning anything he said on the stand cannot be used against him in other cases. He and two other Chicago officers face charges stemming from an alleged cover-up of what happened on the night of the shooting.
---
Eyewitnesses Say McDonald Walked Away From Officers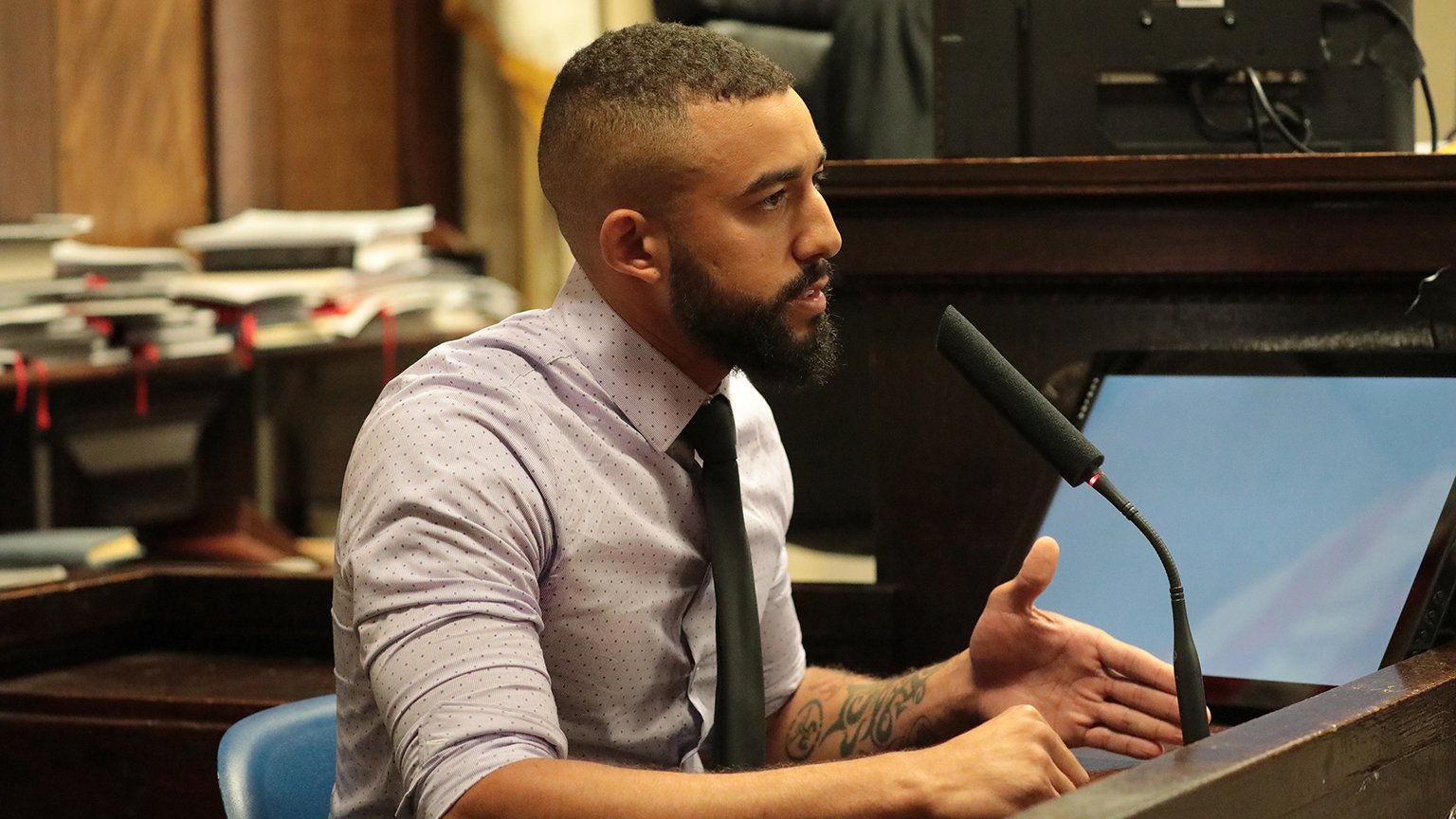 Xavier Torres testifies from the witness stand at the Leighton Criminal Court Building on Tuesday, Sept. 18, 2018. (Antonio Perez / Chicago Tribune / Pool)
Despite Walsh's claim about McDonald raising his knife, two eyewitnesses testified they didn't see the teen make any threatening movements toward officers before Van Dyke started shooting.
Jose and Xavier Torres, a father and son who stopped on South Pulaski Road on Oct. 20, 2014, watched as McDonald was shot. Both testified McDonald was walking away from Walsh and Van Dyke and did nothing to provoke the shooting.
"He just turned away … he was just trying to get away from them," Jose Torres, the state's final witness, testified Thursday afternoon. The defense has claimed McDonald was walking toward officers, or "closing space," just before the fatal shots were fired.
When asked how many shots he heard, Jose Torres couldn't put a number on it, but said it was "enough to upset (him)."
"I said 'Why the f--- are they still shooting him when he's on the ground."
Defense attorney Randy Rueckert called into question how well the men remembered the shooting – it's been nearly four years since it occurred – and tried to claim they had an obstructed view of the shooting. But both Jose and Xavier Torres stressed that they were focused in on McDonald both before and during the shooting and could recall how it occurred.
---
Few Protesters at Courthouse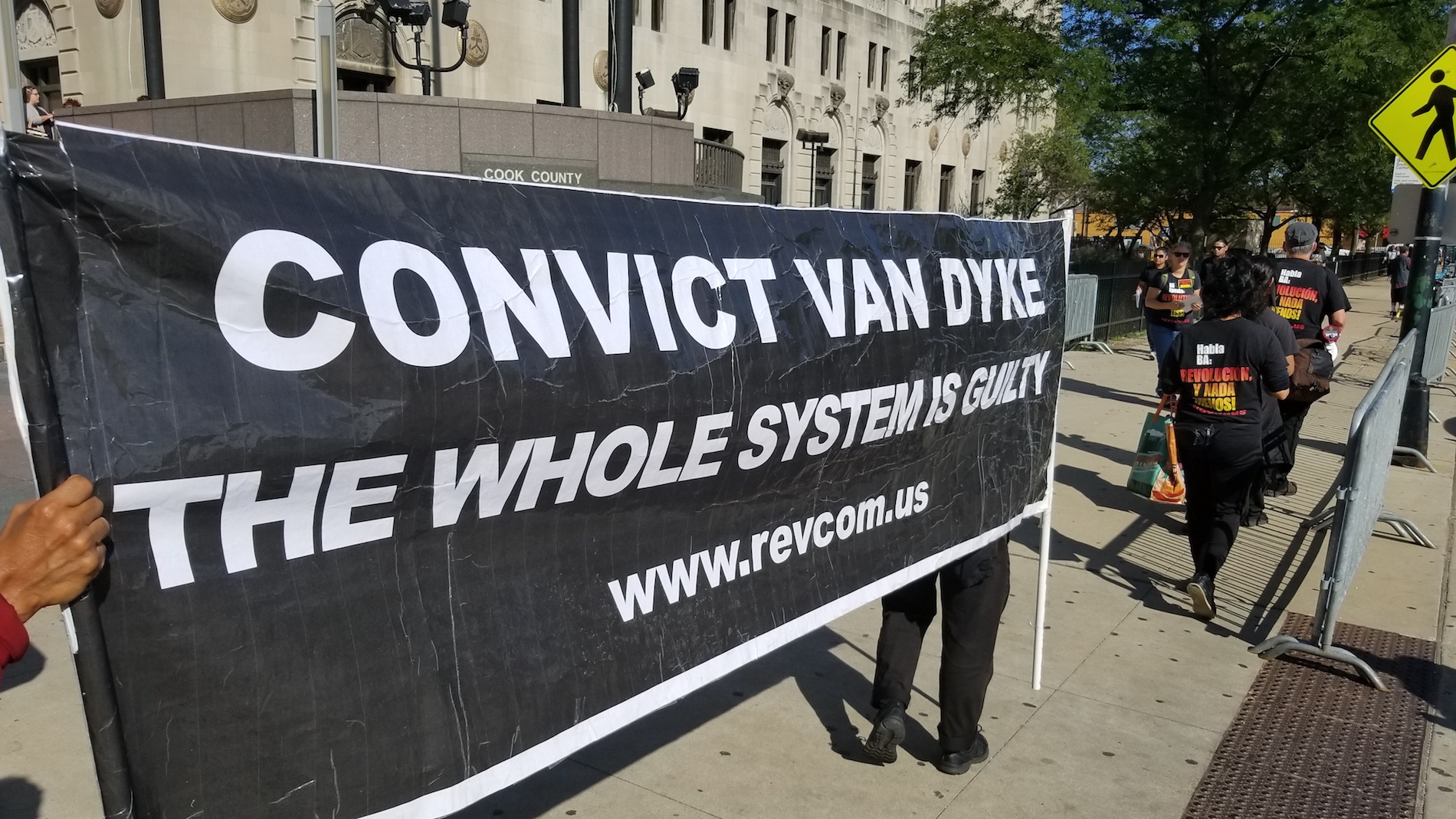 Protesters stand outside the Leighton Criminal Court building on Monday, Sept. 10, 2018 -- the first day of jury selection in Jason Van Dyke's murder trial. (Matt Masterson / Chicago Tonight)
Hundreds of protesters gathered outside the Leighton Criminal Court Building earlier this month on the first day of jury selection in this case. But since then, few have consistently demonstrated at the courthouse steps.
A handful of activists can be found outside the courthouse building each day, but it's a far cry from the "gauntlet" of "violent" protesters Herbert anticipated when pushing for the jury pool to be tossed and the trial to be moved out of Cook County. The case has maintained widespread notoriety from the start, when release of the dashcam video sparked days of protests and inflamed tensions between the Chicago Police Department and the black community. 
Community activist William Calloway has been a regular attendee at trial proceedings. Longtime civil rights activist the Rev. Jesse Jackson also showed up this week and sat with McDonald's mother and family Thursday.
Activist organization Revolution Club Chicago is planning a protest next Monday and each subsequent Monday as long as the trial goes on. But the trial thus far has been quieter than expected.
Contact Matt Masterson: @ByMattMasterson | [email protected] | (773) 509-5431
---
Related stories:
State Rests its Case Against Van Dyke as Week 1 of Murder Trial Concludes
Jurors See Graphic Autopsy Photos on Day 3 of Van Dyke Murder Trial
Van Dyke's Partner Takes Stand, Claims Shooting Was 'Necessary Action'
Van Dyke Trial to Stay in Cook County as Arguments Get Underway
Van Dyke Case: 'The More You Dig Into This, The Less Open-And-Shut It Is'
A Timeline of the Laquan McDonald Shooting
---