It's been three years since the city made public dashcam footage that showed Chicago police Officer Jason Van Dyke fatally shooting 17-year-old Laquan McDonald in October 2014.
The grainy, but graphic images instantly created a furor and outraged residents who see the video as visible proof of police misconduct towards people of color and the grave consequences of that behavior.
Van Dyke's own future now depends on the outcome of a trial that finally got underway Wednesday at the Cook County Criminal Courthouse.
There were no courtroom fireworks or "Law & Order"-style drama; the main order of business Wednesday was starting jury selection. 
Roughly 200 prospective jurors first learned they may be tasked with becoming arbiters of a case with enormous magnitude when Judge Vincent Gaughan introduced the attorneys and the defendant. 
Van Dyke wished the jury pool "good morning." 
Gaughan went on to read the entire 23-count indictment. 
Van Dyke is charged with six counts of first-degree murder, one count of official misconduct, and 16 counts of "aggravated battery with a firearm" -- one count for each of the 16 times he shot McDonald.
The judge told potential jurors they were to speak to no one about the case, and reminded them that Van Dyke is presumed innocent until proven guilty. Even when Gaughan was done with his instructions, and permitted jurors to talk, the room remained quiet.  
"Your duty is so important," Gaughan, a veteran, told the potential jury, before going on to say that military men and women volunteer to put themselves in harm's way.
"This is the only time that your government can draft you into service," Gaughan told them. 
Potential jurors were dismissed from court to complete a questionnaire. Journalists were not given a blank copy of that document, but it's expected to include questions about potential jurors' backgrounds.
In the coming days, potential jurors, the judge and lawyers from both the prosecution and defense teams will go behind closed doors, where attorneys will ask more questions.
Gaughan told them it's not about prying into their personal affairs, it's a means of ensuring fairness, and he asked that they be "frank."
For all of the procedural to-do, only 12 of the individuals will actually be seated on a jury – if that. Van Dyke may decide against a jury trial and instead put his fate solely in the hands of Gaughan.
Or, the trial could be moved out of Chicago completely.
Van Dyke's attorneys have asked for a change of venue, but Gaughan has delayed ruling on that request until jury questioning is underway. The defense argues Van Dyke can't get a fair trial in Chicago.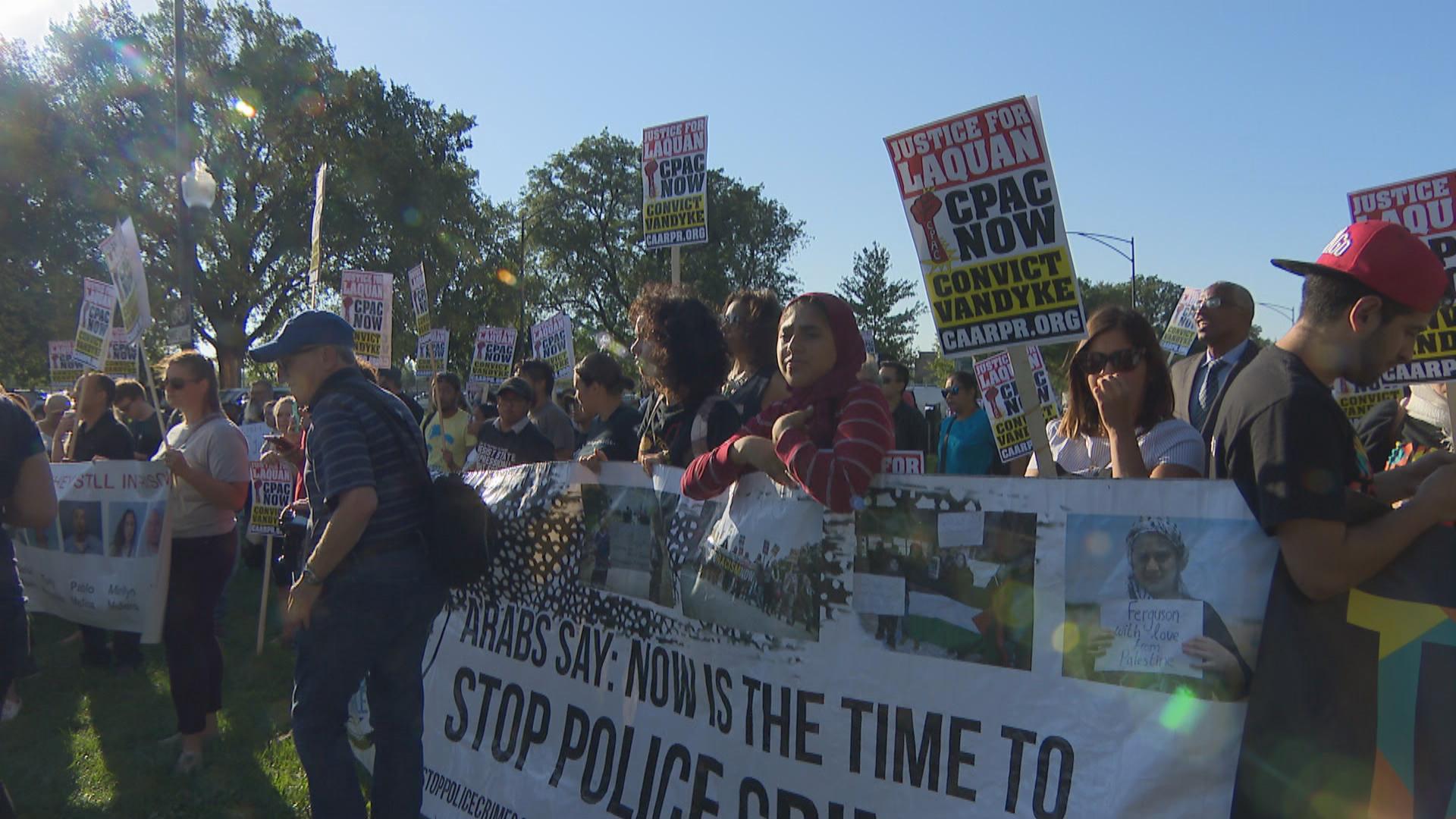 To that end, potential jurors couldn't have helped but notice hundreds of protesters outside the courthouse at 26th Street and California Avenue when they arrived at the courthouse, many carrying signs calling for Van Dyke's conviction, and shouting chants like "all these dirty, racist cops, we don't need 'em."
"This is about … justice for Laquan McDonald, but as we know that Jason Van Dyke and officers like Jason Van Dyke represent a bigger problem … the institution that we're fighting against," said community organizer William Calloway. 
Activists' demands are varied and multifold; many see it as a victory that Mayor Rahm Emanuel will step down at the end of his term, but now they want changes like civilian control of the police force and a new contract with the Chicago police union that sets greater limits on officers.
They also demand Van Dyke be convicted of murder, or else, Calloway said, "We're going to shut this city completely down." 
"If (an) unfavorable verdict comes back, we're calling for the most massive demonstration and uprising that the city of Chicago has ever seen," he said. 
Another community organizer, Brother Hill of Bronzeville, said he'd "feel sorry" for Chicago if Van Dyke is acquitted. 
"I'm not advocating any violence, but at that point, I think - particularly people of color – would then say, well, we get no justice. And that's the wrong message to send," Hill said. 
Demonstrations are planned for the remainder of the trail. 
It's possible Van Dyke himself avoided the brunt of the rally directed against him – he arrived at the courthouse around 7:30 a.m. accompanied by a team of supporters including Kevin Graham, president of the Fraternal Order of Police Chicago Lodge 7. 
Van Dyke's father sat next to his son for much of the morning in the front courtroom bench. 
McDonald's family also came to court; his mother had previously avoided proceedings but did show up Wednesday. Several relatives got upset because they say they were told there wasn't enough room for them in the courtroom; family or friends who did get seats were mad they were in the back rows. 
"Laquan McDonald's a victim and we are here because he cannot speak. Unfortunately for him, Jason Van Dyke did not give him his day in court. He acted as judge, jury and executioner," McDonald's great uncle Marvin Hunter told reporters. 
It's unclear how long the trial may last.
Gaughan could decide Thursday whether he'll grant a request from the prosecution to revoke Van Dyke's bail after he gave interviews with the Chicago Tribune and local Fox 32 last week.
Potential jurors should be back in court Monday, when they'll start being questioned by attorneys.
Below, a timeline of events surrounding the October 2014 shooting.
Follow Amanda Vinicky on Twitter: @AmandaVinicky
---
Related stories:
Van Dyke Case: McDonald Family Calls for Peace as Trial Set to Begin
Van Dyke Case: Who's Who in the High-Profile Murder Trial
Van Dyke Case: Prosecutors Want Bail Revoked After Officer Speaks Out
---