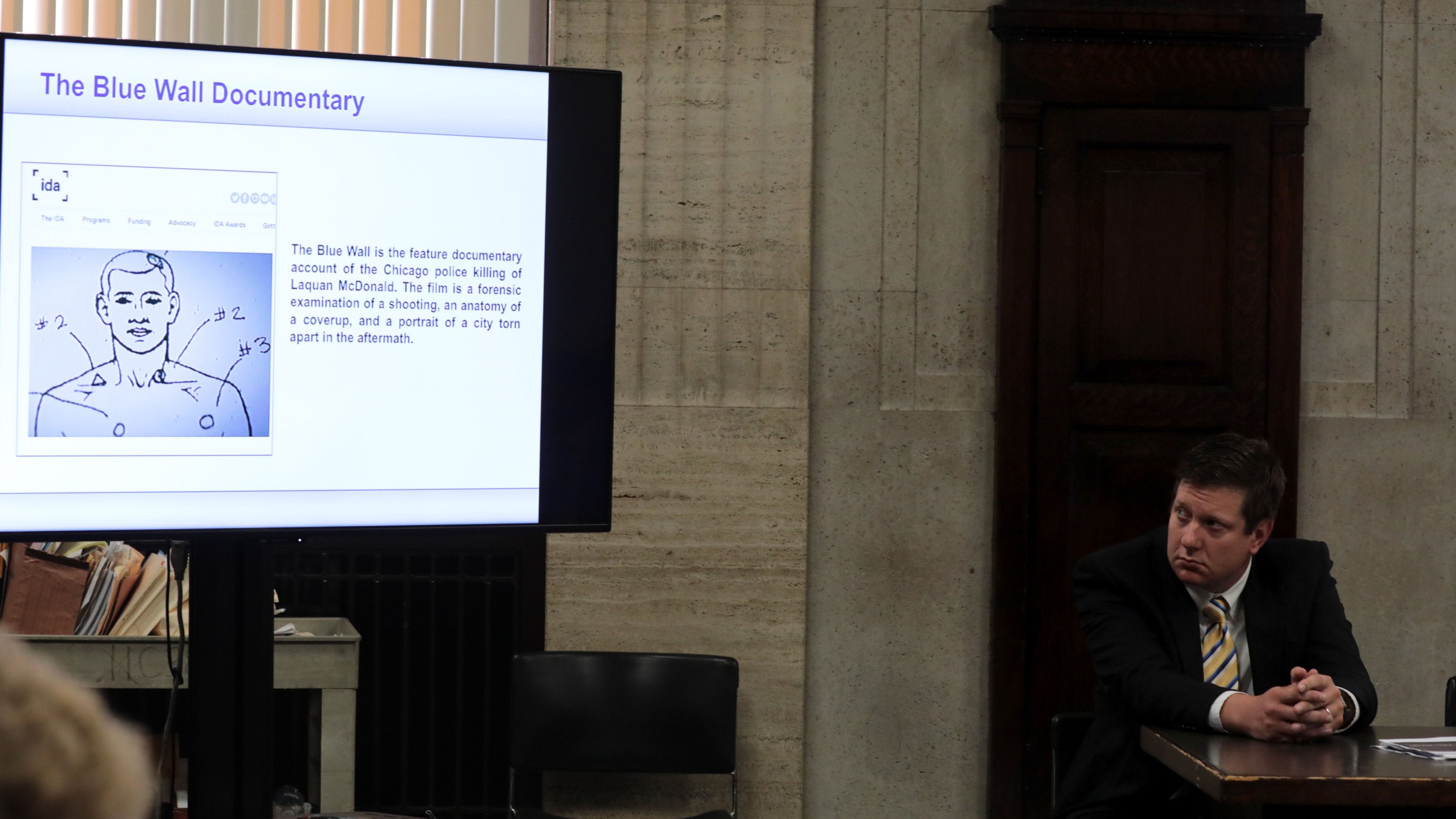 Chicago police Officer Jason Van Dyke watches as a clip from "The Blue Wall" documentary is shown at the Leighton Criminal Court Building on Friday, Aug. 3, 2018. (Antonio Perez / Chicago Tribune / Pool)
Steven Greenberg knows his way around a courtroom. And he knows how to prepare for a high-profile murder trial.
"I've been doing this for, geez, 31 years now. I'm old," the veteran defense attorney joked during a phone interview with Chicago Tonight.
Greenberg estimates he's worked more than 100 murder cases during that time, including many that have captured national attention.
He's also worked with many of the players in the upcoming trial of suspended Chicago police Officer Jason Van Dyke, who is charged with first-degree murder in the shooting death of teenager Laquan McDonald. Greenberg says he's tried cases against many of the Kane County state's attorneys who are prosecuting Van Dyke. He called presiding Cook County Circuit Court Judge Vincent Gaughan "one of the fairest judges" he's been in front of. And he knows Van Dyke's lead defense attorney Daniel Herbert as a practical straight shooter, even if he believes the former officer may be "too close" to the police department.
Greenberg spoke about Van Dyke's upcoming murder trial in a recent interview with Chicago Tonight.
Answers have been edited for length and clarity.
Chicago Tonight: What would be your defense strategy heading into a high-profile murder case such as this?
Steven Greenberg: I don't think the defense has to convince people that this guy (Van Dyke) is a hero. I don't think the defense has to convince people that necessarily what he did was right. I think they just have to convince them that what he did wasn't criminally wrong. And in order to do that you have to look at the situation from the viewpoint of the police officer, but you can't look at it as if you are police officer. In other words, you can't say because he's a police officer he should get a pass, you have to say because this is what he's taught to do and he's taught to do this because it's legal.
It may have been a mistake, it may not be how we would have preferred he reacted, it may not be how you would react in that situation, but given his training and what he is taught to do, it was a lawful reaction. It's not a reaction you have to like.
One of the things that's gonna come out at trial I think is significant is he's been on the force for more than a decade and I don't know that he's ever fired his gun before. This is not some trigger-happy cop.
How would you try and deal with the dashcam footage that shows Van Dyke shooting McDonald?
I think you've got to play the entire dashcam (video). So this situation was going on for a while, there are things that occurred … before McDonald is seen on the video. For instance, he was stabbing tires, he was using the knife to try and bust windshields.
What did the officer know? The officer knew this was an aggressive, knife-wielding individual. He knew that, that is what had gone out over the radio. So you know that you're dealing with this situation of someone who's engaged in violence, you don't know anything more than that.
So I think because of the video in this case and the way the video was released and the sort of explosiveness of that moment brought us to where we are today. You can't just focus on the video. You have to focus on what was known and more than just the split seconds in the video.
There's a six- or seven-minute YouTube clip on which you can slow it down … and in the exact moments before the first shot is fired, they don't just get out of the car and start firing; you see McDonald turn toward the officers with the knife. Knowing what they knew already about his aggression, maybe at that moment the officer thought he was coming at him. Whether that was reasonable or unreasonable is an important question. But again, you have to look at it as if you're that officer in that moment with his training.
An even if it was unreasonable, it isn't necessarily murder. It doesn't follow from that that it's murder.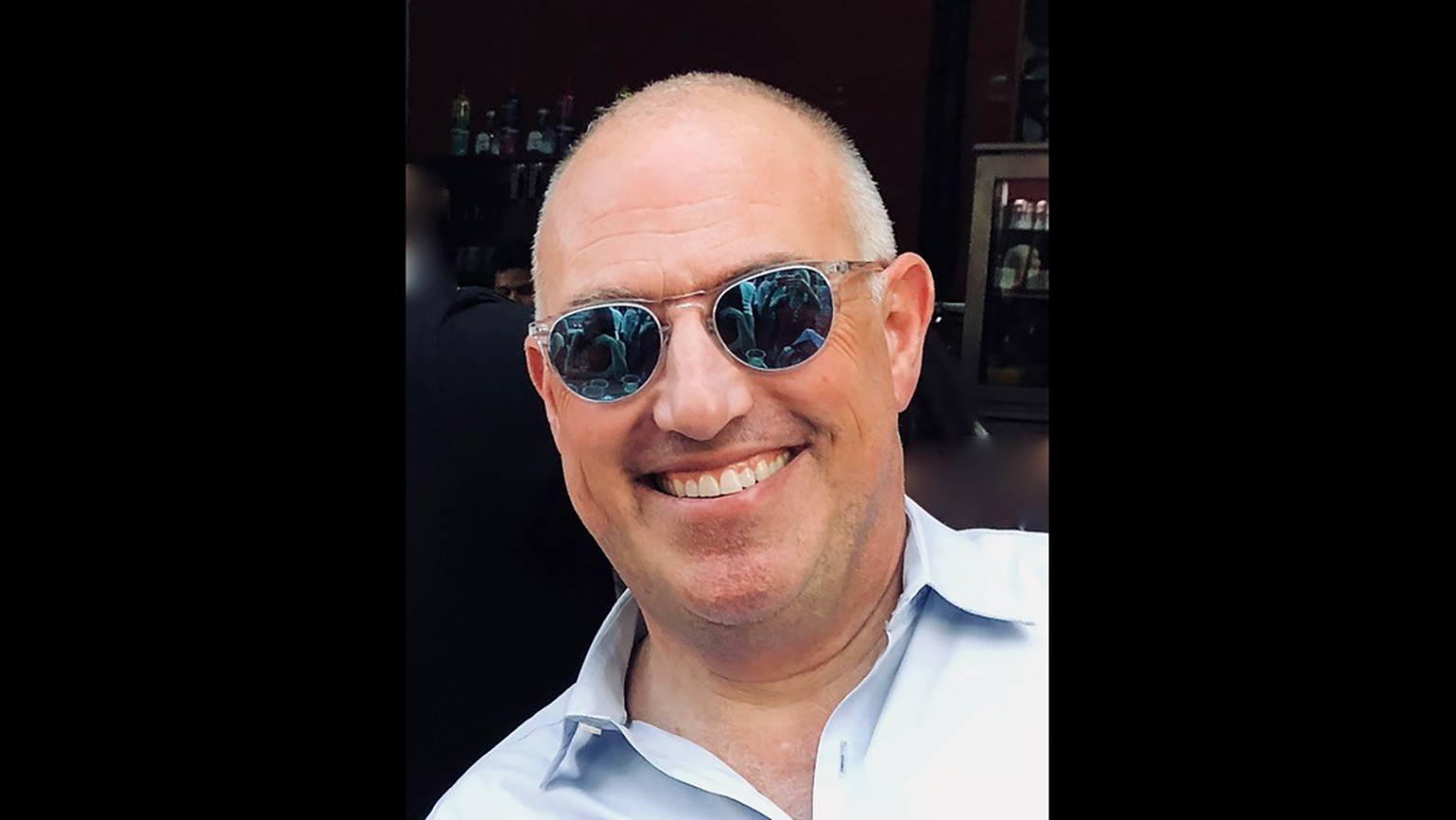 Steven Greenberg
It remains to be seen if this wil be a jury trial or a bench trial. What type of jurors would you look for in this type of case?
From a law and order perspective, you'd rather have a jury pool out of Cook County. I think it's going to be very difficult for the minority jurors to find this person not guilty and then go back to their community. I think they're gonna feel pressure.
For all the reasons why you normally want certain kinds of jurors that you get in Cook County, the opposite applies in this case.
I would be looking for someone older, conservative; someone from the suburbs – northwest suburbs, southwest suburbs, Edison Park, Mount Greenwood, Beverly – those kinds of people. You can't lawfully do this, but minority jurors are not gonna be good, I'm guessing. Young people, I'm guessing are not gonna be good on a case like this.
Whereas on a normal murder case I'm looking for people who don't trust the police. Obviously on this case I want the people who trust the police. I want people who think the police are heroes.
Would you opt for a jury or bench trial?
It sort of depends on what (Van Dyke) wants to accomplish. If they're going for everything – a complete acquittal – I don't know any judge would do that. There's so much heat on the case that you have to wonder (but) if any judge had the cajones to do it, it would be (Judge) Vince Gaughan. But you have to wonder after all these years, is he going to think about his legacy?
Does he want to be the guy who served on the bench for all these years – he's the longest-serving judge in the building – and be known as the guy who acquitted Jason Van Dyke? I think it's very difficult to put this case at a judge's feet.
Now, if you want to go for a lesser offense, a second-degree (murder), a reckless homicide of some kind, then I think you are probably better off with a bench trial.
"Whether that was reasonable or unreasonable is an important question. But again, you have to look at it as if you're that officer in that moment with his training."
—Veteran defense attorney Steven Greenberg
---
Would you ask Van Dyke to take the stand and testify?
I don't know him. I don't know how he would come across. I don't know what he's going to explain.
I have not seen his police reports, I don't know if his police reports are accurate. I know some of the other officers have gotten indicted for lying on their police reports, so certainly if (Van Dyke) lied on his police reports, you cannot call him.
If he didn't, then I think you have to see how the evidence goes in.
The benefit of calling him is that he could explain what he was seeing, what he was thinking and why he did what he did. The downside of that is that the tape is great for cross-examination because if he says, "The guy turned towards me full front and took a step in my direction," well that's not on the tape.
You've worked on high-profile cases in the past, such as the murder trial of former Bolingbrook police sergeant Drew Peterson in 2012. How do you see this trial playing out?
I think you're gonna have to see how the evidence comes in. The prosecutor is gonna play this tape and they're gonna say, "That's it, right there is the tape, look at the tape, obviously he shouldn't have done this." And the defense is gonna try and put things in perspective. I guess it just depends on if you think the tape is enough because I don't think the prosecutors have anything besides the tape.
They're gonna call these other officers, but do you really think these officers are going to be any help to them? Let's face it: no matter what, officers stick together, right? At best you're going to get a shrug of the shoulders and an "eh." The other officers aren't gonna be able to say if they would have done the same thing or would not have done the same thing.
(Prosecutors) can say, "Well you didn't fire your weapon." And they'll say, "Well I wasn't standing in his position. I was standing off to the side." There's only two guys out of the cars seeing what they saw – it's (Officer Joseph) Walsh and Van Dyke. I'm guessing Walsh ain't gonna be any help to them, to the prosecutors.
There was such pressure to bring charges on this. And traditionally, of course, police officers when they're charged, they beat the cases with a bench trial, but the more you dig into this, the less open-and-shut it is. If it's just the video and that's it, then it's over. But when you really get into the nuances of it and what you have to look at and the law on it, it becomes a much murkier picture.
I wouldn't be surprised if they get a hung jury. I don't know that they'll get an acquittal, but I don't know that they'll get a conviction of murder either.
Get full coverage of the trial. Below, a timeline of events.
Contact Matt Masterson: @ByMattMasterson | [email protected] | (773) 509-5431
---
Related stories:
Van Dyke Case: People to Know in the High-Profile Murder Trial
A Timeline of the Laquan McDonald Shooting
Van Dyke Case: Trial Venue Won't Be Decided By New Judge
Van Dyke Case: Defense Believes Judge Too 'Prejudiced' to Decide Trial Venue
Van Dyke Case: Defense Seeking New Trial Venue, But Request a Tall Order
Van Dyke Case: Citing 'Serious Safety Concerns,' Judge Seals Courtroom for Witness Testimony
---