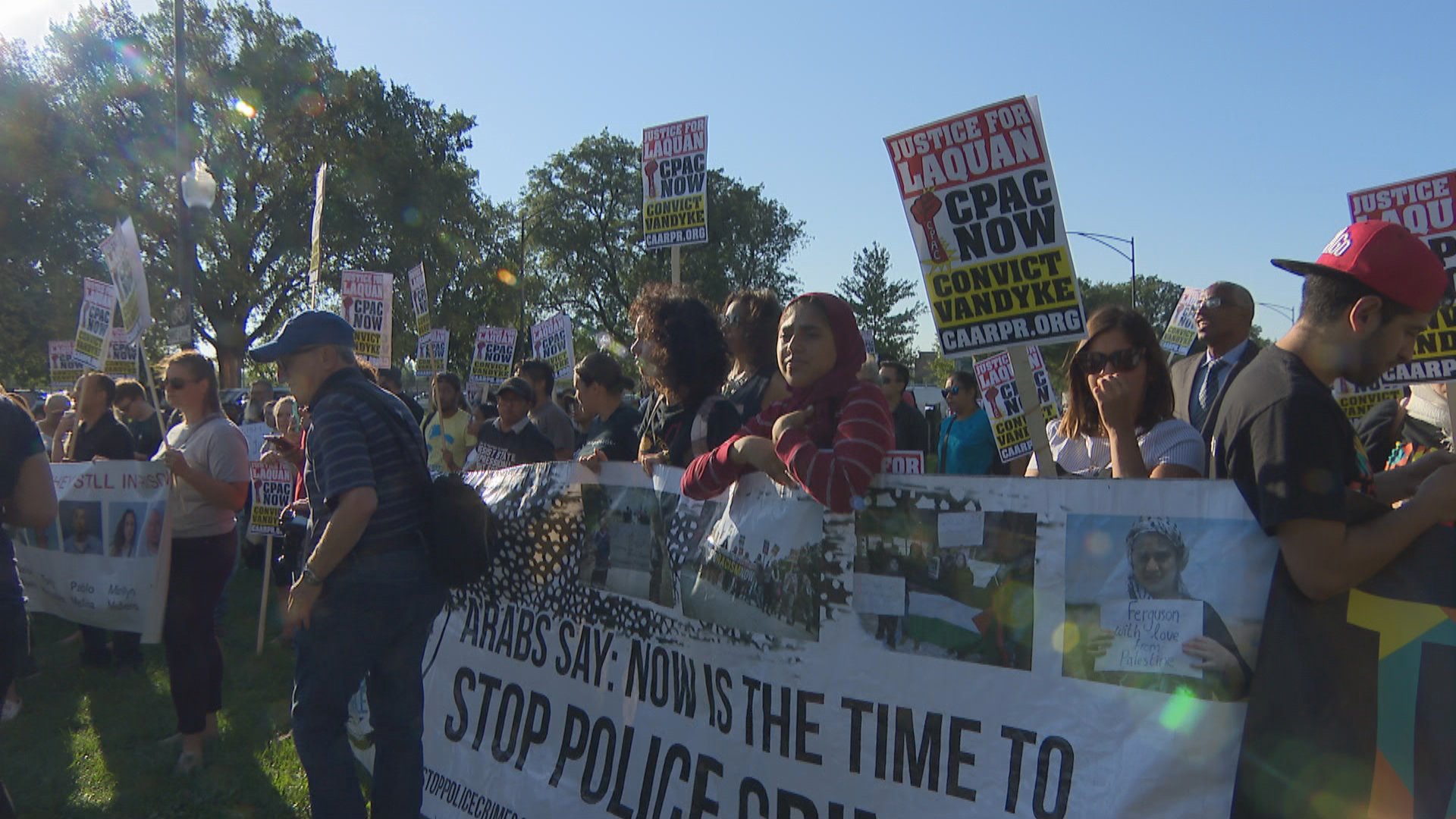 Protesters gather outside the courthouse at 26th Street and California Avenue on Sept. 5, 2018, day one of the murder trial of Chicago police officer Jason Van Dyke. (Chicago Tonight)
While jury selection is still going on inside the Leighton Criminal Court Building, defense attorneys representing Jason Van Dyke say they now believe potential jurors have been prejudiced by ongoing protests outside the courthouse.
In an amended change of venue motion filed Monday, Van Dyke's attorneys have asked Cook County Judge Vincent Gaughan to strike the entire 200-person jury pool due to their exposure to protesters carrying signs that read "convict Jason Van Dyke," stating the suspended Chicago police officer is "guilty of racist murder."
"The common theme of the protest was that Jason Van Dyke was a racist murderer and he must be convicted of murder," defense attorney Daniel Herbert wrote in the motion. "It was not possible for any single juror to have not recognized the protests and seen and heard the calls for Van Dyke's guilt."
RELATED: First Jurors Selected as Murder Trial Gets Underway
Van Dyke is charged with six counts of first-degree murder after shooting teen Laquan McDonald 16 times as the youth walked down the center of South Pulaski Road carrying a knife in October 2014. He also faces 16 counts of aggravated battery and one count of official misconduct.
Hundreds of protesters gathered outside the courthouse last Wednesday as the full jury pool arrived to pick up questionnaires. They demanded the suspended police officer be convicted, or "we're going to shut this city down."
Already four jurors have been selected and sworn in. One of those, a Latina mother of three told attorneys she did indeed see the protests last week, but she claimed to have ignored their signs and "just kept walking."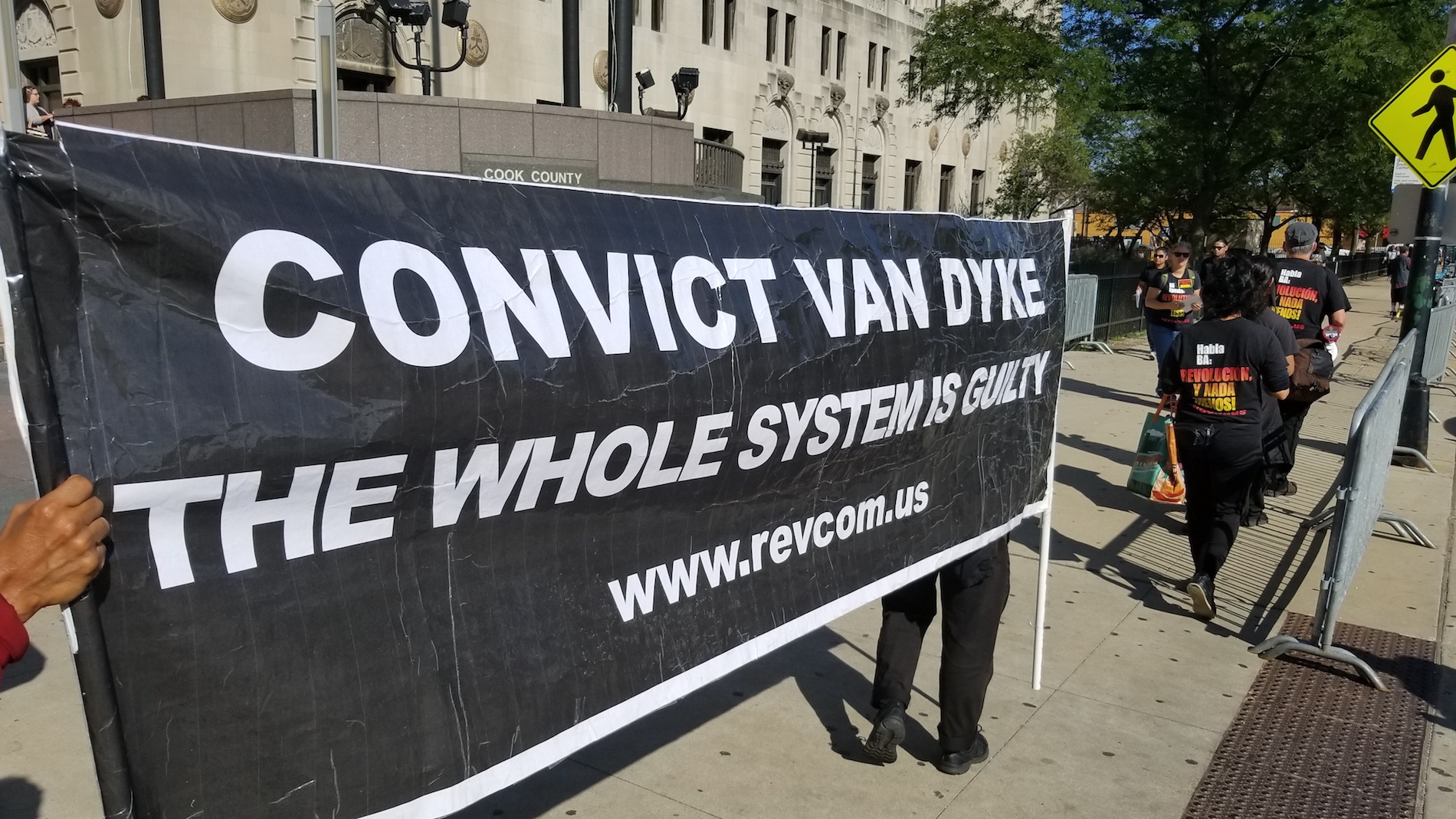 Protesters stand outside the Leighton Criminal Court building Monday, Sept. 10, 2018, the first day of jury selection in Jason Van Dyke's murder trial. (Matt Masterson / Chicago Tonight)
A much smaller group of protesters stood outside the courthouse Monday, the first day of jury selection in the case, again carrying signs and demanding Van Dyke be convicted.
Herbert attached several media clippings to his motion, summarizing the protest itself as being "violent" in nature, and pointing to the "carnival"-like atmosphere surrounding the case. He believes that given this "clear, pervasive, inflammatory and prejudicial coverage," it's impossible for his client to receive a fair trial within Cook County and has asked to move the case elsewhere.
Jurors thus far have undergone individual voir dire – or one-on-one questioning – with defense attorneys, prosecutors and Gaughan to ensure they are capable of judging the case fairly. But Herbert believes even that measure does not go far enough.
"The protests … to which jurors were forced to endure, should be enough to convince any reasonable mind that Mr. Van Dyke cannot get a fair trial here," he wrote.
Herbert has repeatedly tried to question potential jurors about whether they would feel comfortable or safe returning to their home neighborhoods if they were to find Van Dyke not guilty.
Gaughan stopped that line of questioning, saying he doesn't want to deal with hypotheticals. But Herbert raised this issue again in his motion, stating that even if a juror can fairly weigh the case, they may be scared to face their neighbors if they decide to acquit Van Dyke.
"Scholars have demonstrated the danger of 'conformity prejudice', i.e., the fear of the community disapproval for rendering an unpopular verdict," he wrote.
Van Dyke may still opt for a bench trial, which would eliminate the need for a jury and put Gaughan in position to decide his fate. Jury selection is expected to continue throughout this week and possibly longer.
Contact Matt Masterson: @ByMattMasterson | [email protected] | (773) 509-5431
---
Related stories:
Van Dyke Case: Protesters Call for Justice as Murder Trial Begins
Van Dyke Case: Judge Won't Rule on Bond Violation Until Next Week
Van Dyke Case: 'The More You Dig Into This, The Less Open-And-Shut It Is'
Van Dyke Case: Prosecutors Want Bail Revoked After Officer Speaks Out
A Timeline of the Laquan McDonald Shooting
---