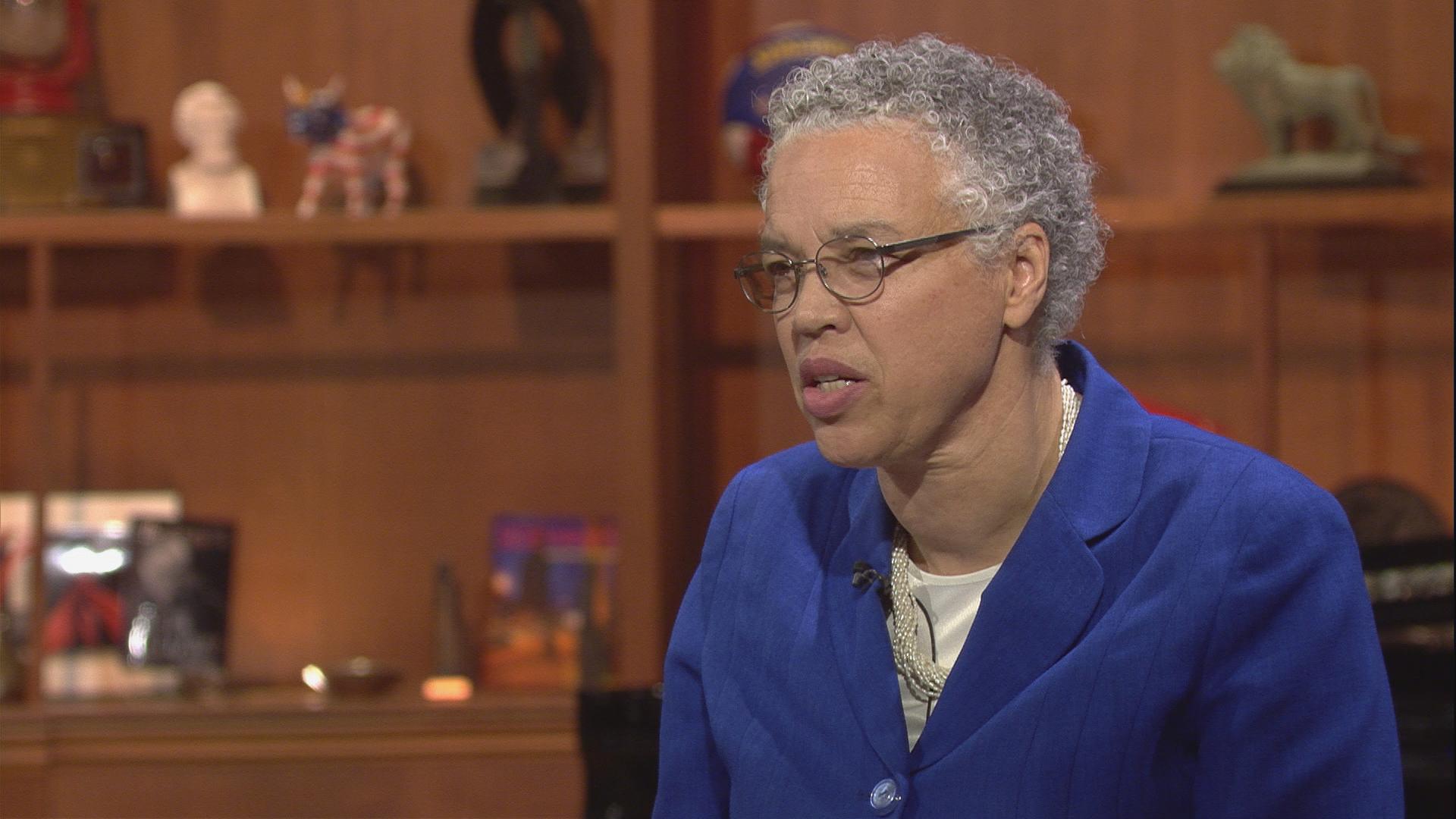 Toni Preckwinkle appears on "Chicago Tonight" on Oct. 16, 2017.
As Cook County Board President Toni Preckwinkle presided over a regularly scheduled board meeting Tuesday, loyalists were beginning to circulate petitions to nominate Preckwinkle for Chicago mayor.
Meanwhile, Cook County Treasurer Maria Pappas said Tuesday she likewise has mayoral petitions printed and ready to go.
"I am seriously, seriously concerned about the direction that the city may go in and that's why I'm doing this," Pappas told "Chicago Tonight."
Pappas said she's putting together an exploratory committee and plans to do a poll to gauge her chances, and then will make a decision.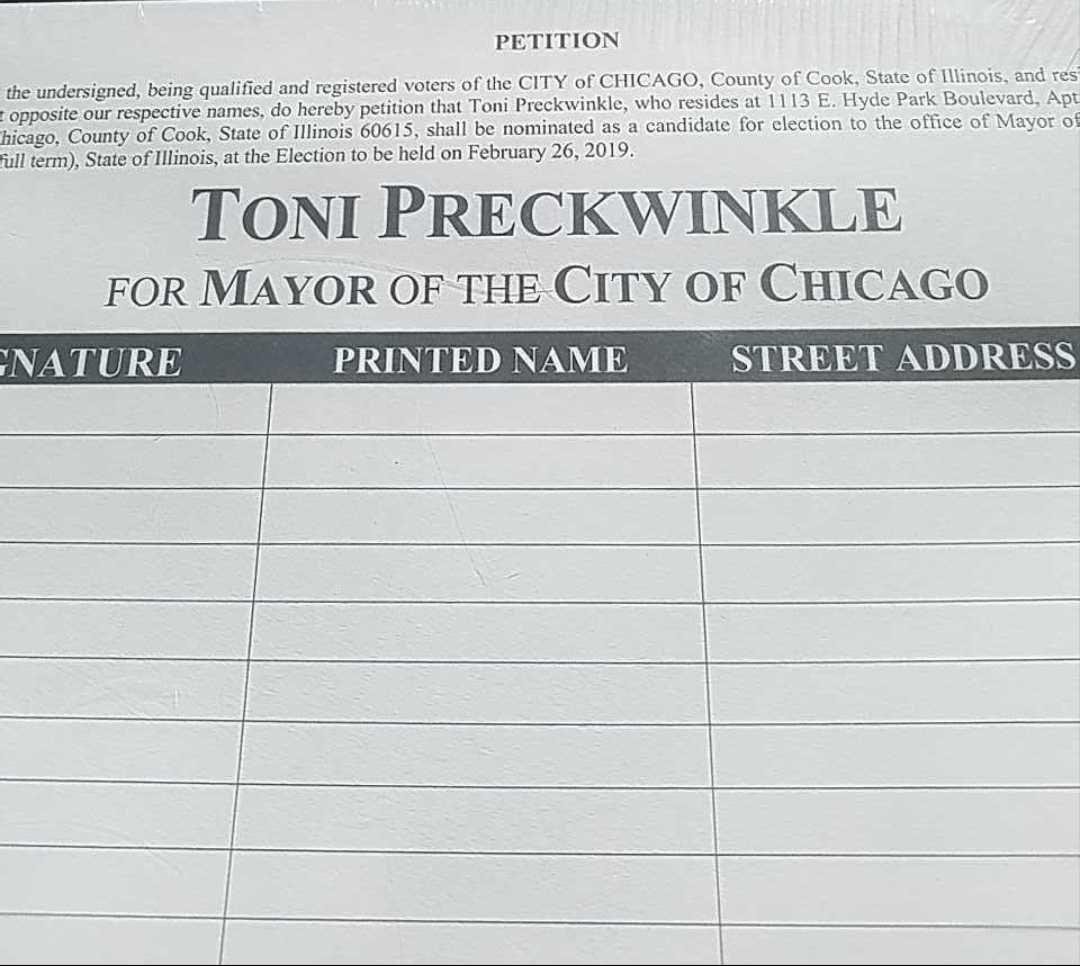 Click to enlarge: Toni Preckwinkle petition Preckwinkle also hasn't officially announced a mayoral bid, but that may come soon. A top aide, political director Scott Kastrup, said in a statement this week that Preckwinkle is "seriously considering" running for mayor.
William "Dock" Walls said he will run for mayor for a fourth time. In a Facebook post, the perennial candidate said he is "battle tested." 
Chicago's political landscape has gone topsy-turvy since Mayor Rahm Emanuel announced Sept. 4 that he will not seek a third term.
Prior to that, about a dozen challengers were looking to take on Emanuel.
His bowing out essentially opened the floodgates, clearing a path for Emanuel allies and for establishment politicians who view the 2019 race as a rare, open shot at Chicago's most powerful post.
Preckwinkle and Pappas are among several women in contention: Former Chicago Police Board President Lori Lightfoot launched her campaign in May.
Illinois Comptroller Susana Mendoza has said she's focused on re-election to her statewide office, but she has not nixed going for the mayor's job.
Like Mendoza, voters will see Preckwinkle and Pappas on the November ballot, which precedes the Feb. 26 municipal elections. If no candidate achieves a majority of votes for mayor then, a runoff is scheduled for April 2.
The Nov. 6 general election will include races for statewide officers, including governor, attorney general and comptroller; Illinois House and Senate seats; a handful of contested Congressional races that would see Illinois playing a role in who holds power in Congress; and seats for county board.
Various other office holders are considering a run for the mayor's office instead of, or in addition to, their current posts.
Chicago City Treasurer Kurt Summers launched a campaign website that appears to signal he's considering a run for the mayor's office. Summers would have to forgo running for his current position in order to enter the crowded mayoral field.
Cook County Board member Jesus "Chuy" Garcia, is expected to be a shoo-in for Congress. He's on the November ballot against Republican Mark Wayne Lorch of Riverside.
Preckwinkle, Pappas, Mendoza and Garcia could theoretically run in – and win – their November races, while subsequently looking toward the February mayor's race
(Mendoza has insisted she is focused on the comptroller contest, but loyalists could begin organizing and get mayoral petitions going on her behalf).
Should they lose the mayor's race, they'd be able to hold onto the positions they'd won just months earlier.
Should they succeed and win the mayor's race, they would have to step down from their other elected job, leaving another round of reshuffling.
Follow Amanda Vinicky on Twitter: @AmandaVinicky
---
Related stories:
With Emanuel Out, Who's In? The Wide-Open Race for Chicago Mayor
Mayor Emanuel Won't Run for Re-election. What That Means for Candidates.
Candidates for Chicago Mayor Face Tough Path to Ballot, City Hall
---