Chicago Mayor Rahm Emanuel announced Tuesday morning that he will not seek a third term as mayor.
"As much as I love this job and will always love this city and its residents, I have decided not to seek re-election," Emanuel said. "This has been the job of a lifetime, but it is not a job for a lifetime. You hire us to get things done – and pass the torch when we've done our best to do what you hired us to do."
Emanuel's announcement came as a surprise to many. Last month, a poll commissioned by a close Emanuel ally found the incumbent firmly in the lead with 32 percent among the crowded field of mayoral candidates. (Late last month the tally rose to 11 when activist, organizer and policy consultant Amara Enyia officially announced her candidacy.)
RELATED: Mayor Emanuel Won't Run for Re-election. What That Means for Candidates.
Emanuel was first elected mayor of Chicago in 2011, following Richard M. Daley's decision not to run for a seventh term. "On my first day as Mayor of this great city, I promised to make tough choices and face the hard truths we had not confronted, even when it hurts. Every day for the past seven and a half years, that is what I have tried my best to do," Emanuel said, adding that choosing not to seek re-election was "another tough choice."
"I've given my all every day and left everything on the field. This commitment has required significant sacrifice all around," Emanuel said Tuesday with his wife Amy Rule by his side. "Now, with our three kids in college, Amy and I have decided it is time for us to write a new chapter together."
Cook County Board President Toni Preckwinkle said she was surprised by Emanuel's announcement and thanked him for his years spent in public service. "Being mayor of the nation's third-largest city is extraordinarily difficult and all-consuming. I wish him and Amy well in their future endeavors," Preckwinkle said in a statement.
MORE: Emanuel's Aldermanic Friends, Foes React to Bombshell Announcement
The announcement came as Chicago Public Schools students started the new school year. Emanuel marked the occasion with visits to Bronzeville School and Perez Elementary and touted the successes his administration made during his speech. "The changes we have made to our school system – universal full-day pre-K, universal kindergarten and a longer school day and year will add up to nearly four more years of class time for Chicago students," Emanuel said. "In the end of the day what matters most in public life is four more years for our children, not for more years for me."
During his tenure as mayor, Emanuel also faced a seven-day strike by the Chicago Teachers Union in 2012 and oversaw the closing of more than 50 schools across the city.
CTU acting Vice President Jesse Sharkey said former CTU President Karen Lewis deserves much of the credit for Emanuel's announcement. "It was Karen's leadership, fearlessness and love for our city and for the schools of Chicago in particular, and for the city of Chicago, that made this possible," Sharkey said. "It was Karen's willingness to stand up to Rahm, and call his policies out for what they were, which were harmful to students."
Sharkey cited school closures, special education budget cuts, declining CPS enrollment and the lack of an elected school board among Emanuel's policies the union has opposed.
"It was her courage in that area which really led the way for political revolt, which ultimately led to Rahm's undoing and his announcement that he won't run for a new term," Sharkey said. "Today, we've won. Today the members of the union have won. We knocked down Mayor 1 Percent."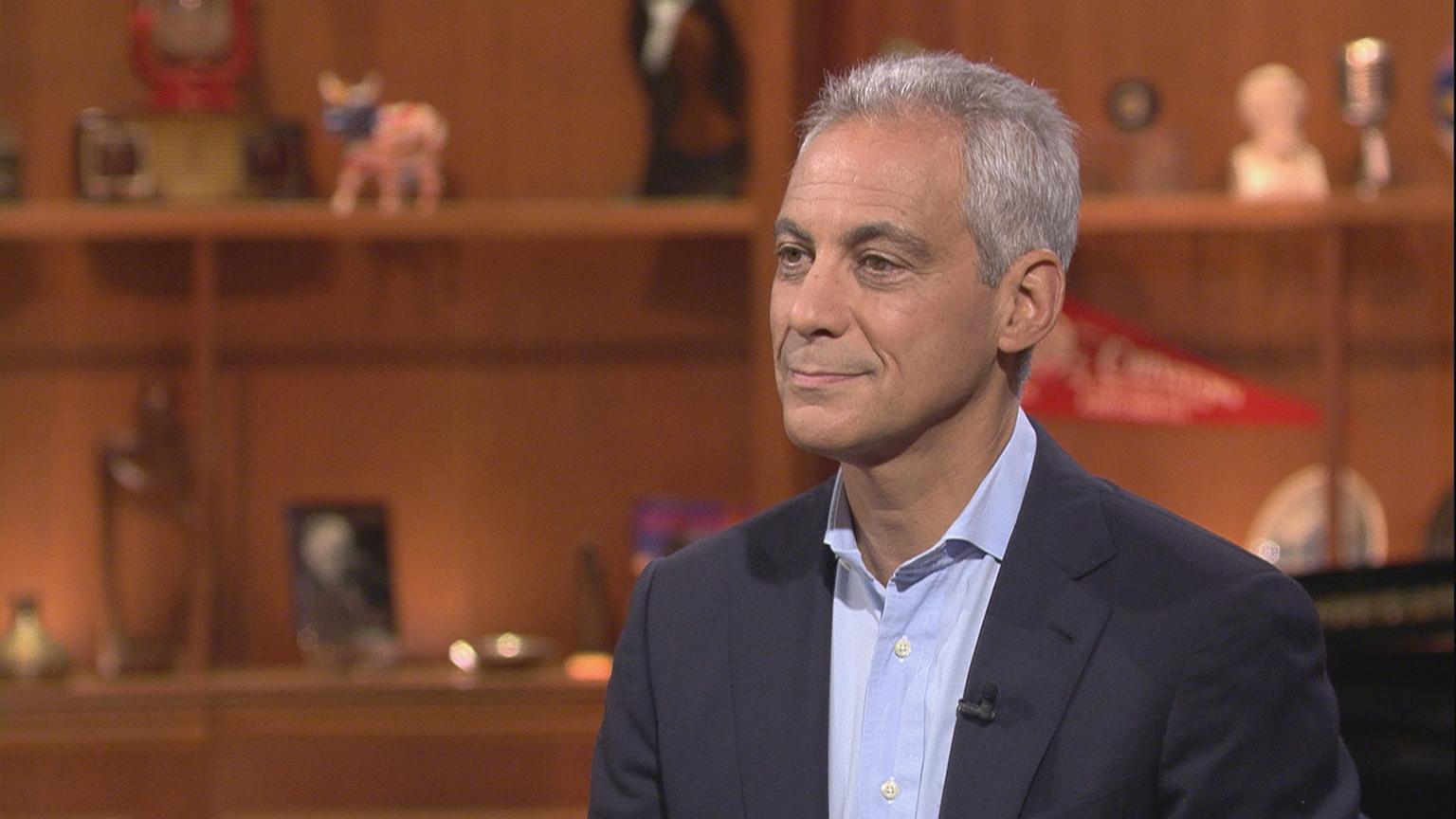 Mayor Rahm Emanuel appears on "Chicago Tonight" on June 28, 2018.
Prior to serving two terms as mayor of Chicago, Emanuel was White House chief of staff to President Barack Obama, who called Emanuel a "tireless and brilliant public servant" in a statement.
"With record job growth and record employment over his terms in office, Chicago is better and stronger for his leadership, and I was a better president for his wise counsel at a particularly perilous time for our country," Obama's statement continues. "I've been blessed to call Rahm my friend. Whatever he chooses to do next, I know he'll continue to make a positive difference, just as he has throughout his career in public service."
Emanuel also served three terms in the U.S. House of Representatives for Illinois's 5th District and served in President Bill Clinton's administration.
Throughout his public service career, "Rahm Emanuel has served with vision, purpose, principle, and impact. I believe he succeeded because he cares about people, policy, and politics. Even people who disagree with him strongly on some issues understand that," Clinton said in a statement. "He has decided to step aside after two exciting and exhausting terms and an undefeated record in elections. As George Washington taught us, voluntarily leaving office can be an act of service that strengthens our democracy."
U.S. Sen. Dick Durbin said in a statement he's worked closely with Emanuel "at every level of his public career. I always knew a call from Rahm was an invitation to join him in a bold, ambitious effort to make life better for those he served. It has been my honor to join him in these great ventures." 
In a statement, Illinois House Speaker Michael Madigan thanked Emanuel for his public service: "Mayor Emanuel offered steady leadership through difficult times. His efforts to balance the budget, stabilize pensions, and make tough decisions consistently reflected his commitment to do what was best for the future of our city, not what was easy. As Chicago continues to move forward and grow as an international city, we will remain grateful for Mayor Emanuel's leadership," Madigan said.
While Emanuel will no longer serve as mayor, he says he will "always be here for the future of this city" as a citizen. "I hope I'll find ways to answer the call I've asked of every citizen: to do my part to stand up for the next generation, who deserve the doors of opportunity to be open and the spark of hope to light their eyes," he said.
"Together, since May of 2011, through thick and thin, we tried to do right by our city's future. No matter how difficult the path we never wavered or shrunk from our responsibilities.  And I will never forget the honor it has been to serve alongside you the people of Chicago every step of the way."
Join us Tuesday for full coverage of this story, including reaction from Chicago mayoral candidates, reporters, community members and aldermen.
Contact Kristen Thometz: @kristenthometz | [email protected] | (773) 509-5452
---
Related stories
Amara Enyia Takes Aim at Emanuel in Second Bid for Chicago Mayor
Chicago Mayor's Race: Candidate Pool Grows to 11, Poll Shows Emanuel in Lead
Emanuel Laps the Ever-Expanding Mayoral Field in Fundraising
Interviews with mayoral candidates:
---