Winning a third term as Chicago's mayor wasn't ever going to be easy for Mayor Rahm Emanuel: outrage persists over the fatal shooting of Laquan McDonald, the city's projected pension payments are set to spike, and contracts with the police department and teachers union are up for negotiation.
Still, with more than $8 million in his campaign coffers and no clear alternative in a crowded field of challengers, Emanual was about to enter a fresh campaign season with a solid shot. On Sunday, campaign volunteers were collecting petition signatures. 
The dynamics of the race quickly went topsy-turvy Tuesday with Emanuel's sudden announcement that he won't be on the 2019 ballot.
"I'll always be here for the future of this city – not as mayor, but in the most important role anyone can play, as citizen," he said. "I hope I'll find ways to answer the call I've asked of every citizen: to do my part to stand up for the next generation, who deserve the doors of opportunity to be open and the spark of hope to light their eyes."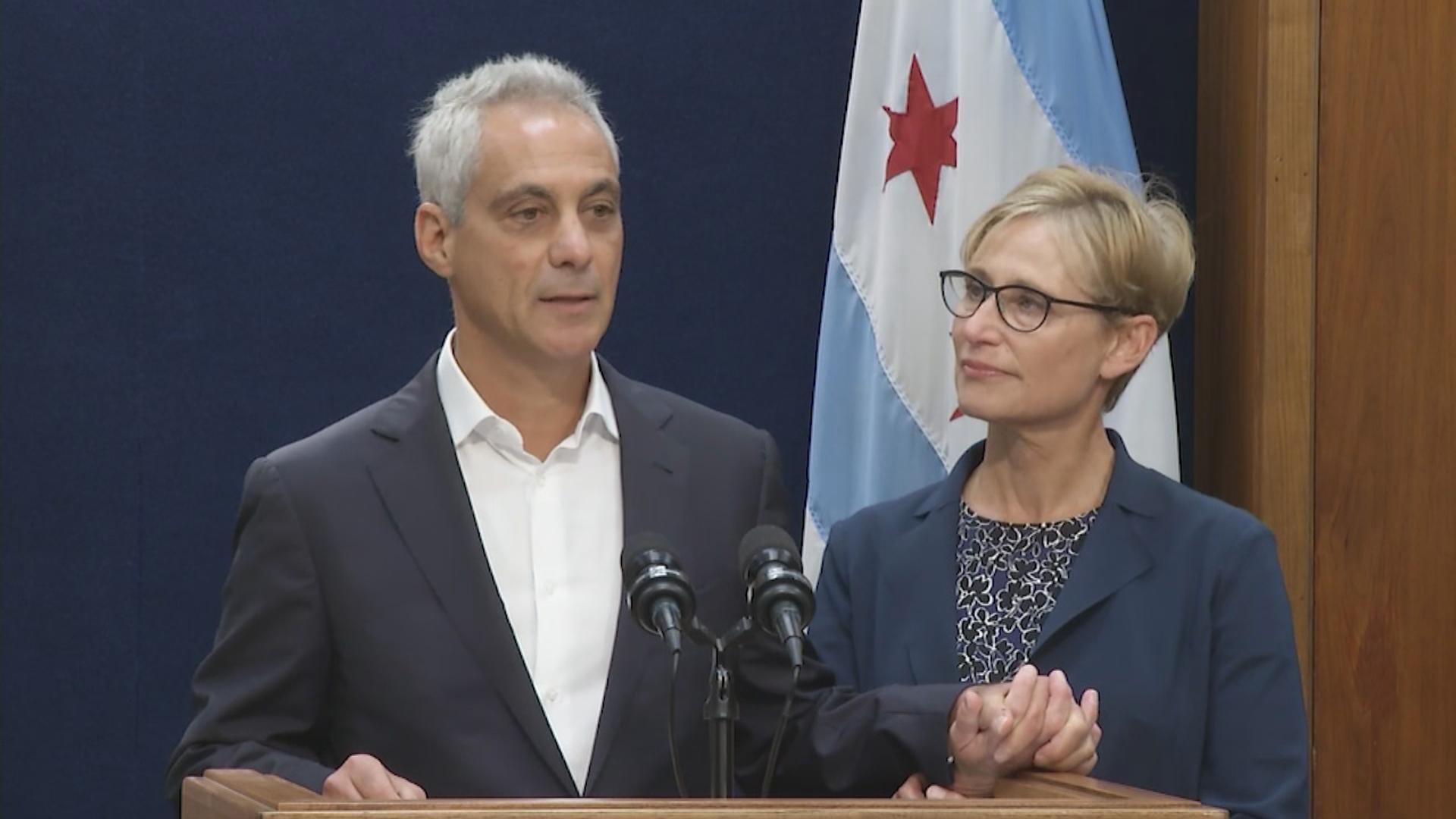 "Now with our three children in college, Amy and I have decided it is time to write another chapter together," Mayor Rahm Emanuel said Tuesday, Sept. 4, 2018 with his wife Amy Rule by his side as he announced he would not seek re-election.
Each of the leading contenders for his job said Emanuel bowing out won't change their strategies.
His absence could, however, open the cash spigots that had been flowing Emanuel's way.
"Of course the landscape has changed but that's not changing my approach," said candidate Paul Vallas, a former CPS superintendent. "The mayor's out. I think fundraising will be loosened up. There are so many people I met during the course of the campaign who – people that I've worked with over the years – who said 'I really like you, but I've got to go with the incumbent. Even on the fundraising side."
But it could also open up an already wide field of candidates.
"To be the mayor of this city, you need to have courage, you need to have strength, and you need to be able to bring people together. Many of us have been out here for months making our case to Chicagoans," said candidate Lori Lightfoot, who previously lead the Chicago Police Board. "And anybody who decides to jump in and take advantage of today's political news, I think a fair question to ask them is where they've been."
Emanuel himself may have a hand in lifting up a potential successor; he could send influence – and some of his campaign riches – toward a candidate he believes will protect his legacy.
"I'm kinda saying to myself, is there another shoe that's going to drop here? Because if you look at the way that the present mayor got into office, it was handed off to him by the previous administration and quite obviously there were deals cut and there probably are deals cut right now," said Garry McCarthy, running in 2019 after Emanuel ousted him as superintendent of the Chicago Police Department.
It's unclear who that may be.
Ald. Ricardo Munoz, 22nd Ward, said he's considering it, and that he's talking with Cook County Board member Chuy Garcia about the possibilities.
"In politics the stars need to be aligned and a meteor hit today, so all bets are off," Munoz said Tuesday afternoon. "Chuy and I are talking about whether or not someone runs. There needs to be a progressive candidate that talks about neighborhoods, neighborhood empowerment, neighborhood building."
Garcia could run for mayor instead of Congress -- he'd have high name recognition, or retiring U.S. Rep. Luis Gutierrez as there's no high-profile Latino in the field now. Others mention Ald. Ameya Pawar, 47th Ward, Illinois Attorney General Lisa Madigan, Illinois Comptroller Susana Mendoza or connections from Emanuel's time in the White House including Arne Duncan or Valerie Jarrett.
Petitions to run in the Feb. 26, 2019 election are due Nov. 26.
Reaction from other declared candidates:
Amara Enyia: "The Mayor's decision not to seek re-election is a testament to the will of the people of Chicago who clearly reject his leadership. Moreover, the people of Chicago don't want more of the same."
Willie Wilson's campaign released a statement, which reads in part: "Emanuel's administration, in our opinion, has become a big failure for parts of Chicago. This has become a real opportunity for change that's desperately needed in our city."
Dorothy Brown: "My campaign has never been about running against Rahm Emanuel, rather it is about running for the people of Chicago. Mayor Emanuel withdrawing from the race does not change my campaign's focus, nor my purpose."
Troy LaRaviere: "Emanuel's decision not to run for a third term will mean nothing if Chicago allows the one percent to pull the wool over our eyes again. Today more than ever it is important to ask one simple question of every candidate: Where does your campaign money come from?"
Ja'Mal Green says he "attributes this win to all of those organizers and activists and protesters who went out to the streets over the last few years after the Laquan McDonald video. Without the activist community, we wouldn't be here today."
John Kozlar: "People are tired of the politics as usual, and are fed up with politicians not putting all of our communities first. The people of Chicago sent a strong message to Rahm: We will not be fooled for a third time."
Neal Sales-Griffin has declared a bid, but did not return Chicago Tonight's request for comment.
Jeremiah Joyce Jr. is considering a run, but has made no official announcement.
Follow Amanda Vinicky on Twitter: @AmandaVinicky
---
Related stories:
Mayor Rahm Emanuel Not Seeking Re-election
Emanuel's Aldermanic Friends, Foes React to Bombshell Announcement
Emanuel Stuns Chicago, Rocks Mayor's Race
Community Reaction to Mayor Emanuel's Announcement
---