Add another name to the growing list of candidates challenging Chicago Mayor Rahm Emanuel in next year's election.
Amara Enyia is a longtime community activist who also ran for mayor in 2011. Enyia, who lives on the city's Austin community on the West Side, where she heads up the area's chamber of commerce, has fashioned herself as a candidate from the neighborhoods.
She launched her bid for Chicago mayor on Tuesday with a video:
Enyia joins a crowded field of mayoral candidates which has swelled to 11 – including Emanuel.
Also on Tuesday, a new poll commissioned by a close Emanuel ally and offered to the campaign as an in-kind donation shows the mayor firmly in the lead with 32 percent. According to the poll, former Police Superintendent Garry McCarthy is in second with 13 percent; former CPS CEO Paul Vallas has 9 percent; and at 8 percent each: former police board president Lori Lightfoot and businessman and philanthropist Willie Wilson.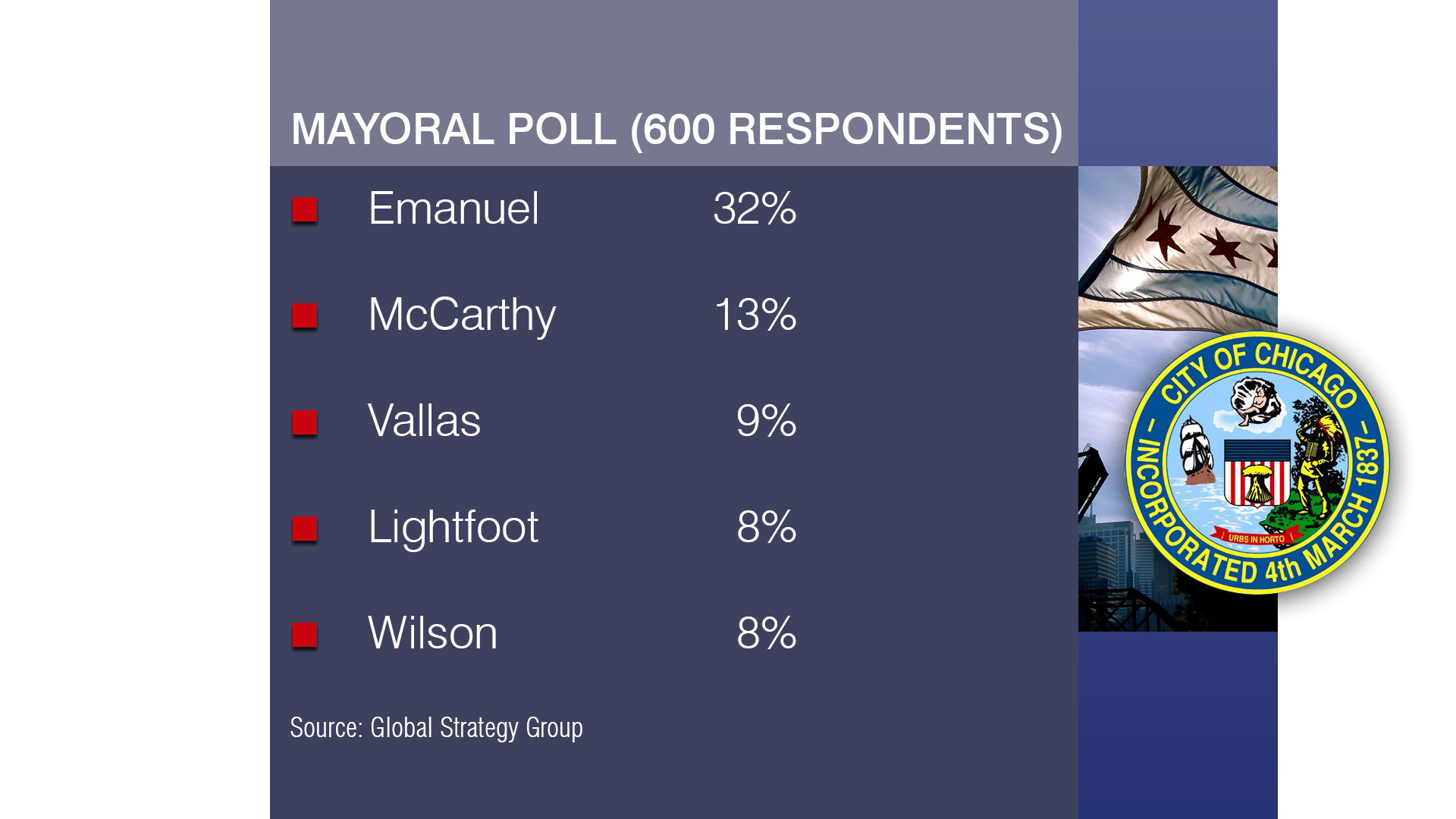 The standard to avoid a runoff is 50 percent plus one – so regardless of his big lead, Emanuel will likely have to face his second-place challenger after the primary election in February.
Emanuel on Tuesday took aim at McCarthy with the launch of a new ad. Emanuel's tack has been to tie McCarthy to Republicans like President Donald Trump and former New York Mayor Rudy Giuliani, now a lawyer for Trump. Giuliani has contributed to McCarthy's campaign and publicly called for people to vote for him.
In response to the video, McCarthy issued the following statement:
"Mayor Emanuel knows that what he suggests is patently false.
Rahm should focus on his job of reducing gun violence, fixing pensions, and improving education across the city, instead of making up false stories and posting them on Facebook.
Nine days ago, I issued a challenge to debate this mayor on the deadly serious topic of gun violence, but got no response from him. So, instead of discussing that important issue, he resorts to this."
Meanwhile, Lightfoot took the opportunity Tuesday to focus on policy, putting forth a plan to clean up city government which would call for mayoral term limits, a ban on profiting from public service – notably, not allow elected officials to serve in side jobs like real estate or zoning attorneys (something 14th Ward Ald. Ed Burke has been famous for doing for decades) – and also improving oversight of workers' compensation, a program Burke runs in relative secrecy.
"We are not going to continue to have aldermen who are profiting from their positions," Lightfoot said. "That is unacceptable, unethical, and flies in the face of anything that even remotely resembles good government. I'm not going to stand for that."
The primary election takes place on Feb. 26, 2019.
Follow Paris Schutz on Twitter: @paschutz
---
Related stories:
Willie Wilson Gives Away More Cash, Comes Under New Scrutiny
Emanuel on Term Limits, Chicago's Affordable Housing Challenges
Why Lori Lightfoot Wants to Replace Mayor Rahm Emanuel
---