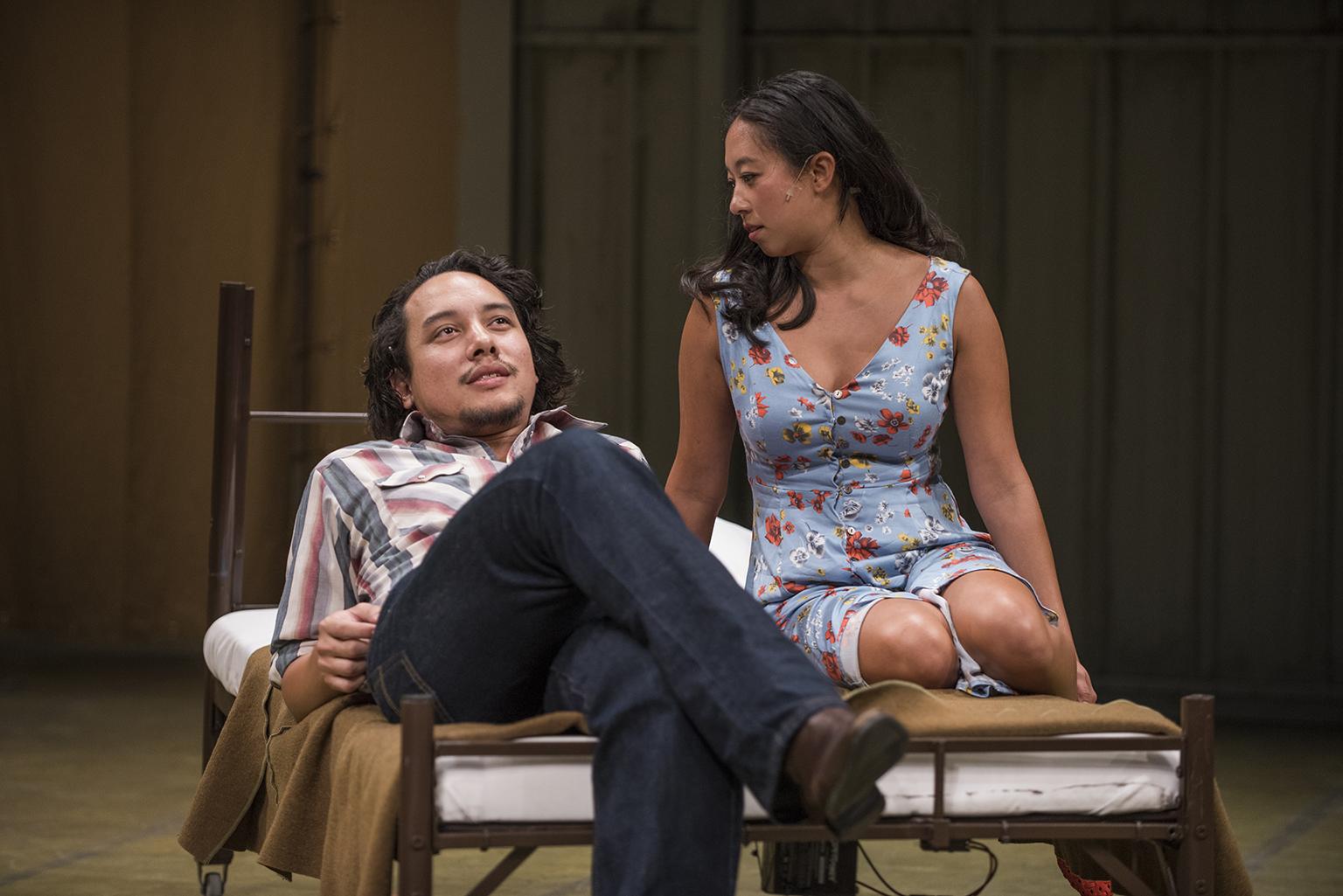 Matthew Yee and Aurora Adachi-Winter in "Vietgone." (Photo credit: Michael Brosilow)
It has been more than 40 years since the first South Vietnamese immigrants arrived in this country – fleeing the aftermath of the brutal civil war with the communist Viet Cong, and seeking refuge from the certain reprisals facing those who had worked with U.S. forces.
Check out the current statistics and you will discover that there are more than two million Vietnamese spanning several generations now living in this country (primarily in Texas and California). And for the most part they have enjoyed notable financial and educational success.
All this is simply to preface Qui Nguyen's play, "Vietgone," now receiving its Chicago premiere at Writers Theatre.
To be sure, "Vietgone" is no "Miss Saigon," the musical in which an opportunistic Eurasian fixer, and the desperate Vietnamese mother of a child by an American soldier, would do anything to get to America. And from the start, Nguyen tells us in no uncertain terms that this is not the story of his parents, although at the very same time he playfully suggests at least some of it might be.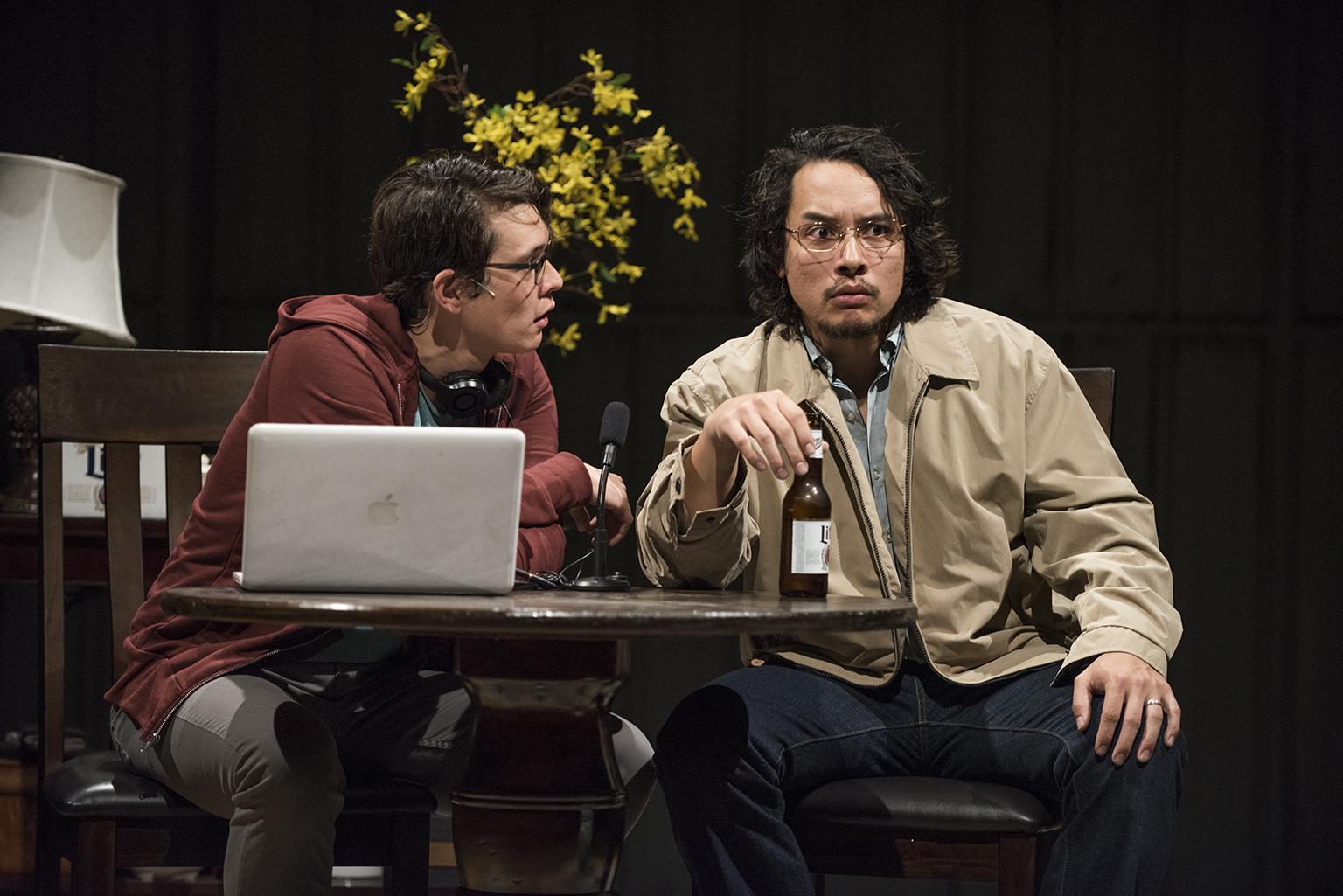 Ian Michael Minh, left, and Matthew Yee in "Vietgone." (Photo credit: Michael Brosilow)
In fact, what "Vietgone" turns out to be is a second generation, rap-era kid's flashy, sexually charged version of a story about the pain and rage that come with being a refugee, and the difficult process of assimilation. As the playwright makes clear, there will be no modest, compliant women in conical straw hats in this story, and no dutiful daughters, and no modest, self-effacing mothers. But in dispensing with those cliches he creates a sort of reverse-cliche, suggesting a population so brashly divorced from its culture as to be unrecognizable. Watching "Vietgone" I kept thinking: I would like to see this play again with a multi-generational audience drawn from Chicago's sizable Vietnamese community and hear their responses.
Up until the very final scene – which redeems much of what until then seems overly cartoonish and designed for mass appeal – I imagine there might be a considerable amount of discomfort, at best. It's almost as if Nguyen tried to write the Vietnamese equivalent of Philip Roth's "Portnoy's Complaint," while infusing it with a 21st century brand of feminism. And what gets lost in the process is some of the profound pain and disorientation of starting life over again in an alien society.
At the center of Nguyen's story, which unfolds primarily in 1975, following the fall of Saigon, are four characters who find themselves in a grim relocation camp in Fort Chaffee, Arkansas.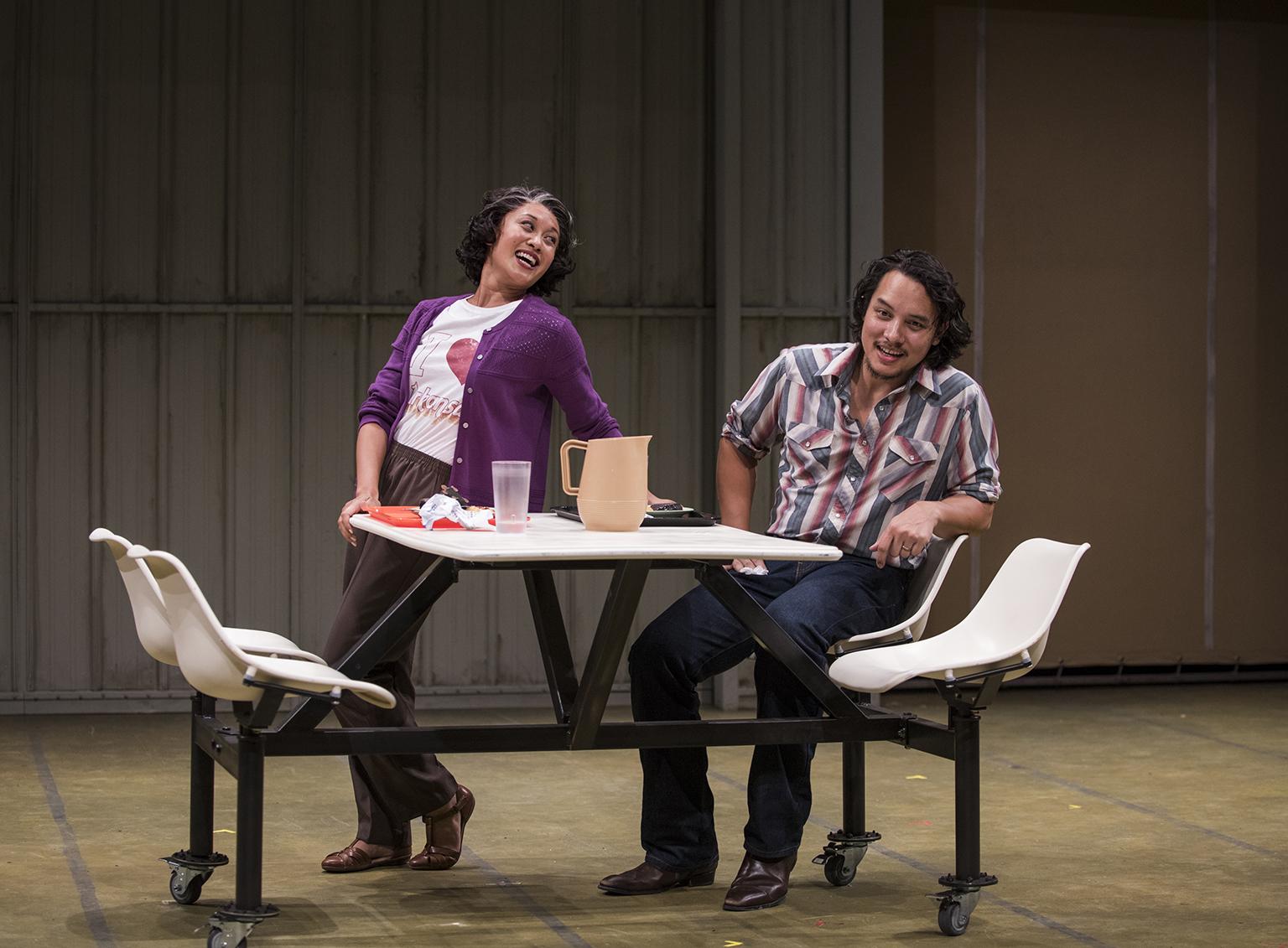 Emjoy Gavino and Matthew Yee in "Vietgone." (Photo credit: Michael Brosilow)
There is Quang (Matthew C. Yee), a South Vietnamese helicopter pilot who trained in the U.S. in the late 1960s, and who, through a twist of fate, was unable to take his wife and two young children out of the country with him when things fell apart, and there is his Air Force pal, Nhan (Rammel Chan), who has none of those ties.
There also is Tong (Aurora Adachi-Winter), a South Vietnamese woman who worked at the American Embassy in Saigon and took her reluctant, cougar-like mother, Huong (Emjoy Gavino), on the plane out, rather than the boyfriend she had no interest in marrying. (Chan and Gavin play a slew of additional roles, as does Ian Michael Minh.)
Despite his new attraction to Tong, Quang is hell-bent on returning to his family in Saigon, no matter what the consequences. And he convinces Nhan, who wants to make a new life in the U.S., to accompany him on a cross-country trek to California on ramshackle motorcycles in the hope that he can catch a plane to Guam and then Saigon.
Tong, who hates the food, the language barrier and much else about the refugee camp that is planted in a backwater, is harried by her cougar-like mother who worries about her stunning, angry, independent-minded 30-year-old daughter not being married. Yet when Tong almost agrees to a marriage of convenience with Bobby (the excellent Minh), a sweet but nerdy American who works at the camp, her mother makes the case for passion over pragmatism.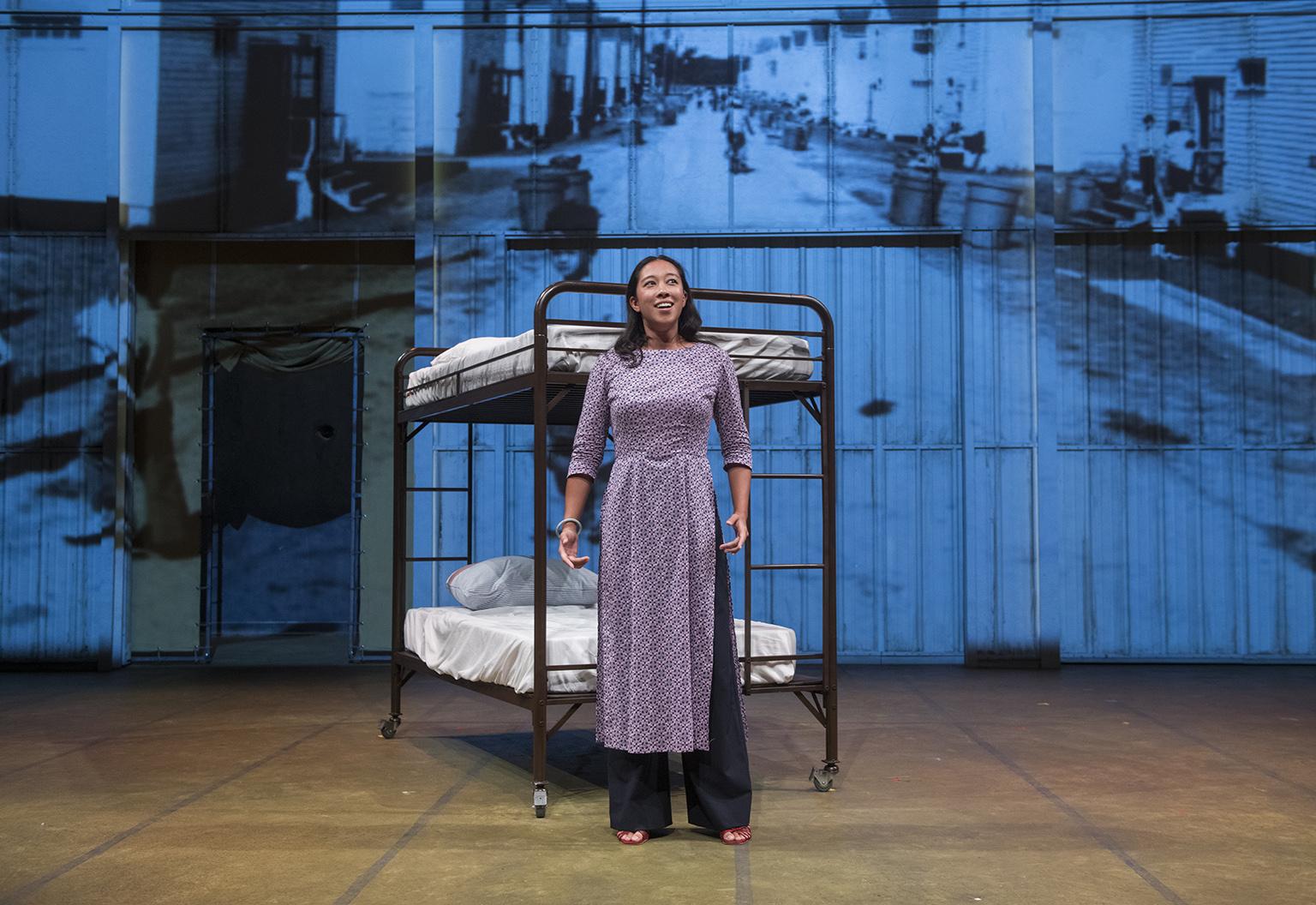 Aurora Adachi-Winter in "Vietgone." (Photo credit: Michael Brosilow)
The play's final scene, set in 2015, finds "the playwright" trying to make sense of his father's story. He is set straight about how the transition to America, as difficult and painful as it was, gave him a second chance at life that he now greatly values. And finally, the full gravity of Nguyen's story comes through.
Lavina Jadhwani's high-energy direction and Tommy Rapley's choreography are in synch with the playwright's often cartoonish approach, and the actors' high-styled attack captures the shock of the new and the disorienting.
Adachi-Winter is a knockout in her anger-to-tears scene and rap aria (the work of composer/music director Gabriel Ruiz). Gavino morphs effortlessly from middle-aged sexpot to the upended wife Quang left behind. Yee and Chan capture the need for a brotherly friendship. And Minh is winning as everything from Nguyen's alter ego to a drugged out hippie.
Set designer Yu Shibagaki's barracks-like wall (lit by Sarah Hughey) is a fine backdrop for Rasean Davonte Johnson's evocative projections, and Melissa Ng's East-meets-West costumes and Kevin O'Donnell's sound add texture.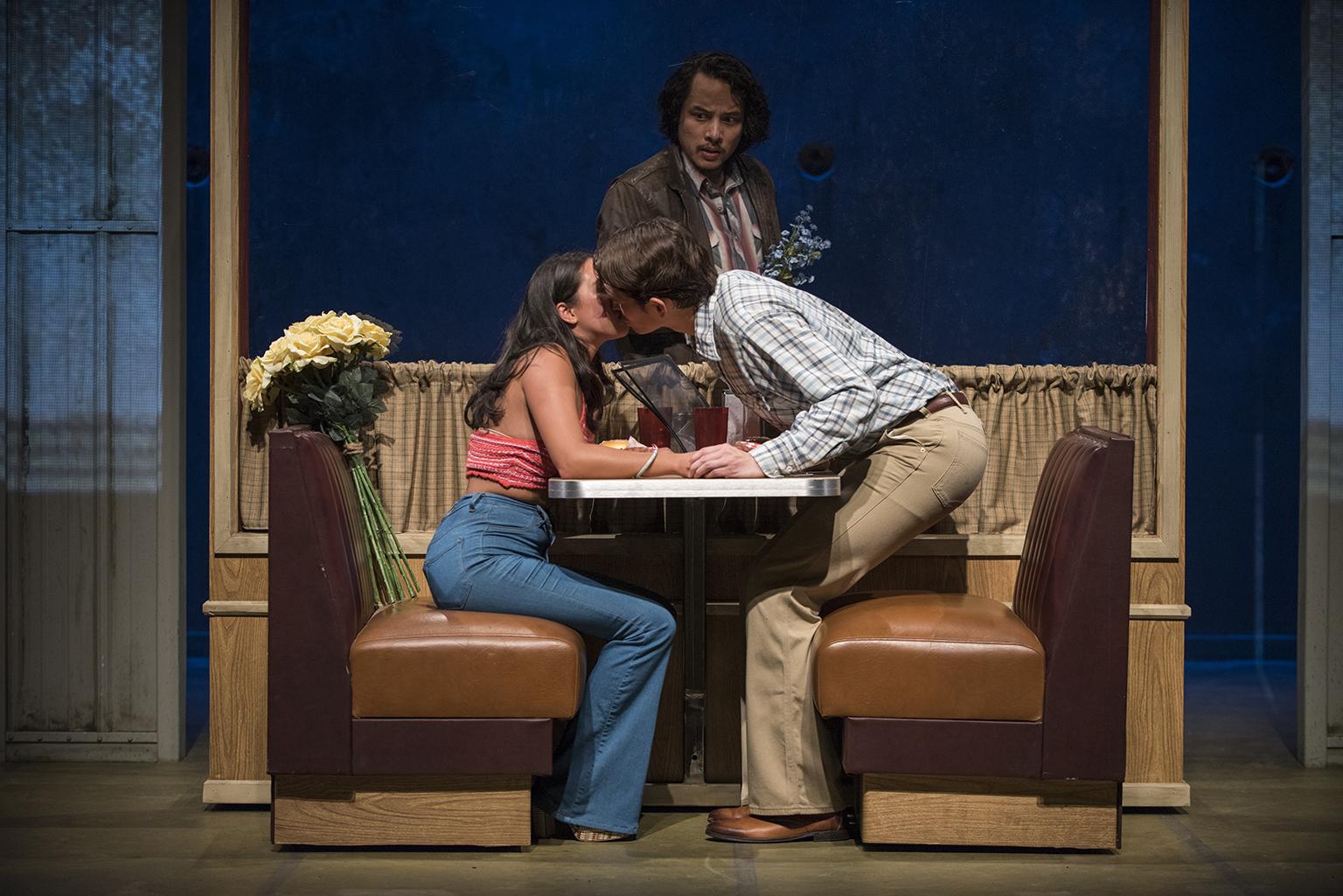 From left: Aurora Adachi-Winter, Ian Michael Minh, Matthew Yee in "Vietgone." (Photo credit: Michael Brosilow)
As someone who prayed for the Vietnam War to end before my brother was drafted, and who much later got to know several "boat people" in Chicago who had endured great hardship but turned their lives around, I found the many oversimplifications and anachronisms in "Vietgone" trivializing on some level – at least until that final reckoning between father and son.
"Vietgone" runs through Sept. 23 at Writers Theatre, 325 Tudor Court, Glencoe. For tickets ($35-$80) call (847) 242-6000 or visit www.writerstheatre.org. Running time is 2 hours and 20 minutes with one intermission.
Follow Hedy Weiss on Twitter: @HedyWeissCritic
---
Black Ensemble Unwraps the Joyful Healing Properties of the Blues
'Something in the Game' Wins One for The Gipper, and for Musical Theater, Too
In 'Pamplona,' Stacy Keach Runs with Hemingway and the Matadors
Elvis Makes a Faustian Bargain in 'Heartbreak Hotel'
---