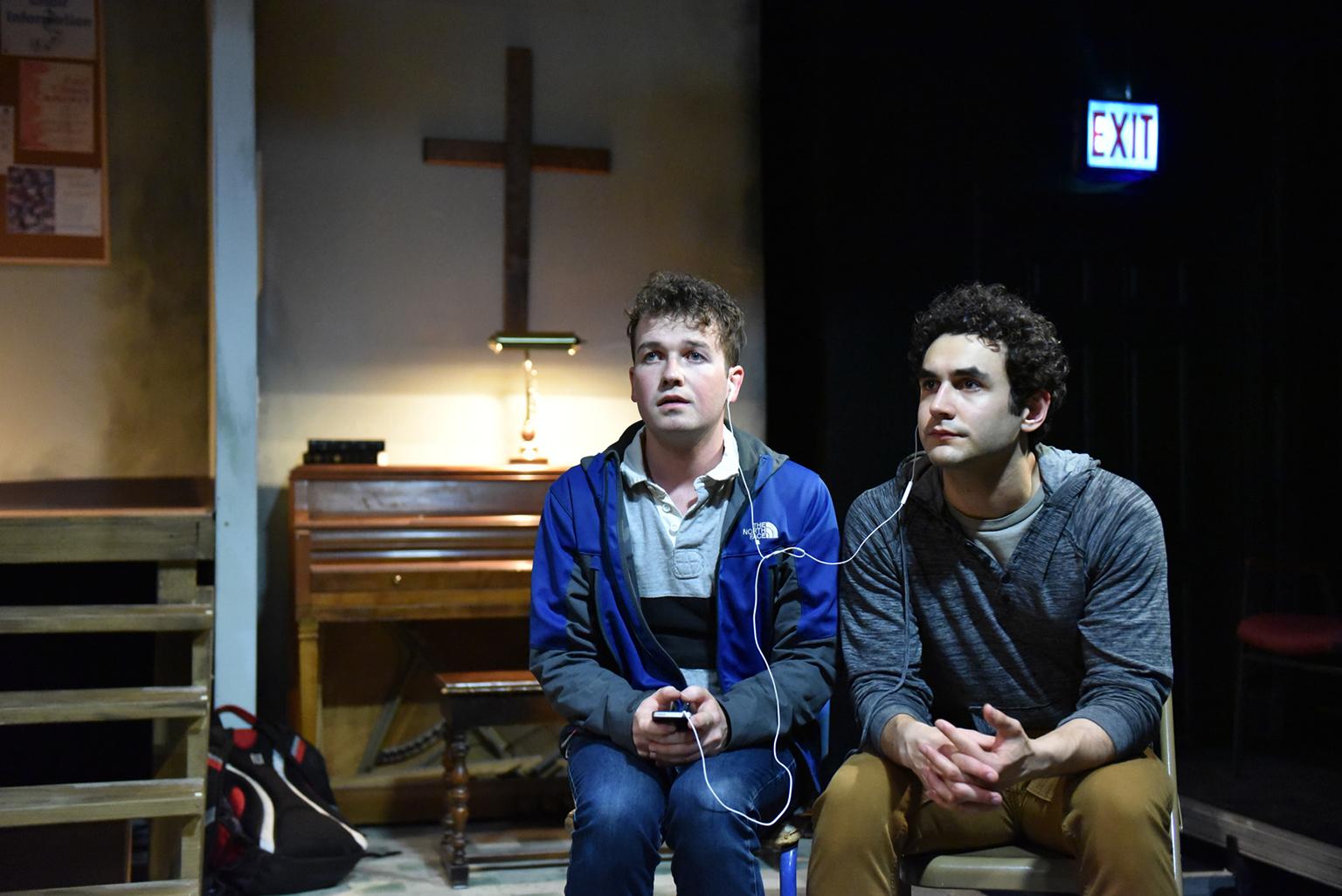 Collin Quinn Rice, left, and Raphael Diaz in Griffin Theatre Company's Chicago premiere of "The Harvest" by Samuel D. Hunter, directed by Jonathan Berry. (Photo by Michael Courier)
The first thing I did after seeing Griffin Theatre's intense (and intensely realized) Chicago premiere of Samuel D. Hunter's play, "The Harvest," was to search for an accurate definition of Evangelical, a term that is widely used but not entirely understood. In the process, I discovered the dual meaning of the play's title.
Evangelicism has been an aspect of Christianity for centuries, and in the simplest terms it is defined as "a commitment to, or act of publicly preaching the Gospel with the intention of spreading the message and teaching of Jesus Christ." But in the early years of the 21st century a global movement within the Christian church dubbed "The Billion Soul Harves," was established (its headquarters are in Orlando, Florida), with hundreds of church denominations and organizations becoming engaged in a comprehensive initiative to "convert a billion people to Christianity."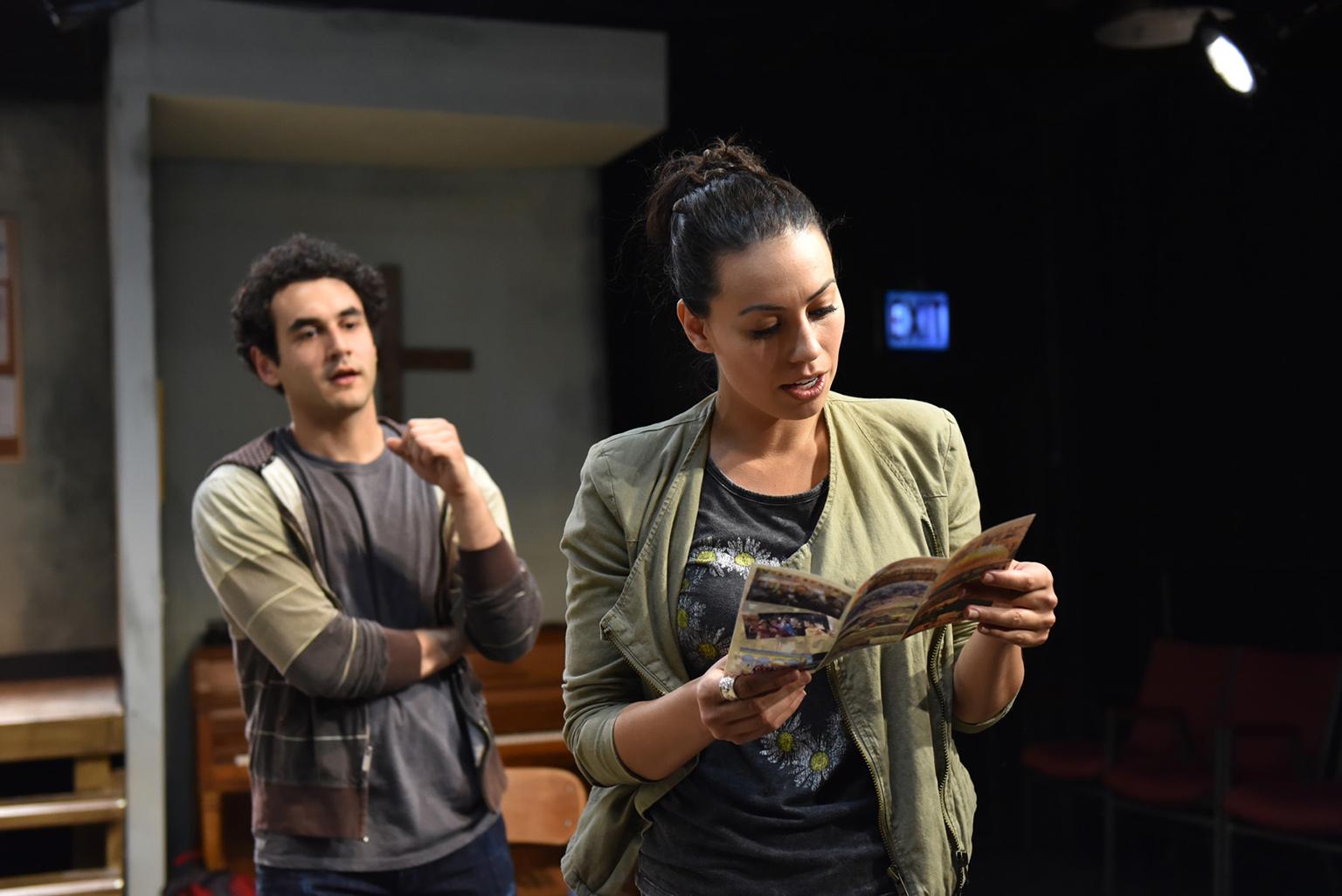 Raphael Diaz and Paloma Nozicka in "The Harvest." (Photo by Michael Courier)
This movement is never referred to specifically in Hunter's play, which captures a small group of twentysomething Evangelicals preparing to head to an unnamed but predominantly Muslim, Arabic-speaking country in the Middle East to "do something good for people." But at one point the play's central character, Josh (Raphael Diaz) has a brief vision that the long uncultivated, nearly foreclosed farm he has just inherited in the wake of his alcoholic father's death has suddenly come back to life, with a crop ready for harvesting. He takes this as a sign of something, although he is filled with ambivalence about how to interpret it.
"The Harvest" unfolds in a dreary church basement room in the small town of Idaho Falls, Idaho, where last-minute preparations for this carefully planned missionary venture are underway. Ada (Kiayla Ryann), the woman who administers the overseas program, leads prayer sessions (some of which erupt in a speaking in tongues). She also oversees play-acting exercises in which the nervous, newbie travelers practice their few words of Arabic and (quite laughably) test possible ways of engaging with the local population. (There are moments when you might even wonder if this is Hunter's more heartfelt response to "The Book of Mormon" musical, although those two missionary-fueled faiths differ in many ways.)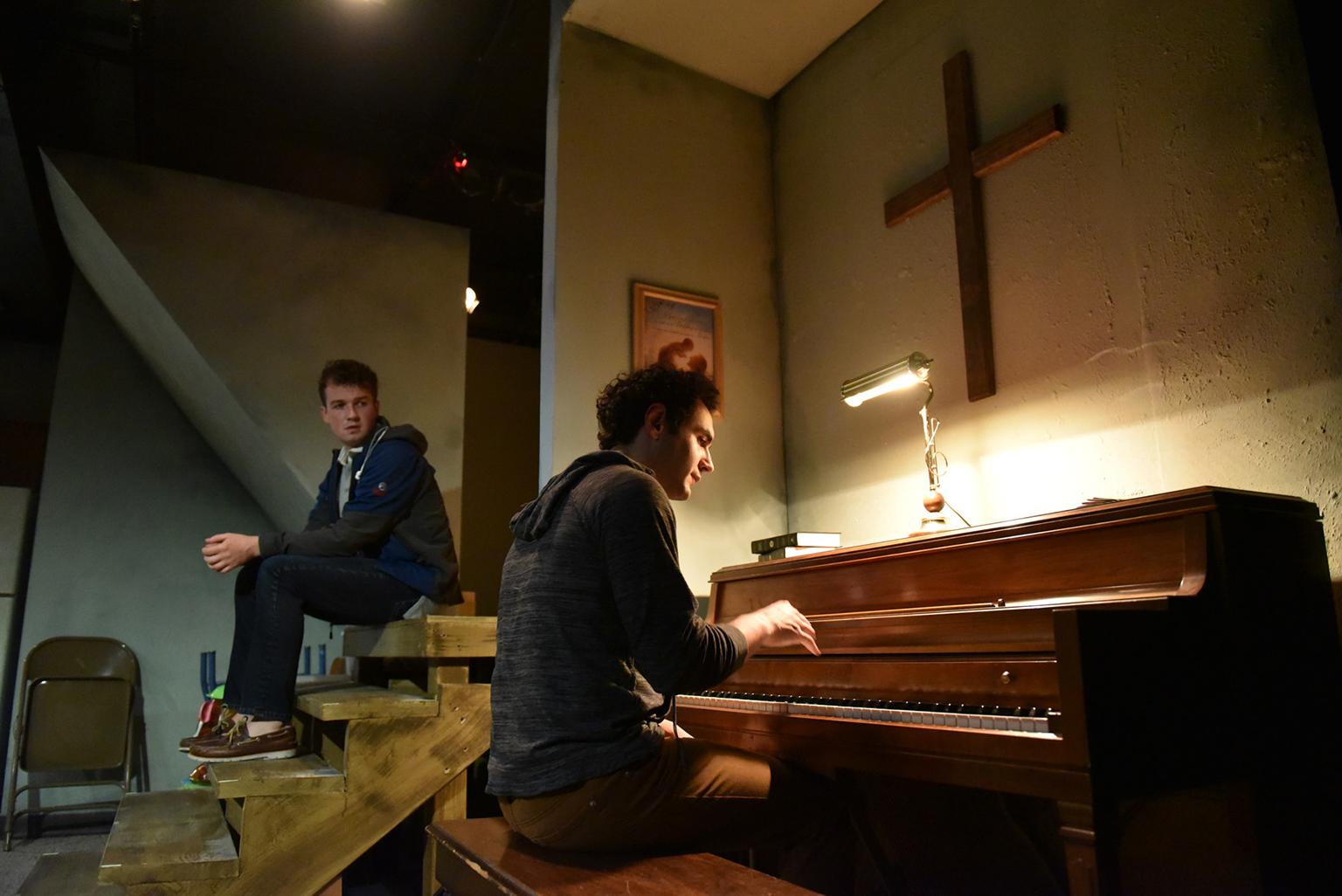 Collin Quinn Rice, left, and Raphael Diaz in "The Harvest." (Photo by Michael Courier)
While Josh plans to make this venture a long-term commitment, the others in the group plan only a four-month stay. They include a married couple – the geeky, gung-ho Marcus (Taylor Del Vecchio), and his wife, Denise (Kathryn Acosta), who is in the first trimester of pregnancy, and chafes at her husband's controlling ways – as well as Tom (Collin Quinn Rice), an anxiety-filled fellow who has a troubled relationship with his father, and who clearly adores Josh, although the two young men go no further than cuddling on the church basement floor.
Tom is not the only one opposed to Josh's plan to stay overseas indefinitely. Josh's sister (Paloma Nozicka), a recovered meth addict, has just driven back home from Oregon (a trip she failed to make for her father's funeral), and she is desperate to keep her brother home, and perhaps even more desperate to have him hold on to their house.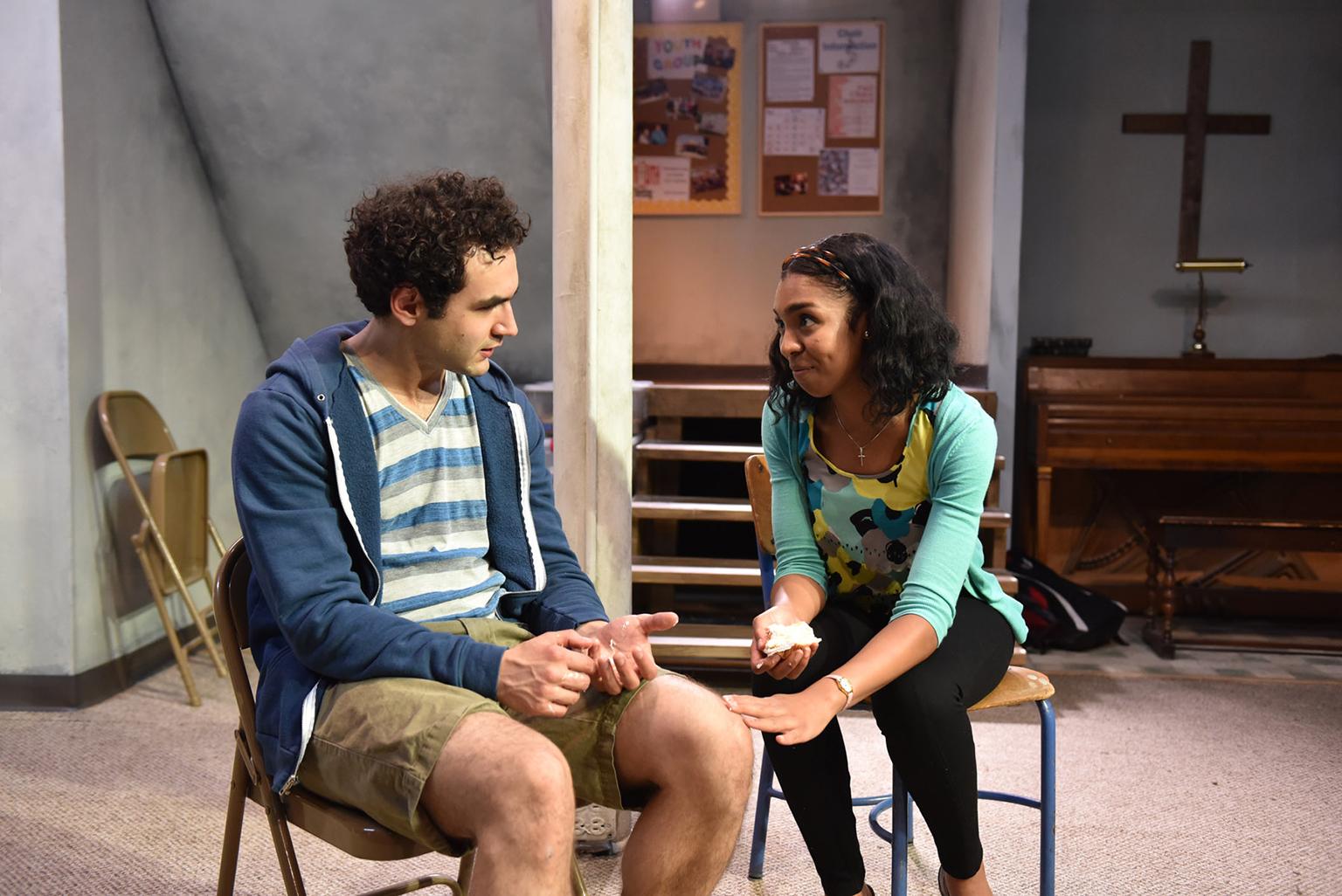 Raphael Diaz and Kiayla Ryann in "The Harvest." (Photo by Michael Courier)
Torn from every direction, and perhaps less sure of his mission than he fully understands, Josh's spiritual certainty, loyalties and life plan are suddenly thrown into a state of upheaval.
Director Jonathan Berry, who several seasons back did such a splendid job with Griffin's production of Hunter's earlier play, "Pocatello," is in perfect synch with this playwright's work and the way he can tap into the way broken souls grasp for meaning and connection. And he has gathered a cast capable of suggesting both zeal and doubt, naïveté and growing awareness, snarkiness and fervency.
Diaz expertly captures both Josh's intellectual sharpness and emotional pain and confusion. As Ada – whose parents were missionaries, and who has gone on many missions by herself – Ryann does a whip-smart job of suggesting her character's quasi-sincere personality. Here is a woman whose marketing and motivational genius is ideal for driving the "business" of spirituality, whether it demands the baking of cupcakes or the crafting of homemade awards.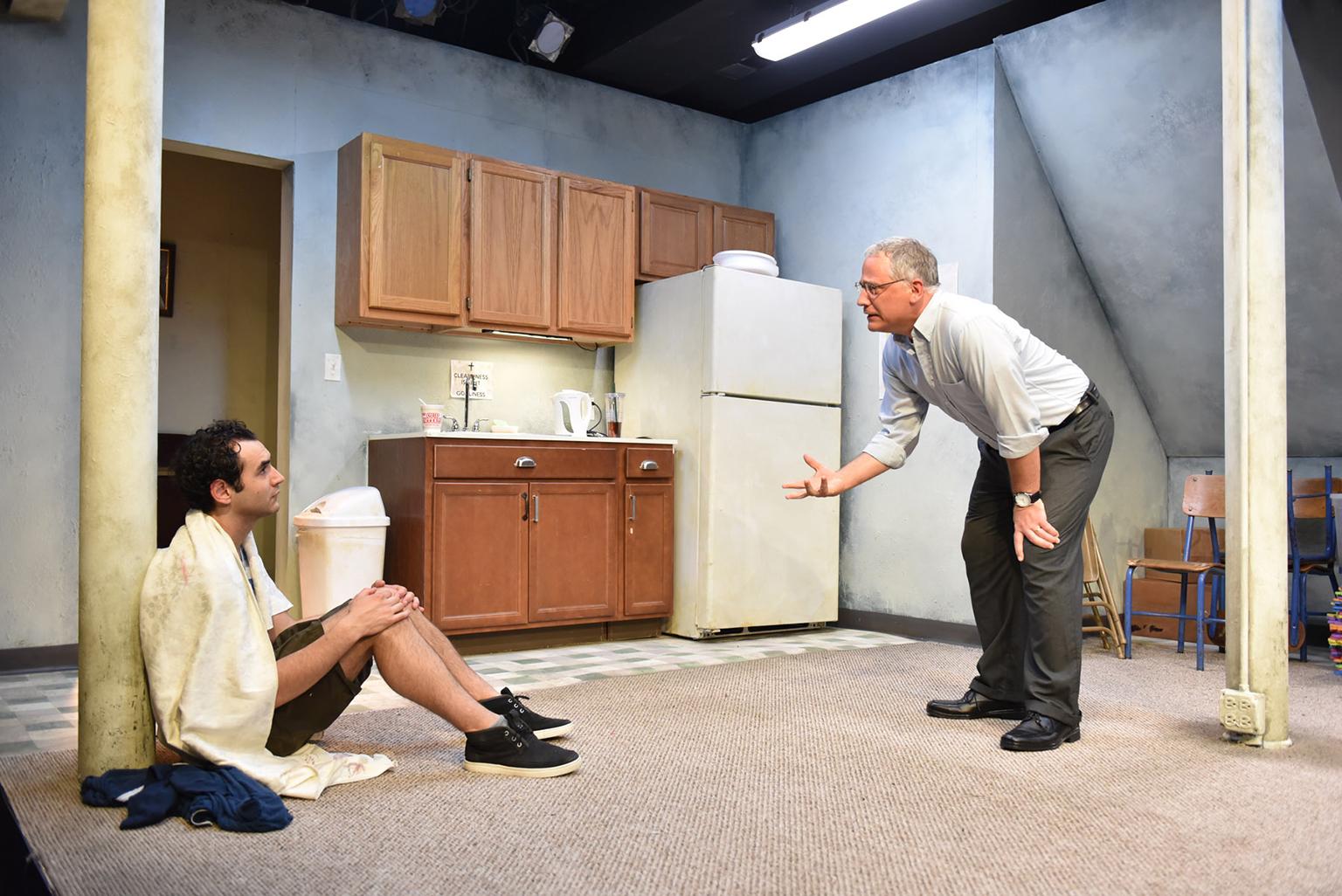 Raphael Diaz, left, and Patrick Blashill in "The Harvest." (Photo by Michael Courier)
Rice taps into the deeply troubled soul of Tom, whose devotion to Josh is far greater than to any higher power. Acosta is wonderful as the young wife with a spirit of adventure she won't easily allow her bossy but far less impressive husband (deftly played by Del Vecchio) suppress. Nozicka is full of fire and forcefulness as Josh's tough, determined (and scared) sister. And Patrick Blashill, who arrives late in the story, is spot-on as the pastor who is a polished "career Evangelist," as well as a man who carries his share of guilt.
Sotirios Livaditis' photo-realist set captures everything but the dank smell of a church basement – a place where the hope of finding some sign that God is watching might be challenging, to say the least. But as Hunter suggests, that hope might best be found in one's bonds with other people.

Griffin Theatre's production of "The Harvest" runs through Aug. 25 at The Den Theatre, 1331 N. Milwaukee Ave. For tickets ($36) call (773) 697-3830 or visit www.griffintheatre.com. Running time is one hour and 45 minutes with no intermission.
Follow Hedy Weiss on Twitter: @HedyWeissCritic
---
1960s Chaos Meets Upheaval of 2018 in Bernstein's 'Mass'
Black Ensemble Unwraps the Joyful Healing Properties of the Blues
'Something in the Game' Wins One for The Gipper, and for Musical Theater, Too
In 'Pamplona,' Stacy Keach Runs with Hemingway and the Matadors
---