By definition, an organic garden is one that doesn't use man-made chemicals, like synthetic pesticides or fertilizers.
Two certified organic gardens on opposite sides of the city provide benefits to the environment and nearby communities.
Since 2002, the Englewood-based nonprofit Growing Home has offered job training in the farm industry to Chicagoans with employment barriers such as criminal records or lack of housing.
Growing Home farm manager DeAndre Brooks joined the program as a student in 2012.
"When I landed here, I was here for a cooking class," Brooks said. "They kept me on because my farming skills were pretty great."
The nonprofit said 30 percent of the food it sells or donates is kept in Englewood, a South Side food desert – or neighborhood with very little high-quality, affordable food options.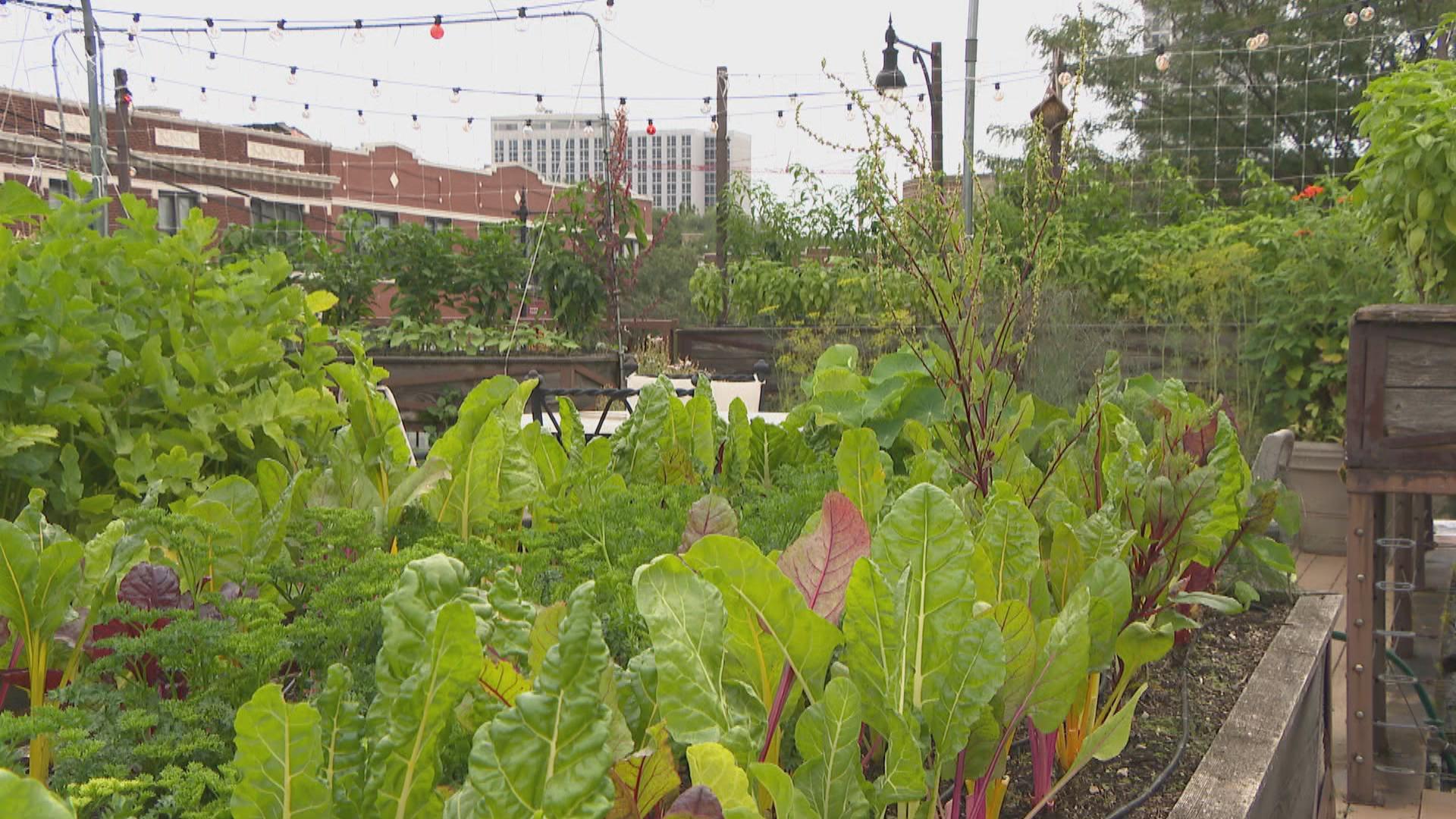 The rooftop garden at Uncommon Ground restaurant in Edgewater. (Chicago Tonight)
About 20 miles north, in the Edgewater neighborhood, the restaurant Uncommon Ground has a 2,500-square-foot rooftop garden that produces about 10,000 pounds of food annually, according to restaurant co-owner Helen Cameron.
"When you harvest something at its peak, it tastes the best and has the most nutrition," Cameron said. "[It] makes you happy because you're literally ingesting the sunshine and fresh air."
Uncommon Ground's rooftop garden also keeps honeybees and raises Monarch butterflies to help support both insect species which have seen declining populations in recent years.
More on this story
WTTW has its own organic garden. On Wednesday, organic gardener Jeanne Nolan will be back to harvest some more summer crops with Phil Ponce. Learn more about our garden here.
Follow Evan Garcia on Twitter: @EvanRGarcia
---
Related stories:
North Lawndale's 'Farm on Ogden' Looks to Supply Fresh Produce, Jobs
West Humboldt Park Farm Raises Fresh Fish, Greens in Once-Empty Lot
Inside the World's Largest Rooftop Greenhouse
---