The video cannot be displayed.
Would it surprise you that there's lettuce being grown on Chicago's South Side right now – in the dead of winter? It should. But that's exactly what Gotham Greens is doing.
In November, the urban agriculture company opened a 75,000-square-foot rooftop greenhouse – the world's largest – atop the Method soap factory in the Pullman neighborhood. 
"We started looking at rooftops as a viable alternative. It's a vastly underutilized piece of real estate – very large footprint, strong buildings and we thought it was a very innovative, adaptive reuse of urban space," co-founder and CEO Viraj Puri said.
Founded in 2009, Gotham Greens operates three rooftop urban farms in New York City, but this Midwest venture is their first outside of NYC. Puri says Chicago's harsh conditions made the city an obvious choice.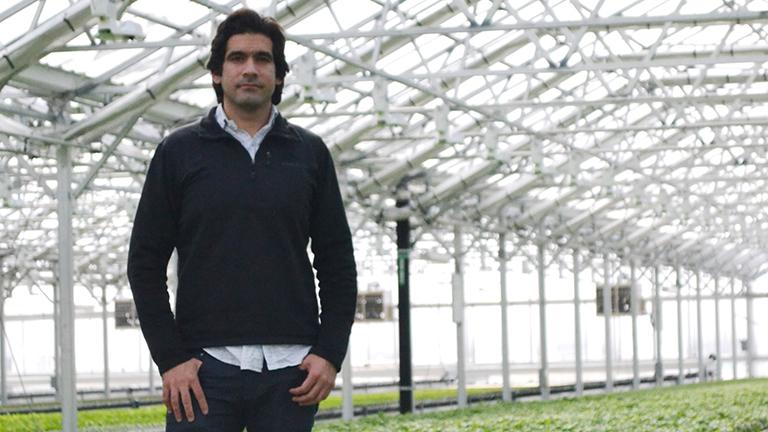 Gotham Greens co-founder and CEO Viraj Puri (Evan Garcia)
"There's a cold-weather climate here," said Puri. "It's such a short growing season that there's a dearth of access to healthy, local produce year-round."
The city's reputation as a food-loving town also helped the company's transition to a new market.
"Chicago's such a rich food town with a rich food culture and also a thriving urban agriculture scene increasingly, so the reception has been overwhelmingly positive," Puri said.
[Never miss a "Chicago Tonight" headline! Get our daily newsletter delivered straight to your inbox.]
The Pullman greenhouse is expected to produce over 10 million heads of leafy greens, which the company will sell to local food retailers, restaurants and caterers. (They exclusively grow leaf vegetables, such as butterhead lettuce, basil and arugula.) A small portion will be donated to the Greater Chicago Food Depository. Puri says the new location will provide the area with fresh greens that would otherwise be brought in from California this time of year.
"When you go to the supermarket to buy a head of lettuce, it's often eight or nine days old," he said. "It's less fresh, less nutritious, less flavorful and won't last as long, so it contributes to food waste, which is an increasing problem in this country."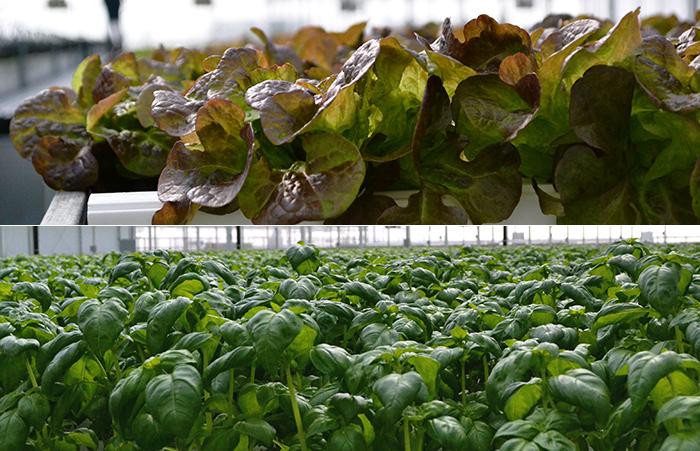 All of the crops are pesticide-free, including red oak lettuce, top, and basil, bottom. (Evan Garcia)
The greenhouse is run entirely on renewable energy. Both Gotham Greens and Method derive energy from a wind turbine and solar panels on site, though Puri says the majority of their power comes from paying their utility provider a premium for renewable energy. They also recycle all water used to irrigate crops. And, since products aren't transported long distances, the carbon footprint left by gas emissions is lessened.
"We're a for-profit enterprise, of course," said Puri, "but the company was started in large part to address some of the growing ecological problems with conventional agriculture, like heavy water use, pollution, carbon emissions, energy use and a general lack of sustainability.
"If we're going to be consumers of electricity and power, the responsible thing to do is to get them from renewable sources."

The greenhouse derives some of its energy from solar panels, left, and a wind turbine, right. (Evan Garcia)
There are vertical urban farms in Chicago that grow crops in climate-controlled indoor spaces using artificial light, but Gotham Greens stands apart by relying primarily on natural light, a free source of energy.
Supplemental lights pick up the slack when the sun is less powerful during winter months, but Puri says natural light is nearly always the primary source. In fact, they usually use cloths to shade crops from the sun.
Operating a year-round urban farm means Gotham Greens will produce about 25 harvests a year – a traditional farm would yield two or three. It also requires precise control of the greenhouse's indoor environment to account for seasonal changes outside. The rooftop's temperature, humidity, light levels and other conditions are monitored by sensors that feed this data into computers with software they've programmed to turn equipment on or off based on current conditions.
Technology is essential to operations, but not without the all-important human element. The Chicago greenhouse has 40 employees, many from the community, who tackle everything from plant nutrition to pest management. The company taps into local economic development organizations such as the Calumet Area Industrial Commission for recruitment and job training.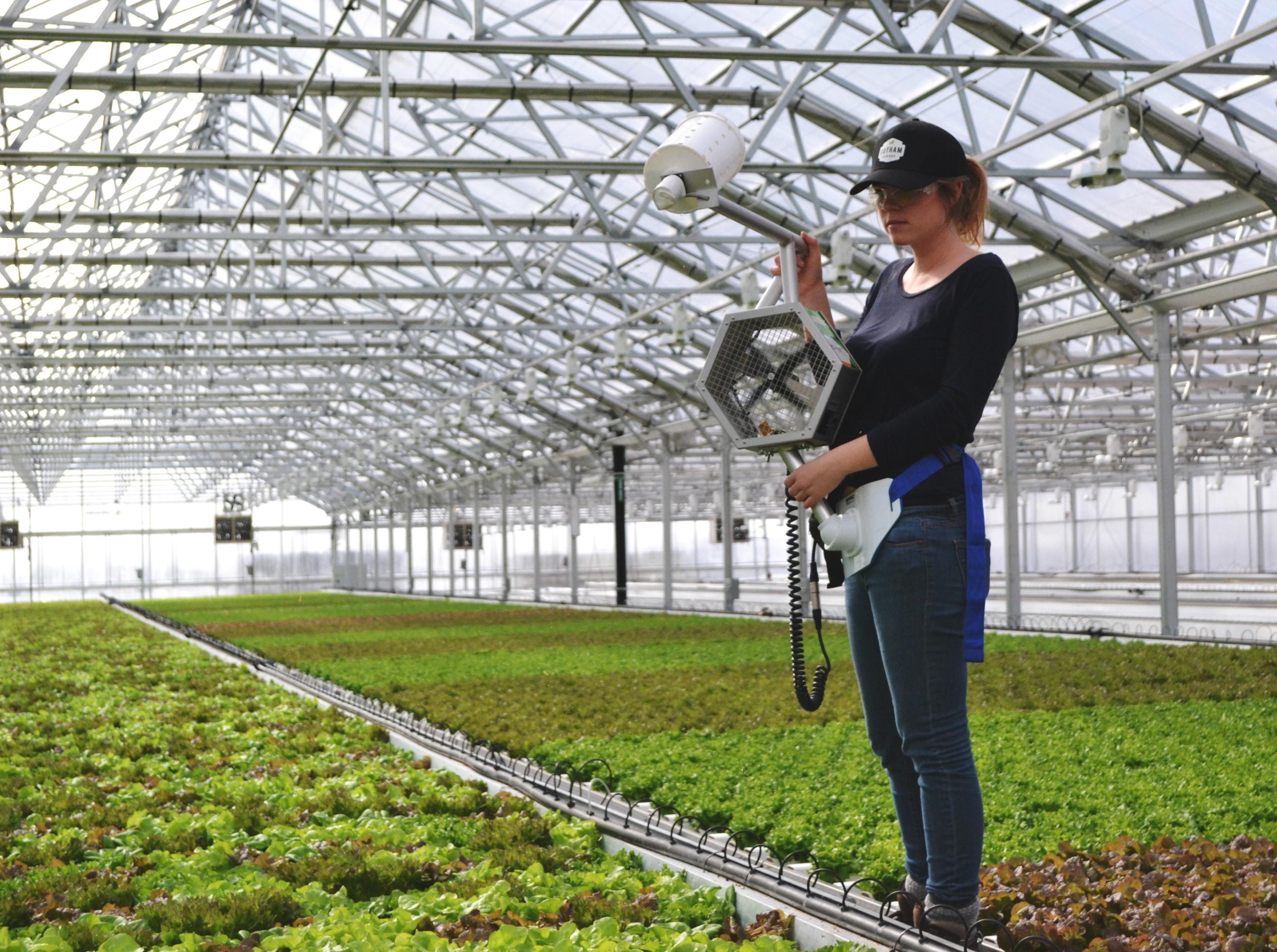 An employee introduces beneficial predator insects into the greenhouse. These insects prevent harmful greenhouse pests from destroying the crops and take the place of dangerous chemical pesticides. (Evan Garcia)
Puri espouses the progressive aims of Gotham Greens, but also hopes their new urban garden will prove their business model's effectiveness.
"We're successfully demonstrating that this can be a thriving commercial enterprise," he said. "We're finding that we can do well by doing good."
Since its inception seven years ago, the company has privately raised over $30 million. While Puri wouldn't disclose how expensive the Chicago rooftop greenhouse project was, he alluded to reports of it costing between $5 and $10 million. Only four months after their first harvest, Puri says consumer demand is already exceeding their supply – a "great problem" to have, in his words.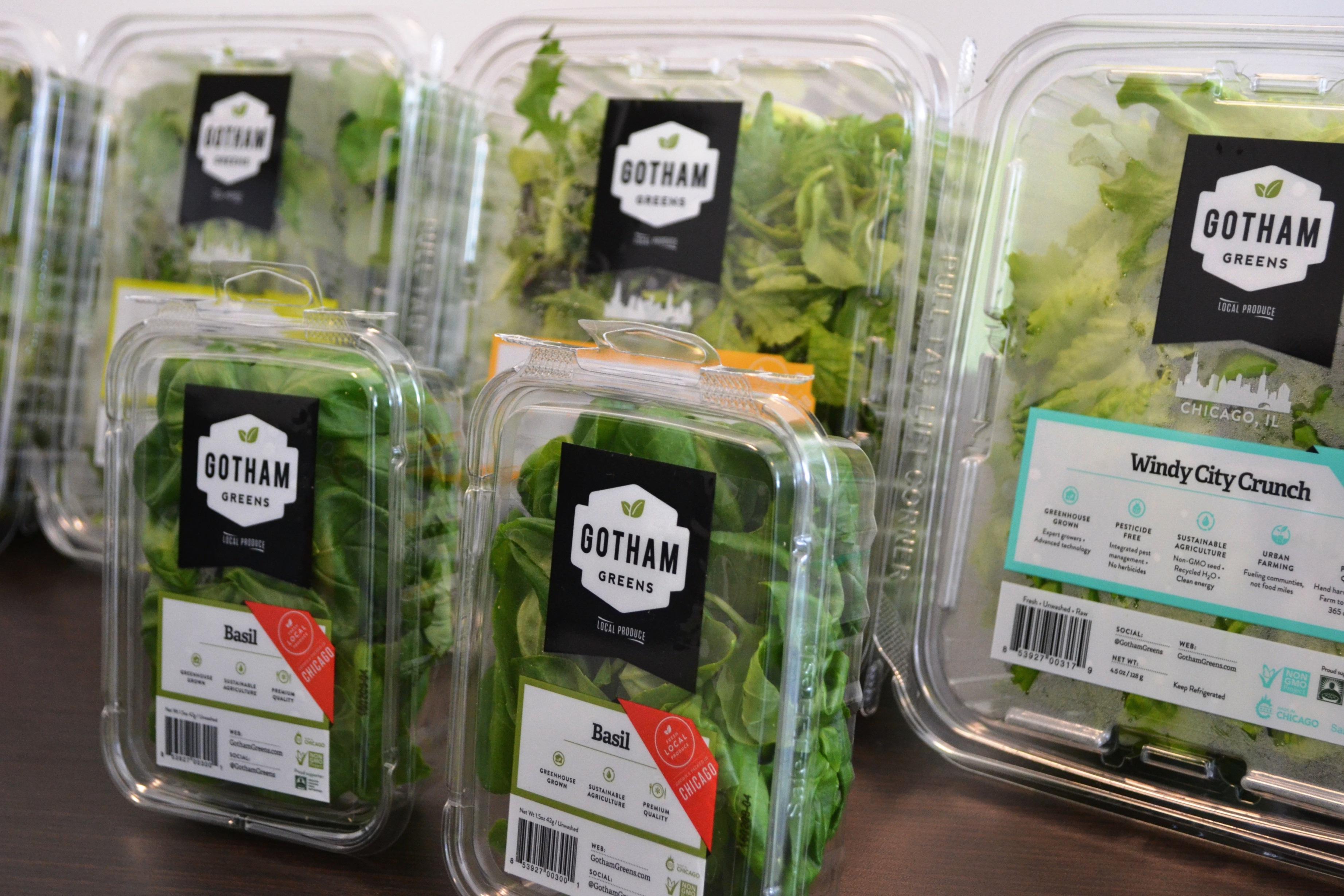 Puri says over 80 percent of the crops from this rooftop greenhouse are sold in the Chicago area. (Evan Garcia)
Gotham Greens' products are available at local Whole Foods, Treasure Island Foods and other retailers. Prices vary based on the merchant, but a single package typically runs $3.99.
If you're wondering where the second-largest rooftop greenhouse in the world is, Puri believes that honor belongs to their 60,000-square-foot greenhouse in Queens, New York. Clearly, Gotham Greens has this market cornered.
Editor's note: This story was originally published on Feb. 11 and was updated to include a video interview with Puri on "Chicago Tonight."
Follow Evan Garcia on Twitter: @EvanRGarcia
---