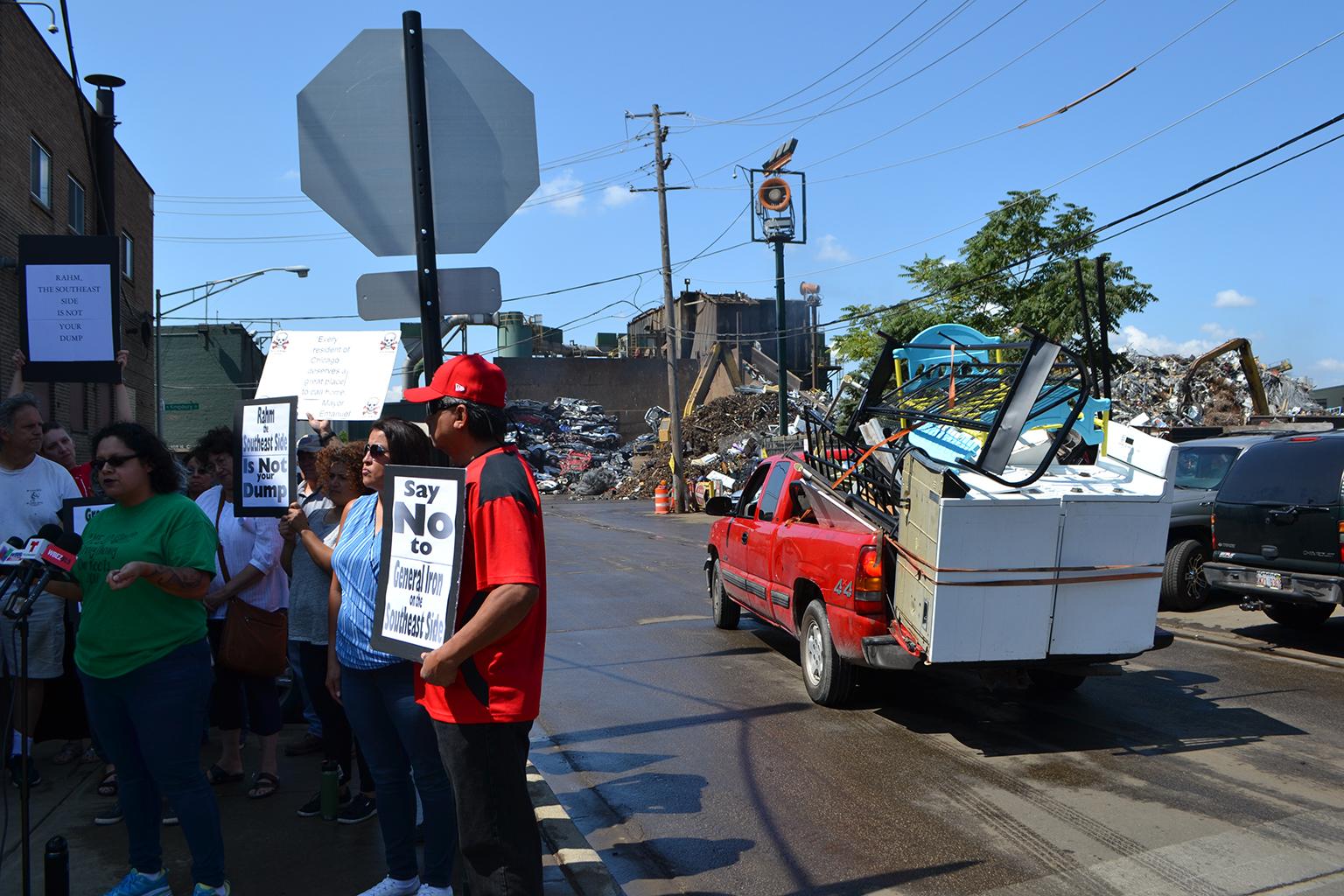 Southeast Side residents hold a press conference Monday, July 30, 2018 in front of General Iron's scrap metal yard in Lincoln Park. (Alex Ruppenthal / Chicago Tonight)
Minutes before the scheduled start of a press conference to protest the move of a Lincoln Park scrap metal shredder to the Southeast Side, a truck owned by the company rolled by and sprayed water toward the feet of protesters standing on the edge of a sidewalk outside the facility.
For the 20 or so residents who had bused up from the Southeast Side, the scene reinforced their skepticism about General Iron Industries' pledge to be a good neighbor when the company relocates to their neighborhood in two years.
The move will transition the company's shredding operation from wealthy, mostly white Lincoln Park to a low-income and largely Latino neighborhood that already faces threats from other industrial sources of pollution. General Iron, meanwhile, is expected to cash in on the sale of its current 21.5-acre site, which is surrounded by Lincoln Yards, a multibillion-dollar mixed-use development project planned for the former sites of steel mills and other industries that used to dominate the area.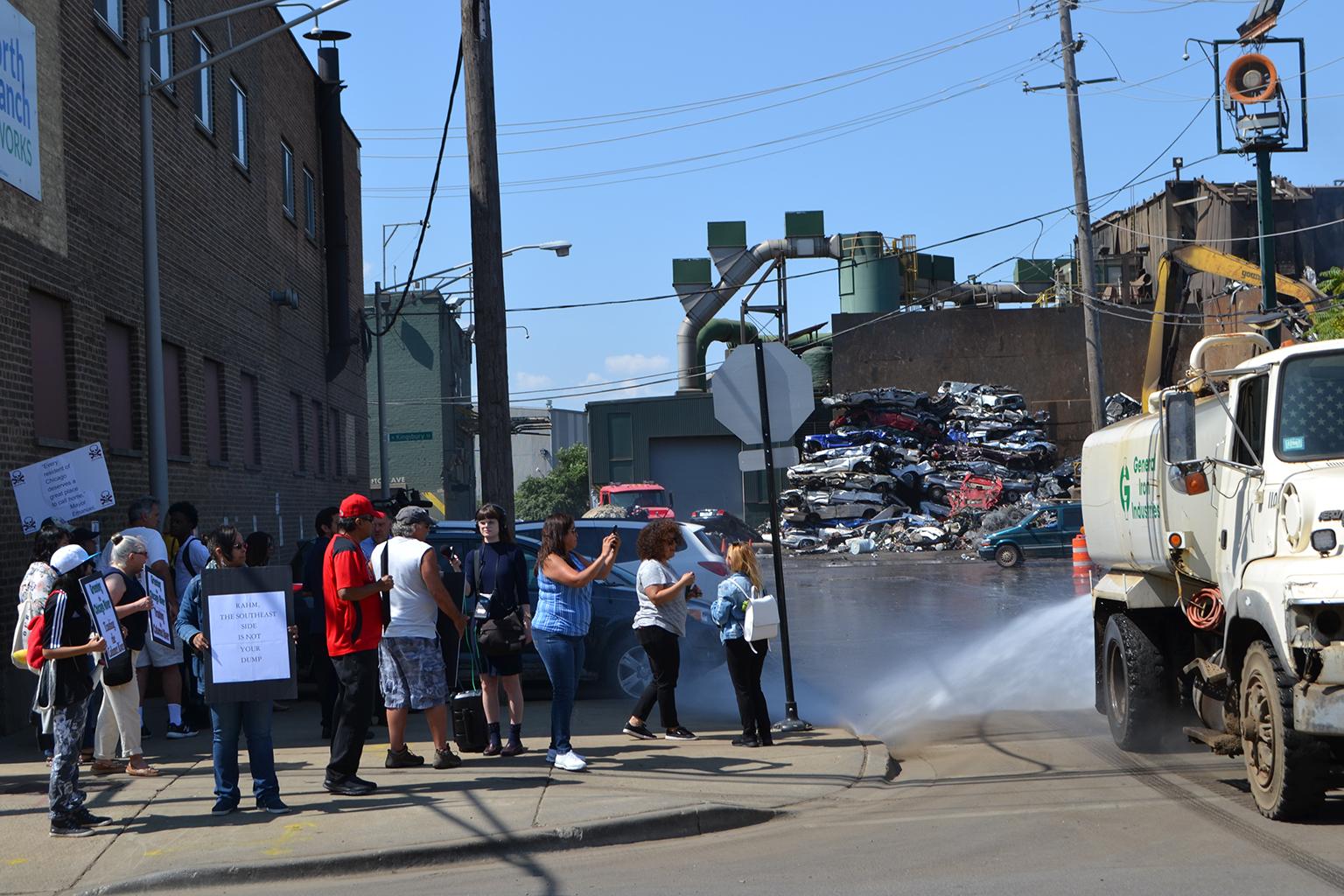 A water-spraying truck operated by General Iron drives past protesters on Monday, July 30, 2018. (Alex Ruppenthal / Chicago Tonight)
The planned move, announced earlier this month, comes after years of complaints from Ald. Brian Hopkins, 2nd Ward, about the clouds of black dust, metallic odors and other pollution emitted from the facility's heaps of flattened cars and discarded metals. Last year, Hopkins relayed results from University of Illinois at Chicago researchers who found dangerous levels of lung-damaging particulate matter near the facility.
The study prompted the U.S. Environmental Protection Agency to conduct its own testing, as reported by the Chicago Tribune. Last week, the agency announced that it was citing General Iron with multiple violations of the Clean Air Act for failing to control emissions of hazardous metals that have been associated with cancer and other damaging health effects. The EPA also found the company failed to obtain a proper air pollution permit.
General Iron has disputed the agency's claims, stating that it "strongly disagrees" with findings of heightened levels of particulate matter from its facility, located along the North Branch of the Chicago River near the intersection of Clybourn and Racine avenues.
The EPA's citation follows a series of settlements with General Iron over pollution from the facility, which the company says helps recycle 60,000 tons of scrap metal each year. The EPA's website shows that General Iron has faced compliance actions in each of the past six years. (Two of those actions led to violations.) 
"We are here today to say, we don't want you," said Peggy Salazar, director of the Southeast Environmental Task Force, during Monday's press conference, which was staged in front of General Iron's Lincoln Park scrap yard. "We don't want a company with a history of EPA violations. We don't want a company who has made promises to do better and then doesn't."
General Iron plans to move its shredding operation by 2020 to a section of the former Republic Steel site along the east side of the Calumet River near 116th Street. The 175-acre site is already home to a scrap metal operation run by Ohio-based Reserve Management Group, with whom General Iron is partnering for its move.
In announcing the move earlier this month, the companies pledged to construct "an enclosed, high-tech metal shredder" as part of a "new, state-of-the-art facility."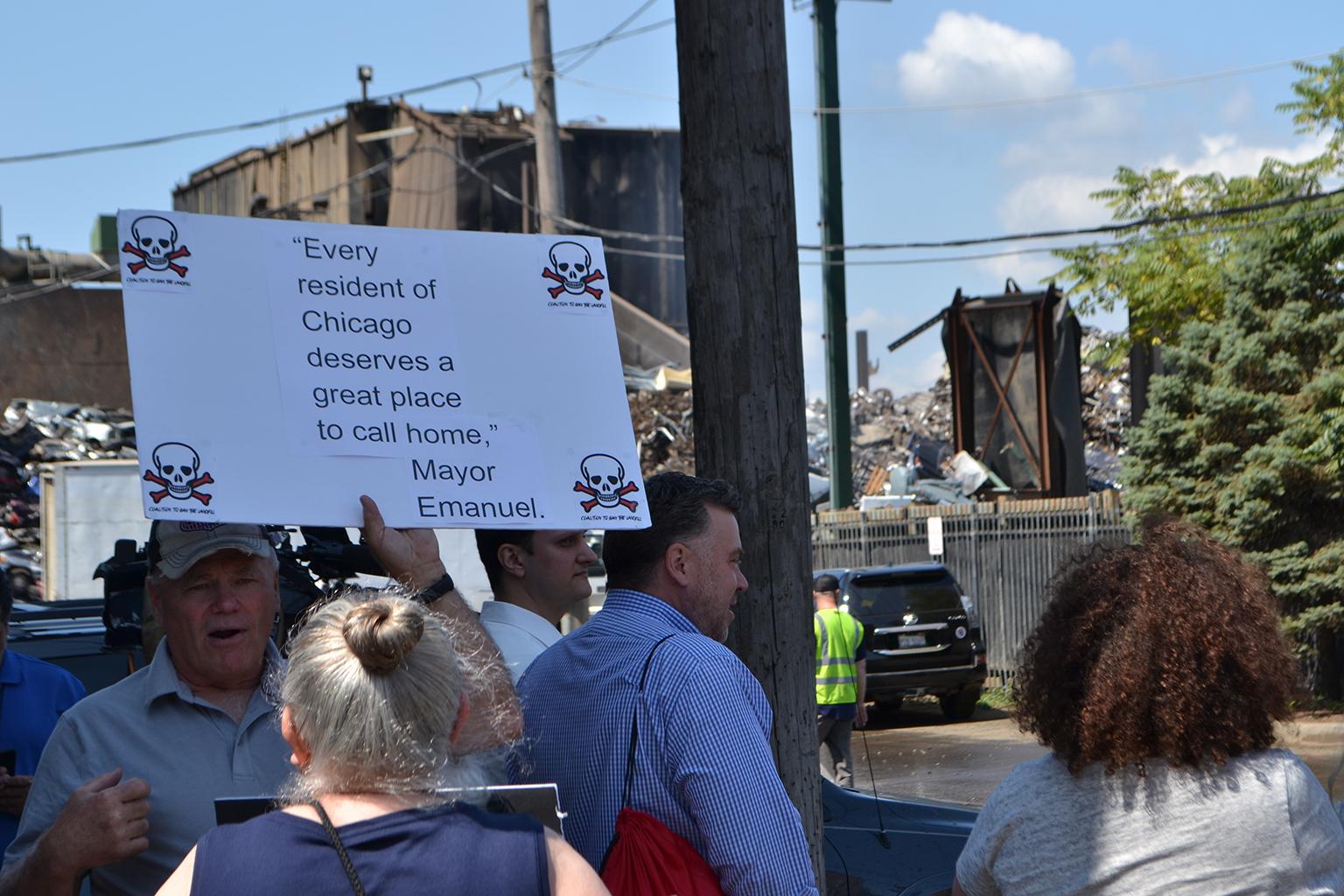 Southeast Side residents protest the planned move of Lincoln Park scrap shredder General Iron on Monday, July 30, 2018. (Alex Ruppenthal / Chicago Tonight)
But Southeast Side residents, like Wayne Garritano of the 9700 block of South Marquette Avenue, are skeptical. Garritano, who cited General Iron's history of compliance issues with the EPA, watched as a claw-mounted crane released a collection of mangled scrap metal, sending plumes of black-colored dust into the air.
"They have a bad, bad track record," said Garritano, who held a sign that read, "Lincoln Park -- We Don't Want Your Trash." "Why would they change now?"
South Deering resident Anna Johnson attended the protest with her 17-year-old daughter, Gianna.
"I want my daughter and all the generations to come [to have] a clean community – clean air, clean water," she said. "The Southeast Side, just like the North Side, we want to be able to go out and enjoy the lake, enjoy clean air."
Gianna said she already struggles with pollution from existing industrial sites nearby, including odors that give her trouble breathing and sometimes upset her stomach.
"It's not fair how everybody else gets to have clean air and not us," she said.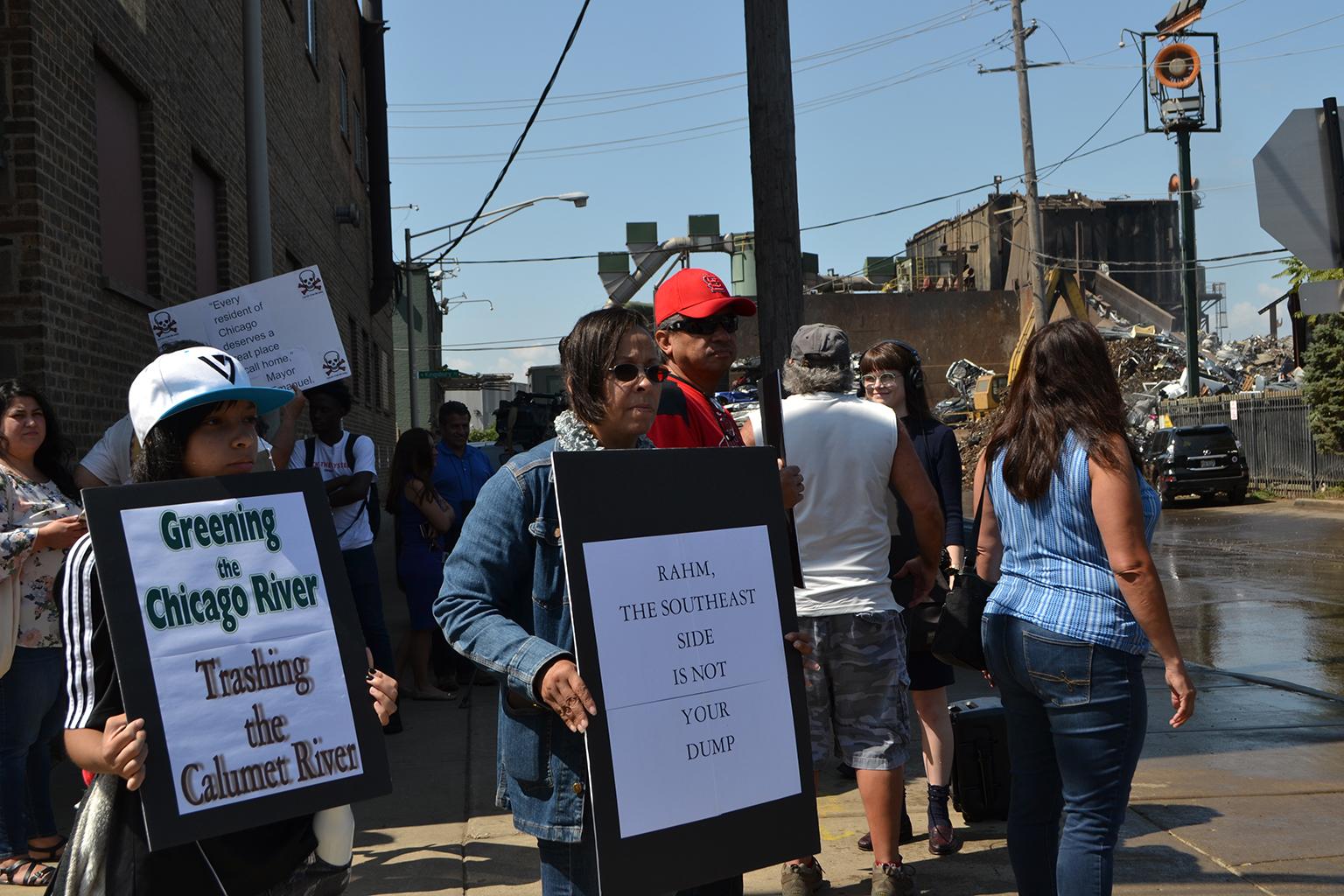 South Deering resident Anna Johnson and her daughter, Gianna, 17, outside General Iron's scrap metal yard in Lincoln Park. (Alex Ruppenthal / Chicago Tonight)
According to EPA data, nearly 7,000 residents live within a mile of General Iron's planned location on the Southeast Side, compared with about 49,000 at the company's existing facility in Lincoln Park.
Salazar, head of the Southeast Side environmental group, said she's skeptical about General Iron's pledge to build a top-of-the-line facility that helps to improve "the environmental health and safety of the region," as stated in a company press release.
"They're promising a whole lot. They're promising to be the crown jewel of the [area]," she said, pointing toward the scrap metal yard. "Does that look like in any way, shape or form that could be the crown jewel of anything?"
Residents are scheduled to meet with representatives from General Iron early next month, Salazar said.
Editor's Note: This story has been updated to clarify the EPA's compliance actions in regard to General Iron. 
Contact Alex Ruppenthal: @arupp | [email protected] | (773) 509-5623
---
Related stories:
$169 Million Industrial Complex Planned for Chicago's Southeast Side