Chicago's annual Lollapalooza music festival gets underway Thursday. It's the event's first return to Grant Park since a mass shooting at an outdoor concert in Las Vegas left dozens dead and hundreds injured last October.
In the aftermath of that tragedy, investigators learned the gunman may have wanted to target the 2017 Lollapalooza, booking a room at the Blackstone Hotel overlooking Grant Park – but never checking in.
The Las Vegas shooting, and the annual challenges presented by a crowd of hundreds of thousands descending on downtown Chicago, has prompted new, tighter security measures at Lollapalooza.
Those attending this year's music fest will be allowed to bring in small purses, totes and drawstring bags – but no backpacks. Concertgoers can also bring in empty water bottles and hydration packs, as well as sealed sunscreen lotion, but not spray sunscreen. Among the lengthy list of forbidden items: cigarettes and vapes, selfie sticks, drones, flags, and Frisbees. (See the full list here.)
For their part, the Chicago Police Department and Office of Emergency Management plan to expand their perimeter around Grant Park and add personnel in and around the festival. CPD also has a crisis response plan should the need arise.
Joining Chicago Tonight to talk about the security challenges posed by Lollapalooza and other large-scale events like it are Tom Mockaitis, a security and terrorism specialist and a professor of history at DePaul University; and sports and entertainment business consultant Marc Ganis, president of the firm SportsCorp.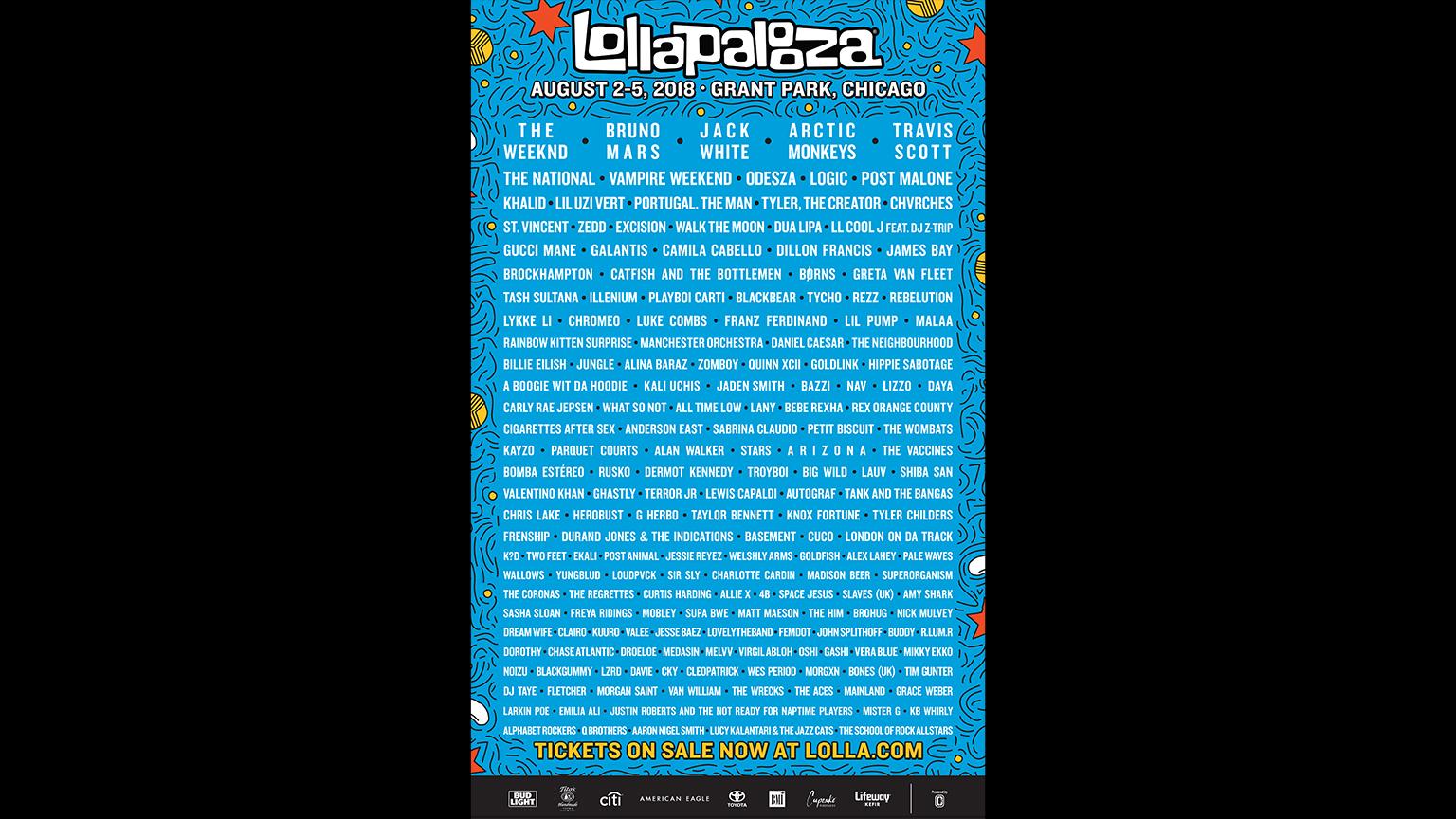 Click poster for more information about this year's lineup.
Related stories:
2018 Chicago Summer Festival Guide
10 Things to Do This Weekend: Aug. 2-5
List: Free Summer Concerts in Millennium Park's Pritzker Pavilion
Black Ensemble Unwraps the Joyful Healing Properties of the Blues
---