It sounded like a jackhammer at first. Margie Newman had just settled in to her 26th-floor hotel room at the Mandalay Bay Resort & Casino on the Las Vegas Strip on Sunday night when she heard what she thought was construction noise outside after 10 p.m.
"And I thought 'Oh my gosh, here I am in Vegas and they're jackhammering in the middle of the night,'" she told Chicago Tonight in a phone interview from her hotel room Monday afternoon. "I looked out the window and couldn't make sense of it. It was very disorienting because I was starting to hear sirens.
"It was like every 10 or 15 seconds, this rat-tat-tat would start. It was upsetting but I didn't know why. It took a minute for it to set in what this could be. I was looking and I saw police cars and other emergency vehicles were starting to converge all around, I could see sort of the perimeter from my room, and I saw people running. And that's when it hit me.
"I was like, 'Are those people running?' And then it became unmistakable."
People across the country awoke Monday to news that at least 58 people were killed and more than 500 were injured late Sunday night at a concert in Las Vegas in what is now the most deadly mass shooting in modern American history.
A gunman – who Las Vegas Police have identified as 64-year-old Stephen Paddock of Mesquite, Nevada – opened fire on concertgoers at the Route 91 Harvest country music festival from a window on Mandalay Bay's 32nd floor. Paddock was later found dead inside a hotel room.
The mass shooting is one of hundreds that have occurred in 2017. And it's not even the most recent. Another mass shooting took place later Sunday night in Lawrence, Kansas, killing three and injuring two more.
It has also been less than 16 months since 49 people were killed at the Pulse nightclub in Orlando, Florida – which had been the deadliest mass shooting before Sunday.
'I could see people running'
Newman – who has done freelance work at WTTW for years – flew to Las Vegas from Chicago earlier in the day Sunday for a conference that was scheduled to begin Monday. She started filming out her window once she heard the first rounds of gunfire, but when she realized what was happening, she quickly ducked to the floor.
"I called my guy at home and I told him I was afraid and I didn't know what was happening, but I thought that it was an active shooter, but I wasn't sure and I hoped not," Newman said. "But I knew. I knew already."
Still, she couldn't understand the full scope of what was happening as rumors flew of multiple shooters, a bomb squad on scene and people being trampled below.
She turned off her lights and spent the next few hours pacing her room as helicopters buzzed by just outside, checking social media for updates and watching emergency responders swarm to the scene on the ground below. She also texted with other convention attendees to make sure everyone was safe and watched as people collapsed on the ground below.
(Courtesy CNN)
"The lights had been on over at the concert, and I could actually see people running in the audience," Newman said. "And then I saw people, I was telling myself 'They're not all laying on the ground, they're not all laying on the ground.' And they were – they were laying on the ground and people were running around them. There were these weird streams of people in the crowd … and I knew what was happening."
Paddock opened fire on a crowd of more than 22,000 concertgoers early into country music artist Jason Aldean's Sunday night set, according to Las Vegas Police. The shooter was dead by the time a SWAT team breached the door to his room, where they found his body and several rifles.
Eyewitnesses on the ground have described the chaos that ensued as the shooting began.
"People had to fall on top of each other, whether they were alive or not," Corinne Lomas told CNN. "I could see a guy with a bullet wound in his neck. ... People started dropping like flies."
"I've never been that scared in my life," Gail Davis told the New York Times. "To have this happen, I can't wrap my mind around it."
Elected officials across the state have also weighed in Monday, offering prayers and condolences for the victims.
"Many have asked when is the time to discuss gun violence prevention," Illinois U.S. Rep. Mike Quigley said in a statement. "The answer is yesterday, today, and always. There is no doubt the absence of smart gun laws plays a leading role in these attacks. We can and must do better."
'As much damage as possible'
Newman still hadn't left her room by the time she spoke with Chicago Tonight on Monday afternoon. In all, she thought the shooting lasted about 10 minutes.
She was able to see the blown-out window of Paddock's suite from her own room, and was able to see law enforcement and emergency responders still on the ground below sorting through what looked like personal effects abandoned at the scene.
Heavily armed police officers knocked on her door and every other door in the middle of the night during a sweep of the building, but Newman said she wasn't told she could even leave the building until around 10 a.m. Monday. And people in her group who had left the hotel before the shooting began weren't able to get back in until early Monday.
The Clark County Fire Department estimated just over 406 people had been transported to area hospitals and 50 were dead immediately following the shooting. Those totals have continued to rise.
"There were hundreds and hundreds of volleys … it was hundreds of shots into a sea of people," Newman said. "Those poor people, they were just trapped and this guy wanted to do as much damage as possible."
Follow Matt Masterson on Twitter: @ByMattMasterson
---
Related stories: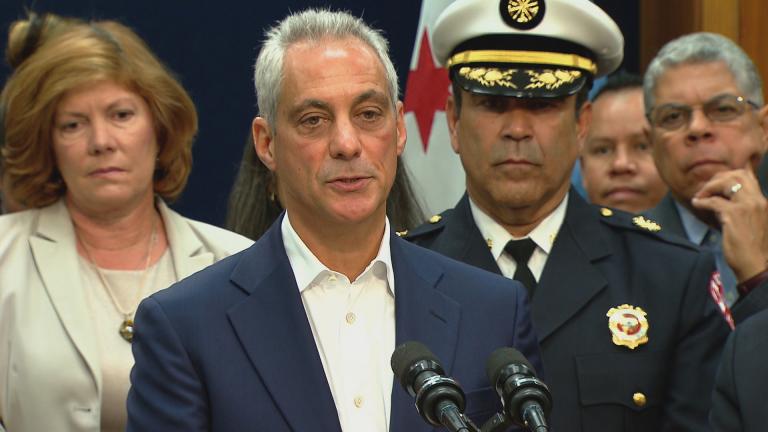 Local Officials React to 'Senseless' Las Vegas Shooting
Oct. 2: In the wake of the massacre of concertgoers in Las Vegas, Chicago is preparing to host one of its largest annual events, the Chicago Marathon, on Sunday. Mayor Rahm Emanuel says the city is ready.
---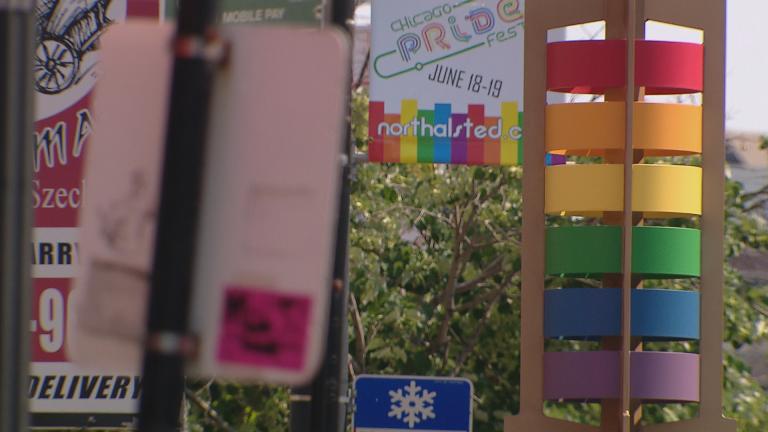 Global Show of Support for LGBTQ Community After Orlando Club Attack
June 14, 2016: Members of Chicago's Muslim and LGBTQ communities are grappling with the fallout from Sunday's attack at Pulse, a popular gay nightclub in Orlando that left a reported 49 dead and 53 injured.
---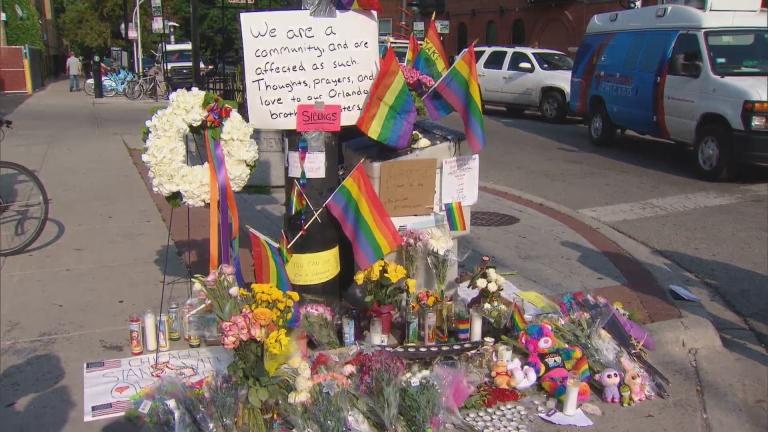 Chicago Reacts to Orlando Mass Shooting
June 13, 2016: Chicago reacts to the mass shooting in Orlando that left a reported 49 dead. We have the latest as a vigil gets underway in Lakeview.
---