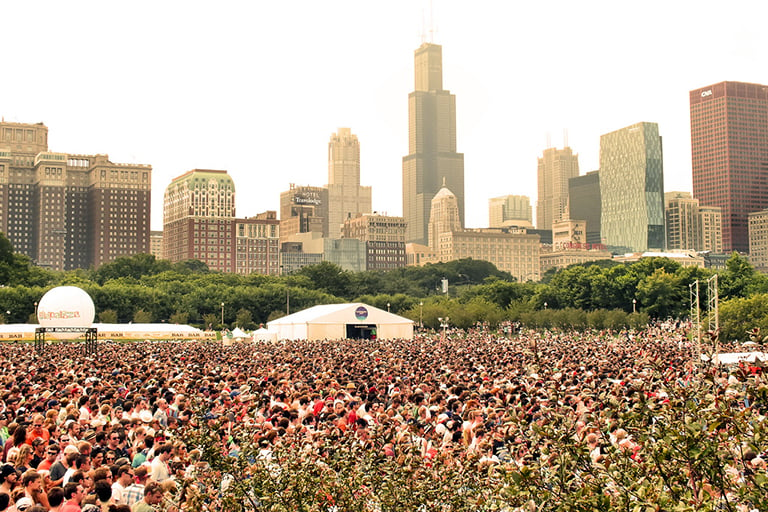 Alleged Las Vegas gunman Stephen Paddock reportedly booked multiple rooms at the Blackstone Hotel (red and white building, second from left) in August overlooking Lollapalooza. (EMR / Flickr)
The gunman who opened fire on thousands of concertgoers in Las Vegas late Sunday night had booked two rooms in Chicago earlier this summer overlooking Grant Park during Lollapalooza, according to a report from TMZ.
The report states Stephen Paddock had booked two rooms at the Blackstone Hotel on Michigan Avenue, one for Aug. 1 – two days before the annual music festival began – and another for Aug. 3, which was opening day.
"The hotel directly overlooked the main stage as well as several adjoining stages," the TMZ report states. "It also overlooks the main entrance and exit where thousands of people file through. And the hotel had a bird's-eye view of the crowd."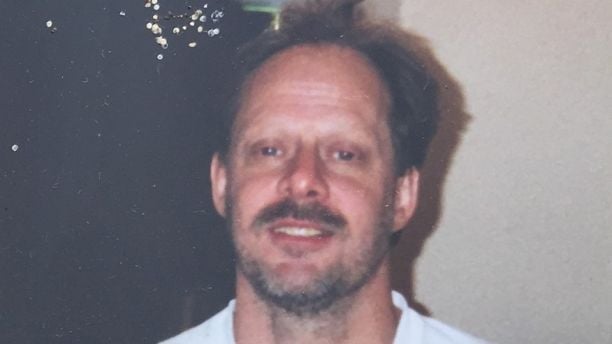 Stephen Paddock (Eric Paddock / WOFL)
TMZ says Paddock never checked in to the rooms inside the 23-floor, 290-foot-tall hotel, but claims he had specifically requested "view rooms" facing Grant Park, where hundreds of thousands of people flocked over the four-day concert festival. The Mesquite, Nevada, man killed 59 people Sunday night and wounded more than 500 others at a country music concert, firing high-powered rifles from his 32nd-floor room at the Mandalay Bay Resort & Casino in what was the deadliest mass shooting in modern U.S. history.
"We are aware of the media reports and have been in communication with our federal partners," Chicago Police Department spokesman Anthony Guglielmi said in response Thursday morning. "As you saw earlier this week the city conducts extensive public safety planning and training around major events, in close coordination with our law enforcement partners, to ensure public safety."
NBC News also reported Thursday morning that Paddock had researched hotels near Fenway Park in Boston, but said there's "no indication" he ever traveled there. 
The Blackstone on Thursday said no one named Stephen Paddock stayed at the hotel in August during Lollapalooza, but said a reservation was booked using that name.
"We can confirm that a reservation was made under the name Stephen Paddock, however authorities have not confirmed that this is the same person as the Las Vegas shooter," a hotel spokeswoman said in a statement. "We are cooperating with the authorities on this matter."
A spokesmen from Lollapalooza did not immediately respond to a request for comment.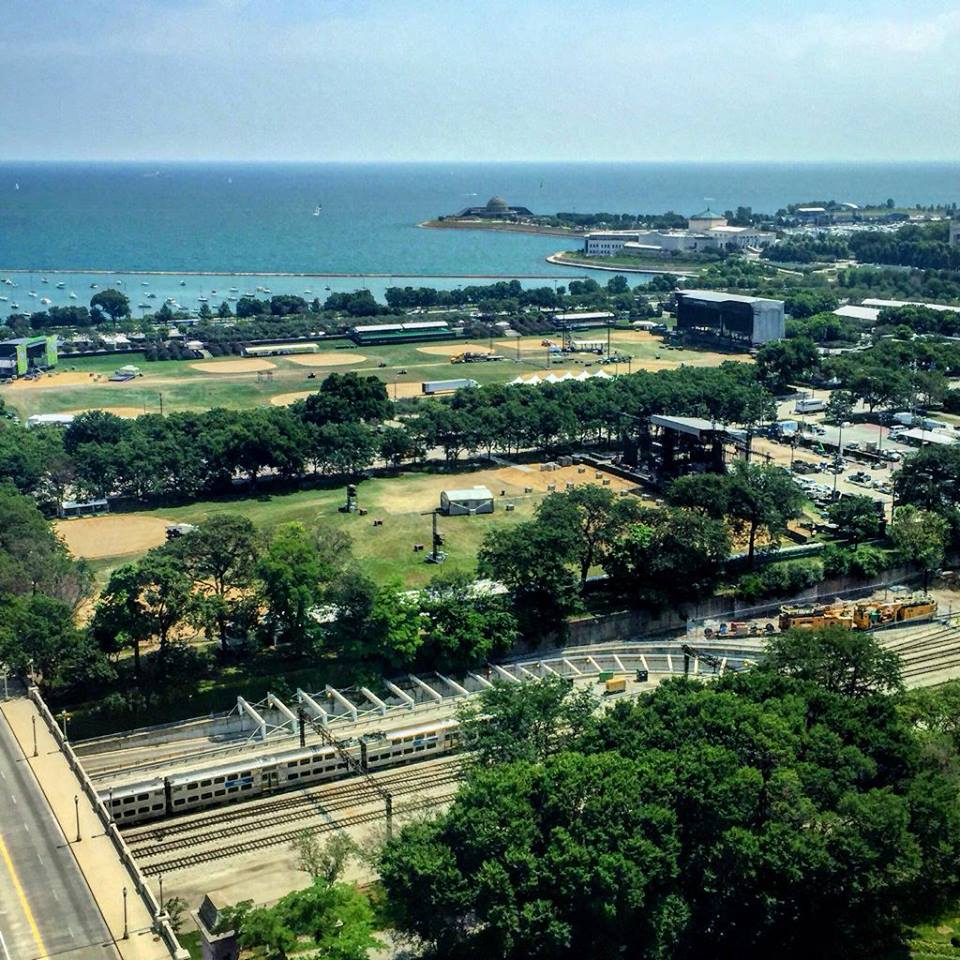 A 2015 photo from taken from the Blackstone's 17th floor shows the vantage point the hotel has over multiple Lollapalooza stages. (Blackstone Hotel / Facebook)
Mayor Rahm Emanuel on Monday said the city has already run through six active shooter trainings this year – upping its focus on these situational trainings following the Boston Marathon bombing in 2013.
Those trainings have also expanded to include 33 area hospitals and the city's Office of Emergency Management and Communications, to go along with the Chicago Police and Fire departments.
"So there's been preparation and work for a situation pre-Vegas – not with Vegas particularly in mind," Emanuel told media Monday. "The city is prepared and doing its work."
Speaking to Chicago Tonight on Thursday, Emanuel said the city will have a "bigger, larger, more physical (security) presence" at this weekend's Chicago Marathon and the upcoming Chicago Cubs playoff games.
He also hopes Gov. Bruce Rauner and the state Legislature take up "common-sense gun legislation," pointing specifically to the Gun Dealer Licensing Act.
"There is nothing on those pictures of that hotel room that reflects the Second Amendment," Emanuel said, referring to the cache of weapons found in Paddock's Mandalay Bay room. "Nothing."
---

Follow Matt Masterson on Twitter: @ByMattMasterson
---
Related stories: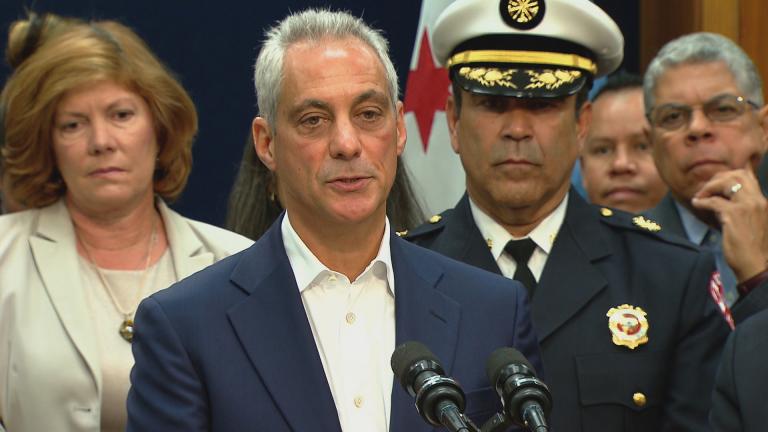 Local Officials React to 'Senseless' Las Vegas Shooting
Oct. 2: In the wake of the massacre of concertgoers in Las Vegas, Chicago is preparing to host one of its largest annual events, the Chicago Marathon, on Sunday. Mayor Rahm Emanuel says the city is ready.
---
Eyewitness: Las Vegas Shooter 'Wanted to Do as Much Damage as Possible'
Oct. 2: An eyewitness recounts what she saw in Las Vegas on Sunday night during what has become the deadliest mass shooting in modern U.S. history.
---
DHS Approves Illinois Grant to 'Off-Ramp' Potential Extremists
June 30: A new Illinois program aims to educate the public on how to identify individuals at risk of radicalization, a strategy critics say unfairly targets Muslims.
---