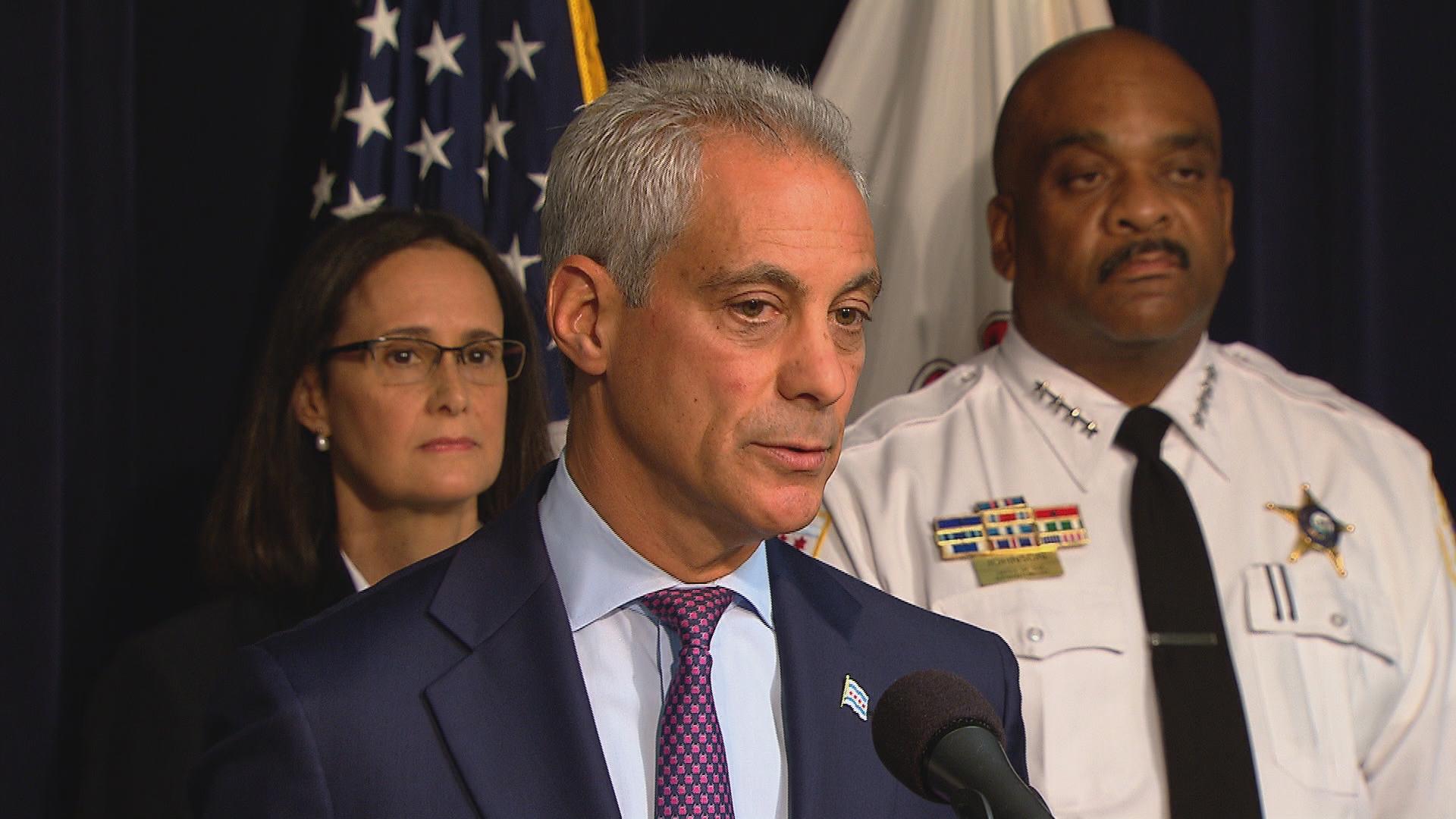 Mayor Rahm Emanuel, Illinois Attorney General Lisa Madigan and Chicago Police Superintendent Eddie Johnson discuss police reforms and oversight of the Chicago Police Department on Aug. 29, 2017.
Agreement has been reached on a draft consent decree that would allow an independent federal monitor to enact major changes within the Chicago Police Department.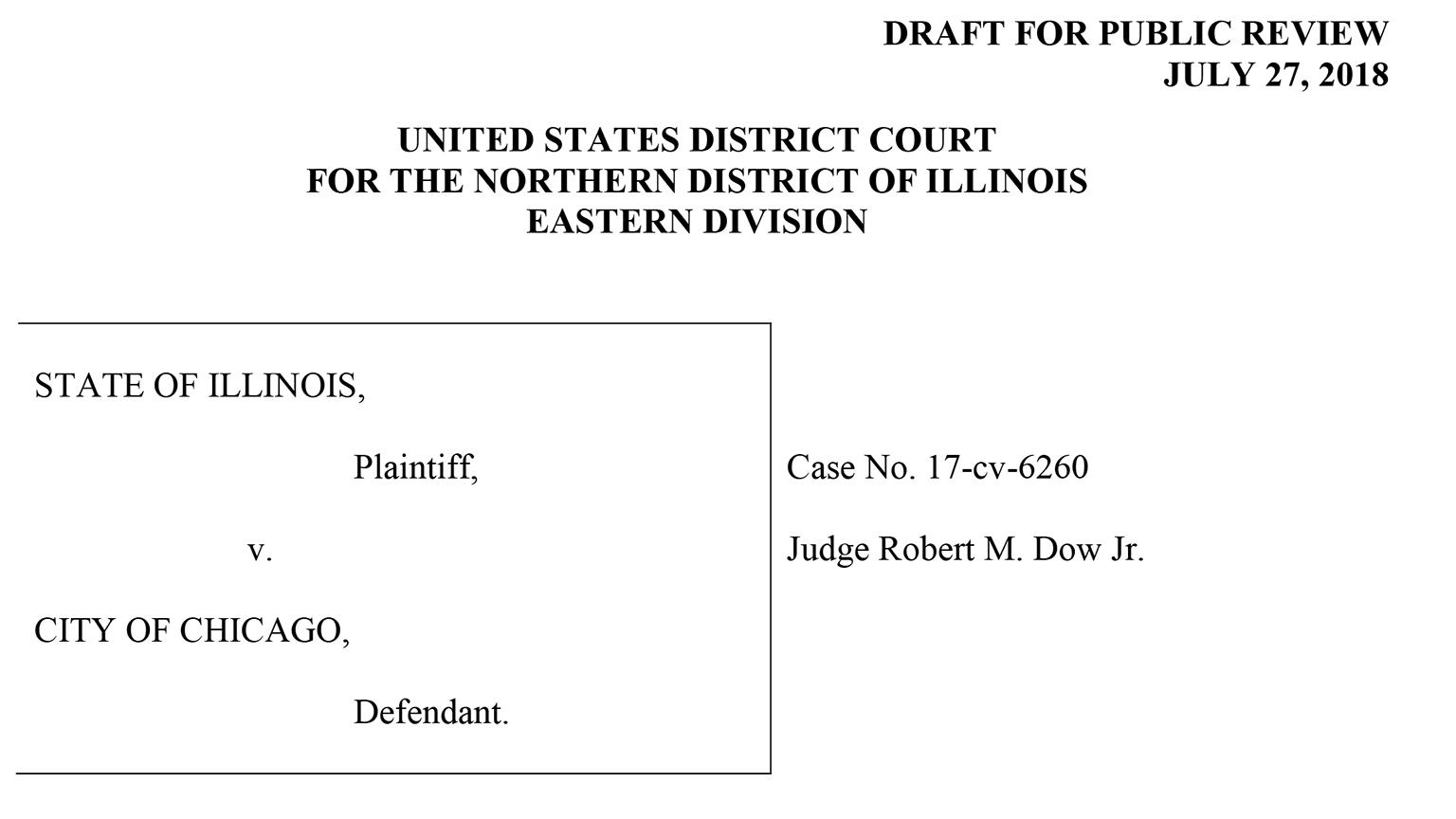 Document: Read the draft consent decree The proposal, released for public comment Friday, comes after almost a year of negotiations between the Illinois attorney general's office, the city of Chicago and the Chicago Police Department. It does not include a provision the attorney general asked for that would require police officers to document every instance in which they point a firearm at someone.
"If someone has a gun pointed at them, you have a situation where somebody has been seized," Illinois Attorney General Lisa Madigan said. "We need to know why that is happening, when that is happening."
Mayor Rahm Emanuel says that issue is complicated and said earlier this week that it's "more important to get it right than get it fast." The parties will continue to negotiate the issue.
The Fraternal Order of Police has blasted the entire process and has sued to become part of the negotiations. Madigan, Emanuel and Police Superintendent Eddie Johnson sought to assuage the concerns of rank-and-file police officers at a press conference Friday, saying the document is meant to assist them, not hinder them.
"Rank-and-file police officers have known for a couple of years that this consent decree was coming," Johnson said. "Don't forget that a lot of the recommendations that the [Department of Justice] got – either good or bad, positive or negative – came from the rank-and-file police officers."
"They've asked for better training, that's in here," Emanuel said Friday. "They've asked for wellness. They've asked for a series of things you'll find here."
The agreement addresses new and enforceable guidelines that will govern the use of force by police, supervision and promotions, accountability and oversight, community policing, impartial policing, crisis intervention, officer assistance and support, data management, and the role of the independent federal monitor, who would be appointed by and report back to a federal judge.
A final version of the consent decree will be signed into law at the beginning of September.
Fraternal Order of Police President Kevin Graham says the union will continue to fight the consent decree in court, and that a lot of reforms have already been agreed to within the police department.
"We don't need to put hundreds of millions of dollars onto the taxpayers when these can be done within the police department and with the cooperation with everybody," Graham said.
One retired sergeant said he believes the proposed gun-pointing policy would just complicate officers' jobs further.
"We already have a report, every time a police officer has an encounter with somebody, they have to fill out a report, it's like 70 boxes," said retired CPD Sgt. Peter Koconis. "When you add something else to this mix, you're taking a good active police officer and you're putting him down for 20-30 minutes, just filling out paperwork for absolutely nothing."
City Inspector General Joe Ferguson says he would urge parties to include the policy.
"It is a fundamentally perspective-changing event to occur," Ferguson said. "So to think that it has little to do with how the community perceives the police would be blinking reality. And so it's a really important thing to fold into how it is that we monitor use of force."
The final consent decree would be the culmination of a process that began soon after the 2016 release of the video showing the fatal police shooting of Laquan McDonald. Last August, the Illinois attorney general's office sued the city of Chicago and the Chicago Police Department after an Obama-era Department of Justice audit of the CPD found a pattern and practice of excessive and unconstitutional use of force.
Since then, the three sides have been negotiating a settlement in federal court that would result in a federally appointed monitor to oversee changes that would bring the Chicago Police Department into compliance. The settlement comes as Emanuel has instituted major changes within the department, including a new use of force policy, the widespread adoption of police body cameras, and a revamped agency, the Civilian Office of Police Accountability, that investigates police-involved shooting incidents. There are several grassroots community organizations that have called for a new oversight board made up entirely of civilian members that would have the power to hire and fire the police superintendent, but city leaders have stalled on the specifics of the proposal.
The Chicago Police Department would be governed by the consent decree and monitored until the federal judge believes it is substantially in compliance. Then, the duties of enforcing the provisions would fall largely on the Chicago inspector general's office. Similar consent decrees have recently been struck in cities like New Orleans, Baltimore and Cleveland.
Follow Paris Schutz on Twitter: @paschutz
---
Related stories:
Parties Near Agreement on Chicago Police Consent Decree
New COPA Chief Sydney Roberts Starts at Revamped Police Oversight Body
Chicago Reporter Analysis Shows Slow Progress on Police Reform
Developments in Court Oversight for the Chicago Police Department
Chicago FOP President and ACLU Weigh In on Police Reform
---