The Constitution's significance as the founding, guiding document of the American experiment is hard to overstate – but the stories of the people who wrote, promoted, defended and reimagined it are sometimes lost to history.
Helping to correct that oversight is Joseph Tartakovsky's new book "The Lives of the Constitution: Ten Exceptional Minds that Shaped America's Supreme Law." Among those chronicled by the author: pioneering Chicago journalist and anti-lynching activist Ida B. Wells-Barnett, former U.S. Supreme Court Justices Antonin Scalia and Stephen Field, and James Wilson, described as the most important framer nobody's heard of.
Tartakovsky is a constitutional law fellow at the Claremont Institute and former deputy solicitor general of Nevada. He joins us in discussion.
Below, an excerpt from the book.
Excerpt from The Lives of the Constitution: Ten Exceptional Minds that Shaped America's Supreme Law, by Joseph Tartakovsky, from Chapter 7: "Ida B. Wells- Barnett: Rights after Reconstruction to the Jazz Age"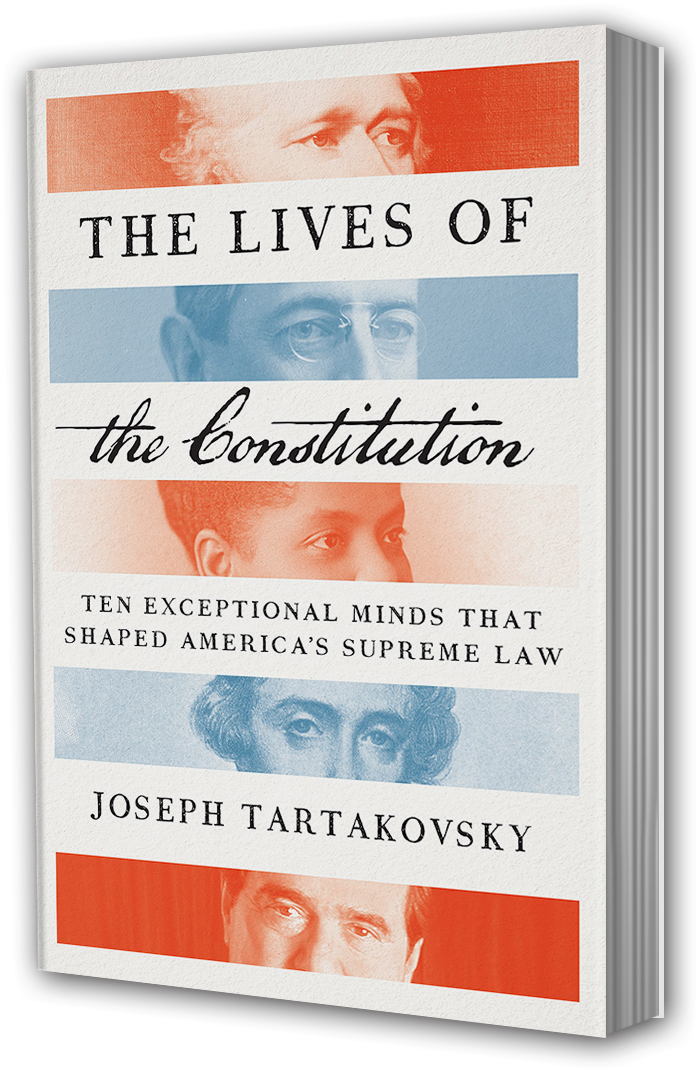 Socrates is said to have chosen a wife so headstrong that, if he could get on with her, it would prove that philosophy is indeed a form of consolation. Yet perhaps it was his experience with Xanthippe that led Socrates to make the immortal argument for female equality that appears in Plato's Republic. It has stood unrebutted these last 2,400 years. Socrates, in response to the conventional prejudice that the home was a woman's place by "nature"—a dangerously slippery synonym for "custom," he noted—he offered what one might call the Parable of the Cobblers. Some men by nature were bald, and others hairy-headed, he said, but this fact was perfectly irrelevant to their capacity to hammer shoes. Likewise, women differed from men in many wonderful ways, but in no respect that disqualified them from a share in political power, or even from ruling men.
Ida B. Wells, a black woman born a slave in Holly Springs, Mississippi, in 1862, could have sympathized with Xanthippe. Wells, too, was called irascible, rebellious, and stubborn. Wells, too, had a thoughtful partner—a leading Chicago lawyer named Ferdinand Barnett, who made her "Wells-Barnett," in an avant-garde instance of feminist hyphenation (and which I'll use even when referring to her premarital days). But it was Wells-Barnett, not her husband, who did the philosophical work.
For several years in the 1890s, according to Wells-Barnett's biographer Linda O. McMurry, no black American, except Frederick Douglass, enjoyed more press attention than Wells-Barnett. Once labeled the "uncrowned queen of the Negroes of America," she rose as a newspaper journalist whose fiery editorials in defense of black rights were cast across the nation like hot embers. When Frederick Douglass died, says McMurry, Wells-Barnett was heir apparent, "better known than W.E.B. Du Bois and more ideologically compatible with Douglass than Booker T. Washington." But black women didn't lead black men in those days. And that is what makes the career of Ida B. Wells-Barnett so memorable: she stood at the intersection of the two great socio-legal contests between 1880 and 1920—the struggles against White Supremacy and against Male Supremacy—and battled both quite successfully.
Ida's father Jim was the son of his master and a slave named Peggy, meaning that Ida's grandfather owned humans. The master's childless wife, still bitter about her husband's liaison years later, waited until her husband died and then ordered Peggy whipped. As a little girl Wells-Barnett remembered her mother pacing the floor anxiously, about something called the Ku Klux Klan. Ida studied to become a teacher in the postwar South when, at age 16, yellow fever killed both her parents within hours of each other. "After being a happy, light-hearted schoolgirl," she wrote in her memoir, Crusade for Justice, "I suddenly found myself at the head of a family." To support five younger siblings, each week she rode a mule six miles away to teach, then returned on the weekend to wash, iron, and cook.
Wells-Barnett had an irrepressible sense of dignity that was often aroused to her peril. In 1883, riding a train to Memphis, where she would soon teach, she refused an order to move from the ladies' car into the smoking car. The conductor grabbed her shoulder; she bit his hand. It took three men finally to remove her, as she watched white passengers applaud her humiliation. For Wells-Barnett, unlike for Rosa Parks, no NAACP existed in 1883 to bring a lawsuit, so the 21-year-old hired a lawyer herself, in one of the first suits of its kind in Tennessee. "A Darky Damsel Obtains a Verdict for Damages," read the headline in the Memphis Daily Appeal. (The Tennessee Supreme Court promptly reversed her victory.)
Not long after, she was fired by the Memphis school board for her criticism in the press of the inadequate buildings and poor teachers given to black students. By now she had begun regular publication. Friends thought her needlessly confrontational—a theme of her life—but she "thought it was right to strike a blow against a glaring evil," as she wrote in her memoir, "and I did not regret it." Nor should she have, for it forced her into full-time journalism. This eventually transformed her from a teacher of a schoolroom into the teacher of a nation.
The "remarkable and talented young school marm from Memphis," marveled the Washington Bee, a black paper, has "developed into one of the foremost among the female thinkers of the race." She wrote for a bewildering number of papers in a newspaper-rich era—the New York Age, Detroit Plain-Dealer, Indianapolis World, Little Rock Sun, Memphis Watchman, Chattanooga Justice, to name a few—on subjects all relating in one way or another to black "uplift." This meant everything from etiquette and homemaking to school-board elections and national politics. In 1887 Wells-Barnett attended the Louisville gathering of the National Colored Press Association, in the year it first accepted female journalists; soon she obtained a leadership position within the organization.
"She reaches the men by dealing with the political aspect of the race question," one colleague wrote, "and the women she meets around the fireside." "There is scarcely any reason why this woman, young in years and old in experience, shall not be found in the forefront of the great intellectual fight in which the race is now engaged for absolute right and justice under the Constitution," said another journalist. "[I]f she fails to impress her personality upon the time in which she lives, whose fault will it be?"
---
Related stories:
Chicago Scholar Tackles 'Sex and the Constitution'
How Black Americans Shaped Abraham Lincoln's Life
New Book Profiles Chicagoans Who Changed History
---