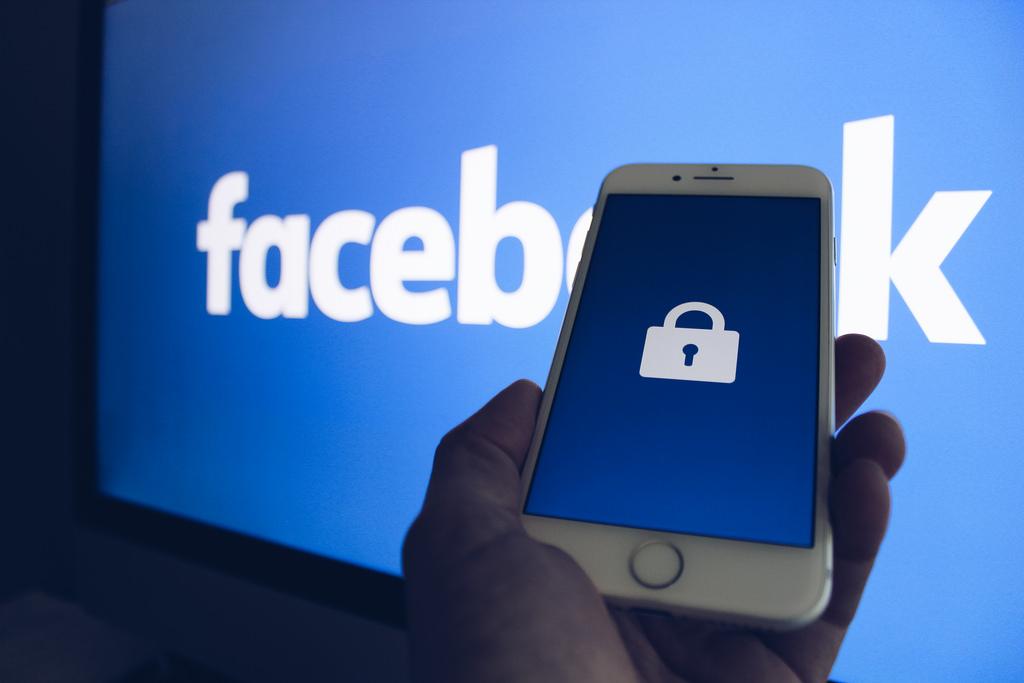 (Shop Catalog / Flickr)
Last week, an Illinois-based government watchdog group took to Facebook to promote its scheduled forum on data privacy.
In addition to creating a standard Facebook event, staff at the Citizen Advocacy Center in Elmhurst sought to further spread the word about the forum through a paid advertisement.
But Facebook rejected the group's request for an ad, which the company flagged as containing "political content."
Maryam Judar, Citizen Advocacy Center's executive director, said the organization tried twice to appeal the decision, asking Facebook for more information about the denial.
"They just repeated what they said in the previous message and then closed out the request," she said. "They don't tell you exactly what it is about your advertisement that they flag."
The experience is one that a number of would-be advertisers may face since Facebook rolled out new rules for political ads last month. As of May, all election-related and "issue ads" on Facebook and Instagram in the U.S. must be labeled, including a "Paid for by" disclosure from the advertiser at the top of the ad, according to the company.
The new policy is aimed at preventing fraud and abuse by groups such as the Internet Research Agency, which has been described as a Russia-backed "troll farm" that ran ads with "divisive social and political messages" leading up to the November 2016 election. The policy went into effect weeks after details surfaced of the company's massive data scandal involving the firm Cambridge Analytica, which Facebook said gained access to personally identifiable information of up to 87 million users.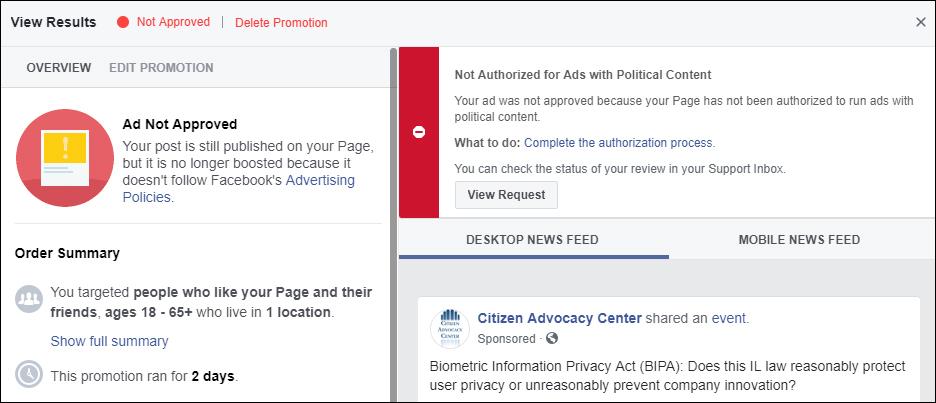 Facebook denied an advertisement by Elmurst-based Citizen Advocacy Center for an event on data privacy, flagging the ad as "political content." (Courtesy Citizen Advocacy Center)
But already, Facebook's new rules have swept up a range of non-political ads, including requests from a New York day care center and a hair salon in Maryland. (Facebook later said the ads were mistakenly marked as political.)
The company's new review system, which combines artificial intelligence with human reviewers, has also flagged opinion columns and news articles as political.
Facebook's ad denial came as a surprise to Judar of the nonpartisan Citizen Advocacy Center, which had hoped to advertise a forum on online privacy rights. The event, which was scheduled for Wednesday evening, aims to explore protections for residents under Illinois' Biometrics Information Privacy Act, which sets restrictions on companies' ability to collect data from facial and fingerprint scans.
The law is at the center of an ongoing class-action lawsuit against Facebook over the company's facial tagging feature that reportedly could involve millions of users in Illinois.
"Of course we wondered if it was just because of the exact subject matter – BIPA and the implications for Facebook," Judar said. "[But] our event is not a political event. It's an educational event."
A Facebook spokesperson said the ad was denied because the company identified it as taking a position on a "national issue of public importance," a list that includes topics such as abortion, civil rights, immigration, poverty and terrorism.
To run the ad, Citizen Advocacy Center would need to go through the application process for ads with political content, which is in place to prevent election interference, the spokesperson said.
But Judar said the classification should not apply in the case of her organization's ad. 
"It's not so much that there's a process to be verified – it's that they're going to be labeled a political advertisement," she said. "It's not accurate. It's misleading."
Judar said Citizen Advocacy Center's civic education programs, legal aid and other resources are of interest to people from across the political spectrum.
"The issues we fight for are issues everyone cares about: open government, transparent government, responsive government," she said. "I would imagine that Facebook would want to address this issue because they're going to lose advertising revenue from organizations that don't want to have their nonpolitical advertisements labeled as political."
Contact Alex Ruppenthal: @arupp | [email protected] | (773) 509-5623
---
Related stories:
Illinois Politicians Grill Zuckerberg During Facebook Hearings