A new study suggests ant colonies work like a collective brain to make decisions. How racial discrimination could negatively impact brain structure. A surgical implant that could provide pain relief without drugs. And how a quirk of evolution gave humans our voice.
Rabiah Mayas, vice president of education at the Museum of Science and Industry, joined "Chicago Tonight" to discuss the latest scientific breakthroughs making headlines.
A Dissolvable Implant for Pain Relief Without Drugs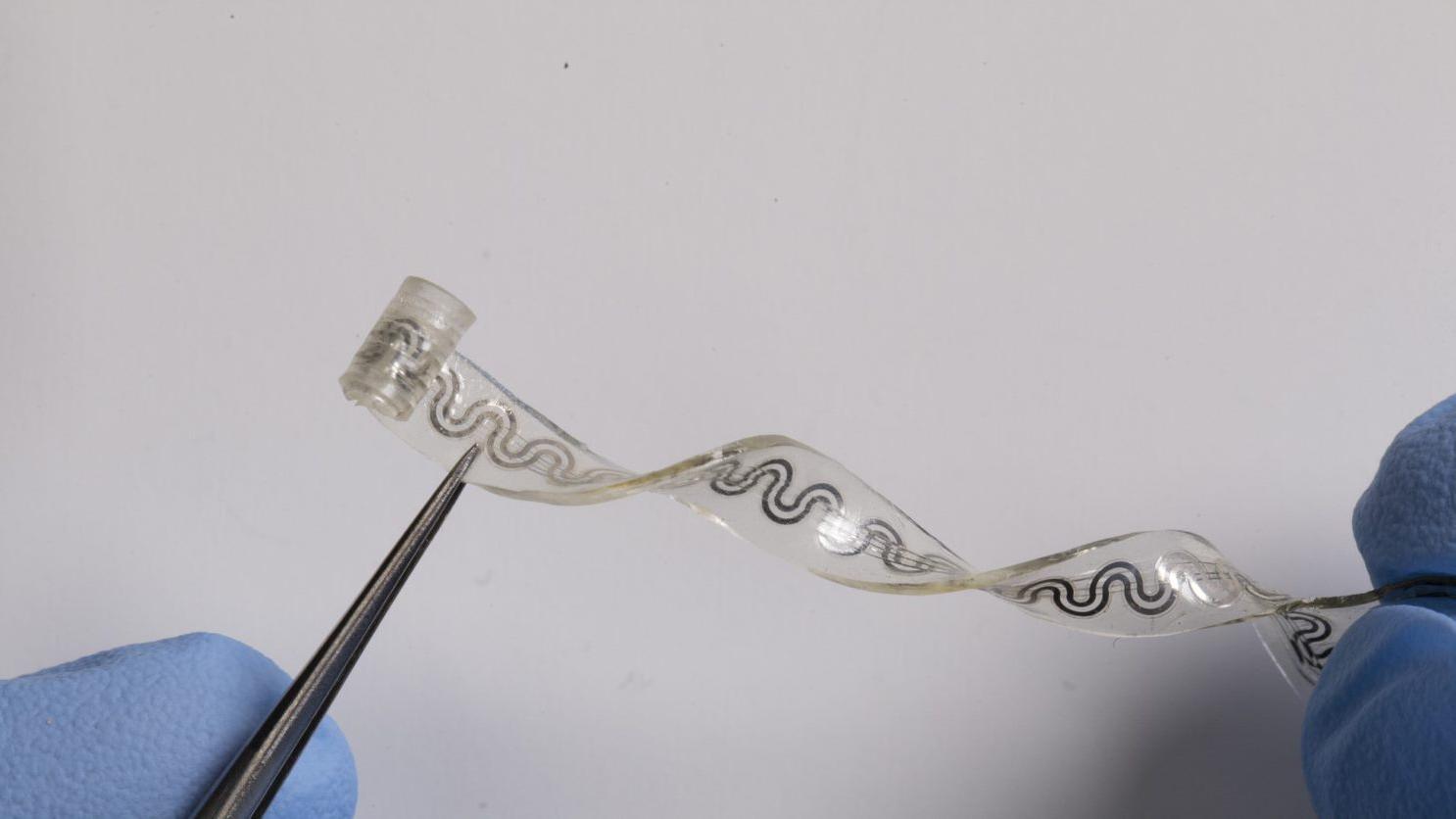 Researchers at Northwestern University have developed a small and flexible implant, pictured here, that can relieve pain without drugs. (Credit: Northwestern University)
Researchers at Northwestern University have developed a small and flexible implant that can relieve pain almost instantly without the use of drugs. They hope it could one day provide an alternative to opioids and other highly addictive medications.
The water-soluble and biocompatible device works by softly wrapping around nerves to deliver precise, targeted cooling, which numbs nerves and blocks pain signals to the brain. After the device is no longer needed, it naturally absorbs into the body, thereby avoiding the need for any surgical extraction.
"Although opioids are extremely effective, they also are extremely addictive," said Northwestern's John A. Rogers, who led the device's development. "As engineers, we are motivated by the idea of treating pain without drugs — in ways that can be turned on and off instantly, with user control over the intensity of relief. The technology reported here exploits mechanisms that have some similarities to those that cause your fingers to feel numb when cold. Our implant allows that effect to be produced in a programmable way, directly and locally to targeted nerves, even those deep within surrounding soft tissues." Read more.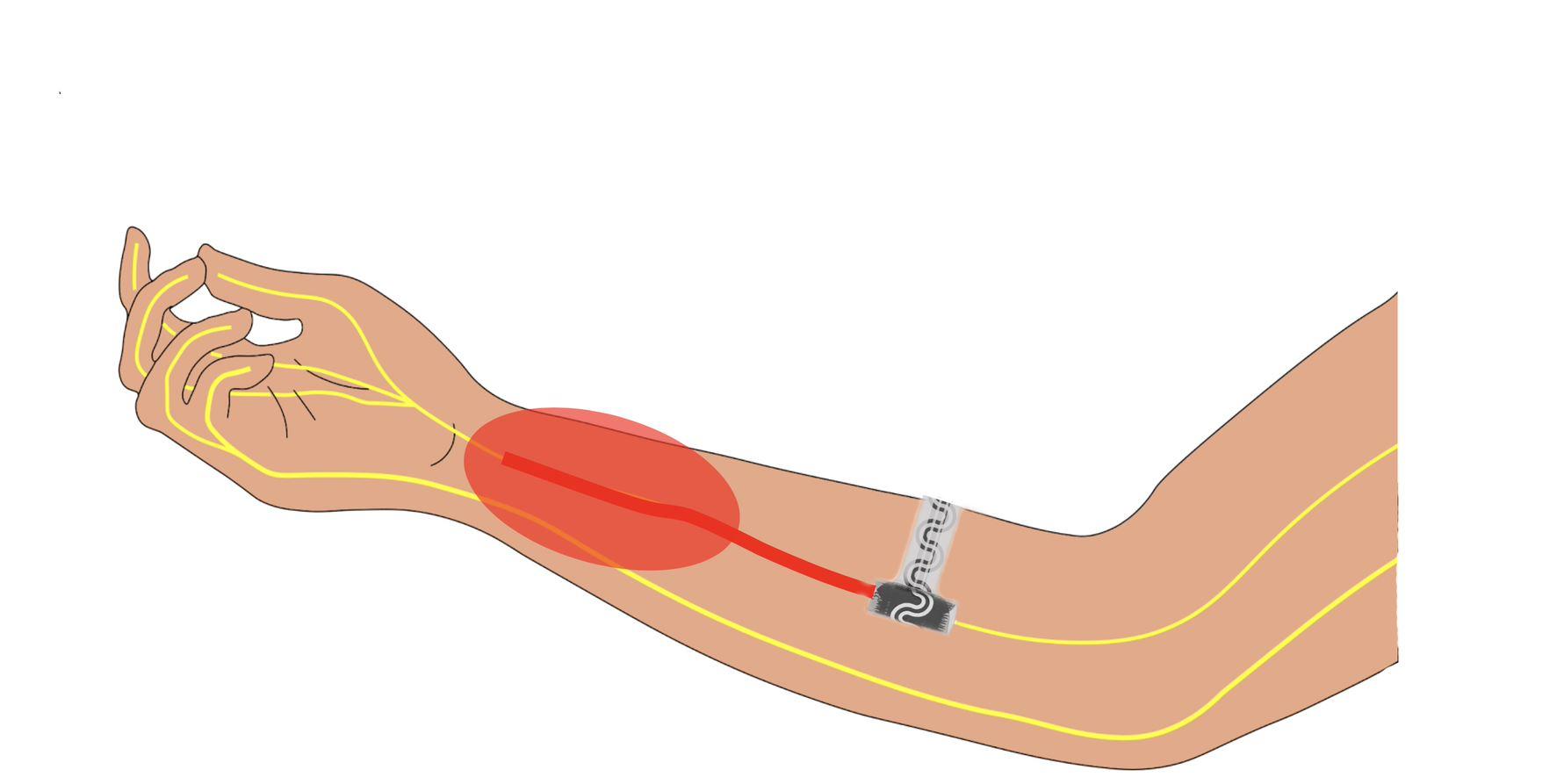 Researchers at Northwestern University have developed a small and flexible implant, pictured in this rendering, that can relieve pain without drugs. (Credit: Northwestern University)
New Study Suggests Ant Colonies Behave Like Collective Minds
Researchers at Rockefeller University have been studying how ant colonies make decisions. They believe their experiments, which involve slowly warming a colony until the ants become uncomfortable and make the decision to leave, indicate that the colony is behaving like a collective mind.
That's because the ants don't decide to leave individually, they seemingly make the decision to evacuate the colony en masse.
Daniel Kronauer, head of the Laboratory of Social Evolution and Behavior at Rockefeller University, and postdoctoral associate Asaf Gal developed the experiment.
 "This is one of the first steps toward really understanding how insect societies engage in collective computation," says Kronauer. Read more.
Racial Discrimination Affects Brain Structure
Researchers at Emory University in Atlanta had previously shown that exposure to racial discrimination can lead to a greater risk of both physical and mental illness and that Black women suffer from disease at higher rates than white women. Now, a new study from the same team shows that experiencing racial discrimination can also impact the brain's structure.
Researchers recruited 79 Black women to participate in the study who all underwent a brain scan with an MRI. The researchers found subtle changes to the brain's white matter.
The study was led by Dr. Negar Fani at Emory University's Department of Psychiatry and Behavioral Sciences.
"Racial discrimination has a negative impact on brain white matter," said Fani. "Now we can see that these changes may enhance risk for negative health outcomes, possibly by influencing regulatory behaviors." Read more.
How a Simpler Larynx May Have Given Humans Their Voice
Scientists believe that an evolutionary modification of the voice box, or larynx, may be the reason humans developed the ability to speak and produce complex language while primates did not.
Paradoxically, researchers at Kyoto University in Japan believe that the simpler voice box of humans compared to the more complicated vocal structures in other primates is what enabled humans to develop complex speech.
Primates have a more complex larynx with ribbon-like extensions on the vocal chords called a vocal membrane. Humans evolved to have a larynx without such complexity.
"We argue that the more complicated vocal structures in nonhuman primates can make it difficult to control vibrations with precision," said primatologist Takeshi Nishimura of Kyoto University's Centre for the Evolutionary Origins of Human Behaviour in Japan, and the lead author of the study. Read more.
---